Blue Ribbon Bags, a lost luggage tracking service, offers a $1,000 guarantee. If the company fails to find your lost luggage within 96 hours, you get the cash. That deal sounded pretty sweet to Vamsi Kosaraju, especially when his mother-in-law lost her bag on a flight from India.
The family patiently waited out the four days and then requested the $1,000 reward — which Blue Ribbon Bags swiftly rejected. Now Vamsi wants our advocacy team to investigate. So what's going on here?
This tale is a bit hard to believe. But it points to Vamsi's inherent misunderstanding of what this lost luggage tracking service can and can't do. It should go without saying that if you don't report your bag missing, it can't be found. However, Vamsi insists that no one explained that basic premise to him. And he says Blue Ribbon Bags owes him $1,000 for the missing bag.
Blue Ribbon Bags lost luggage guarantee
This lost luggage fiasco began after Vamsi purchased tickets through CheapOair for his in-laws to travel from India to Canada. As an add-on to his purchase, he selected Blue Ribbon Bags' Gold Baggage Service for $5 per bag. This Gold service provides $1,000 to the passenger if the company can't locate a missing bag within 96 hours of the flight's arrival.
"My in-laws landed in Canada on May 24 at 12:41 p.m.," Vamsi recalled. "We are beyond 96 hours now. I submitted a claim to Blue Ribbon Bags on the morning of May 28 at 10:33 a.m."
Although Vamsi had filed a lost luggage claim with the airline, he only called Blue Ribbon Bags after the 96-hours elapsed. He said that was the first he heard that the company requires a 24-hour notification of any lost bags.
"The company rejected my lost luggage claim indicating that I had not notified them within 24 hours of landing," Vamsi reported. "This is not satisfactory to me. I believe that regardless if I submit my case within 24 hours or 96 hours, this company must accept it. Blue Ribbon Bags must proceed with paying the $1,000 as advertised for lost baggage."
Attempting to make some sense out of this, I asked how the company could have located the missing bag without notification of its lost status. Vamsi reiterated that he was never informed that he should involve Blue Ribbon Bags in the search process.
Vamsi had only acquainted himself with the $1,000 reward, not the foundation of the Blue Ribbon Bags program.
It was time for me to do some research about this company and the lost luggage locator service it provides.
Lost luggage protection
So I went to the Blue Ribbon Bags website. On the front page is that guarantee that Vamsi knew so well: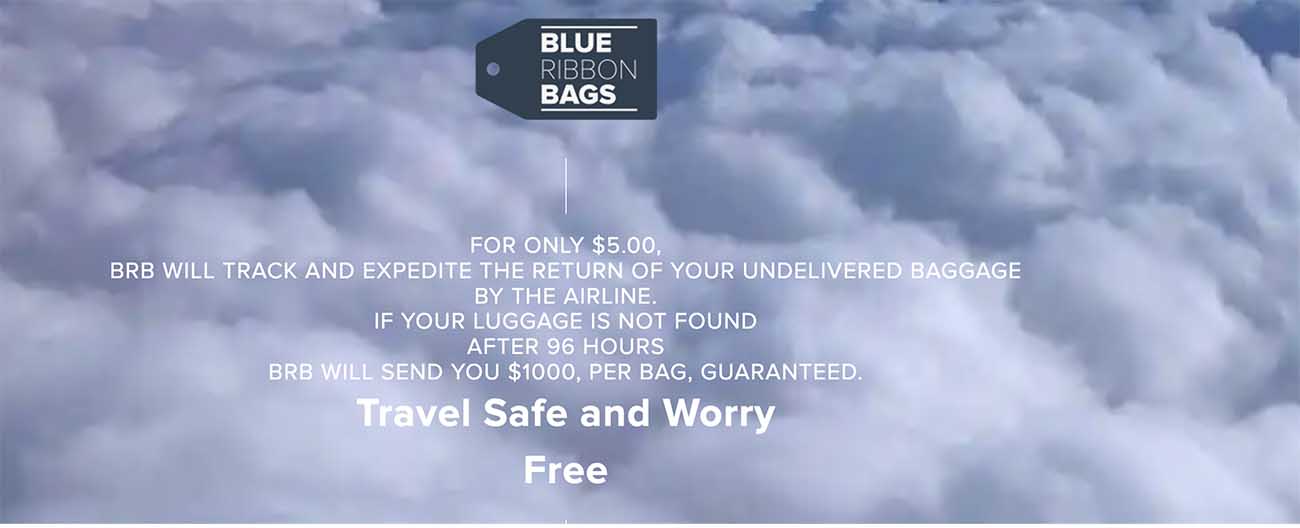 Of course, if you are a regular reader of our site, you know that every program comes with terms and conditions. And Blue Ribbon Bags is no different. To qualify for that "Blue Peace of Mind" guarantee, it's a good idea to familiarize yourself with the terms of the Blue Ribbon Bags company.
For Blue Ribbon Bags to track and locate your lost luggage, you must do two things:
File a missing bag claim with the airline and obtain a reference number.
Call or email Blue Ribbon Bags and provide that reference number to the company within 24 hours of landing.
These two actions will initiate the tracking process. If after 96 hours the company is unable to locate the lost luggage, the Gold customer qualifies for the $1,000.
Blue Ribbon Bags highlights this information on the front page of the website under the guarantee:
Remember to first notify the airline that your baggage did not arrive at your flight's end-point. The airline will provide the tracking information needed to file a report with Blue Ribbon Bags. All missing baggage must be reported to Blue Ribbon Bags within 24 hours of passenger's flight landing.

Reporting lost luggage to Blue Ribbon appears straightforward. The customer can either call or click on the "file report" to begin the tracking service.
Unfortunately for Vamsi, he did not qualify for the reward because he did not follow the terms of the program.
However, the bag was still missing, and I thought that perhaps Blue Ribbon could find it. So I reached out to the company.
Blue Ribbon Bags responds
To find out more about this case, I spoke to Gabriel Menkin, CEO of Blue Ribbon Bags.
Gabriel explained that when a passenger's luggage goes missing, the company works closely with the airline to locate the bag.
Since Blue Ribbon doesn't use any physical tracking devices, I asked how the company does this. Gabriel couldn't tell me specific trade secrets. But he explained that the company has risen to the top of the lost luggage tracking industry by using its proprietary technology. The reason Blue Ribbon Bags can offer the $1,000 guarantee is that the company almost always finds the lost luggage its team is challenged to locate.
But a case like Vamsi's is impossible to resolve. He never gave the company a chance to track the bag before he tried to claim the $1,000. He just waited for the clock to hit 96 hours.
Not a missing bag anymore — it's destroyed
Gabriel was already familiar with this case. Not only had Vamsi brought his complaint to our advocacy team's helpline, he also reported it to the Better Business Bureau.
Despite all of this, in the interest of friendly customer service, Gabriel and his team tracked down Vamsi's lost luggage. And the news wasn't good.
It turns out this missing bag never even left the ground in India. Airport employees flagged it because of a "horrendous smell" that was emanating from it. And airport security subsequently destroyed the bag. It's unclear whether the airline ever alerted Vamsi to the destruction of his mother-in-law's bag.
"It's too bad that Vamsi didn't call us within the first 24 hours," Gabriel points out. "One of the things our customers love about our service is that we provide real-time email and SMS text updates every time there is a change to the status of a missing bag. Had he promptly reported the lost luggage, we could have been able to let him know very quickly that his bag was never coming home."
(Michelle Couch-Friedman, Consumer Rescue)
*Before you go: Here's Consumer Rescue's guide to what to do before and after an airline loses your luggage.
Last Updated on December 9, 2022 by Michelle Couch-Friedman