If the balcony of your cabin is super dirty — covered in soot, should you be able to leave the cruise ship and get a refund?
Rafael Rottiers and his wife believe so. They insist the heavy black soot on the railings and floor of the balcony of their cabin aboard Costa's neoRiviera endangered their health. So they left the cruise ship days before the scheduled journey ended.
Now that the couple is back home, they want Costa to send a refund for the cruise they abandoned. But what exactly was that document the two signed before they left the ship?
Rafael's plight is a reminder to all travelers whose plans in 2023 include a cruise. Not all cabins and their locations are created equally. So it's essential to acquaint yourself with the floor plans and available cabin information of your intended cruise before booking. Otherwise, you too might find yourself faced with intolerable conditions that end with an expensive, premature jump from your ship.
Celebrating an anniversary with a 15-day Indian Ocean cruise
This fiasco began after the couple decided to celebrate their 15th wedding anniversary by taking a cruise. Having enjoyed other Costa cruises in the past, the duo settled on an Indian Ocean sailing. The 15-day journey would begin and end in Bombay, India.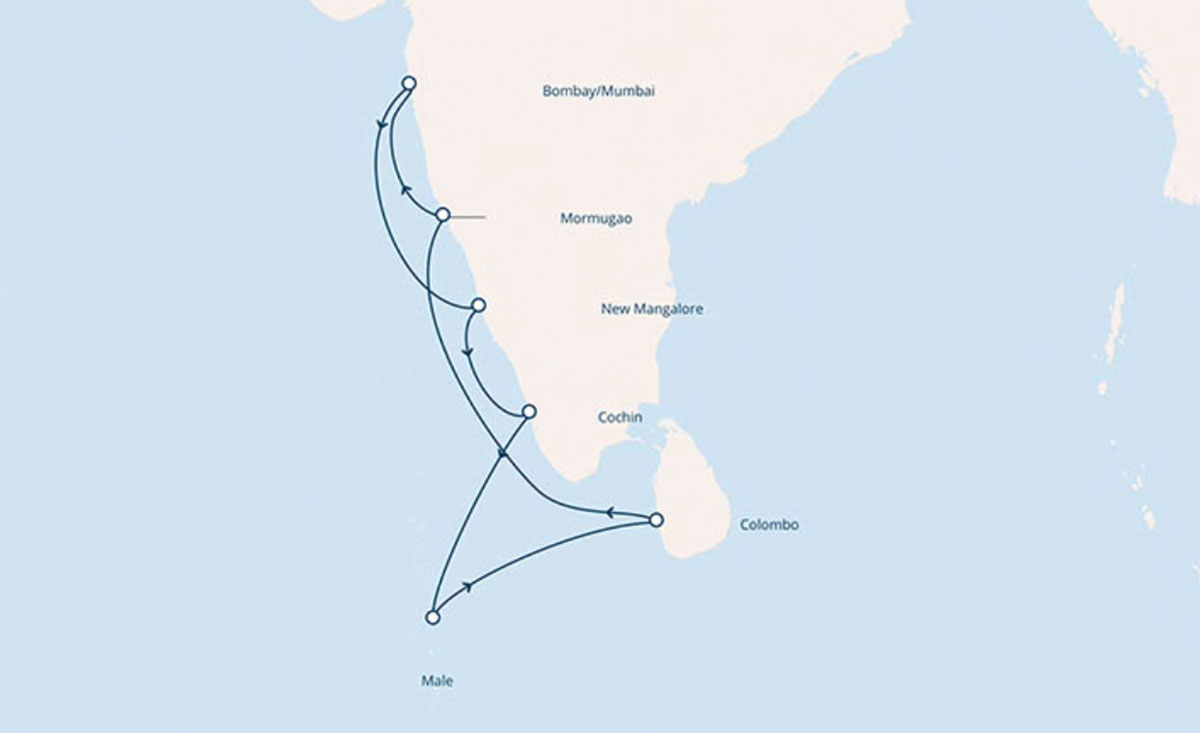 With much anticipation, the Rottiers flew to Bombay in January. Their disappointment with the ship and cruise began soon after boarding Costa's neoRiviera.
Problems with the Panorama Suite aboard the neoRiviera
"We paid for an expensive suite on this dream cruise to the Maldives," Rafael recalled. "Unfortunately, the whole thing turned into a disaster."
As soon as Rafael opened the door to his cabin, he was disappointed. The spacious suite with the panoramic views looked very different from what he was expecting.
"This was a much smaller Panorama Suite as we had already experienced on two other ships with Costa," Rafael explained. "We expected that a cabin labeled as Panorama suite would be the same as on the other Costa cruises."
Rafael complained to guest relations about the discrepancy. A Costa representative assured him that the cruise line had assigned the couple to the correct cabin on the neoRiviera. On this particular ship, the Panorama Suite does not have the same dimensions as on the cruise lines' other vessels.
This anniversary cruise wasn't getting off to a good start. But things were about to get much worse.
"There was unbearable loud hammering and construction works just below our suite the next morning," Rafael told me. "We are not complainers; in fact, we are tolerant people. But after several hours I reported it. The next morning the same noise happened again. After I reported it this time, the workers finally stopped it on the second day."
But the worst, and what ultimately led to the couple leaving the cruise permanently, was yet to come.
A dirty cruise cabin balcony
Around the third day of this increasingly disappointing cruise, Rafael's wife discovered black soot on the balcony of their cabin. This debris was accumulating on the railings, floor, chairs, and windows as well. When she wiped down the railing, the tissue turned black.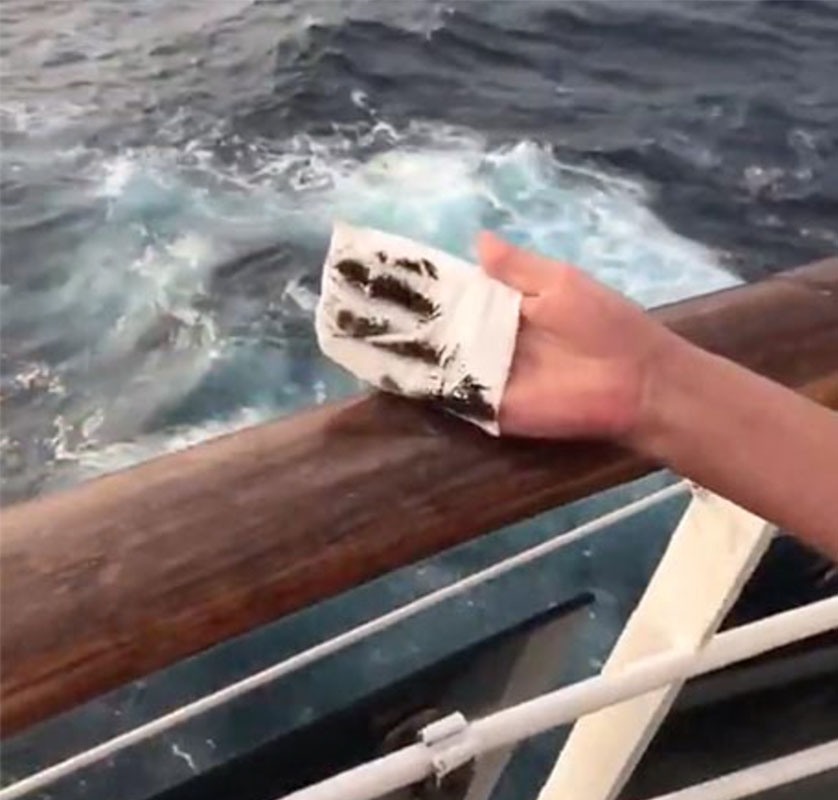 Now Rafael went back to the guest relations area to make yet another complaint. He wanted the soot removed from his balcony. He says that someone was sent to clean their outdoor area, but the next day the dirt reappeared. To document the problem, Rafael filmed his wife wiping down the railings, floor, and furniture of their cabin's balcony to reveal the heavy soot.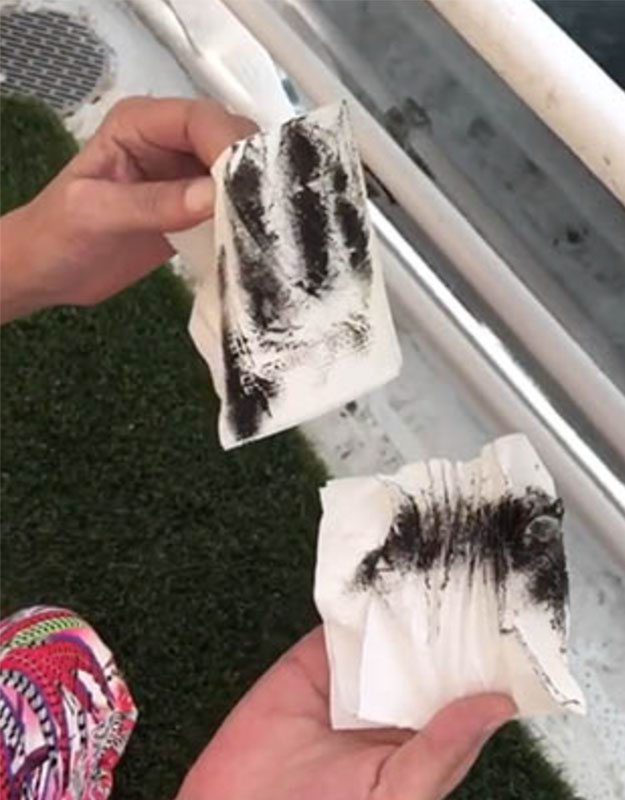 A few days later, Rafael says, his wife began experiencing breathing problems.
That's when the couple determined that the soot problem on his cabin's balcony was not just an aesthetic one. His wife's coughing was becoming worse, he says. They both assumed that the debris was entering the interior of the cabin and settling into their lungs as well. The Rottiers began to contemplate leaving the cruise ship at the next port and flying home.
But when Rafael tried to connect to the internet to figure out how to quickly fly home, he hit another roadblock.
"I paid for the internet package," Rafael said. "But it wasn't accessible from my suite. I had to go into the hall."
The lack of internet was one more complaint that sent Rafael to guest relations.
We're going to leave the ship and we want a refund for this disappointing cruise.
After a disappointing day excursion in the Maldives, Rafael says that they made the final decision to leave the ship.
A scenic cruise to the Maldives turned out to be docking at a construction and industry sites (Military, Coal, extremely dirty, etc…). We decided to leave the cruise permanently in Colombo, Sri Lanka, [on day 10]. We wanted to leave before then when we were anchored at the Maldives. But I couldn't find a suitable flight back to Brussels at that moment.
Rafael made his last trip to the customer relations desk on the neoRiviera and announced their intentions to leave. He also told the representative that he expected a full refund for this cruise fiasco. The Costa crew member told Rafael that she could not refund his cruise, but the couple could leave right after he signed a "Break of Voyage" declaration.
Rafael says he was fine signing the form, although it was in Italian and he wasn't sure what it said. Only later, he says, did Costa inform him of the contents of the document. The Break of Voyage document states that if a passenger chooses to leave the cruise early, Costa will not provide a refund.
I was asked to sign this document to be given back our passports, which were held at reception. This is what I believed I was signing. It sounded normal to me. So I signed it and we left the cruise ship.

I assume that this is a deception from Costa, and at least not informing a passenger about what they are signing.

Rafael R.
After signing the Break of Voyage declaration, the couple disembarked the neoRiviera and headed to the airport. Once home, they began an ill-advised campaign with Costa that ended up in the legal department almost immediately.
Was there "Black poisoning exhaust soot" polluting the whole cruise ship?
By the time, the Rafael's request for help hit my inbox, Costa had already sent his case to its legal team.
How did it get there so quickly? Well, unfortunately, Rafael had never read our guidance about fixing your own consumer problem. That article lays out the foundation of successful advocacy and reveals the tactics our advocacy team uses every day to reach favorable resolutions.
But since Rafael had not read those consumer problem-solving tips, his self-advocacy attempts veered wildly off course. His initial correspondence to Costa contained a laundry list of complaints — big and small. And he made unsubstantiated accusations that guaranteed the case's spot in the cruise line's legal department: He claimed the soot on his balcony was poisoning the entire ship.
Understand that my wife meanwhile was in the room, coughing her lungs out and urging me to get us off of this horrible ship asap.

YOU DO NOT REPLY TO THE BLACK SMOKE AND THE BLACK POISONING EXHAUST SOOT COMING FROM THE SHIPS ENGINES THAT POLLUTE THE WHOLE SHIP AND THAT WE HAVE CLEARLY DOCUMENTED IN PICTURES AND VIDEOS, AND THE HEALTH PROBLEMS THAT IT CAUSES.

Rafael's complaint to Costa Cruises that landed in its legal department
Inexplicably, after this dire statement, Rafael turned the topic to a minor complaint: the internet that didn't work.
Note: If you are trying to convince a company that they've done something egregious like poisoning you, bringing up nonfunctional internet only serves to devalue your complaint. It's critical to stick to the most significant issue in any problem-solving mission.
And there was one other significant error in Rafael' problem-solving approach.
Within days of the couple arriving home, Rafael had uploaded his self-made video that illustrated the soot on his cruise cabin's balcony to Youtube. It's never a good idea to begin a public shaming campaign while you are attempting to get a company to respond positively to your complaint. This type of tactic will almost always fail.
Will a dirty balcony lead the cruise line to refund the couple?
When I went through Rafael's complaint and read his desired resolution (a full cruise refund), I suspected that would not be possible. The couple left the cruise early, but not until the 10th day of the ship's sailing. Despite the dirty balcony of their cabin, they had completed the majority of their anniversary cruise.
And then there was also the problem of the "Break the Voyage" document that Rafael signed. According to Costa, it says he understood he would not be receiving a refund for the balance of his cruise.
The fact that Costa had sent his case to its legal department was yet another roadblock. We know from experience that once a case hits the legal department of a company, it's likely that only an attorney can intervene on behalf of the consumer.
But I continued to read through all Rafael's documents.
Regular readers of my column know that although I love, love, love to mediate and write about cruise fiascos (and fixes), I've never actually taken a cruise. So I frequently use my fellow advocate Dwayne Coward as my encyclopedia of cruise information when I advocate for cruise ship passengers. To my eyes, Rafael's soot-on-the-balcony video didn't look so shocking since it was in an outdoor area. So I asked Dwayne, as an experienced cruiser, what he thought.
That's when Dwayne was able to shine a new light on this case.
"Google rear-facing balcony cruise soot."
"It is a common issue with the rear facing balconies on cruises," Dwayne explained. "That is the path the soot blows to from the smokestacks. We noticed it on one cruise when we had a rear balcony, but the view was worth it. Google rear facing balcony cruise soot."
When I "Googled" that phrase I was inundated with a plethora of similar stories — passengers who loved their fabulous panoramic views at the back-end of the ship but… the soot appears to be an unavoidable problem because of the location of the cabins in relation to the smokestacks.
But Dwayne had more insight.
"The soot accumulation mostly occurs when the ship is in port while getting ready for departure, where it has time to settle," Dwayne told me. "When the ship is moving, it blows out to sea. It isn't something that would happen throughout the cruise."
A dirty cruise cabin balcony will not result in a refund even if you leave early
I spoke to Rafael and explained why this is not a case that we could successfully mediate. Now he had a different idea and asked if I thought he should develop a webpage to force Costa to respond.
I can easily just go ahead, create a new website, write the story, list all the things, put all the videos online and make sure it goes viral, so it gets seen by millions of people warning them about the health dangers and the malpractices and below 0 customer service and deceitfulness they use. That I can do in one day, and send it to them.

Rafael has a new idea to shame Costa into refunding his cruise
Unfortunately, many consumers have become convinced that they can quickly build a viral social media campaign against a company to resolve their problem.
I know a thing or two about the way search engines work and I can tell you that hitting one million page views on any piece of media is not something that would happen "in one day" — unless you're Lady Gaga or Kim Kardashian. So please don't rely on that tactic to solve your consumer problem.
Your rights if you leave a cruise before it's over
Unfortunately for Rafael, the facts were not on his side, even if he had not signed the Break the Voyage document. The terms and conditions of every major cruise line state that if you leave the cruise before it's over, you should not expect any refund. And Costa's early disembarkation policy is the same:
I've seen that policy in action many times — stories of passengers leaving their cruises early (often against their will) and walking away empty-handed:
Before you board your next cruise, make sure to familiarize yourself with your cruise line's terms and conditions. Another enlightening document to consult before taking a maritime adventure is Cruise Line International Association's Passenger Bill of Rights. You may be surprised by the limited rights passengers have when they board an international cruise.
The bottom line:
If you choose to leave your cruise before it's finished — even if your cabin has a dirty balcony — don't expect a refund. (Michelle Couch-Friedman, Consumer Rescue)