If you get involuntarily removed from a cruise halfway around the world, does the cruise line owe you compensation?
William Coats believes so. Holland America booted him and his wife from the Westerdam in Korea just days into their 14-day cruise. As a result, they're out thousands of dollars, and he wants the cruise line to pay.
William's plight is an unfortunate study of what happens if you don't carefully review your cruise itinerary before embarkation. Each country on your cruise can have special entry requirements. And it's always the traveler's responsibility to know and possess all required documentation. If you don't, you may find yourself in an unfamiliar, far-off land with the comfort of your cabin sailing away without you. And you'll be left on the hook to find and pay for your trip home.
Removed from their cruise in Korea
"We booked a cruise directly with Holland America on the Westerdam — Japan, Korea and China," William recalled. "This was a trip we had planned for a long time. At 71 years old, we were looking forward to this adventure."
For months, William and his wife anticipated this dream vacation set for October (scheduled to occur just before the pandemic hit the world and completely shut the cruise industry down). The couple would fly to Japan and then board the cruise in Yokohama.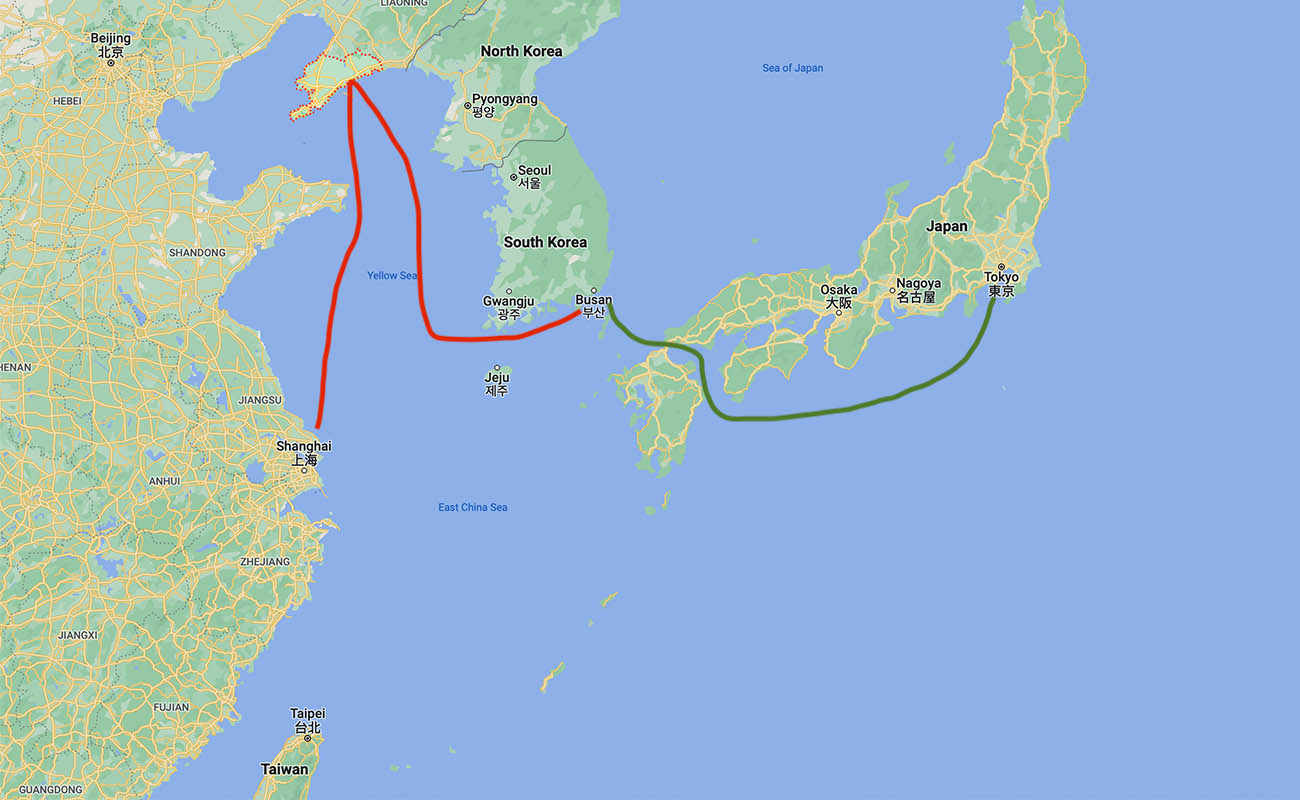 William says that the problems began as soon as they landed in Narita. For some reason, the transfers that they had arranged with a Holland America cruise consultant never appeared.
Regular readers of my column may recall the recent story of Linda Combs, who booked her cruise through an NCL consultant. She paid for transfers, but the cruise consultant never arranged any transportation. This mistake was compounded by additional errors by the same cruise consultant and ended in the couple missing their cruise completely.
Often when we publish an article about one consumer's plight, our advocacy team soon receives a surge of similar complaints. And as I began plowing through William's lengthy paper trail, I assumed that the missing transfer caused this cruise fiasco as well.
It didn't.
What caused the cruise line to remove the couple from the ship?
When William called Holland America to inquire about the transfer, he received the sage advice to get in a taxi and go to the ship. The refund for the transfers could be sorted out later.
William and his wife made it to the Westerdam with plenty of time to spare. Annoyed by the minor inconvenience but happy to be onboard their much-anticipated cruise, the couple began to unpack.
But the missed transfer was nothing compared to what was in store for this couple. On day 3, they received the shocking news that they would be removed from the cruise at the next port of call.
"One of the guest relations staff informed us that we would be removed from the cruise in Pusan, Korea," William reported. "Further, she told us that it was our responsibility to get ourselves home. We couldn't believe it."
Holland America: "All passengers need a visa to enter China."
William says the Holland America employee told the couple that they needed visas to enter China. This was the first time William or his wife had heard of this requirement. They tried to reason with the crew member and find some alternative to their removal from their cruise.
William's pleas were futile.
Unfortunately, there wasn't any alternative at that point. As many of our prior cases show, missing or expired visas, like passports, are not something that a foreign government's border control will overlook.
These documents are official pieces of identification and aren't negotiable by the crew of Holland America or any other cruise line.
China requires all U.S. citizens to possess a visa for a cruise that visits multiple ports of entry. Travelers can find this information on the Department of State's Bureau of Consular Affairs page about China.
Entry & Exit:

Obtain a visa prior to arrival and have a passport with at least six months' validity remaining. The lack of either will result in a fine and immediate deportation.

Apply for a ten-year multiple entry visa, useful for repeated travel or trips to Hong Kong or Macau with returns to China.

You must have a valid visa to exit China and you must leave China before the expiration of the listed duration of stay.

U.S. Department of State
But the couple had not familiarized themselves with this information and had not obtained the required visas. The outcome was inevitable.
"Holland America put us off the ship in Pusan. They left us, literally on the dock," William remembered. "It was up to us to find our way to the airport and then pay $2,400 for additional airfare to get home."
Is Holland America's cruise consultant at fault?
When William's request for help landed in my inbox, it was just days after the couple had been summarily removed from their cruise. The two were still in shock at the turn of events. He placed the blame for their missed cruise on Holland America.
Getting thrown off the ship was a most embarrassing and difficult experience for us. Our loss is approaching $9,000! Holland America should have alerted us to our missing travel visa and the stringent requirements. No one did. We think that something this serious would be part of the travel professional's responsibility.

William describing being removed from the cruise
He maintained that although he had worked directly with a Holland America Cruise Consultant, that planner had never mentioned the required visas. William said that he and his wife had no idea when they took off for Japan that they were missing any needed documents.
I carefully reviewed all of William's correspondence with Holland America. I've tackled other cases in which couples missed cruises because of mistakes made by cruise-line branded consultants.
If it was true that their Personal Cruise Consultant, an employee of Holland America, had never even mentioned their need for a Chinese visa, I thought William might just have a basis to request a refund of some of his expenses.
However, this turned out not to be the case. All of the information that the couple needed to avoid the eventual removal from their cruise was right in front of my eyes.
In multiple places.
In their own paper trail.
Warning: Read your cruise contract now or get removed from your cruise later.
The itinerary that Holland America sent to William in January, confirming the cruise, indicated that China requires a visa.
On another page of the confirmation packet was a link to Holland America's terms and conditions. The contract points out that it is critical for each guest to review the document very carefully. Under guest's obligations it reads:
It is the Guest's sole responsibility to obtain and have available when necessary the appropriate valid travel documents. All Guests are advised to check with their travel agent or the appropriate government authority to determine the necessary documents. You will be refused boarding or disembarked without liability for refund, payment, compensation, or credit of any kind if You do not have proper documentation, and You will be subject to any fine or other costs incurred by Carrier which result from improper documentation or noncompliance with applicable regulations, which amount may be charged to Your stateroom account and/or credit card.

Holland America's terms and conditions
And directly on the contract was another warning that each country will have its own entry requirements and guests are responsible to know them.
William's case was sinking fast. I continued to search through his emails with Holland America to see if there might be some missing clue. Why wasn't the duo aware of their need for a Chinese visa?
No internet for months?
Holland America's answer to William's request for reimbursement for all expenses related to the removal from the cruise was a firm no. In fact, Holland America provided evidence that not only did the contract show the needed visas for each portion of the cruise, but the reservation department had also sent two additional alerts to the couple.
Our Reservations Department also advised us that we sent you at least two notifications specifically about visas and that they are required. We regret if you did not read these notifications.

Holland America customer service
Lastly, Holland America detailed that the crew on board the Westerdam had made a plea to the Chinese authorities. They requested an emergency visa for the couple. Additionally, they had offered that the couple would remain on the ship during the multiple stops. The Chinese border patrol rejected all of the alternatives. Holland America had no choice but to remove the couple from the ship before it entered China.
So why didn't William read any of the alerts or the contract from Holland America before the cruise?
We spend the summers in New York and we did not have access to the computer from June through September. Our daughter was checking the email and once we returned to our home here, we tried to print out the emails referenced. We could not open the links and therefore were unable to review any communications. Regardless, no one alerted us to any problems.

William explaining why he didn't read the alerts from the cruise line
As could be expected, this explanation did not shift the responsibility for this expensive cruise fiasco from William to Holland America. Although I love to solve consumer problems, in this case, the facts didn't support his refund request. William had the contract and the payment schedule from January. That contract noted the Chinese visa requirement.
The bottom line
Before you set off on any cruise, it's imperative to read the contract in its entirety and find out if you're eligible to cruise. It's also critical to find out all your entry requirements for international travel if you're flying somewhere as well.
Remember that your entry requirements to foreign destinations are unique to you, and it's your responsibility to obtain all necessary documents. The Department of State's page dedicated to cruise ship passengers is an excellent place to get you started on this task.
In the end, Holland America refunded the couple for their unused return airfare as a gesture of goodwill but declined any other refund. (Michelle Couch-Friedman, Consumer Rescue)
Before you go: For more tips and guidance about taking a cruise, check out our Ultimate guide to taking a cruise.