Mai L. says that an in-flight injury on Hawaiian Airlines nearly put an end to her life. Now she's asking our advocacy team to force the airline to pay her medical bills and other compensation. But the evidence of her near-fatal accident might just be the end of this complaint.
Mai's tale is an example of what happens when a traveler overshoots the mark with a complaint. We know that often companies will go out of their way to respond to a customer's valid problem. But the opposite is also true. When a passenger wildly exaggerates the details of an experience, their grievance might just get hit with the delete button.
Let's take a look at this case.
Almost killed during a long-haul flight?
Mai's troubles began aboard a long-haul flight from Honolulu to Sydney. Things started going wrong soon into the 10-hour, 5000-mile journey.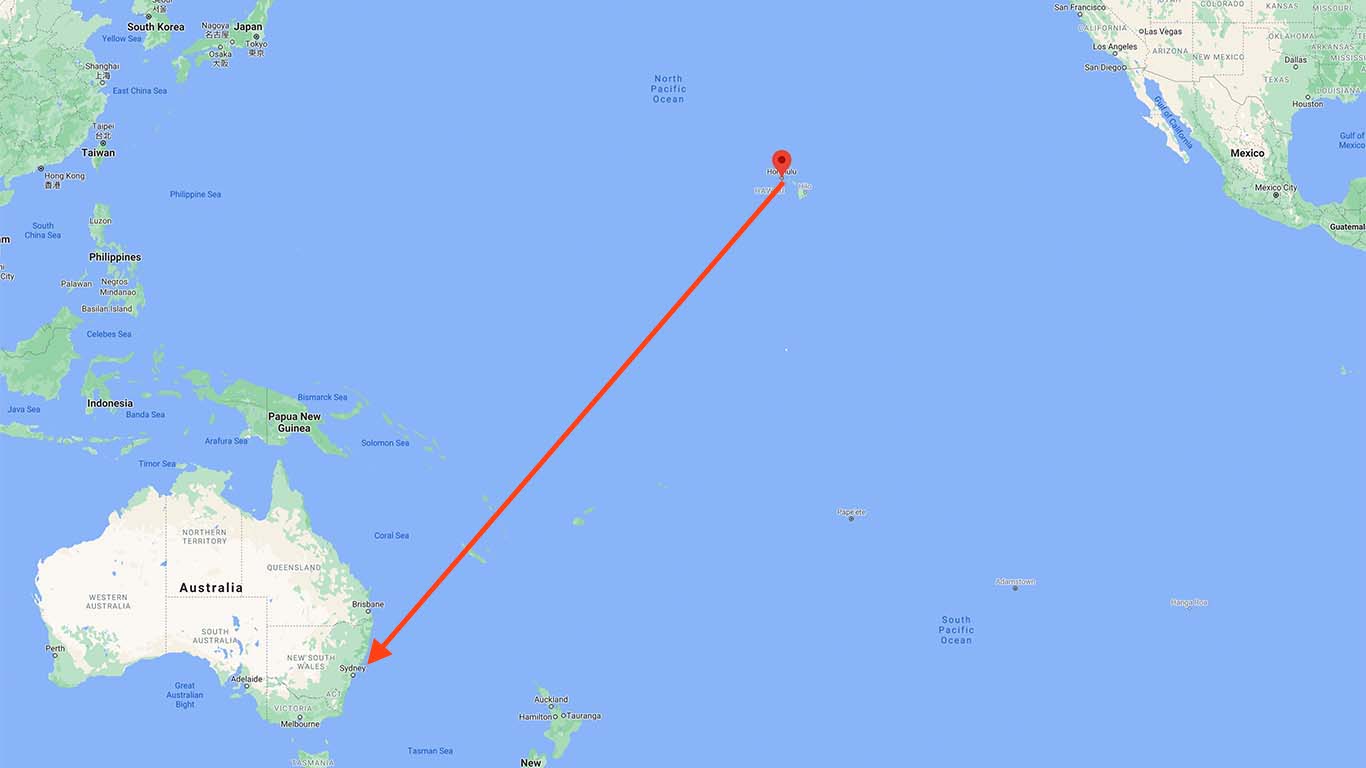 I suffered a near-fatal in-flight injury on Hawaiian Airlines and the staff could not give a !@#$!!. I was minding my own business, when a curtain rod fell on my knee. Then I requested the flight attendant stop attaching the rod. But she refused to listen. She didn't realize that this beam could have easily fallen on my head or my mother's head! So I would like compensation under the Montreal Convention for my inflight injury.
The value of Mai's claim? $100,000.
An in-flight injury compensation claim according to the Montreal Convention
Ok, let's pause Mai's story for just a moment to explore the regulation that she is referencing.
Under Article 17 of the Montreal Convention, Death and Injury of Passengers:
The carrier is liable for damage sustained in the case of death or bodily injury of a passenger. This is upon condition only that the accident which caused the death or injury took place on board the aircraft. Or in the course of any of the operations of embarking or disembarking.

Montreal Convention
Further, under the terms of Article 21, a passenger is entitled to a maximum of 100,000 Special Drawing Rights if they have a documented in-flight injury or have been injured while boarding or disembarking from an aircraft.
Special Drawing Rights (SDR) is an international monetary unit that fluctuates daily. 100,000 SDR is currently equivalent to approximately $136,000 (April 2023).
But back to Mai's case.
Hawaiian Airlines: "Please send medical documentation of your in-flight injury."
When I reviewed Mai's paper trail, I noticed that the airline had repeatedly asked Mai for her medical records. Their claims department wanted to see the documentation concerning the "nearly fatal" in-flight injury.
But Mai had not included any.
So I braced myself to be confronted with what I presumed would be gruesome reports and photos of the in-flight injury that almost ended Mai's life. I asked her to forward her medical report.
Unfortunately, here is where the story goes south.
Mai's medical records consisted of one brief paragraph from her doctor, dated the day after her flight.
As I was very busy (Ms. Le) had to wait almost one hour to see me. On examination, there was a 3.5cm tender ridge over the upper patella (kneecap). (Le's doctor explaining the extent of the in-flight injury that she says almost killed her.)

Mai's doctor
Then the doctor included an X-ray summary that noted that there were no abnormalities. He noted, "The patella is normal."
A misunderstanding of the Montreal Convention
Now Mai's claim of her near-death experience on that flight was in question. I asked Mai if this was the extent of her injuries and medical reports.
"Yes, I realize the medical report states my knee has no physical injury," she told me. "But I was still very much inconvenienced for weeks in pain while going to work. And I did all the right things. Hawaiian Airlines refuses to pay despite this being a requirement under the Montreal Convention."
Mai's (mis)interpretation of the Montreal Convention is not uncommon. But this regulation does not require an airline to make the maximum payment simply because a passenger makes an in-flight injury claim.
There must be proof of an injury. And the 100,000 SDR is a maximum liability award, not a standard payment. The regulation actually favors the airline. If you really suffer a fatal in-flight injury (internationally), the Montreal Convention limits the liability of the airline. It doesn't provide a bonanza award to a traveler who makes a claim for a slight bruise to their knee.
Hawaiian Airlines and the FAA respond
For its part, Hawaiian Airlines did not ignore Mai's complaint. In the paperwork that she forwarded, the airline responded to her requests each time. Their team repeatedly asked for the medical bills and reports for review.
Not feeling that her case was getting a proper response from Hawaiian Airlines, Mai made a complaint with the Federal Aviation Administration. The FAA completed an investigation and forwarded its findings to Mai about her inflight injury complaint. That report notes that:
The FAA's Flight Standards Service has completed their review of your concerns . This complaint regards a curtain rod which fell on you on Hawaiian Airlines flight 451 on April 27. The investigation could not substantiate a violation of an FAA regulation or Order. Additionally, the investigation determined a low safety risk of a curtain rod falling on the heads of future passengers. There are no known issues of reports of other falling curtain rods onboard Airbus A-330 aircraft.

FAA
In the end, we could not assist Mai. I'm sorry to hear that a curtain rod fell onto her knee — but that inflight injury didn't almost kill Mai. In fact, her own documents point to a minor bruise. And so we can't support her pursuit of a $100,000 SDR payment.
What you should do if you suffer an in-flight injury
Of course, injuries can occur onboard flights. It's true, your airline is responsible for keeping you safe. If you're injured on a flight, here are some things to keep in mind.
File an incident report:
Before you leave the aircraft, ask to file an incident report. You may need to make this report inside the airport upon landing. Make sure to get clear instructions from the crew. Do not leave the airport without making a written report. That is unless medical personnel takes you away because of your injury. In that case, the medical report will stand for itself.
Don't exaggerate:
We know that the easiest way to ensure your complaint isn't taken seriously is by exaggerating. We recently saw that happen when a passenger lost her luggage and made a $16,000 lost bag claim. Make sure that your claim is within reasonable limitations and that you've described the incident accurately. And also, remember that we know airlines aren't shy about banning passengers. If you make an exaggerated claim, you may find yourself banned from flying completely (yes, we've had cases in which the passenger ended up on the no-fly list because of fibs.)
Take photos:
If you've suffered an in-flight injury because of some problem onboard the aircraft, make sure to take a photo. For instance, did a faulty latch on an overhead bin cause luggage to fall on your head? Or was your airline seat so terrible that it caused you problems? If you can, take a photo of the problem.
Seek medical treatment immediately:
If you've been hurt during your flight, make sure to seek medical treatment ASAP. Often the airline will offer to have medics come on the aircraft and evaluate your situation. You should allow this if you've suffered a serious in-flight injury. Minimally, you should head straight to the emergency room. Your personal doctor or an emergency room should evaluate your in-flight injury right away.
Remember the Montreal Convention Limitations:
Keep in mind the Montreal Convention offers airline liability limitations for in-flight injuries. Those are currently 100,000 Special Drawing Rights. And that figure is the upper liability limitation. The passenger must provide supporting documentation of their in-flight injury and the cost of treatment. You can check the current U.S. dollar value of the SDR using the XE currency converter. (P.S. If you're traveling, you can also use that converter for any international currency conversions).
File A Department of Transportation complaint:
Remember, the Montreal Convention only covers international flights. If you've been injured on a domestic flight and need guidance or want to file a formal complaint with the Department of Transportation, here's how to do it. (Michelle Couch-Friedman, Consumer Rescue)
Last Updated on August 21, 2023 by Michelle Couch-Friedman