If a cruise line goes bankrupt while holding a customer's cash, does the money just go down with the ship? That's what many customers of Crystal Cruises have been asking since the cruise line went belly up earlier this year.
But the fear of bankruptcy and sudden shutdowns is not limited to this particular cruise line. Throughout the pandemic, our team has received a steady stream of concerned messages from cruise ship passengers. These travelers all have large sums of money tied up in various cruise lines via deposits and future credits.
Nicole Walsh is one of those would-be passengers who has been in a battle to retrieve nearly $4,000 from Crystal Cruises since last winter. The cruise line made repeated promises that her refund was on the way – right up until it announced its bankruptcy.
Now that Crystal Cruises has ceased to operate and its parent company is bankrupt, her cash is in no-man's land.
With her travel agent unable to extract the refund from the bankrupt cruise line, Nicole hopes Consumer Rescue can help.
Jump to: Steps to take to get your refund from a bankrupt cruise line
Planning a cruise in the middle of a pandemic
In July 2021, as the cruise industry was just beginning to return to service, Nicole and her husband, Matt, decided to take the plunge.
"We had never been on a cruise together, and I heard a lot of good things about Crystal," Nicole explains. "My travel agent recommended Crystal, and their river cruises looked really unique and upscale."
Nicole and Matt were sold on the river cruise idea. The couple selected a seven-night cruise aboard Crystal's Bach scheduled for April 2022. They put down the $3,850 deposit and happily began looking forward to the springtime "Romantic Rhine" cruise.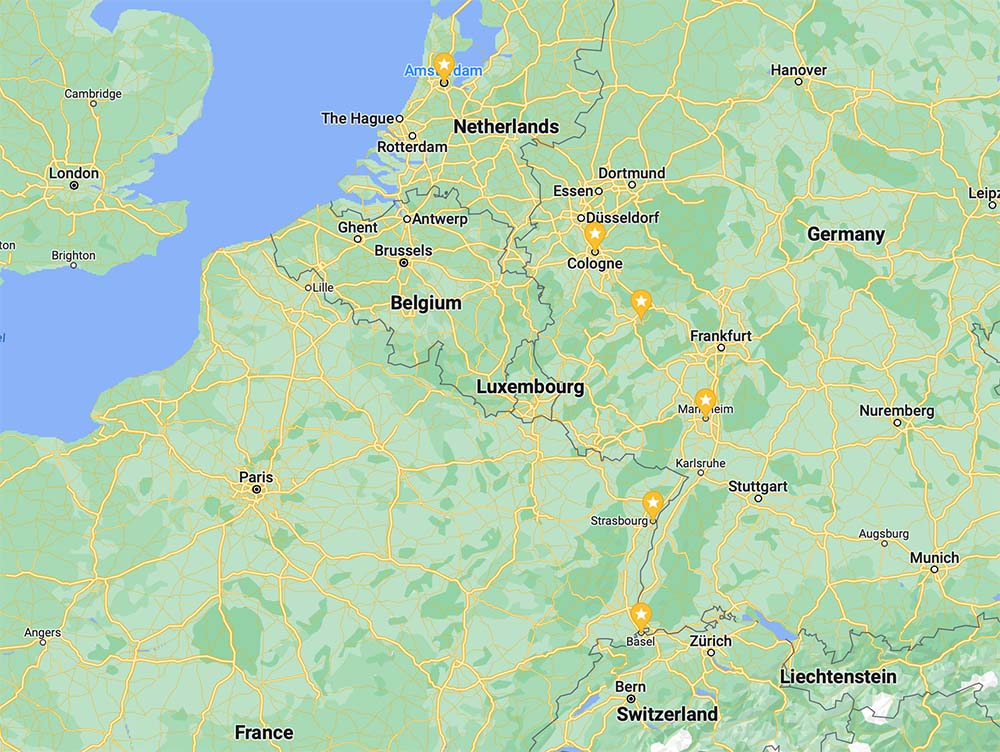 Nicole and Matt didn't know it then, but they would never be taking that cruise. Not only that, they had just put down a deposit with a cruise line that was in a very precarious financial state.
Here's the part of the story where I tell you that Nicole happens to be my best friend. I was unaware that she and her husband were considering booking a Crystal cruise, or I would have quickly warned her.
The travel industry – particularly the cruise industry – was hit extremely hard by the pandemic, but some companies struggled more than others. Crystal Cruises has been on our team's radar as a company in trouble almost since the cruise industry was forced into suspended animation in March 2020.
Crystal Cruises is not a budget cruise line, so the average missing refund that most customers presented to our team during the pandemic was in the $10,000-and-above range. Luckily for Nicole and Matt, they had only put down the deposit before they began to have doubts about Crystal Cruises.
A canceled cruise and a pending refund
Because of the pandemic, the cruise line hadn't required full payment – yet. In December, after reading an article about the potential fate of Crystal Cruises, the couple asked their travel agent to cancel the cruise.
"The same day, we received an emailed confirmation that we were in a no-penalty cancellation phase," Nicole told me. "The next day, I saw that our refund was pending on our Chase visa card."
Nicole figured that would be the end of the matter.
But it wasn't. It was actually just the beginning of her battle.
A few days later, she took a look at her credit card statement, and the pending refund was now missing. She called her travel agent who then followed up with Crystal. The cruise line promised to re-apply the refund.
It didn't. In fact, by that time, the parent company of Crystal Cruises, Genting, was dodging creditors left and right — literally.
Then in February, Crystal Cruises made startling worldwide news. During a closed-loop cruise with 700 passengers on board, Crystal's Symphony suddenly changed course. Instead of returning to Miami, it headed to the Bahamas on the run from creditors. The ship was soon seized by authorities despite the dramatic getaway attempt. And the passengers were forced to find an alternative way back home.
Nicole knew then that her refund prospects weren't looking good. That's when she asked me for help.
What happens when a cruise line enters bankruptcy protection?
Just days after the bizarre shenanigans of the Symphony, Crystal Cruises fired all of its employees. The parent company, Genting, filed for bankruptcy.
Once a cruise line (or its parent company) declares bankruptcy, it receives legal protection. There's no way for a consumer advocacy team to negotiate around that.
However… as I explained in an interview with the travel magazine AFAR, consumers who have used a credit card to pay for their cruise have the protection of the Fair Credit Billing Act (FCBA) behind them. The FCBA allows credit card users to dispute charges from merchants when the goods and services have not been provided as agreed.
Nicole had paid for the cruise with her credit card, and she had not received anything from Crystal Cruises in return. I knew that Chase should protect its customer in this circumstance. But when she called Chase to request the chargeback, a customer service agent told her it wasn't possible because of the original date of the charge.
Consumers Alert: If you purchased goods or services from a merchant and you did not receive what you paid for, your credit card company should be able to help you. The timeframe for a dispute is based on the expected date of service, not the date the charge first appeared in your account. In fact, I've guided consumers through successful chargebacks even when the original charge was a year or more before the dispute.
Finally good news from Chase
Knowing all of this, and also knowing that we have a very helpful executive contact at Chase, I helped Nicole through the process of appealing her credit card dispute. Together we called Chase once more, and she explained her request to file a dispute – but once more, an agent told her it wasn't possible.
Next, I escalated her request to a supervisor, I reminded him of the FCBA, and he readily accepted Nicole's chargeback request. She soon had a temporary credit of the $3,850 deposit while Chase began the credit card chargeback investigation.
It's important to note that even when a chargeback investigation is launched by your bank, the merchant has 30 days to respond. Of course, for obvious reasons, most bankrupt companies will not answer, and in this case, Crystal Cruises did not. But consumers should be aware that a temporary credit initially given during a chargeback can be reversed, so keep that in mind until you receive the final written determination from the bank.
Nicole's credit card dispute is complete now. The pending refund that Crystal Cruises posted last winter is now confirmed, and Nicole and Matt are busy planning a replacement adventure.
What you can do to get your money back from a bankrupt cruise line
In the past, our advocacy team has been flooded by requests asking how to get money back from a bankrupt airline. Now travelers are asking how to get a refund from a bankrupt cruise line.
Here's exactly what you need to know about getting your money back when a travel vendor goes belly-up.
File a credit card dispute.
The Fair Credit Billing Act (FCBA) protects credit card users against merchants who don't provide the services as described. If you've paid a cruise line for a trip it's no longer able to provide, your credit card company should protect you. You can file a credit card dispute to reverse the money paid. That company will have 30 days to justify the payment, and if it doesn't respond, you'll win the chargeback. It isn't likely that a bankrupt cruise line will fight a credit card chargeback. The biggest challenge a consumer will encounter is that many customer service agents responsible for investigating credit card disputes misunderstand the time limits listed in the FCBA. Citing a deadline to report as 60 days from the date the charge appeared on the consumer's statement, companies reject many valid credit card disputes. Remind your credit card company that the deadline clock starts ticking from the expected date of service not the date the merchant accepted your money — and ask to speak to a supervisor if the front line customer service appears to be unfamiliar with the FCBA.
Ask your bank for help.
If you didn't pay the cruise line with a credit card and instead used a debit card or check, then it's a bit more complicated. Many banks will provide the same FCBA credit card protections to their debit card holders. But remember, there is no chargeback protection or requirement for a direct bank transfer. This is one of the reasons we always recommend that consumers use a credit card to make significant purchases. Keep in mind that your bank can always protect you – but you may need to be a bit more insistent in this case.
Review your travel insurance policy.
If you purchased travel insurance for a cruise canceled by the sudden cessation of the company, you might be in luck. Many trip insurance policies protect travelers if a provider goes out of business. Make sure to review your policy and file a claim if you have such protection. If you're planning a future trip – cruise or otherwise – use the insuremytrip website to find policies that will protect you against travel providers declaring bankruptcy.
Are you located in California or another state with a travelers' restitution fund?
If you're located in California, you may just be in luck. California requires Sellers of Travel to register and to pay into a restitution fund. Consumers impacted by a travel provider's bankruptcy can file a claim through the Travel Consumer Restitution Corporation. To find out if your state has a similar program, enter your state plus "travelers restitution fund" or "sellers of travel information" into a Google search.
Stay aware of the progress of the bankruptcy proceedings.
This is the long-term approach. If you have no other option but to wait for the bankruptcy proceedings to conclude, expect a protracted and probably unsatisfactory result. Consumers typically get the short end of the stick in these filings. But a tiny refund is better than nothing. If a bankrupt cruise line owes you a refund, make certain that you keep aware of the progress, as there are often time limits for consumers to respond to any settlements. You can use the Google alerts feature to stay current on the progress. In the search field, enter the name of the cruise line and "bankruptcy information," your email address, and how frequently you would like updates. You'll then receive a news alert each time the cruise line and bankruptcy appear on the internet.
Hope for the best.
Your last option is to hope for the best. Yes, I know hoping will not get your money back, but remember, not all companies that go into bankruptcy stay there. Many rise like a phoenix from the ashes and re-emerge better than ever (As just may be the case with Crystal Cruises, which luxury tour operator Abercrombie and Kent purchased this summer.) If you have no other option but to wait it out, you might just be rewarded in the end. (Michelle Couch-Friedman, Consumer Rescue)