Elaine Miller's disgusting train ride from Illinois to California should have qualified her for a full refund from Amtrak. But it didn't. With an overflowing filthy toilet inside her accessible bedroom just feet from her pillow, how did Amtrak justify its refusal?
If you have an elderly grandmother or mother, you'll likely share my outrage at Amtrak's treatment of Miller. Her terrible two-day experience rides the fine line between lousy customer service and what some would consider elder abuse.
Editor's note: I'm on an adventure to Antarctica this week, so I'm republishing some of my older memorable tales from Consumer Advocacy Land. This one was originally published in 2019 and has been updated/fact checked for 2023 — and I can truly say that even today this is still the most disgusting train ride I've ever seen.
How this disgusting train ride began
Imagining the beautiful countryside she could see from the window of a train; Miller booked a cross-country journey. Her Amtrak trip would begin in Boston and end in Emeryville, Calif.
Miller suffers from a variety of physical and medical disabilities and she is mobility impaired. And so, she and her companion hoped to be able to book an accessible bedroom for the adventure. Unfortunately, these rooms are quite limited and none was available. So the two booked a regular bedroom for the bulk of the trip.
However, before they arrived in Chicago, they were pleased to learn that Miller's friend had secured a paid upgrade to an accessible bedroom. In total, the cross-country trip cost around $2,000 for the two ladies.
Unfortunately, this upgraded accommodation on the train would turn out to be a nightmare.
A cross-country train ride with a bedside broken toilet
Amtrak's California Zephyr is a two-story, Superliner train. Traveling through some of the most beautiful scenery our country has to offer, the Zephyr can transport passengers from coast to coast in several days.
But the Zephyr contains only one accessible bedroom per sleeper car. So Miller and her companion couldn't believe their luck that a room had suddenly become available. They transferred to the train in Chicago and made their way to the compartment.
Within an hour the dire situation became clear.
The Superliner's accessible bedroom has a toilet inside the small compartment just behind a curtain. Miller says she used the toilet and then discovered that it wasn't working. It couldn't flush.
We immediately reported this to our attendant. He promised it would be corrected soon. A few hours later, it wasn't fixed and I made my way to the toilet in the hallway. To my horror, I discovered that toilet was soiled and also inoperable. Our entire car had no functioning toilet! And all the toilets were used and unflushable. The stench soon began.
Miller says that their attendant was sympathetic but couldn't correct the problem. Instead, he taped handwritten warnings outside the bathrooms. Those signs instructed passengers to go upstairs to find a functioning toilet.
Toilets on trains
The bumpy nature of a train makes toilets onboard a bit tricky. To avoid toilet water splashing about there is minimal liquid used. In this way, a train toilet is similar to an airplane toilet.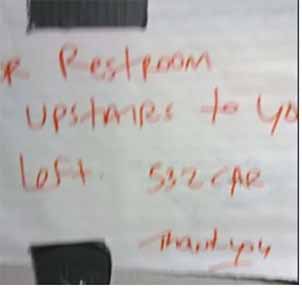 However, since Miller had used her toilet before she discovered it did not work, it was filled. She says that over time it sloshed about and onto the floor. And her room soon smelled like — well — urine. It became quite unpleasant.
The room attendant brought towels to absorb the mess on the floor. He assured Miller that he was doing everything he could to get the problem fixed. Miller asked to be moved to another car. Later she asked for a downgrade to a roomette. She wanted to be anywhere except her current room assignment.
But there was more bad news: there were no other available rooms.
And so for the next two days, Miller sat and slept beside a toilet filled with urine. She says the smell in the hall and her compartment became intolerable.
All the toilets in our vicinity were soiled and out of order. What this meant for me as a handicapped person is that I had to walk up the stairs and go to another car, walk down the stairs to use a toilet. Then to get back to my room I had to do it all again. Every time I needed to use the toilet I had to do this. The purpose of an accessible room for disabled people is to make using the facilities easier. That didn't happen here.
Escaping to the dining car?
To add insult to injury, the next day, Miller made her way to the dining car. She arrived five minutes too early to be seated. An attendant told her to wait in the hallway. When Miller complained that she was feeling weak and needed to sit, the attendant told her to go back to her bedroom. She could have her food delivered there if she wasn't feeling well.
"At that point, my room was rather smelly from the toilet problem," Miller explained. "The hallway also smelled bad and I wasn't about to eat there. I have no idea why I could not just sit down and wait in the dining car."
Miller's disgusting train ride just became more intolerable as the hours and then days dragged on. At each stop along the way, employees promised her that the toilets would be fixed. This maintenance and clean-up never happened.
"Our sleeper room became virtually uninhabitable," Miller reported. "On our two-day trip, we were exposed to hazardous health conditions including a wet floor from the sloshing of waste from the toilet. It was difficult to change my clothes with the mess on the floor."
Arriving in Emeryville — Freedom from this disgusting train ride!
When the California Zephyr finally pulled into Emeryville, Miller and her companion were overjoyed. All the two wanted was to go home and shower and be free of the filthy conditions they had been made to endure for days.
And then Miller began her quest for the Amtrak refund that she firmly believed the company owed her.
Unfortunately, her self-advocacy mission was doomed from the start.
Instead of keeping her complaint short and sweet, she wrote several pages detailing the entire disgusting train ride. As we frequently point out, when you write a letter like this, it's typically not read in its entirety. Significant parts of your case get buried among the extraneous information you've included and the company may not ever get to the part that includes your actual problem.
For an example of this type of letter-writing fiasco you need to look no further than the case of Stan Fernald and his complaint to Royal Caribbean. He paid $4,200 to bid on a cabin upgrade. He won, but received a significantly downgraded cabin. This should have been an easy case for the cruise line to resolve for its customer. But Fernald's message's to Royal Caribbean were lengthy and did not highlight the problem. As a result he almost lost over $4,000 that he was rightfully owed — until he reached out to our advocacy team.
When you begin any self-advocacy mission, it's critical to keep your complaint concise. Make sure that the most egregious details jump out at the reader. It's important to remember that your complaint is likely sitting among a pile of other complaints. To make your letter stand out from the crowd, be polite and brief. End it with a reasonable request.
A $400 Amtrak refund for two days stuck in a filthy compartment
Miller's initial letter resulted in a brief and somewhat vague apology from Amtrak. The Amtrak representative apologized that the trip had not met her expectations. And as I read the response, I doubted that this man had read Miller's entire recounting of her torturous cross-country journey. Those were the days that were meant to be spent relaxing and gazing out the window reveling in the beauty of the Rocky Mountains and beyond.
This customer service specialist went on to say:
Furthermore, I apologize for the cleanliness issues you described. Because we realize the importance of providing our passengers with clean surroundings, all of our equipment is scheduled for heavy-duty maintenance at regular intervals. In addition, each piece of equipment is scheduled to be thoroughly cleaned and inspected prior to being dispatched for service.

On long-distance trains, it is the responsibility of the onboard service personnel to maintain cleanliness for the duration of the trip. I regret that this was not your experience.

At Amtrak, we recognize that customer service is critical to the Corporation's growth and success. We do not want this experience to leave you with a bad impression of Amtrak. Therefore, I have taken the liberty of issuing a partial refund of your accommodation fare in the amount of $400.
This $400 refund offer from Amtrak only served to infuriate Miller and deepen her "bad impression."
A critical error in self-advocacy
And then Miller made the ultimate self-advocacy mistake. She mentioned that she had possibly been physically injured by the long walking and jostling of the train. And her case was immediately referred to the legal department of Amtrak. In fact, her paper trail included her reference number from Amtrak's legal department.
We know from experience that once a consumer implies a lawsuit might be on the way, most companies refer any further inquiries to their legal department.
We frequently receive pleas for help from consumers who have valid complaints. And then we see that angry customer has threatened, "this could be a lawsuit" or "I haven't called my lawyer — yet." This tactic never works in the consumer's favor.
It's best not to threaten a lawsuit and then contact our advocacy team. Because once a company sends your case to its legal department, you don't need a consumer advocate — you need a lawyer. And our advocacy team doesn't have a lawyer on board — we're mediators, not lawyers.
In Miller's case, she told me that she didn't mean to allude to a lawsuit. She just wanted Amtrak to know how uncomfortable and at times painful it was to walk the long distances, up and down steps with her cane, on a moving, bumpy train. She was sore when she got off the Zephyr. It was a very unpleasant train ride from Chicago to Emeryville.
Asking for that Amtrak refund
Looking at Miller's awful photos and considering that she is an elderly disabled woman, I also thought an Amtrak should provide a refund. Miller agreed that she should pay for her journey from Boston to Chicago. But she did not want to pay for the filthy ride in the accessible bedroom from Chicago to Emeryville. The turmoil that Miller endured for those two days was not what she had in mind when she upgraded her accommodations.
And since my experience with the Amtrak executive resolution team has always been positive, I hoped to be able to turn this around for Miller.
I assumed that no one at Amtrak had read her entire terrible tale of her train ride across the country. And I figured no one must have seen the disgusting photos that Miller sent me. Those included one looking down into the urine-filled toilet in her room. (I will not be inflicting that photo on our readers. You're welcome.)
So I composed a cordial and brief summary of the highlights of Miller's disgusting train ride. I asked that Amtrak refund Miller's fare for the California Zephyr portion of her journey. I received a pleasant response from our executive contact. She would research what happened and get right back to me. She did.
And then it became somewhat apparent to me that Miller's case was in the legal department at Amtrak. Our executive contact sent me a short, less than cordial email that read, "Amtrak has responded to this passenger's complaint."
End of response.
One more try
Not willing to give up just yet, I sent an inquiry to two other executive contacts at Amtrak. Here's an excerpt:
We are still trying to mediate some reasonable resolution for your disabled passenger, Elaine Miller, who was forced to sleep beside a non-flushable, urine-filled toilet inside her accessible compartment for two days aboard the Zephyr in September on a cross-country journey. Additionally, the toilet directly outside her compartment was also "used" — and unflushable for those two days.

It's difficult for me to believe that this awful experience is only worth a refund of $400 for this elderly passenger. She was made to walk long distances in order to locate an operable toilet throughout this journey and the conditions inside her room were intolerable. She has sent photos of towels on the floor and around the broken toilet. And other photos of the conditions in the hallway outside her compartment. Why wasn't she relocated to a clean and comfortable compartment? This problem was discovered just two hours into the journey.
And here's Amtrak's final answer to me:
Hi Michelle,

We have responded to the customer and resolved this issue within our standard practices.
"Within standard practices"?
The response and resolution from Amtrak to a disabled, elderly passenger who found herself in such conditions was to provide towels to clean up the mess. And then she was offered a token refund at the end of this two-day torturous train ride. It would be interesting to see the written version of Amtrak's standard practices that includes this protocol.
For Elaine's part, she says she isn't giving up. She intends to pursue "all avenues" to a resolution. She explains:
I'm not just doing this for the refund. There are people more handicapped than me who might find themselves in this same position. It was terrible. Amtrak should have been able to correct the problem at the time.
These executives might want to consider how they would feel if someone treated their own grandmother this way.
Epilogue — great news!
Often after we publish one of our articles that includes a not so happy ending, the court of public opinion begins to weigh in. The company involved then rethinks its decision. That's what happened here in Miller's case.
First, Miller heard from the same customer service specialist at Amtrak who had previously offered the $400 "final offer" refund for her disgusting train ride.
After careful reflection and reassessment we have decided to refund you an additional $596.30 due to the subpar experience on train 5. Please allow me to add my apologies to those already expressed. We sincerely apologize for the difficulty that you experienced when you traveled with us. Furthermore, we regret that we were not able to provide for you the high standard of service we strive every day to attain. The additional refund will be credited to the Visa originally used for purchase. Thank you again for reaching out to us and we hope to see you on board again under more ideal circumstances.
And I soon received a phone call from an executive team member at Amtrak. He told me that this article had been making its way around the company. No one was pleased with how Miller had been treated by the staff onboard the Zephyr or by the follow-up resolution team.
Now Amtrak assured me that the case was not closed.
The Rail Passengers Association
That same day I heard from Jim Mathews, the President and CEO of the Rail Passengers Association (formerly known as NARP). The Rail Passengers Association is the oldest and largest association advocating for train and rail passengers in the United States since 1967. Mathews pledged his organization's help to make sure Miller received a full refund for this terrible journey. And his team began making inquiries on Miller's behalf.
Miller then received one more apology from that customer service specialist. And he included yet another additional refund with this apology.
Please allow me to extend another apology to you. I was assigned the final handling of your case and the unfortunate reality is that I misunderstood the severity of the inconvenience you experienced. Upon further reflection and reassessment, I am beyond disappointed that we were not able to rectify the issue with your accommodations immediately. Barring that, I regret that we did not make other arrangements for you. I had a long discussion with my supervisor regarding this situation and he implored me to put myself in your position. Quite frankly, I complain at the drop of a hat and would not have handled the situation with the graciousness that you did. Please accept my sincere apologies for this matter.
But that still wasn't the end of Miller's case.
Not yet.
And finally…
One week later, Amtrak finally offered the resolution that Miller had been hoping for — and more. The executive resolution team agreed that the company had truly let Miller down on this once-in-a-lifetime cross-country experience. Amtrak would provide a full refund for the entire journey and also agreed to give Miller a free trip so that she can try a do-over when she feels up to it.
And Miller hopes that next time she'll be able to actually relax and enjoy the beautiful scenery passing by outside her window — which was all she ever wanted in the first place. (Michelle Couch-Friedman, Consumer Rescue)