Norwegian Cruise Line recently gave Evangelia Koumanidis some awful news about her family's much-anticipated sailing aboard Prima, its brand-new ship. In a baffling email, NCL canceled their fully paid $4,657 cruise – citing nonpayment.
Confident that this cancellation was a simple clerical mistake that Norwegian could quickly correct, Koumanidis called the cruise line.
That's when an NCL agent informed a stunned Koumanidis that there was no mistake. The cruise line had canceled the family's trip 21 days before departure over an unpaid balance.
But there was worse news on the horizon. That same NCL agent coldly explained that the cruise line will not refund a passenger in this situation.
Now an incredulous Koumanidis is hoping Consumer Rescue can convince the cruise line to reconsider its decision. She's certain that she paid for her cruise in full and that NCL has made a $5,000 mistake.
But what is really going on here?
Jump straight to the update:
Sailing with Norwegian Cruise Line on a brand-new ship: Prima
In January, Koumanidis and her husband were looking for a break from the cold, blustery weather of upstate New York. They decided that a Caribbean cruise would be the perfect answer to their winter blues.

Looking through the Norwegian Cruise Line website, the couple soon agreed that the February 19 sailing of Prima — the cruise line's brand-new ship — from Port Canaveral, Florida, fit their schedule and budget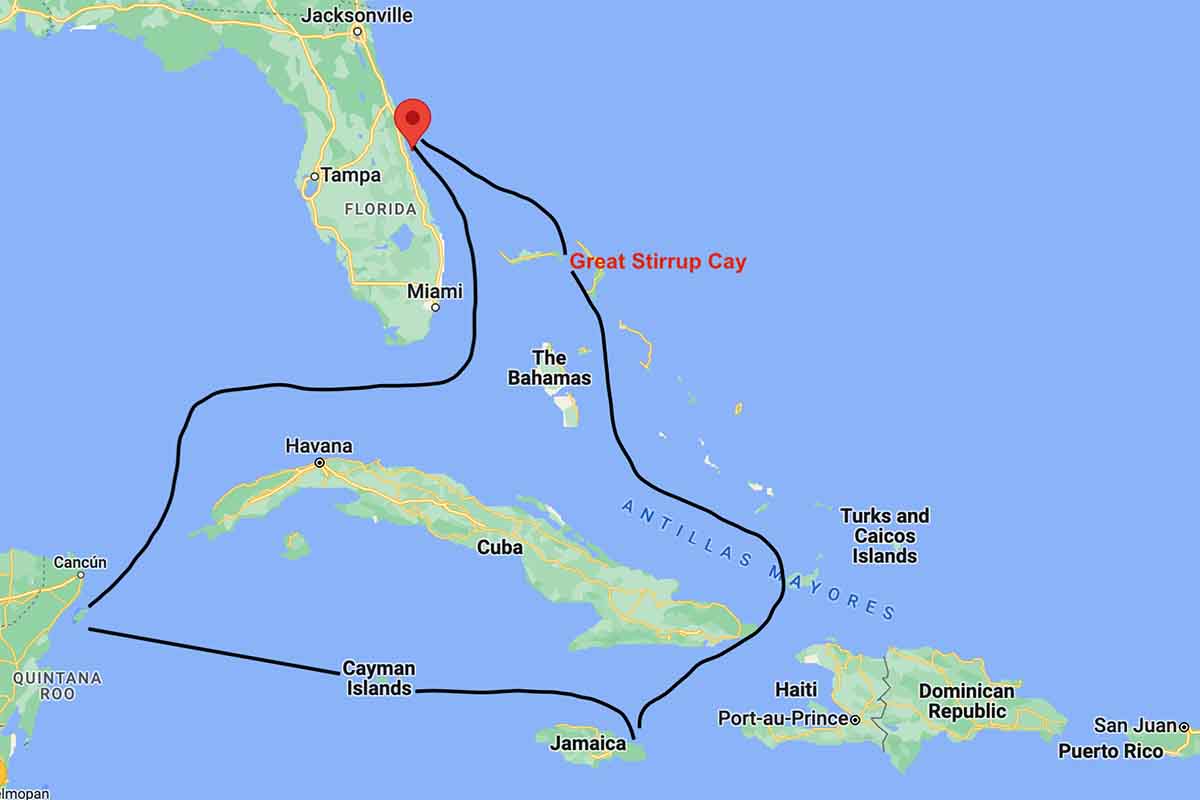 Because it was a spur-of-the-moment getaway, Koumanidis liked that she could pay for the cruise over time by using Norwegian Cruise Line's "Book now and Pay later" feature via Uplift.
I filled out a few questions and was soon approved for Uplift. I had to pay $548 on my Visa, which was for port fees. Then the balance of the cruise, $4,109, was financed. I also made the first payment via Uplift that same day. I soon received an email from NCL with our cruise contract that indicated the trip was paid in full.
Uplift also sent her a confirmation of the first payment. Each month for the next 11 months, Uplift would deduct $402 from her bank account. The total cost of the winter getaway with interest charges was $4,895.
With all the payment details taken care of, Koumanidis downloaded NCL's mobile app. There she could see the itinerary for their sailing of Prima and browse activities, excursions, and restaurants, among other things.
"It was very exciting," Koumanidis recalled. "Seeing all the fun things to do and plan. We were really looking forward to the cruise."
That excitement lasted just a little over a week before something went terribly wrong.
Surprise! NCL has canceled your fully paid for cruise for nonpayment
Twenty-one days before embarkation, Koumanidis says she was scrolling through NCL's mobile app.
I was looking at shore excursions and other things we could do on our vacation. Suddenly a pop-up on the screen said we could book ground transfers from Orlando for around $100. That sounded like a good idea, but I wanted to look at my options more closely. But [I got distracted by something] and put my phone down. One hour later, I received three emails from Norwegian Cruise Line confirming our cruise was canceled! I was shocked and had no idea what was going on.
Koumanidis says she frantically called NCL and asked what was going on. The first agent wasn't sure, but he could see that NCL had canceled the cruise for nonpayment.
Subsequent cruise line agents dug a little deeper, and soon Koumanidis had what seemed like an entirely nonsensical answer.
Norwegian Cruise Line: You didn't pay the $112 for the ground transfers
They [the NCL agents] told me that I hadn't paid the $112 for the transfers from Orlando to the ship. But I never added those transfers to my contract. I was just looking because of the pop-up.

Immediately I called and asked to be reinstated, and NCL told me the cruise was sold out. I asked them to show me proof because when I looked online, there were many cabins left. This was all immediately on the same night as the pop-up – as soon as I received the cancellation email.

I called again and another agent told me that because I was within 150 days before the cruise, I automatically lost all my money and couldn't be reinstated!
After many calls to Norwegian Cruise Line, a tired and frustrated Koumanidis reluctantly gave up for the night.
Just hours before, she had been enjoying perusing all the fun things to do on her winter getaway. Now, something had gone wrong with that NCL app and caused her cruise to be canceled.
She found the turn of events of the evening hard to believe.
Pleading with Norwegian for reconsideration of the cancellation
For several weeks after the cruise line suddenly canceled her family's cruise, Koumanidis made daily pleas to NCL asking for reconsideration. Even as the embarkation date drew closer and closer, she still had hope that her family would be onboard Prima when it set sail from Port Canaveral on February 19.
But each day, that hope dwindled as new NCL agents reiterated that Norwegian would not reinstate the family's cruise.
Then came February 19, and when Prima set sail without the family, Koumanidis abandoned any further attempts to reason with NCL.
She decided to pursue a different angle. If NCL wouldn't help, maybe Uplift would.
Uplift: You paid for your cruise in full, but we can't refund your payment
Koumanidis sent her refund request to Uplift and hoped someone there would be the voice of reason.
Norwegian canceled my cruise and will not give me my money back. Who can I talk to? What can I do? I have contacted Norwegian every day and nothing has been accomplished. Can you please help me?!

Koumanidis to Uplift
Unfortunately, Koumanidis quickly discovered that Uplift would not be able to help get her money back for the canceled cruise. Although Uplift is a "trusted partner of Norwegian Cruise Line," it's just a billing agent.
The Uplift agent was polite but clear that any refunds would need to come directly from the cruise line.
I am so sorry for the trouble you've had working with Norwegian Cruise Line! All refund and cancellation requests are processed through the travel provider. Uplift is solely the method of payment for the booking, we do not have the ability to contact a merchant and request they issue the funds back from your purchase.

If Norwegian Cruise Line is unable to process a refund back for cancellation, then the loan with Uplift will continue as normal until the remaining balance is paid off.

Uplift agent to Koumanidis
The agent went on to recommend that she continue to reach out to NCL and ask for a future cruise credit.
And to add insult to injury, the next day, as Prima sailed to Cozumel filled with happy cruisers, Uplift deducted the second payment of $402 from Koumanidis's bank account for the cruise NCL had prevented her family from taking.
"Only 10 more payments to go!" read the cheerful alert.
Asking Consumer Rescue to investigate this canceled cruise
One evening, as Koumanidis was deciding whether she should try to sue Norwegian Cruise Line for her lost vacation, she came across one of my recent articles that painted the cruise line in a very nice light.
In that column, I wrote about a couple who was unaware of cruising restrictions for pregnant women. Those first-time cruisers were denied boarding Norwegian's Getaway after the wife revealed that she was 24 weeks along.
And even though NCL didn't owe the couple anything, the cruise line granted them a full future cruise credit to use after the baby is born.
Koumanidis hoped that my team and I might be able to do the same for her and her family.
I hoped so too. So I asked her for proof that her cruise had been paid in full – and we immediately had a big problem.
Koumanidis had no paper trail – not even a cruise contract. When I asked how that could be possible, she started to tell me a strange tale.
And my shenanigans detector began to go off.
Can NCL delete emails after they're sent?
I can't open any of the emails that NCL sent me about the cancellation. They also deleted all records of my cruise from the app. So I don't have any documentation at all. I asked AOL why I can't open any of the emails NCL sent me and they [AOL agent] told me that NCL must have recalled them.

Koumanidis to Michelle
When Koumanidis told me this, I admittedly found that hard to believe. And why would NCL do that?
But then I started going through what Koumanidis did have, and it began to seem plausible.
In fact, the more I stared at her limited evidence, the more it appeared that the cruise line might be responsible for whatever shenanigans was going on here.
Although Koumanidis could not open the cancellation notifications from NCL, the imprint of the three emails were still visible. Each of these emails had an attachment, presumably the contract. And those attachments were labeled "Miami."

But Prima was embarking from Port Canaveral – and it wouldn't be visiting Miami at any time on the February 19 sailing.*
But there was more.
Uplift identified the date of embarkation of Koumanidis's cruise as 2/23/23. Prima was sailing on 2/19/23.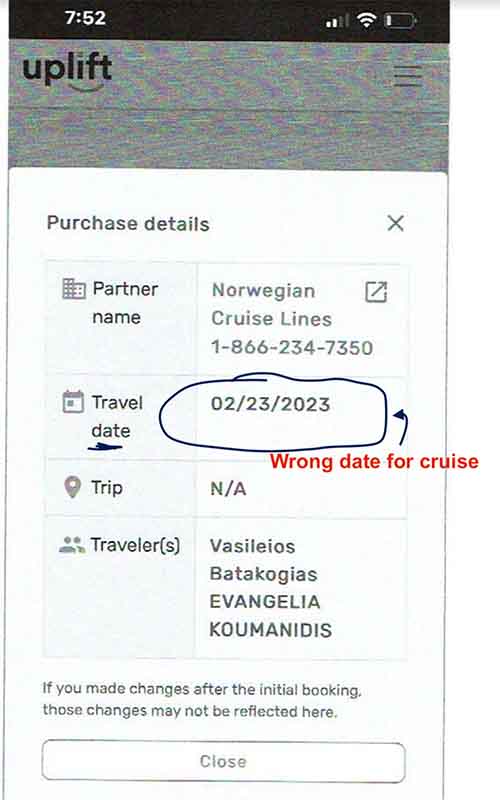 I now believed that NCL had somehow mixed up Koumanidis's cruise with someone else's cruise.
It was time to ask NCL's executive resolution team to have a closer look at the facts of this strange case. (Note: The media/executive contacts I have available to me are not available to consumers.)
Was this NCL passenger's cruise record switched with another?
So I sent over all my findings to the same NCL team who was so helpful to the expecting husband and wife two weeks ago.
Hi ****

Evangelia Koumanidis was booked on the February 19 sailing on Prima from Port Canaveral. She financed the cruise via Uplift. For some reason, NCL canceled her cruise on January 29 due to "nonpayment." Based on the details I have here, I believe that her reservation may have been switched with another passenger's reservation because the cancellation email has a PDF attached that says "Miami" as the embarkation point.

When I look at her account in Uplift, it says her cruise was scheduled for Feb 23.

Uplift shows that her cruise was charged to her account and she is still making regular monthly payments. I'm wondering if Uplift mistakenly applied her payments to someone else's cruise — someone who sailed on the Feb 23* sailing of Encore from Miami?

Evangelia has asked NCL to provide some explanation about the nonpayment, but all she received was a notification/reiteration that her cruise on Feb 19 on Prima was canceled due to nonpayment and no refund is owed to her. So now she has a loan from Uplift for nearly $5,000 and she didn't get a cruise. I can see her account is in good standing with Uplift so she didn't default on any payment.

Would your team be able to have a look at this one? If this was just a mix-up she would be over the moon to be able to either get a refund or a future cruise credit so she could take a cruise after all. Thank you!🚢😊

Michelle to the executive resolution team at Norwegian Cruise Line
I was pretty confident Norwegian Cruise Line would quickly resolve this case in Koumanidis's favor.
To my surprise, it didn't. In fact, things soon got a little weirder.
Would NCL really cancel a nearly $5,000 cruise over a $112 transfer? (Hint: Yes)
First, I received an email from our contact at NCL, but before I could open it, an additional message arrived that the executive wished to recall it.

So now the strange tale that Koumanidis had told me about her suspicions that NCL had recalled all those emails didn't seem so strange at all.
Next, the NCL executive resolution team sent me a message confirming that Koumanidis's cruise was fully paid for on January 21. But on January 29, when she added the $112 ground transfer to her shopping cart on the NCL app, her entire cruise was canceled for nonpayment.
Hello Michelle,

Our team has looked into this case and found that the guest paid for their cruise by the final payment date.

Later on, and within the final payment window, Ms. Koumanidis added ground transfers to her reservation. As such, payments for those transfers were due at the time of reservation. As payment was not received at time of booking, the reservation was canceled. You can find our cancellation policy here. In addition, I've included the bullet point related to this situation below.

· Reservations that are not paid in full by the final payment due date are subject to cancellation and in the event a reservation is canceled, a cancellation fee will apply.

In addition, we can confirm that she was reserved on the 7-day Caribbean sailing roundtrip from Orlando Beaches Port Canaveral, as shown in the confirmation document you sent us (see attached).

NCL executive team explaining the situation to Michelle Couch-Friedman, Consumer Rescue
NCL: Thank you for understanding
In addition to the message to me, Norwegian Cruise Line sent a follow-up to Koumanidis making it crystal clear that it had canceled her cruise because of the $112 ground transfers left in her online cart on January 29.
NCL thanked her for understanding and incredulously hoped she would consider using the cruise line in the future.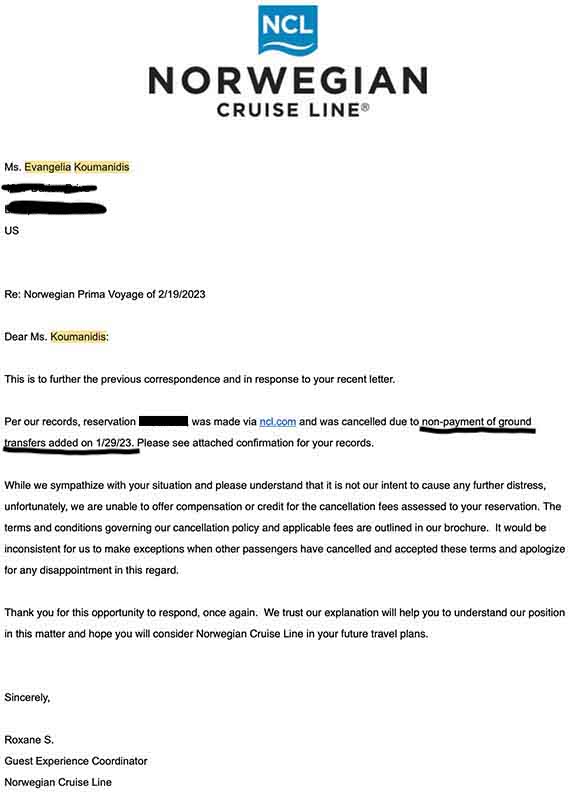 The response from NCL didn't sit right with me. After all, Koumanidis didn't even agree that she had tried to add transfers to her contract. She says she was just reading through the pop-up information and got distracted by kitchen duties. When she came back to her computer, NCL had canceled her cruise.
In fact, when I asked for a copy of the cancellation confirmation from NCL, it showed that the cruise line canceled her cruise immediately on the evening of January 29.
I tried again to reason with NCL, I asked why the cruise line wouldn't have just canceled the $112 ground transfers. I also asked why she hadn't received a request for payment if this was really why NCL had canceled this family's cruise.
But similar to another case in which it seemed that the cruise line had made some mistakes (See: Norwegian Cruise Line made us stay in our cabin for four days! Is this legal?), NCL responded to me with silence.
The final answer from Norwegian Cruise Line
The final answer from NCL: It's keeping this family's $4,657 cruise fare because of the nonpayment of the $112 ground transfers – and it can because of the terms and conditions Koumanidis agreed to.
It is likely we will never know exactly what happened here. But Koumanidis remains firm that she didn't put those transfers in her online shopping cart, and she certainly would have paid for them if she had any idea what was on the line.
Koumanidis intends to consult with an attorney about what's happened here and report this to the attorney general in New York (Here's how to find the contact information for the attorney general in your state). But she wants you to hear about her experience so that you can protect yourself from falling prey to what she calls "some type of scam!"
How to make sure a cruise line doesn't cancel your cruise over nonpayment
Unless you don't pay your bills, your cruise line will not be likely to cancel your cruise. But mistakes happen, even by popular cruise lines like NCL.
Of course, Norwegian Cruise Line hasn't conceded to making any mistakes in this case, but here are some ways to protect yourself from a similar experience.
Read the terms and conditions of the cruise line
In this case, Norwegian Cruise Line forwarded a clause that showed why they could legally retain this family's cruise fare.
But that doesn't mean it's nice or fair.
It's critical that all passengers carefully read through the entire contract so that they don't somehow run afoul of something that looks a lot like a "gotcha clause."
Keep a paper trail of all emails and other transactions
Koumanidis's problem became much more confusing because she had virtually no paper trail that supported her case. She didn't even have a copy of her original contract. All of the evidence she needed to prove her case was virtual and somehow became inaccessible to her after NCL canceled her cruise.
It's imperative that you make copies of your contract and any correspondence with the cruise line – before any troubles arise. You can take screenshots from your phone or computer and store them in a folder on your device.
What you don't want is to be at the mercy of the cruise line to help you create your paper trail after something has already gone wrong.
NEVER add additional products to your cruise contract
After you've confirmed your cruise and paid the bill, refrain from adding anything further. As my colleague, Dwayne Coward, explained to me, if you add anything else, you will usually need to cancel and rebuild your cruise contract – just like with an airline ticket.
If you decide you need transportation to the pier after you've paid for and confirmed your cruise, have a look at Uber, Lyft, or a local taxi. In fact, these modes of transfer are often cheaper than the official transportation offered by the cruise line.
WARNING: After we published this article, I heard from travel advisors. They informed me that NCL has enabled "auto-cancel" on its website. It's something they've been warning their clients about for some time. If you add something to your cruise contract within 120 days of sailing and do not immediately pay for it (or your payment is declined), auto-cancel can happen to you too. Norwegian can retain your entire cruise fare.
Use a professional travel advisor
Using a professional travel advisor to book your cruise and provide ongoing guidance before, during, and after your trip can give you almost impenetrable protection against many of the cruise fiascos you read about here at Consumer Rescue.
Your agent wants to ensure that your vacation goes off without a hitch and will be there to help you if things go wrong.
A word of caution: Not all people who call themselves travel agents are qualified. Unfortunately, there are currently no laws that prevent anyone from using the term "travel agent." So unless you want to risk ending up with someone who doesn't even know basic geography as your travel guide (See: Is this the world's worst travel agent?), ask a friend for a recommendation or visit ASTA to find a professional travel advisor.
The bottom line
Make sure that you understand and agree to all details in your cruise contract. These are legally binding documents. Be certain to read every part of them so you don't end up caught in your own costly cruise fiasco.
But if you do find yourself in a frustrating struggle with a company, Consumer Rescue is always here, ready to lend a hand and do our best to fix your problem.
March 24, 2023 update: The Court of Public Opinion weighs in
Everyone who knows me knows I don't give up easily. So even after publishing this story last week, I wasn't willing to throw in the towel.
Of course, Koumanidis wasn't ready to give up either.
The many outraged and encouraging emails I received about the treatment of this family by NCL continued to propel my efforts to pursue other avenues to positively resolve this case.
First, I contacted Tony at La Lido Loca. He (and his wife Jenny) runs a super popular YouTube channel all about cruising and has a giant following of enthusiastic cruisers (make sure to subscribe to his channel if you love cruising). He dedicated Wednesday's show this week to the plight of Koumanidis — and his viewers were appalled. Many called for a boycott of the cruise line until it reversed course in this case.
You can watch the episode here:
Next, I reached out to our executive contact at Uplift. I told her the sad tale of what had happened to this family. Her team did a little digging to see if they could nudge this case in the right direction with Norwegian.
Readers shared this article across many Facebook pages and groups. Although some faithful NCL customers refused to believe this story to be true (A few even insinuating that I had fabricated the story and attachments), most people who read Koumanidis's cruise fiasco were outraged and demanded that NCL make this right. Some readers suggested it would be great if a competing cruise line gifted the family with a voyage.
Finally, Don at Don's Family Vacations, who hosts another popular YouTube channel, told his viewers about what happened to this family. He was really mad, and he didn't hold back. His legion of followers was outraged as well (His channel is another to follow if you love to cruise).
Good News: Norwegian Cruise Line reverses course
Today a representative of the executive resolution team at Norwegian Cruise Line reached out to give Koumanidis good news. NCL is granting the family a full future cruise credit. That FCC, combined with the cash refund of the port fees and taxes, makes the family whole.
Uplift also contacted me to confirm:
Hello, Michelle,

Delighted to say NCL has been in touch with Ms. Koumanidis and spoke directly to her today and provided a future cruise credit for the penalized amount on her reservation.

We appreciate you reaching out, thanks again. Have a nice weekend.

Uplift executive contact
Of course, it would have been nice if NCL had provided more of a goodwill gesture to make up for this terrible fiasco. But Koumanidis and her husband are thrilled with this victory.
Thank you, Michelle I owe you so much. Thank you from the bottom of my heart.

Evangelia
And I want to thank everyone from the bottom of my heart who nudged Norwegian Cruise Line to do the right thing here. This was a real group effort!
Thank you! 🥰Thank you! 🚢Thank you! 🥰🚢
PS. I made sure Evangelia got this offer from NCL in writing and made a copy of it!
(Michelle Couch-Friedman, Consumer Rescue)
Before you go: What's going on with Vantage Deluxe World Travel and why is it canceling its upcoming cruises?