The coupon offer from Stanley Steemer was attractive: $160 to clean up to eight furnace air ducts. Roberta Cirino thought she was doing a smart thing by responding to the mailing from the well-known cleaning service company. However, what happened next is a homeowner's nightmare. The job came complete with a shockingly high final invoice and repair bills to fix the damage the Stanley Steemer crew did to her wall.
To add insult to injury, the owner of the franchised location responded to Cirino's complaints about this "hatchet job" with indifference.
Now Cirino is asking Consumer Rescue to help right this wrong. She would like Stanley Steemer to adjust her bill and pay for the damage to her wall.
That seems like a more than reasonable request. So why hasn't the company already agreed to correct the problem?
A trusted name: Stanley Steemer
Cirino, a widow who lives in a two-bedroom condo in West Palm Beach, Fla., called the phone number on the enticing coupon to schedule an appointment for duct cleaning. However, the number was not for Stanley Steemer International, Inc., but rather a local franchise.

Part of the appeal of owning a business franchise includes benefiting from the brand name and reputation of a successful national company. As Cirino found out, however, we can't always trust that the franchise operator will live up to the parent company's standards.
Preying on an elderly widow
On the day that the Stanley Steemer workmen arrived, they removed one duct cover and one air conditioning vent cover. After peering inside the duct for a moment, they turned to Cirino and dropped their bombshell. They told the stunned woman that the ducts and a/c system were infested with dangerous mold.
The Stanley Steemer crew then explained that the situation was a health hazard and needed to be treated immediately. This hit close to home for Cirino, as her husband had died of lung cancer.
As the men stood in front of her waiting for an answer, Cirino, frightened by the news, quickly agreed to the additional services.
Cirino realized too late that agreeing on the spot to those additional services was a giant mistake.
"Thinking back now, I foolishly agreed because I was scared," Cirino told Consumer Rescue's publisher Michelle Couch-Friedman. "They [the Stanley Steemer workmen] high-pressured me and said I had mold and bacteria — without even testing."
But, unfortunately, Cirino did willingly give the green light, and the crew soon began tearing the vent covers off her walls.
Stanley Steemer: Here's your $1,408 bill
As the crew continued their work, Cirino couldn't help but feel that she had just been bamboozled. She just wanted them to finish the job and leave.
At the end of the day, Cirino was shocked once more when a straight-faced Stanley Steemer crew member handed her a bill for $1,408. The inflated invoice didn't even remotely resemble the $160 duct cleaning deal advertised in the Valpak flyer.
And there was more.
The bill also included an additional $1,493 for ultraviolet lights the crew wanted to install inside the ducts.
Now, the situation suddenly came into complete focus for Cirino, and she didn't need to hear more. She wasn't about to agree to one more upsell from the Stanley Steemer crew.
She quickly declined and paid the bill. Cirino just wanted these people out of her home and to put an end to this disastrous day.
But then she glanced across the room and noticed that several of the vent coverings hadn't been re-installed. When she looked closer, she could see why. The Stanley Steemer crew had damaged the wall with the tool they had used to pry the metal plate loose.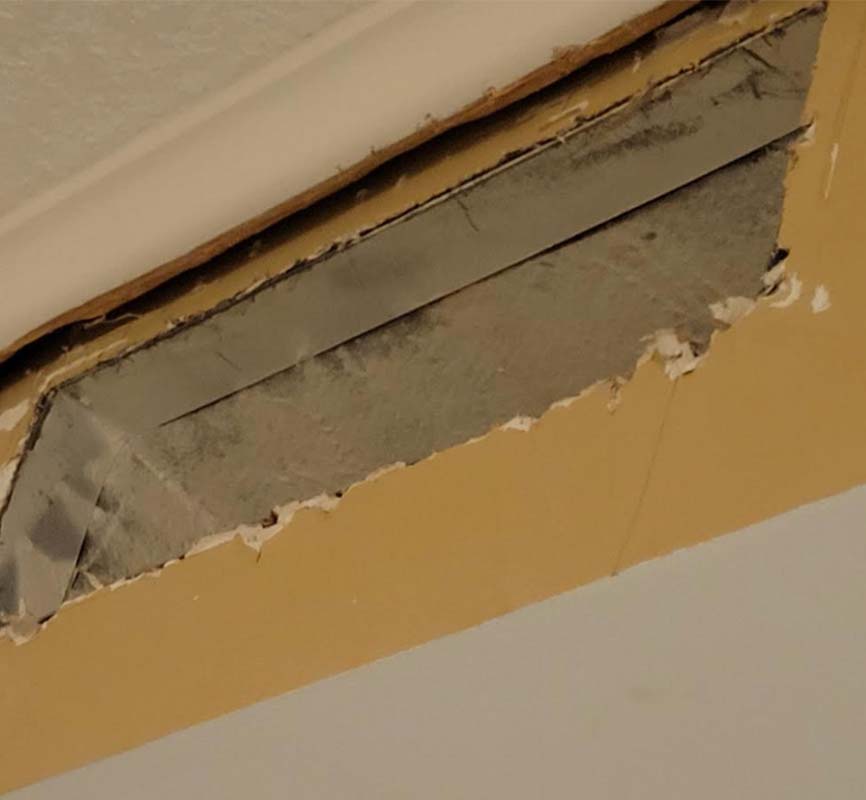 The workers had also damaged the crown molding on her ceiling, scratched and bent several other covers, and left holes in her wall. The workmen declined to even try to remount three of the duct covers that they had removed because the plates were beyond repair.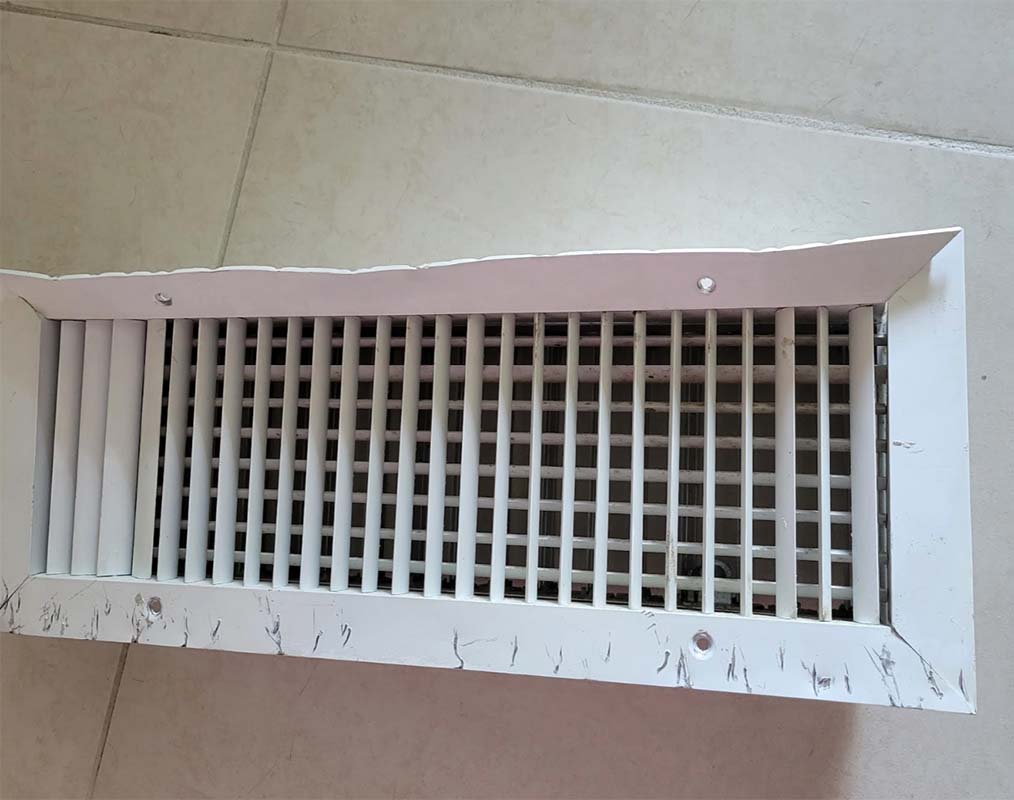 Disgusted by the day's events, Cirino showed the workers the door and headed straight to the phone. She assumed the owner of the Stanley Steemer location would be as appalled as she at what had happened in her home.
She was wrong.
No help from the local Stanley Steemer manager
Over the next several days, Cirino found it impossible to reach anyone in authority at Stanley Steemer.
"I tried to contact the supervisor of the Stanley Steemer crew," Cirino recalled. "I left four messages before he finally called me back. Then I texted him photos of all the damage."
After several more days, Cirino says that the manager finally came to her condo to straighten and remount the remaining duct covers.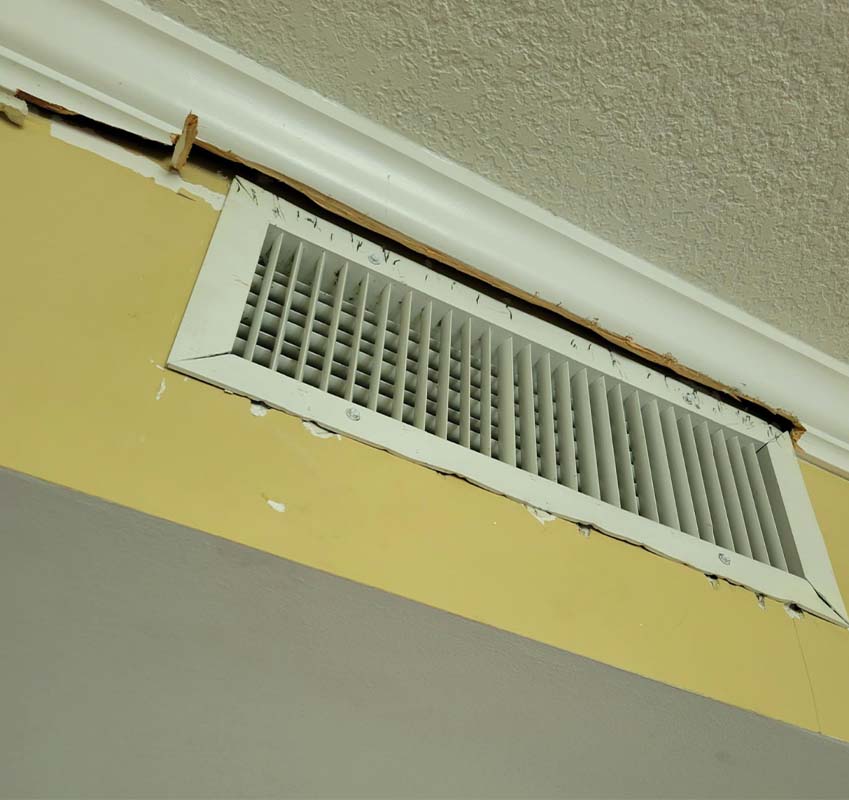 The manager's belief that this "fix" was an acceptable way to handle the problem was dumbfounding to Cirino and she told him so.
He was noncommittal when she asked that Stanley Steemer pay for a professional to repair the damage his workers had done and lower the outrageous bill. He said he would get back to her shortly and left.
Staring at the eyesore on her wall, Cirino found it hard to believe that a business could conduct itself this way.
"I thought Stanley Steemer was a reputable company," Cirino said. "Many of my friends have used them to have their carpets cleaned. But this has been a nightmare."
Did Stanley Steemer really close this complaint without a resolution?
Cirino held out hope, though, that the corporate office of Stanley Steemer would stand by its name and fix her wall — and reduce the price of whatever those workers did inside her home's ducts.
But that hope was soon squashed when the manager called back with his report.
He told her that "corporate" had declined to lower the price of the services provided. He also claimed that there was nothing further he could do.
According to him, Stanley Steemer considered this case closed, and she would be responsible for repairing the walls and crown molding.
However, Cirino wasn't about to have Stanley Steemer close her case without a fight. She knew just where to turn for help: Consumer Rescue.
Can our team rescue this consumer from her Stanley Steemer fiasco?
During the pandemic, Cirino had faced another consumer problem.
Because of the Covid lockdown, Overseas Adventure Travel had canceled a pricey trip Cirino had planned. But the company hadn't issued a refund.
"Michelle came to my rescue then and got my $6,000 back for me," Cirino recalled. "When I realized I was in another consumer pickle, I knew who to contact."
Feeling trapped and exploited, Cirino submitted her request for help to Consumer Rescue and hoped for the best.
I originally contracted for a $160 eight-duct special. I did sign the charge, but I was sure a large company like Stanley Steamer would repair the botch job. I was naive. Do you think you can help me again?

Roberta Cirino
Michelle quickly broke some news to Cirino: Not all franchise locations are created equal. In fact, after a Google search, she showed Cirino that this particular Stanley Steemer has a plethora of similar complaints logged online.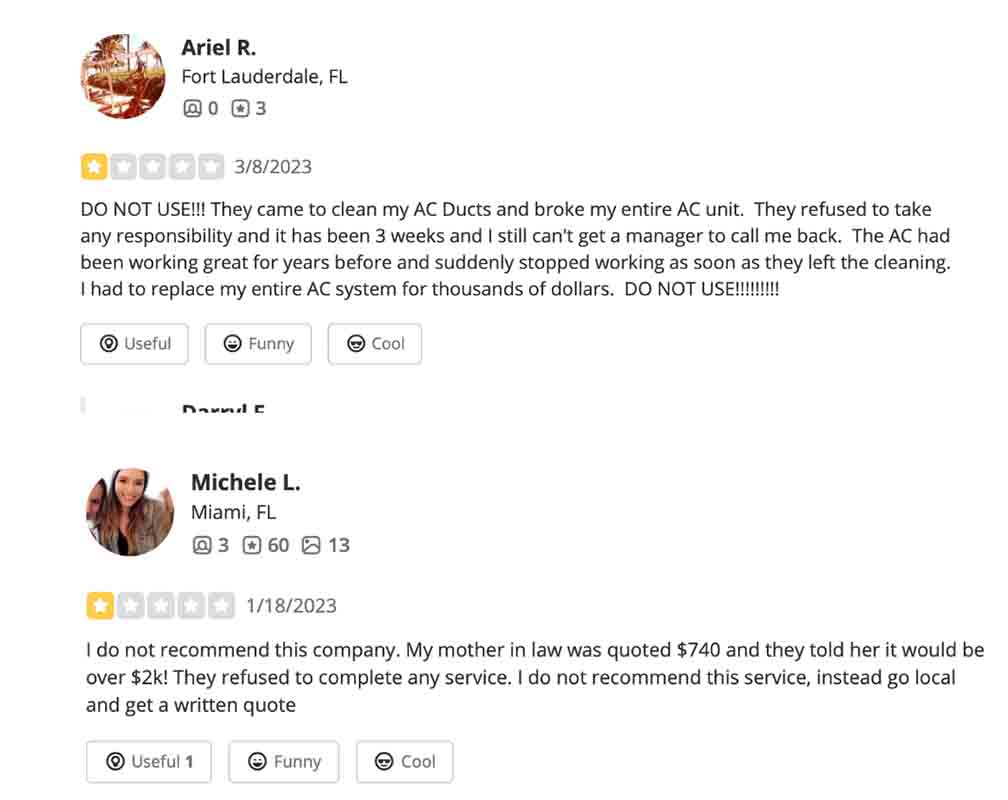 I'm beside myself! I should have looked for reviews. But I trusted the name Stanley Steemer. Can Consumer Rescue help me? The company won't even answer me any further. They consider my case closed.

Roberta Cirino
Michelle assured Cirino that Consumer Rescue definitely didn't consider her case closed. In fact, it was just opened.
Asking Stanley Steemer: Is this an acceptable business practice?
Michelle gathered up all those awful photos that depicted the handiwork of the Stanley Steemer crew and emailed an executive contact at the corporate offices – the same "corporate" that the manager claimed had rejected all of Cirino's requests.
Hi ****

I'm working on a case that involves a Stanley Steemer franchise in Delray Beach, Florida and an elderly widow who appears to have been taken advantage of by this location.

Roberta Cirino responded to a Valpak offer for $160 air duct cleaning. When the workers showed up, the cleaning ballooned into a $1,408 job. Then, to make matters worse, these employees severely damaged Ms. Cirino's wall by using some kind of tool to forcefully rip the vent off the wall. Ms. Cirino has asked the owner to repair the wall and he has refused and also reportedly told her that "corporate" has made the final decision and now is not responding further to her requests for help.

Ms. Cirino chose this duct cleaning service because of the name "Stanley Steemer" and her positive thoughts about your company. She is very disappointed with what has happened and has asked our team to assist in reaching a positive resolution to her plight. Would your team be able to have a look at the details of this case and determine if this is the type of work that "corporate" would like to be associated with Stanley Steemer? And if it isn't, what can be done for Ms. Cirino at this time?

Thank you!

Michelle Couch-Friedman, Consumer advocate, Consumer Rescue
Some good news
It turns out that "corporate" did not approve of the way this Stanley Steemer franchise handled this job or the aftermath.
One week later, Cirino sent Michelle the following note:
Hi Michelle,

I am so grateful for the work you did with corporate Stanley Steamer.


I received a call from ***, in Delray. They decided to refund half of the $1268, $634, thanks to you. It should show up on my MasterCard shortly. That should at least cover the repairs.


The job still shouldn't have been $634, but I so appreciate the help you gave me. I certainly did learn a lesson

Roberta Cirino
The lesson here is actually for all of us, Roberta.
Here's what consumers need to know when hiring home improvement contractors
While we'll never know whether Cirino's condo really had a mold problem, her expensive experience has useful lessons that are worth remembering:
Check online reviews:
Before hiring any home improvement contractor, especially franchise businesses, it's essential to check online reviews for the specific location you plan to use. While we expect a franchised business to live up to the standards and reputation of its parent company, you can't always count on it. They can vary in quality and service. In Cirino's case, a quick online search would have revealed numerous negative reviews for the local Stanley Steemer franchise.

Watch out for the upsell and the hard sell:
Be wary of service providers who try to upsell you on additional services during their visit. Unscrupulous companies (and outright scammers) often use high-pressure tactics to manipulate consumers into making decisions they might later regret. If you don't want or aren't comfortable with the proposed extras, don't let them pressure you to agree. Pressure from the provider to decide quickly should be a warning sign. Take your time to research and make a calm, informed decision.

Get a firm written estimate:
Always insist on receiving a written estimate before any work begins. A detailed estimate should include a breakdown of all charges, ensuring there are no surprises when you receive the final bill. If a service provider is unwilling to provide a written estimate, consider it a red flag and find someone else to do the work.

Pay with a credit card:
Whenever possible, pay for services with a credit card. The Fair Credit Billing Act offers you some protection in case of disputes with merchants. If the work does not meet your expectations or you encounter billing issues, you can try disputing the charges with your credit card company.

Don't panic about mold claims:
Mold is potentially serious and can seem scary. If someone claims that you have mold in your heating, ventilation, and air conditioning (HVAC) system, take it seriously but remain cautious and calm. Hire a reputable HVAC company or a mold remediation specialist to conduct testing and confirm the presence of mold. Obtain a written estimate from them before agreeing to any remediation work. And remember, your homeowner's insurance company can likely guide you through this process (and allow you to file a claim for reimbursement). Don't let fear tactics push you into hasty decisions.
The bottom line
In recent years, when I've written about fraud, it's usually been about scams that target those on Medicare. But the men who preyed on Roberta Cirino or others like them will target anyone, not just older adults.
We all have to be vigilant. (Abe Wischnia, Consumer Rescue)