Yevgeniy and Artyom Yevtushenko flew LOT Airlines from Toronto to Astana, Kazakhstan, via Warsaw, Poland, last June without a hitch. But it was a different story when they tried to check in for their flight back to Canada in August. That's when a stern LOT Airlines agent reviewed their passports and quickly denied boarding to the father and son.
Confused by the employee's announcement, Yevtushenko assumed there was some mistake that the airline could easily correct. That is until a supervisor appeared who promptly ended that assumption. He confirmed that LOT Airlines was required to deny boarding to the pair because they were missing Canadian visas.
But the agents had some good news for the rejected passengers. Since their ultimate destination was Grand Rapids, Michigan, LOT could reroute the pair and avoid Canada altogether. However, there was bad news as well: the new itinerary would cost an additional $2,249.
Given no other choice, a frustrated Yevtushenko paid the fee, and he and his son flew home to Michigan.
Now, Yevtushenko is asking Consumer Rescue for help getting the money back. He hopes we can convince LOT Airlines that its employees mistakenly denied boarding to him and Artyom. They didn't need Canadian visas, and he can prove it – if only someone would listen and look at the facts.
If you're familiar with our team, then you know he came to the right place to find someone willing to listen.
Flying LOT Airlines to spend the summer in Kazakhstan
Last spring, Yevtushenko decided to take his son to Kazakhstan for the summer. Both Yevgeniy and Artyom are United States green card holders and retain their passports from Kazakhstan.
"My wife would travel before us and we would meet her there," Yevtushenko recalled. "The best routing and price required that we fly out of Toronto, so that's what I booked."
From their home in Grand Rapids, friends would drive Yevtushenko and his son across the border into Canada. In Toronto, they would catch their flight to Warsaw and then to Astana.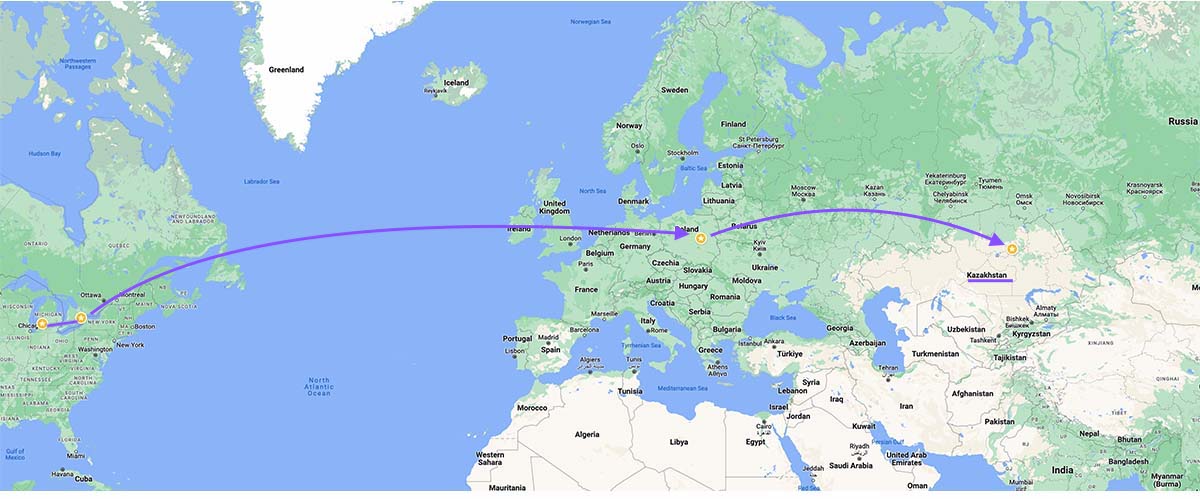 In mid-June the duo headed to Canada and boarded their flight to Europe. Encountering no problems in Warsaw, they made their connecting flight to Astana. Finally over 24 hours after leaving their home in Michigan the tired father and son touched down in Kazakhstan.
Breezing through customs the pair left the airport ready to begin their summer vacation visiting friends and family.
LOT Airlines: "You're both denied boarding."
The next month flew by, and it was soon time for Yevgeniy and Artyom to fly back to Canada. They would take the exact route home, making a connection in Warsaw before flying to Toronto.
The pair said their goodbyes to their family and friends and headed to the airport in Astana.
Handing over their passports, U.S. green cards and tickets at the check-in counter, Yevtushenko wasn't expecting any problems. That's why the facial expression of the LOT Airlines' agent was so surprising.
He took a look at our [Kazakhstan] passports and started to shake his head. The [LOT airlines] agent told me that without a Canadian eTA*, we would be denied boarding. I tried to explain to him that as U.S. permanent residents, we didn't need Canadian eTAs, but he refused to even consider this to be true."

Yevtushenko
*Note: A Canadian eTA ( Electronic Travel Authorization) can be obtained online for travelers who need one to enter or transit Canada via air. U.S. citizens and (as of April 26, 2022) U.S. green card holders do not need an eTA.
Frustrated, Yevtushenko realized he had limited time to convince the agent that he was mistaken. The clock was ticking and the check-in window for the flight to Warsaw would soon close.
Asking a LOT Airlines supervisor for help
Beginning to panic, Yevtushenko asked to speak to a LOT Airlines supervisor. He hoped that person would be more familiar with Canadian entry requirements for U.S. green card holders.
Unfortunately, his hopes were soon dashed.
When the LOT Airlines supervisor showed up he quickly reaffirmed the Yevtushenkos denied boarding status. The pair would not be flying on LOT to Toronto unless they could immediately get Canadian eTAs.
Since that wasn't possible, the LOT Airlines agents had another idea.
This plan would allow Yevtushenko and his son to fly home… but it would add thousands of dollars to the trip.
LOT Airlines can fix this problem – for a price
Yevtushenko listened with growing anger as the LOT Airlines agent explained how he could fix this problem.
He told me that we would remain on our same flight to Warsaw. In Poland we would switch to a LOT Airlines flight that would take us to JFK instead of Toronto. It would cost me an additional $1,819 for me and Artyom. And since JFK is 12 hours from our home in Michigan, I had to buy additional tickets on American Airlines to get us to Detroit. Those cost another $400.

I had no choice in the matter. No one was looking at the facts. We didn't need Canadian eTAs. LOT Airlines should not have denied boarding to us.

Yevtushenko
After paying the additional fare, the LOT agent printed out the new tickets and pointed them in the direction of the gate.
"We made it just in time for the flight to Warsaw," Yevtushenko told me. "I took a picture of the LOT agent who made the mistake and denied us boarding… he cost me a lot of money."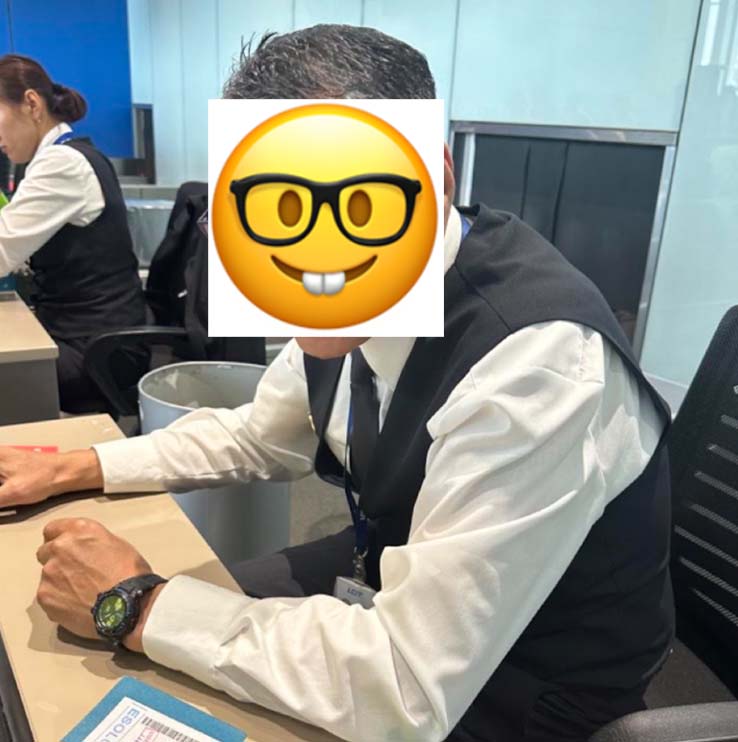 Asking LOT Airlines for reimbursement for its agent's mistake
On the long trip back to the United States, Yevtushenko had plenty of time to mull over the situation. He was sure that he and his son had been denied boarding my mistake and that LOT AIrlines should repay him for all of these additional expenses.
After arriving at home, Yevtushenko shot off his first complaint. Very quickly LOT gave him its firm answer.
We find no ground to accept your claim.

In such a situation you are entitled to a partial refund of the unused segment of your ticket in accordance with fare applied. To receive the due refund please contact the agency where the ticket was bought.

LOT Airlines reiterates Yevtushenko and his son were correctly denied boarding
And although Yevtushenko gathered additional evidence to prove that LOT had mistakenly denied boarding to him and Artyom, the airline remained consistent with its response.
Citing article 14 from the LOT Airlines contract of carriage which explains that passengers are fully responsible for having all the required documents needed for travel. If they do not and LOT must deny boarding, the airline will not provide compensation.
Asking Consumer Rescue for help
Feeling defeated, Yevtushenko was searching through the internet looking for answers
Suddenly he came across an article I had written that sounded familiar. In that case, British Airways had refused to let a passenger board his flight to England claiming that he needed a visa to enter Ghana, his ultimate destination.
But that traveler did have a visa to enter Ghana and it was clearly stamped in his passport. The British Airways agent made a mistake and then stood by his error despite pleas from that the passenger. Luckily, United Airlines came to the rescue and saved the trip; delivering the rejected traveler to Ghana with the same visa stamp – but it came at a price: $5,754.
I read about how you proved to British Airways that its agent made a mistake and got a refund for that passenger. Our stories are very similar. LOT Airlines denied boarding to my son and me and it cost me over $2,000.

Can Consumer Rescue help me too?

Yevtushenko
I hoped we could, but I wasn't quite sure.
Consumer Rescue investigates: Were these passengers denied boarding incorrectly?
When Yevtushenko's request for help landed on my desk, I was working on another case involving a green card holder. In that situation, Charity Avila had a valid passport but an expired green card. She was denied boarding her family's Carnival cruise because of the invalid document.
Unfortunately, nothing could be done for Avila because she didn't have the proper documents to board her cruise. When I reviewed LOT's definitive response to Yevtushenko's complaint, I suspected there might be a similar problem with his green card.
But then he sent me a clear copy of his and Artyom's unexpired passports and green cards. Both father and son had valid documents proving that LOT Airlines denied boarding to them in error; causing them a significant financial burden.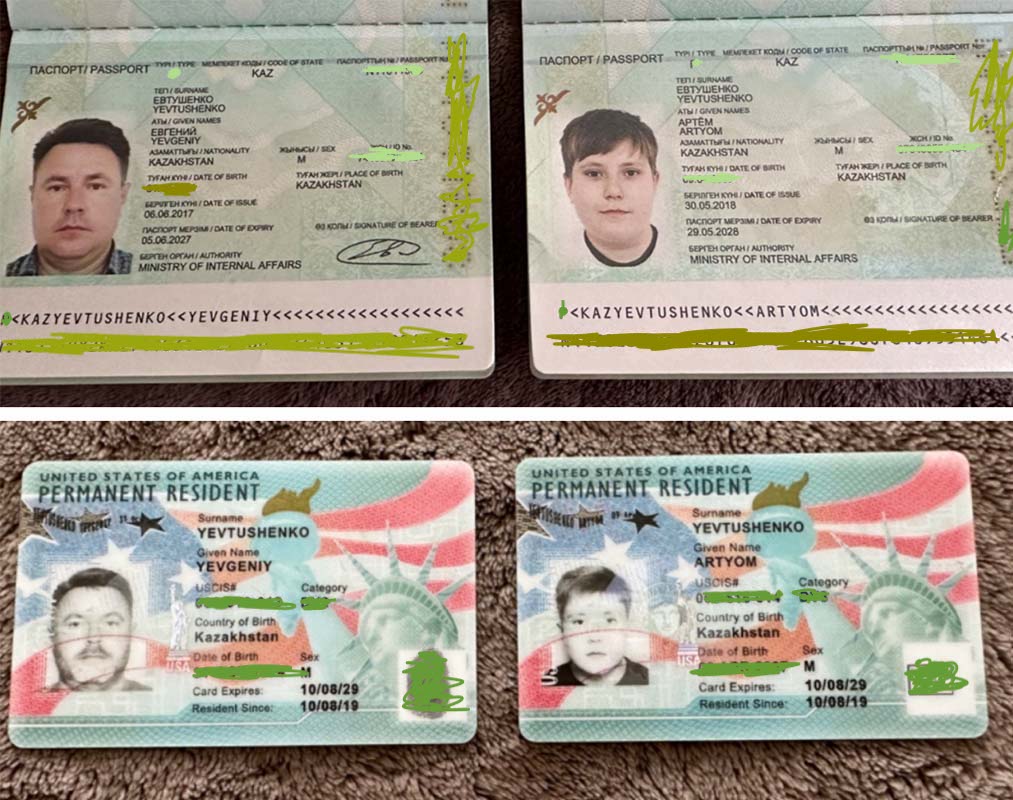 It was time to send this case over to LOT Airlines for an explanation.
Asking LOT Airlines: What happened here?
I reached out to the executive team at LOT Airlines to point out that the evidence shows its agent made a mistake when he denied boarding to Yevtushenko and his son.
.…On July 19, 2023, the father and son were attempting to fly home from Astana via Warsaw with an ultimate destination of Toronto. Your agent denied boarding to these two citing their need for visas to enter Canada. This is incorrect as Canada does not require U.S. permanent residents to have a visa to enter — as long as they have a valid passport and a valid U.S. green card (which they did). Further, Poland doesn't require transit passengers from Kazakhstan to apply for any special visa.

Based on the evidence here, Yevgeniy and Artyom were denied boarding by your agent in Astana by mistake. This error caused the family to be forced to buy new tickets to get home at an additional expense of $2,300. Yevgeniy has asked for compensation from LOT Airlines to cover the additional expenses they incurred through no fault of their own.

Could your team have another look at this case and see what can be done?

Thank you!

Michelle Couch-Friedman, Consumer advocate
The good news: LOT Airlines agrees its agent made a mistake
A few days later, Yevtushenko's nearly three month battle with LOT Airlines came to a happy conclusion. In its response to me, the LOT executive team admitted its agent made a mistake and should not have prevented Yevtushenko and his son from taking their originally scheduled flights.
In a detailed letter to Yevtushenko, LOT reversed its original decision. The airline agreed to pay all the expenses incurred by its agent's mistake and offered a 50% discount on a future trip.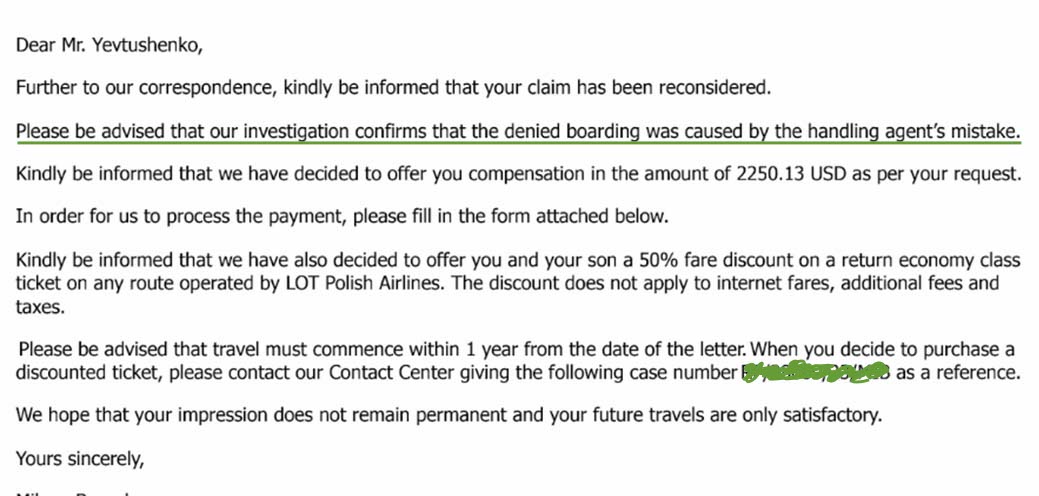 Yevtushenko is happy to finally be vindicated – and to be reimbursed for all the cash he was forced to spend on this travel fiasco.
I wasn't intending to go back to Kazakhstan so soon, but now that I have this bonus, I may just plan another trip. Thank you for your help!

Yevgeniy Yevshenko
That's a great idea, Yevgeniy. One piece of advice: If you see that same LOT agent at the check-in counter in Astana, it might be best to pick a different line. 😜
What to know about getting denied boarding a flight by mistake
Getting denied boarding a flight by mistake is unpleasant, frustrating, and usually very expensive for a traveler. Airlines don't frequently make this kind of error, but as our case files show, it does occasionally happen.
Here's what to do if an airline agent denies you boarding your flight and you're certain they're making an error.
1. Come to the airport early and come prepared
Many of the passengers you've read about on this site who have been denied boarding by mistake have one thing in common: documents that deviate from the standard traveler. If you've got a status that isn't common to what the airline employees may see every day, it's critical that you bring supplementary information with you when you head to the airport.
That means green card holders, passengers with dual citizenship, or passport names that may have recently changed due to marriage or divorce, among other things, should arrive at the airport long before the check-in deadline for their flight. You should expect additional scrutiny of your documents, and you'll want to give yourself plenty of time for that to happen.
Printing out proof from Timatic as to what you personally need to travel to your destination can be protective against this type of airline error. Remember that most carriers use that program to determine if you should be allowed to fly.
Warning: Do not overlook transit destinations on your itinerary when researching what you need to travel. Those connecting spots are just as important as your final destination and could cause you to miss your entire vacation if you're not careful. (See: This is how to get removed from your cruise with no refund included.)
2. Stay calm and ask to speak to a supervisor
Of course, frustration, confusion, and likely anger are all natural reactions to being prevented from checking in for your flight as planned. But it's crucial to remain calm and ask to speak to a supervisor if a frontline airline employee denies you boarding. The quickest way to end any chance of convincing airline staff that they've made a mistake is by losing your cool. I promise you that insulting their team, the carrier, or making threats will not result in the outcome you're hoping for. By staying calm, you'll be able to present your evidence in a way that may be able to fix the situation and reverse the decision to deny you boarding.
3. Take names, titles, and notes
If the worst happens and you are denied boarding, make sure to get the names and titles of the airline agents who handled the situation. You'll want to get as much information as possible since we know details can become murky as time passes if not formally documented. That sometimes becomes an insurmountable roadblock later when you make your written complaint to the airline.
In past cases, we've seen that airline personnel have done their best to avoid taking responsibility for deciding to deny boarding a passenger – especially when it is revealed later that it was done in error.
So…get out your pen, paper and phone and document, document, document.
4. Keep all your receipts
If you've been booted from your flight through no fault of your own and been forced to change your plans, make sure to keep all your receipts – including hotels, food, ground transportation and replacement flights.
But unfortunately, unless you can prove an airline employee knowingly denied you boarding with malicious intent, no government agencies in the U.S. or Canada require the carrier to pay you compensation. However, a reputable airline that cares about its customers should offer reimbursement for your additional expenses if it is confirmed that its agent made a mistake in handling your denial of service.
Note: If you've been denied boarding a flight that falls under the European Regulations – EU261, your airline will be required to provide compensation.
Ask Consumer Rescue for help
If your best efforts to get the airline to admit its mistake and provide you with financial relief fall on unsympathetic ears, don't despair. Send your request to Consumer Rescue and we will be happy to investigate and help you, too. Our team's mediation assistance for travelers in distress is always free and always friendly! 😀 (Michelle Couch-Friedman, Consumer Rescue)