At some point during her international flight from New York to Madrid, Alberta Chen lost her passport. As a result, she ended up at the immigration window in Spain with no passport to show to the officers. What happened next was a traveler's worst nightmare. Alberta was taken from the airport, placed in detention overnight and then deported back to the United States the following day.
Now she wants to know how she can get a $2,400 refund for this vacation fiasco.
Alberta's distressing misadventure underscores the importance of safeguarding your passport and other travel documents at all times. If you don't, you might find yourself in a similar predicament on an express round-trip international journey — no sightseeing included.
Iberia: "Please gather all personal belongings"
Last November, Alberta and her husband boarded an Iberia Airlines flight from JFK to Madrid. All was going well, and the flight landed right on time. Unfortunately, Alberta failed to observe the standard landing announcement to gather all personal belongings before exiting the plane.
As Alberta approached the immigration window, she suddenly realized she had left her passport on the aircraft.
"I realized I had left my purse containing our passports, credit cards and other valuables on the floor by my seat," Alberta recalled. "We asked Iberia personnel if we could return to the plane. They refused and redirected us to the police instead."
Alberta and her husband were then taken into custody by the immigration officers. As the couple waited, the plane was searched, and the results weren't good.
This excursion was certainly not in Alberta's wildest dreams for her vacation, and their trip had quickly devolved into a nightmare of epic proportions.
"I lost my passport on the flight, but can't the embassy help?"
Most travelers know that a passport is a requirement to enter Spain. Alberta knew this as well. But she hoped for special consideration. Chen wanted to go to the U.S. Embassy in Madrid and apply for an emergency passport. She hoped that the loss of the passports could easily be corrected.
It couldn't.
"Despite having a photocopy of our passport pages we were denied the chance to go to the U.S. Embassy to get replacement passports," Alberta lamented.
The European Union requires all United States citizens to present a valid passport to enter any member state.
Passport requirements to enter the Schengen Area
Spain is part of the Schengen Area — a block of 27 European countries* with open borders that allow visitors, including U.S. citizens, to travel freely throughout. That is as long as the traveler legally enters one of the member states. And to enter legally, you must present a passport with a minimum of three months' validity beyond the date of your return flight.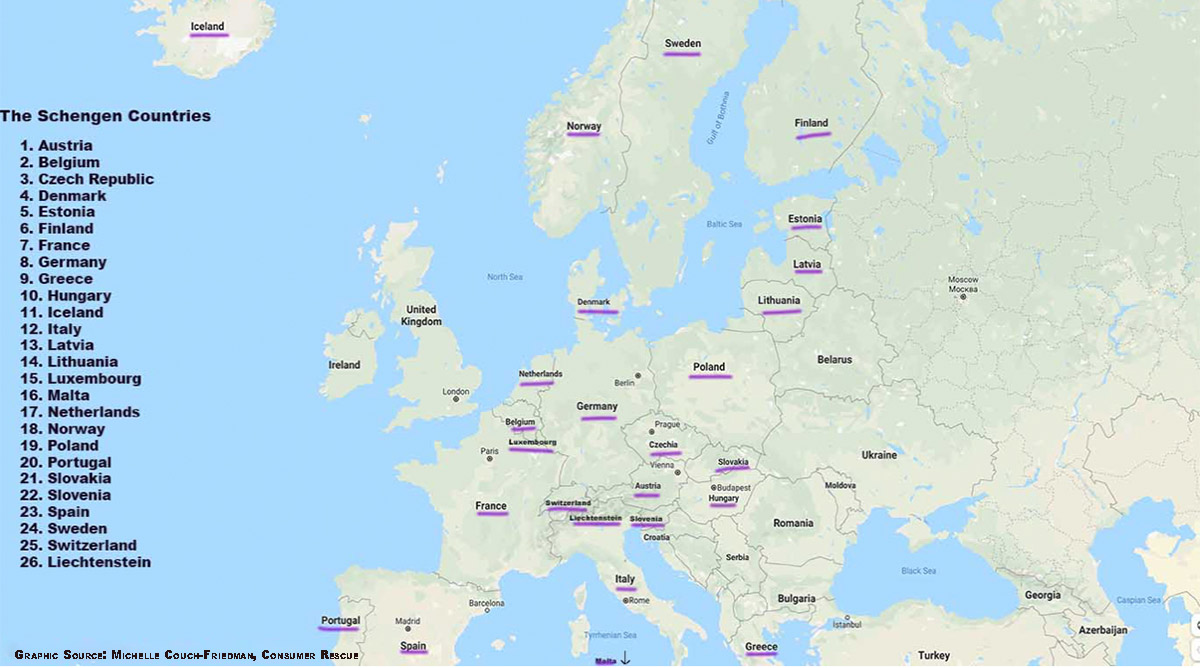 We don't often receive cases from travelers who have shown up to foreign lands with no passport at all. But many travelers to Europe have been caught by that last requirement detail to enter a Schengen country. Regular readers of our site may recall the recent story of Elena Pavlova, who tried to enter Switzerland with an invalid passport. Things took a terrible turn for her at the customs window as well:
Shelly Clements was more fortunate than Elena and Alberta. She showed up at the airport ready to take off for a dream trip to Paris with a passport that expired two weeks short of the Schengen requirement. But luckily for her, Air France caught the problem before she boarded her flight. That saved her from spending time in a French detention center and the complete loss of her trip. The mistake cost Clements over $4,000 and a few missed vacation days — but she did eventually make it to France.
In Alberta's case, however, there was no fix for her situation — she had lost their passports. She was in Spain with no official identification at all.
If you lose your passport while abroad, what should you do?
If you lose your passport while traveling abroad, The U.S. Department of State advises you to go to the nearest U.S. embassy and apply for an emergency replacement passport.

But if you lose your passport before you are even granted entry to a foreign country, as Alberta did, this is not an option.
Immigration officers are responsible for protecting their country's borders. If you have no passport, you are technically an intruder.
Despite the assertions from Elgy Gillespie, the subject of one of my most unusual cases ever — who lost her passport on the way to the airport and believed she could talk her way into Ireland with just a library card: There have been no known cases to support that theory — including her own. If you lose your passport on the way to immigration, there's no way to sweet-talk your way past the border patrol.
Lose your passport on your international flight and you're going back home
The immigration officers took Alberta and her husband to the detention center in Madrid for an overnight stay. Their planned vacation had turned into a real nightmare.
In the morning, the authorities returned the couple to the airport. They were escorted directly to the gate and placed on their flight home. Eight hours later, the Chens arrived back at JFK — right where they had started just two days previously.
When Alberta got home, she started a letter-writing campaign. She wanted Iberia to refund her entire trip. She also complained that her "deportation ticket" was a downgrade since her original ticket was booked in premium economy.
Not surprisingly, Iberia turned down her request.
No, a credit card chargeback won't help here
Next, Alberta filed a credit card chargeback and asked her credit card company to refund the cost of her tickets.
The Fair Credit Billing Act protects credit card-using consumers against billing errors. Losing your passport somewhere between your airplane and the customs window and getting detained and deported isn't a billing error.
Alberta quickly lost her credit card dispute as Visa determined that she had traveled to Spain and back on Iberia.
And then Alberta contacted our advocacy team to see if we would see things her way.
Who pays when a traveler is denied entry to a foreign country?
When I read through Alberta's request for help, I sympathized with the loss of her vacation and the terrible nightmarish turn of events. But I was unclear how Alberta had determined that Iberia was responsible for her lost passport.
So I asked.
And Alberta shared her thoughts on the topic:
I am asking Iberia to refund the roundtrip tickets since we only reached Madrid. We never got to use the tickets as we intended — for our vacation. We were in Madrid only overnight during detention and this mishap totaled the other days of our vacation.

Besides, I believe the United States sends back deportees on the taxpayers' dime.
Alberta went on to say that the police in Spain told her that she would not have to pay for her flight home. Apparently, they didn't explain that Alberta's original return ticket would be used for her transportation.
When a traveler does not possess the required documents for entry to a foreign country and arrives by air, the transporting airline must take them back. In those cases, the airline uses the unused portion of the round-trip ticket to return the passenger. But the traveler pays for all other costs incurred when they are denied entry to a foreign country over a missing passport or any other missing required document.
Airline penalties for passengers who lack the required entry documents
But that isn't the end of it for the airline. When an airline delivers a passenger to a foreign country without the required documentation, it can also be heavily fined by the receiving country. Iberia likely paid for Alberta's stay in the detention center.
FYI: Travelers beware: Some airlines have it written into their terms and conditions that the passenger can be held liable for this fine.
I explained to Alberta that I had no basis for asking Iberia to refund her $2,400. Ultimately, she made a mistake and left her purse somewhere. She, not Iberia, lost her passport. And when we mediate a case, we must have a concrete foundation on which to base our request.
It's critical when traveling that you maintain vigilance over your passport and other documents. Because If you lose your passport on your flight, you've certainly assured yourself an abrupt ending to your vacation — and the airline won't owe you a refund.
How you can avoid this type of vacation nightmare
Always keep your passport on your person
This isn't the first case that we've had in which a passenger lost their passport on their flight and ended up at an international destination without documentation. It's critical to never place your passport in the seat pocket, on the side of your seat or anywhere else where you might forget about it. The best place for your passport is in your pocket or your pocketbook — that is, as long as you don't misplace your pocketbook as Alberta did.
Heed the warning: Gather all your belongings
After a long international flight, you're probably feeling a bit discombobulated. But it's imperative that you make sure to gather all your belongings. There are strict international rules about passengers reboarding a flight after they've left the aircraft. So if you discover you've left a critical item onboard, you're likely not getting it back for some time. If that item is your documentation to enter the country you've landed in, you're going to be in trouble. To avoid this highly unpleasant situation, make sure you are taking everything off the aircraft that you brought aboard.
Make a checklist when you board
As you settle down in your seat before your flight takes off, it may be helpful to make yourself a little list. That list should include the most important things that you must be certain to leave the aircraft with once it has landed — like your passport. Prior to leaving the flight, check off the things you noted upon boarding.
Alert the embassy of your problem
Should you become detained in a foreign country because you've lost your passport on your flight, you'll want to alert the U.S. embassy. There probably isn't anything that the staff there can do for your immediate problem, but you'll want to have documentation of where you are should your family or friends be concerned when you don't show up where your vacation was supposed to be. (Michelle Couch-Friedman, Consumer Rescue)