Daniela Jedlicki's honeymoon ended in disaster before it even began. She says a series of mistakes caused the couple to be denied boarding their honeymoon flight to Turks and Caicos. Daniela blames both her booking agent and insurance company for those errors.
Now she's asking our team to find out who owes her $7,000 for this honeymoon disaster.
Unfortunately, the culprit of this travel fiasco is someone she never suspected.
Daniela's terrible tale serves a warning not just to honeymooners but to all travelers everywhere. Never before in the history of air travel has it been more difficult to successfully navigate the world. If you're planning an international flight, make sure you understand your destination's entry and exit rules. If you don't, you'll likely find yourself in your own expensive travel disaster — with no one to blame but yourself.
Inside this story: jump right to tips:
We missed our wedding and honeymoon during the pandemic
In late winter of 2020, Daniel and her fiance were busy putting the finishing touches on their wedding planning. They were to be married in June and then intended to enjoy a tropical honeymoon.
But then, as winter was about to turn to spring, the unthinkable happened, and on March 11, 2020 the World Health Organization declared a global pandemic.
"I couldn't believe what was happening," Daniela recalled. "But soon, it became clear that we were going to miss our wedding and honeymoon because of the pandemic."
The couple contacted all of their wedding vendors and made arrangements to delay their wedding for one year. Then they reached out to Cheap Caribbean, the booking agent for their honeymoon.
"We had already paid for everything," Daniela explained. "When we canceled our all-inclusive trip to Turks and Caicos, Cheap Caribbean issued us a full future credit."
Soon the disappointed couple was consoling themselves by planning their new wedding and honeymoon dates.
The duo aimed for June 2021, hoping the pandemic would be long gone by then.
But as we all know, that hope didn't quite pan out.
Looking forward to a rescheduled wedding and honeymoon
The couple spent the next year eagerly anticipating their rescheduled wedding. At times, as the coronavirus ebbed and flowed, Daniela worried that even the new date might not be possible.
However, things began to look a bit brighter as the spring of 2021 progressed, and it seemed that the wedding would happen.
Daniela excitedly began preparing for her honeymoon. She says that she was aware that there were new travel requirements that hadn't previously existed.
Since we were leaving the country, I knew we needed two things to travel. 1) A negative COVID test taken five days from the date we were set to leave on our honeymoon. And 2) proof from our health insurance company that we had valid medical coverage. We made an appointment for our tests and let our insurance company know that we needed that letter.

Daniela to Michelle
Then the bride-to-be says she focused on her wedding, which was now just days away.
A beautiful wedding and then… a honeymoon disaster!
The wedding day arrived, and things went off just as the couple planned.
"We were so happy to finally be getting married after all of the uncertainty during this pandemic," Daniela recalled. "It was a beautiful wedding."
A few days later, with the negative COVID tests in hand, it was time to head to the airport.
"We were truly excited to get away and finally have our moment of serenity we both truly deserved!" she remembered.
The couple would soon be on their way to that honeymoon they'd been anticipating for two years.
Or so they thought.
Unfortunately, when the giddy newlyweds stepped up to the check in counter, they were quickly confronted with a true honeymoon disaster.
"Who is at fault for this disaster that ruined my honeymoon!?"
That's when an airline agent informed the couple that they hadn't received pre-approval to enter Turks and Caicos. Without that pre-approval, they were being denied boarding their honeymoon flight.
The agent said we didn't have the required insurance coverage. She told us we should have purchased supplemental insurance to cover us in Turks and Caicos. I tried to reason with her and told her that we absolutely had medical coverage. I had called my insurance company, and they assured me that our policy covered us for COVID. But she kept insisting that we didn't have the approval code because our insurance company never sent the proof that we had coverage for the trip. I was heartbroken to be denied boarding our honeymoon flight over a misunderstanding.
Stunned, the two asked to see a supervisor, hoping that they could straighten out the mistake. But there was no mistake, the airline agent explained. If American Airlines allowed them to fly to Turks and Caicos, they would only be denied entry and sent back to the U.S.
And the happy couple instantly transformed into a decidedly unhappy couple as their plans for the rest of the day changed dramatically. Instead of sitting in a beach chair in the tropical sunshine that afternoon, they would be driving back home in despair.
Arriving home, Daniela was determined to find out who was at fault for the disaster that ruined her honeymoon.
That first day, I spent 6 hours on the phone with Cheap Caribbean telling them what happened. I was mad. They kept transferring me from agent to agent. But no one could explain what went wrong and why we were denied boarding of our honeymoon flight.
After some time, Daniela understood the agents were telling her that she wouldn't be receiving a refund or credit. The airline considered the couple a no-show. She couldn't believe her ears. Giving up with Cheap Caribbean, she called her credit card company and asked to dispute the cost of the missed honeymoon.
But she would soon find out that would be a completely misguided effort.
How the Fair Credit Billing Act protects consumers against billing errors and fraud
It is not uncommon for consumers to contact us after they've already lost a credit card dispute. It's clear from our files that there is a broad misunderstanding of what a credit card chargeback is and how to use it properly.
The Fair Credit Billing Act only permits disputes under specific conditions. If those don't exist, the consumer will lose the case, and then the merchant has no motivation to ever revisit the problem. And even if the consumer wins the chargeback, that only ends the credit card company's involvement. The merchant is still free to pursue the debt in other ways.
For more information, see my ultimate guide: Credit card disputes: How to use them the right way
When a consumer misuses the credit card dispute process, it can obliterate any chance of positively resolving a problem with a merchant — even if they have a valid case. We've seen this repeatedly. Here's one example that nearly ended in a $4,000 disaster for this traveler:
For these reasons, consumers should reserve a chargeback as the last resort in a dispute with a merchant.
Unfortunately, Daniela filed a credit card chargeback soon after her return from the airport. American Express found in favor of Cheap Caribbean, as there was no billing error or fraud involved. After that, Cheap Caribbean had very little reason to continue to talk with her about this honeymoon disaster and who might be responsible.
Her next step was to submit a request for help to our advocacy team.
The harsh truth: This missed honeymoon was entirely avoidable
Throughout the pandemic, our team has been bombarded with case after case of avoidable travel mishaps. In fact, as soon as the cruise lines got back on the water, the waves of passengers contacting us in shock after being denied boarding began. Or, in at least one case, being removed from the cruise after being allowed to first settle into a cabin.
Unfortunately, in most of these cases, consumer error is to blame. In other words, the traveler did not do their due diligence. The harsh reality is that in almost all of the cases, the missed honeymoon, cruise, vacation, business trip, etc., was entirely avoidable. To be fair, we have had a handful of cases in which the missed trip was the result of the travel provider's confusion:
But those situations have been infrequent.
When Daniela's anguished plea for help landed on my desk, I already suspected that traveler error was to blame.
Of course, I felt terrible that she had missed her honeymoon. But I also carefully read her paper trail, and it appeared that the couple did not possess the required proof of medical coverage valid in Turks and Caicos. And as Daniela herself pointed out, that proof is one of the required documents for entry.
But it seemed that the newlyweds were under the mistaken impression that their own health insurance would be valid in Turks and Caicos. I re-read the paper trail and noted that the agent explained the problem to the couple. The approval code for boarding would only be granted if the couple purchased a travel insurance policy that included supplemental medical coverage.
American Airlines: You need supplemental insurance to board the plane
"But it was too late at that point to buy the supplemental insurance and get the approval to board the plane," Daniela lamented.
It's critical for travelers to understand that most domestic health insurance, including Medicare, will not typically cover the member abroad. Regular readers may recall the story of Maureen Niland, who found this out in the most tragic of ways when her husband suddenly died aboard their Holland America cruise. Having no medical coverage when faced with an emergency abroad can make an awful situation worse.
The bottom line: Before setting off on any international adventure, every traveler should ensure they have medical coverage to protect against unplanned illness or injury.
The bad news: no one owes you a refund for your honeymoon disaster
Before I broke the bad news and revealed to Daniela who was actually at fault for her missed honeymoon, I needed a bit more information.
One point of clarification I need — were you trying to use your own personal health insurance to enter Turks and Caicos? Re-reading your intake form, it looks like that may be the case. It is unlikely that your domestic health insurance would cover you in another country. This is what led to you being denied boarding your honeymoon flight. Being denied boarding typically results in a "no-show" from the airlines unless the airline makes a special goodwill gesture. I need additional information to determine if there is a basis for your request to hold Cheap Caribbean responsible for your missed honeymoon.

Michelle to Daniela
Soon, Daniela confirmed my suspicion. The couple was attempting to use their domestic health insurance to enter Turks and Caicos, and it wasn't valid abroad.
Hi Michelle!

Yes, we did use our own insurance. The reason was that it did not state anywhere saying when we booked, we needed supplemental insurance. It said, please upload your insurance in the documentation with a negative PCR test before checkin.

Daniela
I broke the bad news to Daniela that I had uncovered who was at fault for her honeymoon disaster.
Turks and Caicos requires valid medical insurance for visitors
Hi Daniela,

That's a big problem for your case. The reason you were not granted a travel authorization is most certainly that your regular health insurance isn't valid medical coverage for Turks and Caicos (see information below from the tourism board of the island). That country requires travelers to have proof of medical coverage valid there before they can enter.

And because you didn't have valid health insurance to enter the country, you were denied boarding. It is always the traveler's responsibility to know and possess the required documents for travel. So what you're asking for is a goodwill gesture from all the vendors.

Michelle to Daniela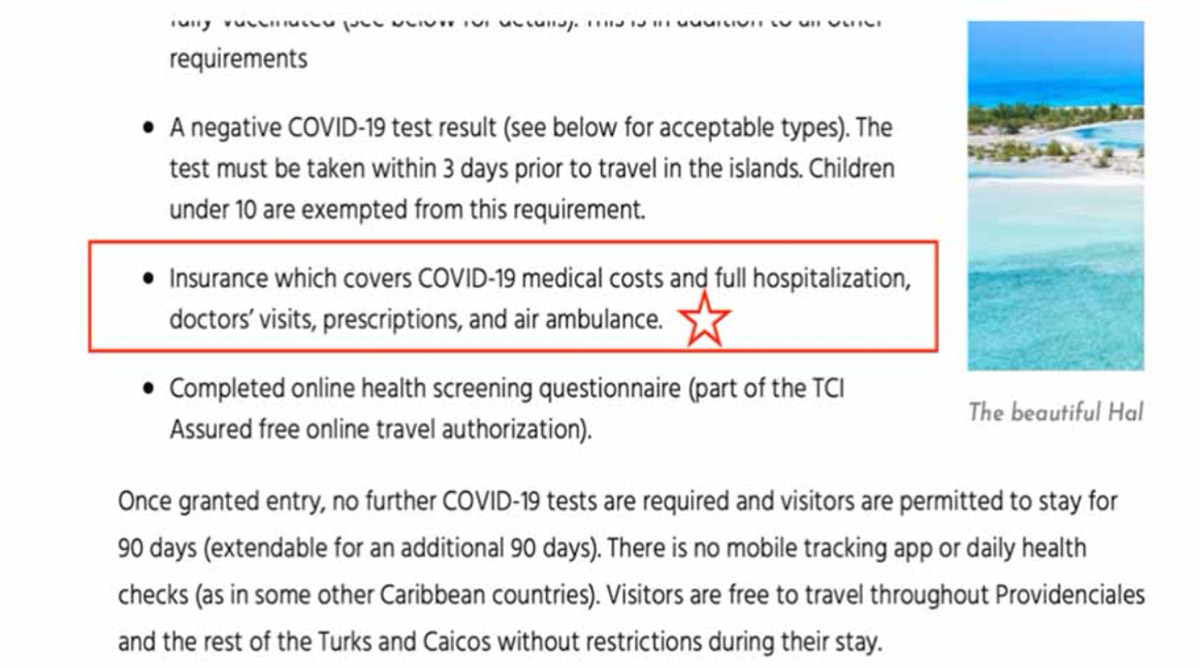 Daniela reviewed the information. Now, realizing that she and her husband made the mistake that led to their own honeymoon disaster, she asked if I might ask the company to take sympathy for her.
Well, I definitely had sympathy for the situation. And since it did appear that there should at least be some amount of hotel credit available, I decided to contact Cheap Caribbean and find out if any of this honeymoon could be salvaged.
The good(will) news: A full future credit to try again
I reached out to our executive contact at Cheap Caribbean and explained the situation. And to Daniela's great relief, in a few days, the company had good news for her. Their team had taken pity on the couple who had twice missed their honeymoon.
As a goodwill gesture, Cheap Caribbean would issue the couple a future travel credit for the full cost of the trip.
Daniela is thrilled by the turn of events and is busy planning yet another honeymoon. This time, she'll be sure to scrutinize the travel requirements with a fine-tooth comb.
Here's hoping that the third honeymoon try is a charm!
Here's how to avoid a honeymoon disaster of your own in 2023
It's important to keep in mind that most travel providers are still offering some flexibility as the pandemic winds down. These policies vary and always require the traveler to cancel within a given timeframe.
So that you don't end up in a travel disaster of your own — honeymoon or not — here are some steps to take leading up to your trip.
Editors note: last updated 8/30/2022
Last Updated on September 12, 2023 by Michelle Couch-Friedman