If a thief clobbers you and steals your passport, causing you to miss your cruise, shouldn't travel insurance cover your loss?
Margarita Re believes so.
Re's story begins as she was exploring Venice and about to embark on a sun-drenched Mediterranean voyage. She says a thief assaulted her as she prepared to board Royal Caribbean's Rhapsody of the Seas. He stole her passport and cash — leaving her with no identification to take the trip. So why won't her travel insurance cover the missed cruise?
Let's find out.
It's critical that all passengers read through those lengthy cruise contracts and travel insurance policies before it's too late. Otherwise, you, too, could find yourself watching your ship sail away with no refund on the horizon.
Missing a cruise on the Rhapsody of the Seas
When they landed in Venice, Re and her husband had been looking forward to their European adventure for many months. The Rhapsody of the Seas was to take them to various sun-drenched locations in Croatia and Greece.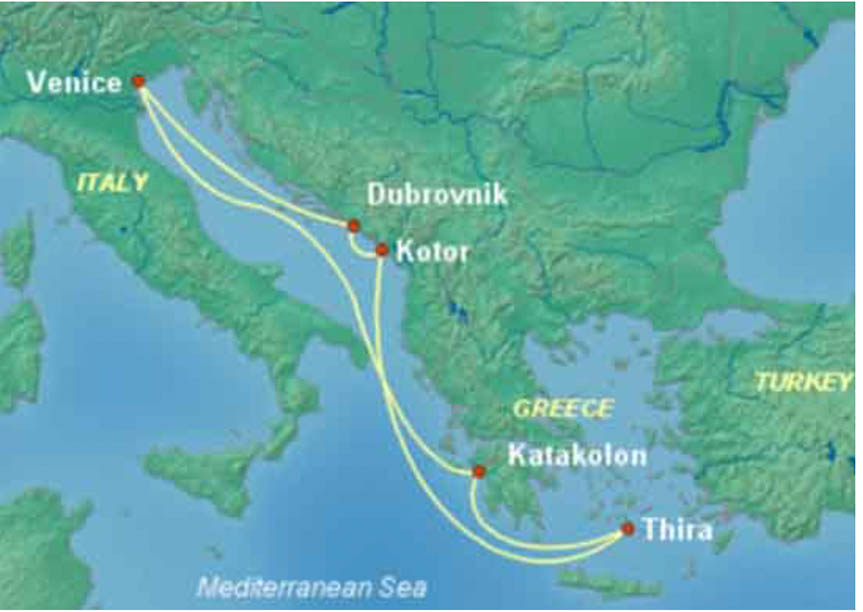 The details of what happened next are a bit sketchy. But Re and her husband say that a thief physically attacked her as they approached the embarkation point.
"A thief assaulted me. He stole my passport, cash, credit card, and other documents," Re recalled. "So we missed the cruise completely."
Re said that as soon as she realized she no longer had her passport, she knew they couldn't board the ship. So they didn't even try.
Instead, the couple called home to tell their adult daughter of the unfortunate turn of events. They hadn't purchased any travel insurance, but they believed that their Citi credit card provided protection.
Right after the crime, our daughter called Citi. The agent told her that our missed cruise would qualify for trip interruption through our membership benefits. That was because of the theft of the passport. But we had to file a police report.
Now, instead of sailing to Dubrovnik on a luxury cruise ship, the Res needed to walk to the local police station. A very unpleasant alternative.
That's where things got even murkier.
Without a translator, it's confusing to file a police report in a foreign language
Within hours of the incident, the couple showed up at the police station to report the crime. Re's husband says the process was confusing and upsetting.
The officer's English wasn't very good. He was dismissive and annoyed that we had interrupted what he was doing on his phone. It seemed he just wanted to get the report done and get us out of there.
Signing the report, which no one had translated into English, the duo received a copy and were happy to leave the station.
The day's events had devastated the couple. The missed cruise weighed heavily on their minds. They had hoped to be enjoying a quiet dinner aboard the Rhapsody of the Seas by this time. Instead, they were standing in the streets of Venice, wondering what to do next.
Fact: You must go to the US Embassy or consulate if your passport is lost or stolen while abroad
As the Res soon discovered, you must go to the nearest US Embassy if your passport is lost or stolen abroad. There is no other option if you want to return to the United States.
Unfortunately, the nearest embassy to the couple was not in Venice.
"It was impossible for us to travel to Rome, get emergency passports and catch up with the ship," Re explained. "After the thief stole my passport and we missed the cruise in Venice, there really was no option but to fly home."
An unexpected and unpleasant journey to Rome ensued. But eventually, the Res were able to get a replacement passport and go home. They would have no eye-catching photos or tales of adventures about their trip to share with friends and family.
At least not adventures they wished to share.
Fact: You'll lose a credit card dispute over this type of missed cruise
Arriving home, disappointed about the missed cruise but relieved that their loss would be limited, the couple filed their insurance claim.
Or so they thought.
Because the couple had not purchased a traditional travel insurance policy, they called Citi to start the claim process. But a confused agent filed a credit card chargeback for the missed cruise instead of an insurance claim.
The Fair Credit Billing Act allows consumers who use credit cards to dispute billing errors and fraud. Since neither existed in this case, there was no possible way that Re could have won a credit card chargeback over the missed cruise. (See: How to file a credit card dispute the right way.)
And she knew it.
"I wasn't trying to dispute our missed cruise," Re explained. "I was always trying to file an insurance claim because of my stolen passport."
Within weeks, Re received the information that Royal Caribbean had fought the chargeback. Unsurprisingly, she had lost the dispute, and Citi intended to rebill the cost of the cruise.
"I missed my cruise because a thief stole my passport. Travel insurance should cover this!"
After the loss of the credit card dispute, Re tried again. This time she made certain that the Citi agent understood that she wanted to file a travel insurance claim.
But once again, the outcome would disappoint her.
About a month later, she received a rejection from Citi.
The agent explained that the basic (free) policy included with her Citi credit card membership didn't include coverage for lost or stolen passports.
Now, for the first time, Re's husband reviewed the actual travel insurance policy and found a part he believed provided coverage.
"There is a clause that says if you are a victim of assault in the two weeks before the loss, the interruption is covered," he pointed out.
But…
Warning: Never sign a police report if you don't understand what it says
The travel insurance industry is highly regulated. Most policies sold today are "named perils" policies. If the document doesn't explicitly name something as a covered event, a policyholder can be sure it will not be covered. There is virtually no flexibility for the policyholder. For this reason, it's critical that travelers carefully review the terms of their policy within the first 10 days after purchase. That's the time where a traveler can ask for a refund if they determine the policy does not provide the specific coverage needed.
It's important to note that most free travel insurance policies provided by credit card companies have limited coverage. If you're relying on that type of protection, you should not expect a comprehensive policy.
In Re's case, the basic policy provided by Citi is clear. It doesn't cover lost, stolen, misplaced passports or incomplete travel documentation. In fact, not having your passport readily available to board your cruise — for whatever reason — is an exclusion for coverage.
However, Re's husband appealed the case based on this clause from the Citi travel insurance policy:
"Covered traveler…is a victim of assault within ten days of the trip departure date."
The problem that the couple faced was that the police report makes no mention of an assault. It says that Re reported being a victim of theft with dexterity — a pickpocket.
I have been the victim of theft with dexterity. This happened in Venezia (VE). —– I can provide the following details: theft mode: pickpocketing.—– I have no suspicions about anyone.—– I have not requested the intervention of any patrol of the Police forces to ascertain the incident.– I am not able to recognize the offender.—– I have nothing else to add or modify .—– Done, reread, confirmed, and signed on the date and place mentioned above. (The translated police statement by Re regarding her stolen passport.)
"This travel insurance policy doesn't cover lost or stolen passports."
Based on the contents of the police report, Citi swiftly rejected Re's appeal.
We regret any misunderstanding regarding the terms of the Trip Cancellation and Interruption Protection coverage on your account. However, we respectfully decline to issue a credit for your claim.

You indicate we should extend coverage because Margarita was the victim of assault within ten days of the trip departure date. The police report you provided did not substantiate that an assault took place. It reflected that a theft occurred of your passports, which is not a covered reason. (Citi's rejection of Re's travel insurance claim)
Still unwilling to give up, the Res sent their request for help to our advocacy team for review.
The bottom line: There is no insurance coverage for this missed cruise
Unfortunately, as soon as I read through their paper trail, I knew that the inflexible nature of travel insurance policies would make mediation impossible. When I pointed out that there was no mention of an assault anywhere in the paper trail or in the police report until after Citi rejected the initial travel insurance claim, Re's husband explained.
The Italian police officer was not very friendly or cooperative with my wife. She explained that several [people] pushed her while one of them opened her backpack to take her purse. He just noted they stole her passport and other items.

My wife felt like she was assaulted, but that is not what he [the policeman] reported. We can't read Italian, so we did not know what he had written.
FYI: If a police officer hands you a report and you have no idea what it says, do not sign it. Maybe I've watched too many bad movies, but what if you're signing a confession for an unsolved crime? You should never blindly sign any document anywhere. Full stop.
I explained to Re that the travel insurance industry doesn't provide wiggle room in this situation. To qualify for coverage under the assault clause, the police report would need to have documented a physical confrontation.
An assault means a physical confrontation
Feeling assaulted and actually being assaulted are two different things in the "eyes" of a travel insurance policy. And although I have no doubt the incident was traumatic to Re, it did not qualify for coverage under Citi's free travel insurance policy.
But I recommended that if they wished to pursue the claim further, they had one additional option: appealing the insurance claim for the missed cruise with their state's insurance board. That organization oversees the insurance industry in each state and has the final say in appealed claims.
The last I heard from the couple, they weren't giving up and intended to give the appeal route a try.
While we were still in Venice, Citi told our daughter it would reimburse us for the missed cruise. We relied on that information. If we had known that it would not, we would have handled things differently. Maybe Royal Caribbean could have helped us. As a result of the incorrect information Citi gave us, we never even asked Royal Caribbean. Now it's too late. Citi should reimburse us. (Re's husband refusing to give up)
What to do if you lose your passport just before your cruise
Go to the US embassy or consulate ASAP
If you lose your passport or it's stolen while you're abroad, it's imperative that you file a police report and then head to the US embassy or consulate. You won't be able to travel home or continue your journey until you get your passport replaced. Visit this worldwide US Embassy locator to quickly determine where the nearest one is to you. Pro-tip: Always keep a photocopy of the first page of your passport separate from the actual book. Keeping a copy stored in your phone is also a good idea. This document can make it easier to get an emergency replacement.
Carefully read your insurance documents.
If a thief has stolen your passport, read through the entire insurance document before deciding to scrap your plans completely. You'll want to know if you have coverage for your predicament, and you'll want to know what steps you should take next. The body of the policy will detail all of that important information. Don't rely on third-hand information that your travel insurance document does not back up. Read the policy. If you skip this step, as the couple did in this article about why it's a bad idea to fly on the same day as your cruise, you could be in for an unpleasant and expensive surprise later.
Ask to catch up with the cruise.
Don't be a no-show for your cruise. Contact your cruise line and find out if you can catch up with the ship after replacing your passport. Remember, you're definitely not the first person this has ever happened to. The cruise line should be able to help you navigate the situation. Your travel insurance company can also assist. Comprehensive travel insurance policies may cover lost and stolen passports and reimburse you for the additional expenses you'll incur to catch up with the cruise.
Appeal your rejected travel insurance claim
If you believe that your travel insurance provider did not handle your claim correctly, you can file a claim with your state's insurance board. That organization will handle your appeal and investigate and make sure that you received the benefits entitled to you. Here's how to locate your state's insurance board.
Download Google Translate
All international travelers — not just cruisers — should download Google Translate. This app can be invaluable during visits to countries where you don't know the language. In fact, you can snap photos of road signs, restaurant menus, car rental contracts, and, yes, even police reports and receive instant translations. This app will help you understand all the foreign words that appear before your eyes — so you won't be operating like Mr. Magoo during your next international journey. 😜 (Michelle Couch-Friedman, Consumer Rescue)