During her recent cruise, Natalie Durflinger got a terrible shock when the ship left her behind in Mexico. She says the MSC Divina weighed anchor nearly 5 hours ahead of schedule, stranding her in only a bathing suit and flip-flops. Now she's asking the cruise line to explain how this happened and to refund the vacation she missed when the ship sailed away without her.
But did MSC allow its cruise ship to sail away without warning leaving its passengers abandoned in a foreign country? That's the question of the day.
Taking an MSC cruise to celebrate a special occasion
Last fall, Natalie, and her friend decided to plan a cruise to the Caribbean to celebrate their upcoming 50th birthdays. The pandemic had been especially difficult for Natalie, as she had spent much of it caring for her elderly parents.
This cruise meant so much to us. My father had recently passed away, and I have taken over the care of my mother, who suffers from dementia. This cruise was a birthday gift to my best friend of 40 years, who has never been on a real vacation. I booked the trip for my best friend and me to celebrate our 50th birthdays. We both were very much looking forward to an amazing experience.

Natalie describing the events leading up to the cruise
The closed-loop cruise they eventually chose would take the besties to various tropical locations.
Or so they thought.
They had no way of knowing it then, but their cruise would end suddenly at the very first stop.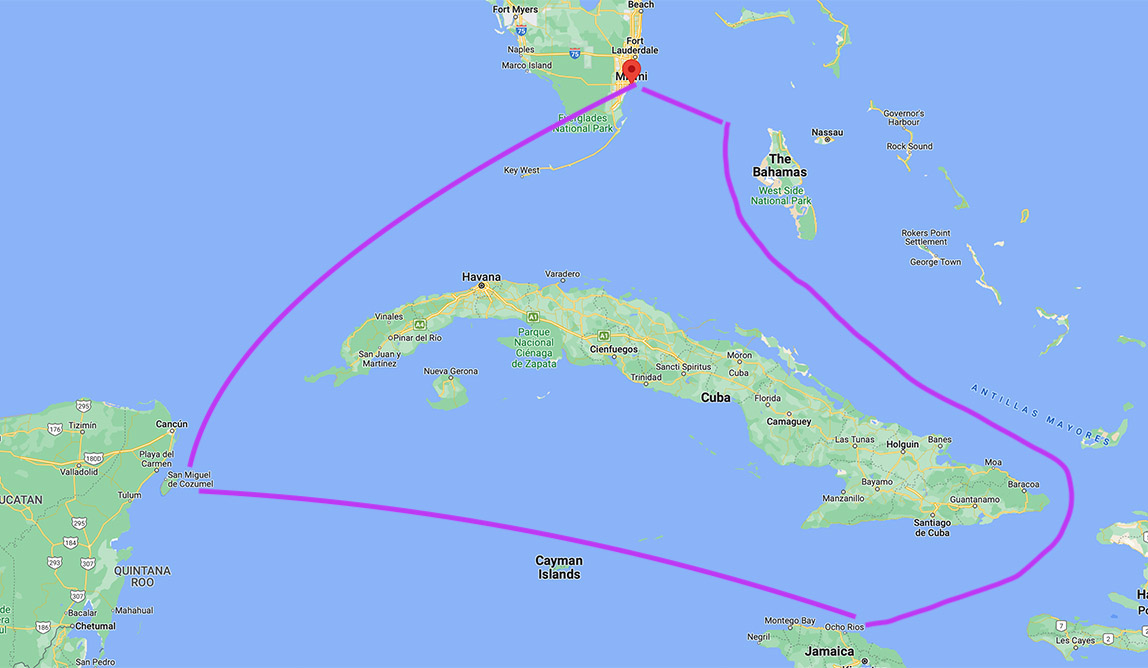 What's a closed-loop cruise?
A closed-loop cruise begins and ends in the same U.S. port of call. Passengers aboard these cruise ships can enter the foreign countries on the itinerary without a passport. However, before taking any cruise without a passport, travelers should carefully consider the potential consequences: The identification needed to board a closed-loop cruise is insufficient to fly internationally.
Fun Fact: You can never fly internationally without a passport. So should a passport-less passenger unexpectedly need to return home via air, they will encounter various problems and additional expenses.
Boarding MSC's Divina: First stop: Mexico!
On the day the cruise set sail, the friends arrived at the port in Miami with plenty of time to spare. Natalie is no stranger to travel and says she always pays careful attention to schedules and suggested check-in times.
The duo boarded the ship and began planning for the first – and as it turns out for them, their only destination: Mexico.
A few days before the cruise, we received an email about an itinerary change. We had originally been scheduled to visit the Cayman Islands. The cruise line canceled that port and instead added extra time in Cozumel. Now Divina would be docked until 11 p.m. in Mexico, so we had plenty of time for an excursion.
Having extra time in Cozumel, the friends decided to book an all-day snorkeling excursion with a private tour operator. And they happily looked forward to their adventure.
A fantastic shore excursion with an unpleasant end
On the morning the cruise ship arrived in Cozumel, passengers were eager to leave the ship and explore the island.
"We left the Divina around 10 a.m. for our shore excursion," Natalie recalled. "We met our tour guide, who told us they had to cancel the snorkeling trip because of poor water visibility."
The friends took the cancellation in stride and opted for a full-day tour of the island.
Around 5:00 p.m., their guide delivered the duo to a local Mexican restaurant in the port area. A complimentary authentic dinner was included as part of the excursion.
"We knew we had plenty of time to enjoy dinner since the ship was not scheduled to leave port until 11 p.m.," Natalie explained.
The friends sat at the outdoor restaurant – the cruise ship in full view. Relaxing in the warm tropical breeze, they bantered about the day's adventure and shared photos. Natalie could feel the stress of the preceding months lifting.
Unfortunately, that feeling was short-lived.
Suddenly, Natalie's gaze turned back to the Divina. It appeared to be moving. Staring in disbelief, it became obvious that the giant ship was actually sailing away and leaving the friends behind.
And just like that, the cruise ship disappeared over the horizon… with all of their clothes and belongings onboard.
Left behind in Mexico: "We have no clothes, no cash, and no way home!"
Standing on the dock wondering what to do, the friends noticed that they weren't the only passengers abandoned by MSC.
Others missed the ship, too. We later learned that MSC had called some cruise ship passengers to tell them of the change in departure. I checked my phone, but there weren't any messages from the cruise line. We were right in the dock area. If I had received an email or text, we could have skipped dinner and gone straight to the ship – there was no reason we ended up left behind.
As the two quickly tried to find a way to catch up with their cruise (and their belongings), they soon realized that wouldn't be an option. So instead, they turned their sights to getting home as quickly as possible. But the pandemic complicated matters.
We were both devastated and angry to find ourselves stranded in a foreign country in only our bathing suits and flip-flops. We had no clothes, cash, or basic necessities (luckily we had a credit card). What followed was a traumatic and stressful week. We had to figure out if we could meet the ship at any point to reboard. Then we had to find a place to stay.

Later, we needed to research how and where to get covid testing so we could book our flights to re-enter the U.S. As I am sure you are aware, Mexico can be very dangerous, with the area's cartel activity increasing. It was especially troubling to find ourselves stranded in nothing but bikinis and thin wraps.
Calling MSC for guidance proved useless, so they focused their attention on flying home. Luckily the friends had been traveling with their passports on the closed-loop cruise. They were grateful that they didn't have the additional hurdle of trying to make international flight arrangements without a passport.
"Dear MSC: We'd like a refund! Your ship left without us."
After Natalie arrived home and had some time to mull over the situation, she composed a complaint to MSC.
"All we wanted was a replacement cruise to match the one we missed," Natalie says. "The cruise line didn't inform us of the adjustment in the departure time of the Divina. If it had, we would have never missed the boat."
She ended her lengthy letter to the cruise line with a request for a refund or a credit for a future trip.
Weeks went by without a response from MSC. Finally, after the cruise line ignored a follow-up letter, Natalie's plea for assistance landed on my desk.
Asking our consumer advocacy team for help
Michelle,

I have emailed MSC at every email address I could find online. I have not gotten a single response from anyone from MSC.

I have called the cruise line's customer service number multiple times since MSC abandoned us in Cozumel. Each time, they take a bunch of notes about our situation and promise that a supervisor will call us back. It's been several weeks, and MSC has never called me back. It would appear that their (The MSC team) way of dealing with this is simply to ignore our calls and emails in hopes that we will go away.

I fully understand that cruise ships may change their itineraries, sometimes on short notice if required. My issue is that the lack of communication resulted in this nightmare for those left behind.

Natalie to Michelle
Unfortunately, when I read Natalie's letter to MSC, I immediately detected why she probably hadn't received any response.
Natalie is an attorney, and the complaint letter was written on her law firm's stationery. We know that when consumers make legal threats – even indirect ones – the companies involved will often stop responding. Instead, they will forward the complaint to their legal department for their attorneys to address.
As Rita Yates recently found out when she made an (empty) legal threat to Royal Caribbean, these messages usually backfire on a consumer.
If you follow the guidance in my article about getting excellent customer service, you should be able to solve your problem without resorting to legal threats.
To Natalie's credit, she wasn't making any outrageous request to MSC. She just wanted some answers (and hopefully a replacement cruise).
I had some answers for her.
This is what happens if you miss your cruise ship home
It's doubtful that a cruise line would neglect to inform its passengers of a schedule change. And unless you can prove that the cruise line did actually overlook you for some reason, there are several things that will be true if you miss the ship.
You will not get a refund
You will not get a replacement cruise
It will be your responsibility to find (and pay for) your way home
Travel insurance is not likely to provide reimbursement
In Natalie's case, though, she claimed to have received no notifications of the schedule change.
Many years ago, I covered a case in which another cruise ship passenger claimed an NCL cruise ship had left him behind in Cuba. But when I looked into his experience, I could find no evidence that any other passengers had missed the boat. That led me to believe his situation was the result of user error.
But Natalie provided me with documentation from several other passengers who had been left behind in Mexico when the Divina suddenly sailed away.
So I decided to find out what MSC had to say about this cruise fiasco.
Asking MSC for a future cruise credit for these abandoned passengers
Hello MSC friends!

We have an MSC passenger here who just had a very unusual experience. Natalie Durflinger sailed on the Jan 9 cruise of the Divina.

On Jan 11, her cruise itinerary says that the ship will depart Cozumel at 11 p.m.; however, while she and her friend were dining in town in full view of the ship, it weighed anchor and sailed away at 6 p.m. She says that she received no notification of this schedule change. Apparently, the Divina left behind a handful of passengers in Mexico, so there does seem to have been a communication problem somewhere along the line.

Natalie and her traveling companion, *****, would like a replacement cruise of comparable value/length/location as they believe that MSC did not notify them of this change in itinerary, or they would have been aboard the Divina when it sailed away from Cozumel.

Would your team be able to have a look and see what went wrong here and if MSC can grant their request for a do-over? Thank you! 🛳😊

Michelle to the MSC team
MSC: The cruise ship did not leave without warning
And soon, I heard back from our executive contact at MSC. But for Natalie, the news wasn't good.
Hi Michelle,

Thanks for giving us some time to look into this. We're always sorry to hear about a guest who had trouble making it back to the ship by the scheduled departure time.

As you note, the itinerary for Ms. Durflinger's cruise changed with respect to the time at which MSC Divina left port in Cozumel.

I can confirm this was published in the printed daily briefing delivered to her cabin, posted on signs on the gangway and pier at the time of disembarkation in Cozumel, and announced several times throughout the ship using the P.A. system. These are standard procedures for notifying guests of a change in port timing, and our investigation confirms they were all carried out as directed.

Accordingly, and as our customer service team advised Ms. Durflinger when they spoke, we will not be able to provide compensation in this case.

MSC executive team
As it turns out, Natalie never read the daily briefing. She told me that if the updated itinerary had been printed on it, it was buried among an endless list of activities and showtimes – things she wasn't interested in. So she never looked at it closely.
Unfortunately, that mistake cost Natalie thousands of dollars and a cruise meant to be a much-needed respite and celebration.
This has been a learning experience for me and there are certainly things that I would do differently in the future (like verbally verify the departure time before exiting the ship) but there is simply no way that adequate notice was provided by MSC if so many passengers did not know about the change in the ship's departure time. Thank you for trying to resolve this matter.

Natalie Durflinger
And although we were unable to resolve her case successfully, Durflinger hopes that by telling her story, others can avoid a similar fate.
How to make sure your cruise ship doesn't leave you behind
Of course, it's every cruise ship passenger's nightmare to get left behind with no way home. Fortunately, there are a few simple things to do to ensure it doesn't happen to you.
Carefully review your cruise itinerary and contract: It's important to review all the terms of your cruise contract. That document will contain your itinerary, the cruise line's terms and conditions — and information about the documentation you'll need to board the ship. Without a doubt, you will also see a clause about itinerary changes. It's critical to understand that cruise itineraries can and do change – sometimes with only a few hours notice. Knowing these changes are possible is the first step to avoiding a cruise fiasco as Natalie faced. 
Pay attention onboard your ship: Changes to a cruise ship's itinerary are not made covertly. When adjustments are made to the schedule, there will be many indicators on board the vessel. Pay attention to the overhead announcements, the messages on the ship's internal TV channel, and the daily schedule that appears under your cabin's door each morning (the one Natalie overlooked). These communications will provide the necessary information to ensure you don't get left behind during a port visit.
Take basic necessities with you: It's a good idea to take basic necessities with you any time you leave the ship (And of course, take your clothes to the ship in the first place!) Those items include: your passport, a credit card, some cash in the local currency, and a change of clothes if your excursion is beach-related. Remember, if you miss your cruise in a foreign port and you don't have a passport, you won't be able to fly home or catch up with the ship. So make sure you bring your passport ashore during all port stops. You can buy waterproof bags that can safely hold all of these things.
Consider taking shore excursions offered by the cruise line: You'll significantly decrease your chances of getting left behind if you book all your shore excursions directly with the cruise line. Those vendors will undoubtedly know the exact time of your ship's scheduled departure and ensure you're back on time. The extra cost of these excursions can be thought of as a type of personal insurance that you won't get left behind. Cruise lines are known to delay a ship's departure if passengers are on a cruise line-sponsored excursion and haven't returned at the scheduled time. If you're on a privately arranged tour and become waylaid, you can assume the ship will leave without you.
Ensure that your personal contact information is accurate: No cruise line wants to abandon its passengers abroad. To that end, guest services will often attempt to locate missing travelers who don't reboard the ship as scheduled. It's imperative that you make sure that the contact information the cruise line has for you is current. Otherwise, that little oversight could cause you to be left behind as the ship sails off into the sunset – a disturbing cruise fiasco that you can easily avoid. (Michelle Couch-Friedman, Consumer Rescue)
**Before you go: Looking to read more tales from our Cruise Fiasco files? Here's a doozy: My Carnival cruise ended at the pier! Why was I denied boarding?
Last Updated on October 1, 2022 by Michelle Couch-Friedman