Maybe you've chosen to fly on the same day as your cruise, and things went off without a hitch. But for Marcelino and Julieta Bautista, that's a gamble they lost.
They redeemed a free Norwegian Cruise Lines "Casinos at Sea" cruise through the Alaskan glaciers. But they pressed their bets too far when they flew into Anchorage on the same day as embarkation. Although their flight arrived as scheduled, something went terribly wrong and the ship left without them.
As a result, that freebie cruise turned out to be no bargain at all. The couple was forced to pay thousands of dollars to catch up with NCL's Jewel. Bautista says that the cruise line made the mistake that caused the ship to leave without them. He wants reimbursement for all their extra expenses, and he wants our team to help get it.
Can we do it?
This tale is one that underscores the importance of being an active participant in your travel planning. That's true even if someone else is doing the legwork for you. The massive error that guaranteed the cruise would sail without them was visible on the couple's itinerary for months. Unfortunately, no one was looking, not even the Bautistas.
Congratulations! You qualified for a free Casinos at Sea cruise
The Bautistas cruise fiasco began when they received a notice that they had qualified for a free Casinos at Sea voyage.
NCL provided a list of possible cruises the Bautistas could take. The couple quickly zeroed in on the journey to see the Alaskan glaciers. The Casino Reward Certificate instructed the Bautistas to call an NCL cruise planning specialist to redeem their free cruise.

"I called the number and the NCL cruise specialist made all the plans for us," Marcelino explained. "We had to pay for airfare, a booking fee, insurance, transfers and taxes."
The whole process was easily completed and the couple soon received confirmation of their Alaskan cruise. It was still nine months away, but they printed out their itinerary and began to research their upcoming adventure.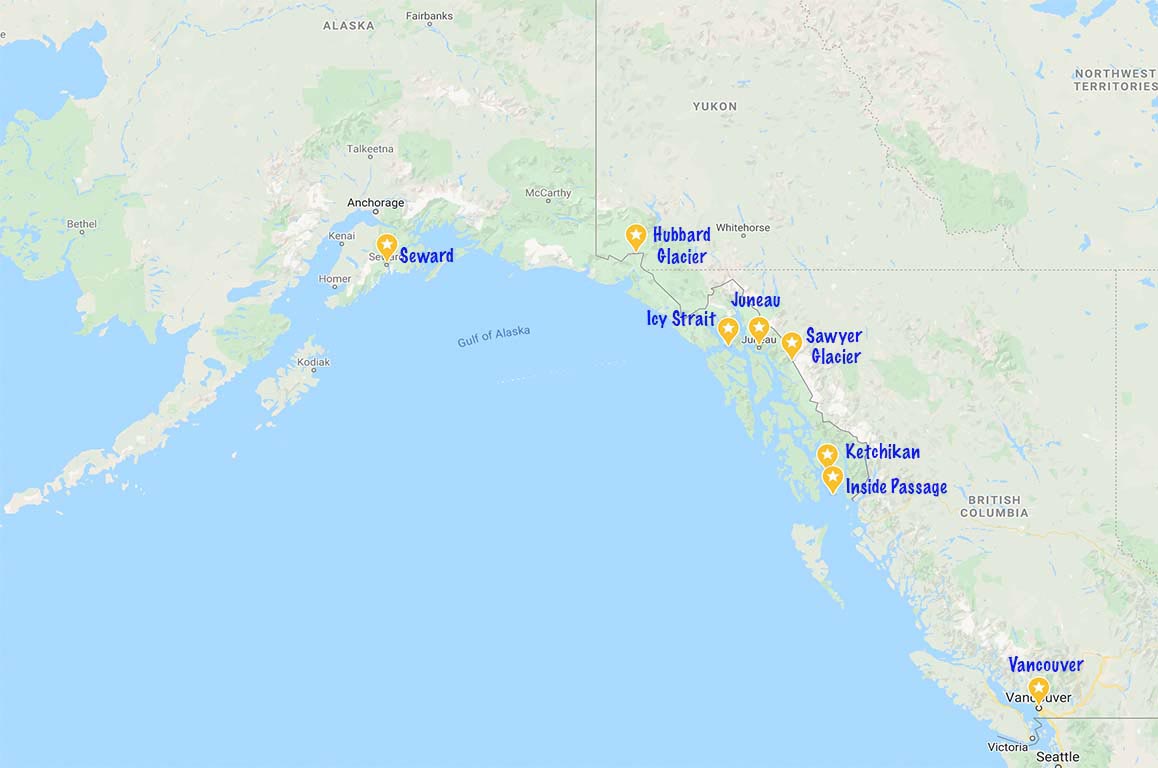 The Casinos at Sea program bills itself like this:
As the leader in cruise gaming, Casinos At Sea is dedicated to providing guests a best in class gaming experience as they travel the globe. We've designed our casinos with comfort in mind so you can relax and unwind from your hectic schedule playing your favorite games. Equipped with the latest, greatest and most popular slots, you can bet there is a winning machine waiting for you. For table game players, ante up, double down or handle a hot pair of dice on your way to your next destination.

Whatever you play, get ready to ride a lucky streak!

NCL
Unfortunately, the program didn't exactly work out that way for the Bautistas. They didn't know it yet, but they were getting ready to ride a very unlucky streak.
Fact: Flying to meet your cruise on the same day as embarkation is a lousy idea
On the day the cruise was set to sail, the Bautistas were up early heading to the airport. Until that day, they had never considered the precarious nature of flying to meet their cruise on the same day as embarkation. However, regular readers of our site know just how risky such scheduling can be.
If you don't want to miss your cruise, you should always fly to your embarkation port at least one day before the sailing date.
To make the Bautistas' situation even more perilous, the trip from Washington D.C. to Anchorage wasn't nonstop. The couple had a connection in Chicago. However, in the end, the duo landed right on schedule in Anchorage.
But that's when their luck ran out.
Landing on time isn't going to help if the ship is far away
When the Bautistas landed in Anchorage, they knew they had to hustle. The flight landed at 7:20 p.m., and the Jewel was setting sail at 9 p.m. The couple quickly gathered their luggage and then began looking for the transfer area to the ship.
By now, it was 7:40 p.m.
Marcelino says they were unable to find representation of NCL anywhere. With growing anxiety, he approached two employees from a company called Premier Alaska Tours. These two helpful ladies were about to break some terrible news to the Bautistas.
The couple had landed in Anchorage. But the Jewel was in the port in Seward, 127 miles away. That transfer takes nearly 3 hours. The last transfer to the Jewel had left the airport at 4 p.m.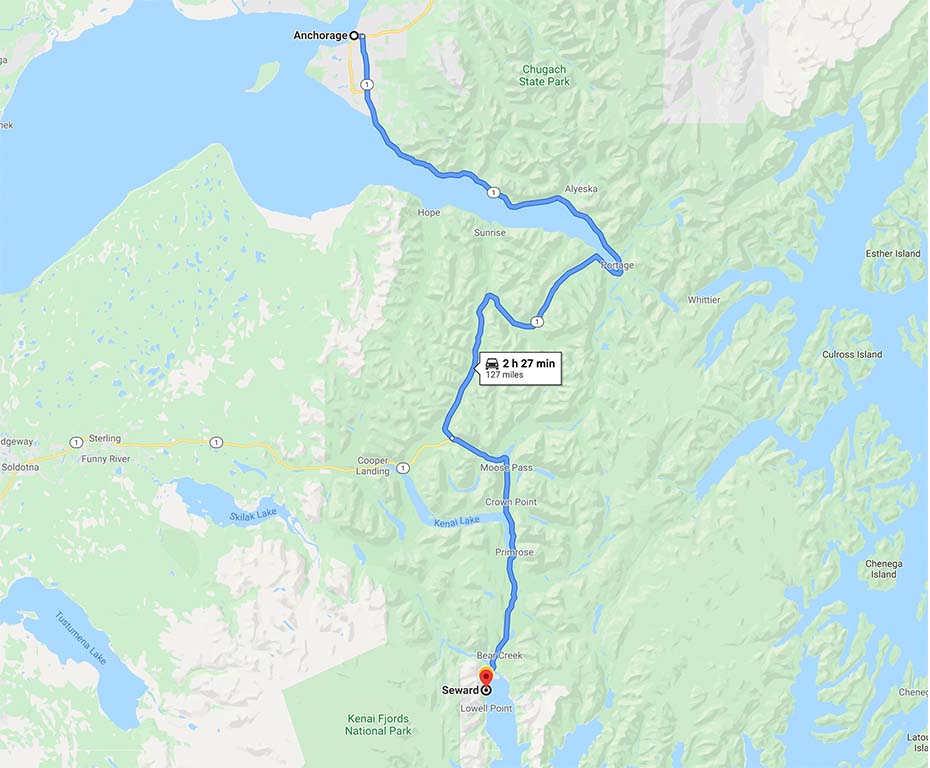 The stunned couple had assumed that the cruise ship was nearby. It had never occurred to them that the port might be a great distance away. With growing dread, they realized that there was no avoiding the terrible outcome — the ship would be leaving without them.
Now all of the shell-shocked couple's plans for the evening had taken a dramatic turn. As they stood in the airport, they wondered what to do next. Bautista says two guardian angels stepped in to help them.
The ship sailed without this cruise couple
Marcelino tried to call NCL and the specialist who had set them up for this cruise fiasco. He says they received no specific guidance from either.
NCL just told us to let them know if we planned on joining the cruise in Juneau. The specialist who had booked this mess told us to work it out with the cruise line.

But the ladies from Premier Alaska Tours (Kelsey and Leanne) were kind enough to help us get through this nightmare experience. We were really devastated that the ship had left us behind. We felt very dejected by the turn of events. Fortunately, they helped us get a hotel and Alaska Air flights to Juneau to catch up with the Jewel.

Marcelino
When the Jewel left without the couple, it was headed for several days of cruising through the glaciers. That meant that there was no possible way for the Bautistas to join the cruise until day 4, in Juneau.
The duo spent three nights in a hotel in Anchorage and tried to make the best of it. On the fourth day, they flew to Juneau and finally boarded the ship.
"No one apologized or said anything to us about compensation," Marcelino recalled. "We communicated our disappointment to NCL, but they offered nothing to help financially or morally."
Marcelino says they completed their cruise several days later and although they tried to shake off the terrible start of the cruise, it proved impossible. The entire journey was marred by the fact that an NCL Casinos at Sea specialist had scheduled them to fly on the same day as the cruise began and to a destination nowhere near where the ship was located.
This cruise fiasco is the result of a mistake by NCL
As soon as the Bautistas arrived home, they began a letter-writing campaign to NCL. They wanted a refund for, minimally, the cost of the flights to catch up with their cruise. After all, the ship left without them only because an NCL cruise consultant had scheduled them to fly on the same day as the cruise, landing hours from the Jewel.
The couple's request seemed sound.
Unfortunately, the cruise line soon rejected their refund request in its entirety. But NCL sympathized with the couple that their travel arrangements had led them to miss part of the cruise. The message completely glossed over the fact that an NCL representative made those travel arrangements.
The letter ended by offering a future $300 onboard cruise credit and suggesting that Bautista's travel insurance might cover their other expenses.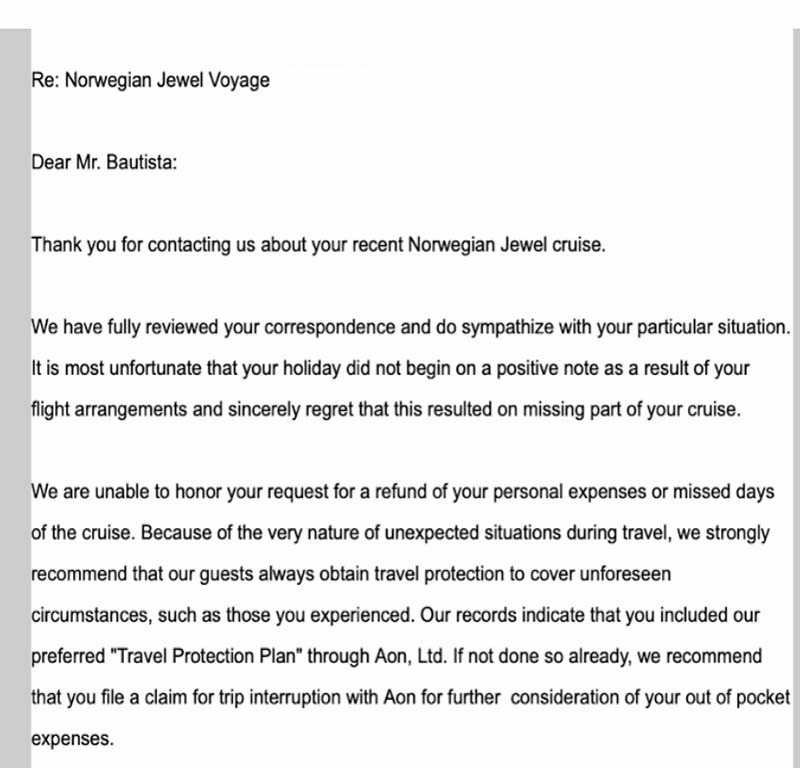 Fact: Travel Insurance won't help if you miss your cruise because of an agent's mistake
Marcelino followed this guidance to file an insurance claim and hoped for some good news.
But soon, AON, the underwriter of the travel insurance policy, clarified the situation. It would not cover flight scheduling mistakes by the cruise line.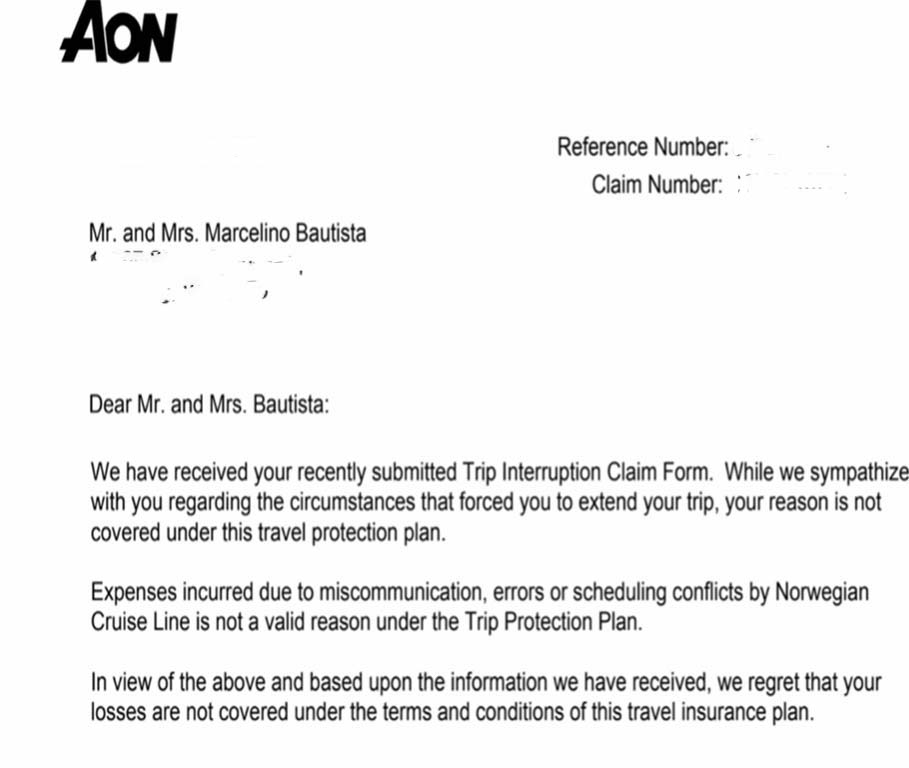 After this response, Bautista realized he was caught in an endless loop of unhelpful nonsense. He then did an internet search and found some articles that I had written about other NCL mistakes that ended in devastation for passengers.
Marcelino began to feel hopeful that I might be able to help him in the same way.
Can our advocacy team help?
When I read through Marcelino's request for help and the attached paper trail, his growing frustration oozed off the pages. By the time he reached me, he had hit a dead-end at every stage in his mission for reimbursement.
Ms. Friedman, I have been reading with keen interest your writing about the family who missed their Alaska cruise on NCL's Bliss because of an agent's mistake. We are in a similar predicament and are at a loss on how we could appeal our case further. We hope that your representation will bring light and fairness to our case. Please help us get justice!

Marcelino
Marcelino certainly came to the right place with that request, since getting justice for consumers is precisely why we're here. And this case screamed for justice. Since I know the NCL resolution team to be prompt and fair, I wondered what went wrong.
Could there be more to the story?
The cruise consultant put the couple on an impossible same day flight
It was time to ask the cruise line's executive team to take a close look at the facts of this case. Clearly, it wasn't the couple's mistake that led them to be left behind when the ship left Seward. The impossible same day flight schedule booked by NCL's cruise consultant forced the couple to spend $1,200 in hotel and airfare. Not to mention, they also missed significant highlights of the cruise when the Jewel left without them.
I included a copy of the official cruise itinerary to illustrate the unfeasible nature of the flights.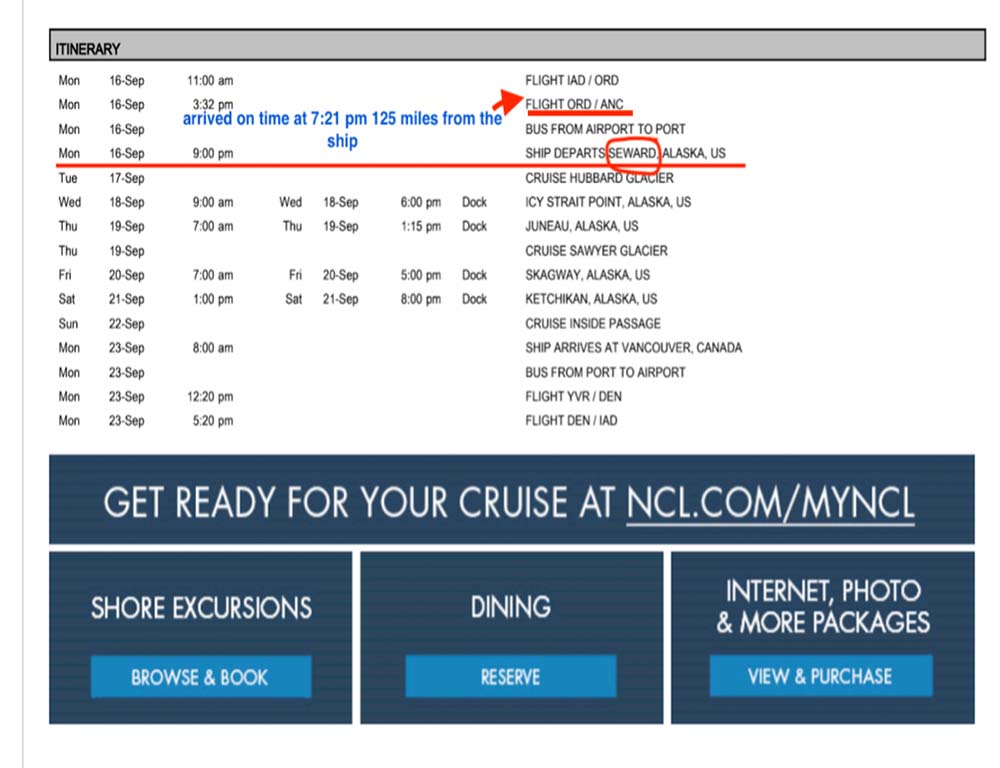 The good news! Here's your refund from NCL
Very shortly, Marcelino received the first bit of good news about his case.
Michelle, Good news!

I just got an email from the NCL Coordinator of Guest Relations advising he processed a $440 refund. That covers the administrative fees and the transfer. Aside from that refund, he asked us to provide receipts for our out of pocket expenses for their evaluation.

I am now trying to reconstruct whatever receipts we may have since some of them may have been erased already.

Marcelino
Marcelino then contacted the hotel in Anchorage and combed through his credit card receipts. Once he gathered that information, I forwarded the documents to the team at NCL. The good news? Soon the Bautistas had the justice they sought for so long — a refund.
Not only did NCL refund the airfare, hotel, booking fees and transfers, they also offered the couple an apology and a future onboard credit. And with that, the couple is relieved and ready to put this struggle to rest.
What to do if you choose to fly on the same day and the cruise leaves without you.
Read your contract
This guidance can't be stressed enough. You must read the contract that your cruise line sends you. We receive a multitude of requests for help from cruise ship passengers on a variety of topics. If these travelers had reviewed the details of their cruise contract, they could have avoided most of the problems. From the cruise line's automatic-tipping policies, to boarding cut-off times, to ID requirements to your destination, and itinerary change protocols, that contract explains it all. Read it!
Review your confirmation for errors
Remember, everyone is capable of making mistakes. That even includes people with the title of cruise specialist. It's important not to get lulled into a false sense of security and neglect to review your confirmation document for accuracy. Keep in mind that you'll be the one most affected if there are uncaught errors on that confirmation.
Be prepared — keep a list of contacts to call
If the worst happens and your cruise ship leaves without you, you'll want to be prepared. Make sure to have a list of numbers that will help you navigate the immediate problem. That list should include the customer service number for your cruise line, your travel insurance hotline, and your travel advisor. During shore excursions, make sure to carry your passport and a credit card. If you get left behind when the ship weighs anchor during an international cruise, you'll need your passport to get home or catch up with your cruise.
Decide whether you'll try to catch up with the ship or head home
Once you discover you've missed your cruise, you'll need to decide if you are going to try to catch up to the ship or scrap everything and go home. Here's where a good trip insurance policy can help. If the ship has left without you because of a lengthy flight delay, trip interruption insurance can come to your rescue. But keep in mind, if you've scheduled yourself with no buffer at all and miss the boat because of a short flight delay, many insurance policies won't cover you.
Keep all your receipts
Lastly, you'll need to keep careful receipts for all of your delay-related expenses if you expect to receive reimbursement later. Read your travel insurance policy to understand what it covers and the monetary limitations of that coverage.
The bottom line: Don't fly on the same day as your cruise!

Even a short flight delay can have devastating cruise consequences — meaning you can miss your entire trip and receive no refund. The Department of Transportation does not require an airline or cruise line to reimburse travelers who miss their cruise because of flight delays. It's always wise to give yourself a minimum of a one-day buffer between your flight's arrival and your cruise's embarkation. Flying on the same day as your cruise begins is just a recipe for an avoidable and expensive disaster. (Michelle Couch-Friedman, Consumer Rescue)
*This family had a different problem during their cruise to Alaska: Holland America loaded their clothes on the wrong ship!