Maybe you've taken an international cruise without a passport and it was smooth sailing all the way. But you might want to consider Earl Wentzel's troubling tale before booking your next maritime adventure.
Earl's case should serve as an eye-opener to anyone considering taking a cruise without a passport. When you cruise with no passport, you're putting yourself in a precarious position that could cause you to miss your vacation completely — no refund included. Or worse. You could even find yourself stranded in a foreign country.
A small flight delay leads to a giant cruise problem
Earl planned a Mexican cruise on Carnival's Splendor for himself, his wife, and their adult son and his family.
Early in the morning on the day of the cruise, the group took a flight from Minneapolis to Los Angeles. Once in L.A., they would embark on their week-long adventure.
All was going well — until it suddenly wasn't.
"Our Delta aircraft had problems and that caused a 1 ½ hours delay," Earl reported. "Our worst fears had come true. The Carnival agent had booked us on a flight that only allowed for a 50-minute delay."
Panic set in for the family. Earl was aware that Carnival's transfers from the airport to the cruise terminal ended at 2 p.m. But now their flight was scheduled to land after that time. He says when he called Carnival to discuss their flight delay, an agent assured them that they wouldn't miss the cruise.
"That Carnival agent told me that everything would be ok," Earl recalled. "She said we would just need to get our own transportation to the port."
Mission impossible: Beating the traffic on the 405!
But everything wasn't ok.
Once the family landed at 2:26 p.m. they quickly gathered their bags and hopped into a taxi. They needed to make it from LAX to the cruise terminal in Long Beach in less than 30 minutes.
The route from the Los Angeles airport to the Long Beach terminal is 22 miles on the most notoriously congested highway in the United States — the 405.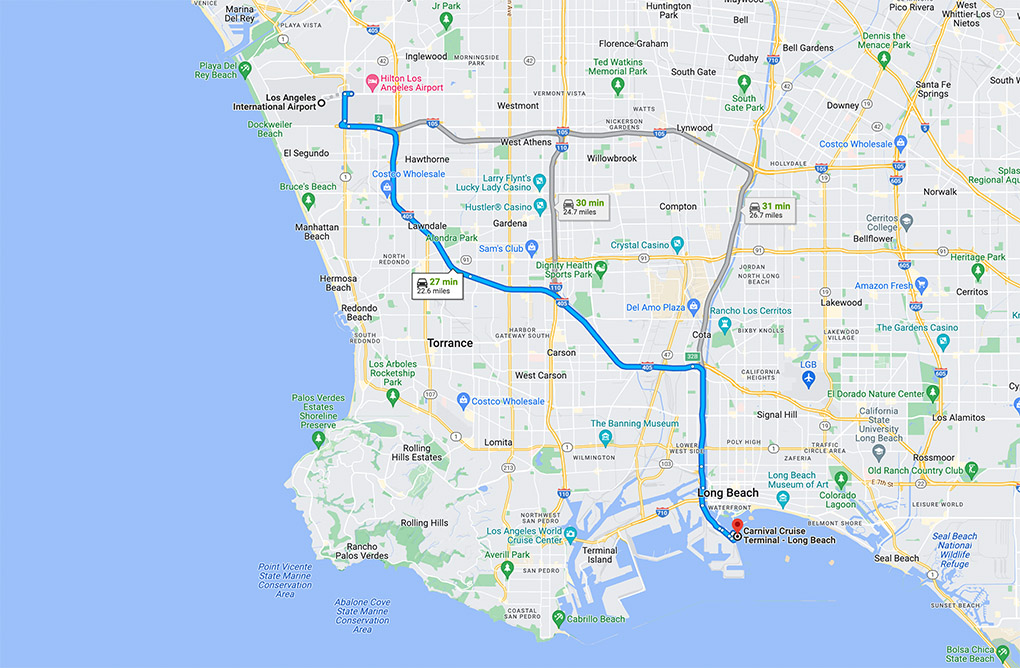 Even if, by some miracle, the 405 was clear — the possibility of making it to the port by 3 p.m. was unlikely. But anyone who has spent time traversing this highway knows there was zero chance of a traffic-free drive between these two points.
Will a cruise ship wait for passengers held up by traffic?
It is unlikely that any cruise line will hold a ship's embarkation to wait for passengers who are stuck in traffic on the way to the port. That means it's up to travelers to give themselves plenty of buffer time on the day of a cruise to get to the port. (Although, FYI, that still doesn't ensure you won't hit a different type of cruise fiasco — like ending up on the ship without your clothes!)
But, Earl insists that the Carnival phone representatives told him that The Splendor would wait for them.
Predictably, the 405 lived up to its well-earned reputation. Earl says they arrived at the terminal at 3:37 p.m.
Too late.
The family had missed the cutoff time for boarding. And to add insult to injury, The Splendor was still there, taunting the frustrated travelers.
Earl found one lone Carnival employee and asked if he could reopen check-in and let them join the cruise. The employee told him that boarding closed one hour before departure.
The Department of Homeland Security requires cruise lines to provide a passenger manifest no later than one hour before a cruise departs. This information is provided on Carnival's website.
Unfortunately for Earl's family, there was no way for his family to board the cruise at the time they arrived.
Here's exactly why you shouldn't cruise without a passport
Feeling defeated, Earl called Carnival again and asked about the options of catching up with The Splendor.
There was good news — and then some bad news. Very bad news.
The good news: Carnival informed him that the family would be able to catch up with The Splendor in Mazatlán in 2 days. First, they would spend the night in Los Angeles and then fly to Mexico. They would spend one night in a Mexican resort and wait for the arrival of their cruise ship.
But then came the very bad news. Earl's son and daughter-in-law did not have passports, and there is no way to enter Mexico by air without a passport.
Fact: It is not possible to fly internationally without a passport. If you miss your cruise without a passport, there will be no option of catching up with the ship on an international voyage.
What's the US Passport Card, and why won't it help you fly internationally?
Closed loop cruises are cruises that begin and end in the same U.S. port. Although it is highly recommended to cruise with a passport, it is not required on these types of cruises. Many passengers who do not possess a passport, cruise with a passport card or an official birth certificate with a government-issued photo ID.
The US Passport card is a small, driver's license-sized Real ID-compliant form of identification. It can be used to enter Canada, Mexico, The Caribbean, and Bermuda via land or sea. But it can never be used for an international flight.
That's an essential piece of information for any cruise passenger to consider when deciding on taking a cruise without a passport. And missing your cruise entirely is not the worst thing that could happen.
If you accidentally miss your cruise in a foreign port, as this passenger recently did in Mexico, and you don't have a passport, you'll find yourself with a big problem. It will be necessary to visit the U.S. Embassy and get an emergency passport to be able to come home. And this process will be time-consuming, complicated, and expensive. Guaranteed.
Real ID required to fly domestically starting in May 2025
Many travelers are choosing to get both a passport card and a passport book. The reason? The passport card can be used for domestic air travel. And in May 2025, state-issued driver's licenses that aren't Real ID-compliant will become unacceptable forms of identification for domestic air travel. So domestic travelers should keep that upcoming change in mind.
But back to Earl's problem.
He and his wife were headed to Mexico. But without a passport, his son and his wife were headed home.
Their disappointing tale is one that our advocacy team has heard many times. Unfortunately, there isn't much we can do for the distressed traveler who doesn't have the correct travel documents for international travel.
So what did Earl hope our advocacy team could fix here?
Why won't trip insurance cover this missed cruise?
When Earl arrived home, he filed a trip cancellation claim on behalf of his son. The insurance company reviewed the claim and denied it. There would be no reimbursement for the missed cruise through this policy.
In its explanation of the rejection of his claim, AON pointed out that the original flight delay that caused this cascade of problems was just 1 hour and 16 minutes. Because the group had begun their vacation with that flight, this claim was considered under the Trip Interruption clause. The minimum delay to allow for a Trip Interruption claim is 3 hours. A representative of AON explained:
According to the information submitted, your delay was less than 3 hours. Your original scheduled arrival time to LAX was 1:10 pm. The actual arrival time to LAX was 2:26 pm. Since you arrived at your destination within three hours of your scheduled arrival time, your delay does not meet the policy provision noted above. We are sorry our decision could not be more favorable.

AON
As I've mentioned before, I've never taken a cruise, so I often consult with my fellow advocate Dwayne Coward on cruise-related cases. Dwayne knows all about cruises and the types of trip insurance policies that cover calamities that a passenger might encounter before and during a cruise. Earl's denial letter seemed unfair to my eyes. His son and daughter-in-law missed the cruise completely. So I asked Dwayne to take a look.
The news wasn't good. Dwayne explained:
Unfortunately, I don't see any payable benefit in the insurance plan for their circumstances. Since they started the trip, the cancellation coverage would no longer be effective, and the delay due to airline aircraft issues is not covered under Trip Interruption. As for the delay, even if they had been delayed 3 hours, it was not due to a defined Hazard.

Dwayne Coward, Consumer Advocate
Travelers should always carefully consider their need for trip insurance as they plan their excursions. But that's only part of the equation. If you determine that you want to protect your vacation with an insurance policy, it's crucial to ensure that what you're purchasing is what you need. Using a site like Insuremytrip, travelers can compare and contrast policies across the insurance industry. Remember, after you commit to a policy, you generally have 10-14 days, depending on the company, to review the entire document to be sure it provides the coverage you want. After the look-over period, your trip insurance policy becomes nonrefundable.
Why flying to your destination on the day of the cruise (and without a passport) is a bad idea
Earl believes that Carnival caused all these problems for his family. When he booked the cruise, he says the Carnival agent selected the chancy flight for him.
Even if the flight had not been delayed, it was scheduled for a 1:10 p.m arrival — 10 minutes after the required LAX arrival time listed on Carnival's website for a 4 p.m. cruise departure. Earl says he did ask for a flight that landed on the same day as the cruise, but he had concerns with this schedule. However, with limited daily nonstop flights from Minneapolis to Los Angeles, the Delta flight is what the agent and the family eventually settled on. It's important to note that he was under no obligation to accept this iffy flight.
Our advocacy team always advises that cruisers arrive the day before their scheduled cruise. Without fail, we receive many complaints per month from disappointed travelers who missed their cruise because of a flight delay.
These passengers often assume that the airlines will be responsible for their missed cruise and incidental expenses.
Not true.
When a flight delay ends with a passenger missing their cruise ship (with or without a passport), no law or regulation compels the airline to provide any reimbursement. Don't believe me? Check your airlines' terms and conditions concerning delays and cancellations.
The Department of Transportation says airlines aren't responsible for missed cruises
And on its site, The Department of Transportation clarifies that airlines are not responsible for a passenger's missed cruise or other events after a flight delay or cancellation.
Question: Is an airline required to reimburse me for expenses if it cancels my flight and I am forced to miss my cruise, honeymoon, wedding, concert, or other activity?

Answer: No. Airlines are not required to reimburse you for any trip costs affected by the canceled flight, such as a prepaid hotel room, a cruise, a vacation, concert or other tickets, or lost wages.
And so it's imperative to give yourself plenty of wiggle room with your flight schedules when you have an important event to attend.
The bottom line: Taking a cruise without a passport is always a risk
If you miss your international cruise and you don't have a passport, you probably won't be going anywhere –except back home. Is that a risk you're willing to take? (Michelle Couch-Friedman, Consumer Rescue)
Before you go: Norwegian Cruise Line has a heart. Here's how I know
Last Updated on May 26, 2023 by Michelle Couch-Friedman