Although a Real ID and an Enhanced ID look nearly identical, there are critical differences between the two identifications. Diane Dipalma recently received a rapid and painful education on the topic while attempting to board Carnival Cruise Line's Legend.
She and her new husband believed they could use their Real ID driver's licenses to take the cruise. But the Carnival Cruise Line staff quickly clarified that they couldn't, and the shocked newlyweds missed their honeymoon.
Here's their story and what you need to know about the differences between a Real ID and an Enhanced ID.
A honeymoon gift: A Carnival cruise
Dipalma and her fiance were thrilled when her sister gifted the couple a Carnival Cruise to celebrate their honeymoon. The closed-loop cruise aboard Carnival's Legend would take the newlyweds from Baltimore to The Bahamas and back.
Note: A closed-loop cruise is one that begins and ends in the same U.S. port.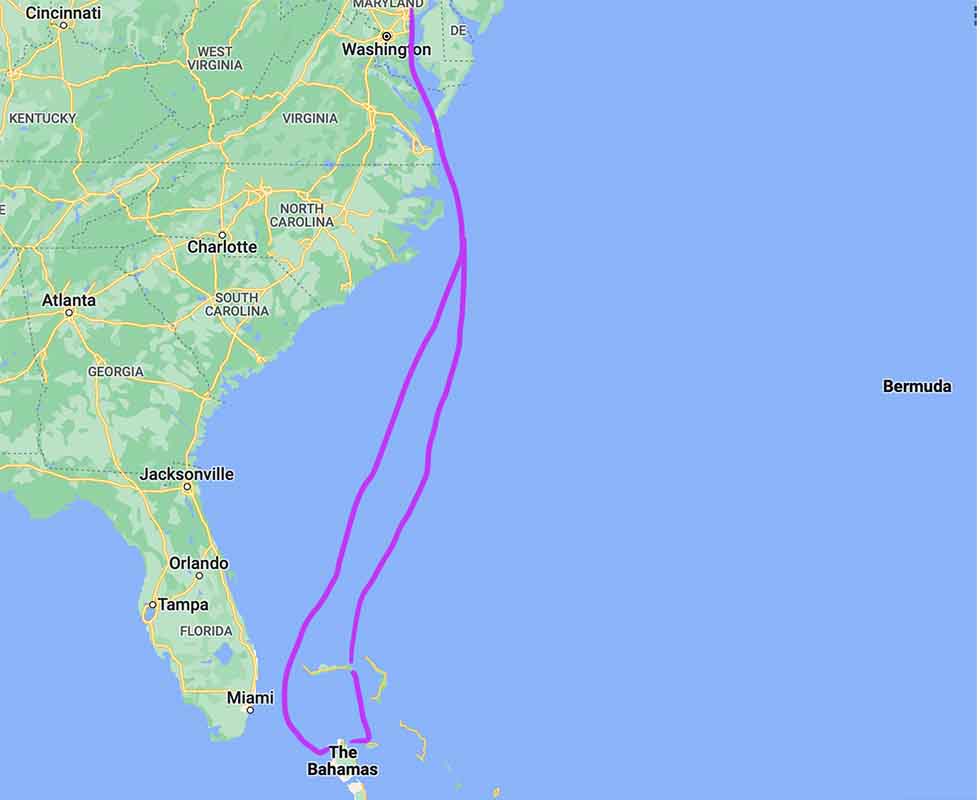 After confirming their cruise, Dipalma next went to the Carnival Cruise Line website. She wanted to find out what kind of identification they would need for their honeymoon.
That's where the confusion about Real ID that would eventually lead them to miss their Carnival cruise began.
"I saw that we needed a passport or a special driver's license," Dipalma recalled. "Pennsylvania offers a Real ID and we both have one. So we assumed we were good to go."
Unfortunately, they were not "good to go" with their Real ID driver's licenses – in fact, they wouldn't end up going anywhere on Carnival's Legend. But they wouldn't find out until the day of embarkation.
Carnival: "You can't cruise with just a Real ID."
On the day their honeymoon cruise was embarking, the couple drove three hours from their home in Pennsylvania to Baltimore. During the drive, the first-time cruisers happily chatted about all of their plans for the next seven days.
Arriving at the port, they parked the car, grabbed their suitcases and headed to the check-in area.
That's when all of their honeymoon plans came to a screeching halt. 
Fact: A Real ID alone is not sufficient documentation to board any closed-loop cruise (One that begins and ends at the same U.S. port. and remains in the Western Hemisphere).
We handed over our Real ID driver's licenses and the Carnival crew member asked us for our birth certificates. I said we don't have our birth certificates, but I showed the employee that our Pennsylvania driver's licenses are Real IDs. She said to take the cruise, we needed an Enhanced ID or passport or a Real ID plus a birth certificate.

Diane Dipalma
Stunned and not sure what to do next, the couple frantically called home to ask family members to search for their birth certificates. However, time was running out and they soon realized there would be no way to get the documents there before Legend sailed away.
"We were going to miss our Carnival cruise."
As the couple sadly accepted their fate, they gathered their belongings and headed back to the car. It was a somber ride home. During the drive, Dipalma had plenty of time to think. She soon was convinced that Carnival bore responsibility for their missed cruise.
"Carnival didn't make it clear anywhere that our Real ID driver's licenses weren't sufficient for taking the cruise," Dipalma says. "In fact, there were many people on the pier that day who were also denied boarding the ship."
And as a result of her newfound opinion of where the fault landed for their honeymoon fiasco, Dipalma started calling and emailing Carnival Cruise Line, asking for a do-over.
Not surprisingly, Carnival rejected Dipalma's request – repeatedly.
Carnival: "It is the guest's sole responsibility…"
As many travelers before Dipalma have discovered, cruise lines do not refund passengers who show up at the dock without the correct identification to sail. It is always the responsibility of the passenger to know exactly what they need, both to board the ship and to visit every destination on the itinerary.
Unfortunately, not knowing what documents you need to cruise is not an excuse that will lead a cruise line to provide a future travel credit.
In fact, every cruise line – including Carnival – has specific language in their contract of carriage that excludes any responsibility when a passenger without proper documentation to travel is denied boarding.
TRAVEL DOCUMENTATION AND GUEST OBLIGATIONS

a) It is the Guest's sole responsibility to ensure his/her legal eligibility to travel and to bring and have available at all times all required travel documents. Guests are advised to check with their travel agent and with the appropriate government authorities to determine the necessary documents and travel eligibility requirements for their particular cruise destinations, including the port of embarkation. Carnival assumes no responsibility for advising Guest of what travel documents are required for the requested itinerary and it is recommended that Guest travel with a valid government issued passport at all times.

Carnival Cruise Line Contract of Carriage
The bottom line here is that passengers should never expect their cruise line to advise them about the documents they need to travel.
But being a first-time cruiser, Dipalma wasn't aware of this fact. So when she found my article about another Carnival Cruise line customer who was denied boarding, she hoped we might be able to help her too.
Asking Consumer Rescue for help
When I read through Dipalma's experience, I felt terrible, of course. The couple had missed their much-anticipated Carnival Cruise meant to celebrate their honeymoon. Instead of enjoying a lovely meal aboard the Legend on the night of embarkation, they were taking a long and tedious drive back to Pennsylvania.
But I knew as soon as Dipalma told me why they had been denied boarding that Consumer Rescue would not be able to successfully resolve this case.
Unless a Carnival cruise consultant had booked the honeymoon for the couple and somehow given them misleading information, there was no foundation for our team to take her request to the cruise line.
As I explained to Dipalma, the executive resolution teams that we work with trust that we only bring cases to mediation where something has gone wrong on the company's side based on the terms and conditions of that business. We can't mediate goodwill gestures when a consumer has made an error. We receive far too many of these types of requests. If we brought them all to mediation, the power of our advocacy team would soon become diluted.
This missed honeymoon was a disappointing and expensive lesson for the couple. However, it was ultimately their responsibility to make certain they had everything they needed to board their Carnival cruise. I'm sorry we were unable to help in this case. But hopefully, their story can serve as a cautionary tale so that others can avoid a similar experience.
How to avoid missing your cruise with the wrong ID
Travel with a passport: The gold standard for travel documentation for a closed-loop cruise is a passport. With a passport, you won't need to worry about any extra identification for this type of cruise. For a multitude of reasons, all cruise lines highly recommend passengers travel with a passport even when one is not required. Don't have a passport? Here's how to get one fast.
Read your cruise contract carefully: Dipalma misunderstood the information that she read on the Carnival website. She assumed an Enhanced ID is the same thing as a Real ID. It isn't. Travelers should always read their cruise contracts and make sure that they understand the terms that are being used. If you don't quite understand something, don't assume. The U.S. Department of State has a page dedicated to cruising, which can provide travelers with all the information needed to successfully navigate a cruise.
Use Timatic: The professional version of Timatic is what most airlines use to confirm passengers have all the required documentation for travel. Passengers can use the free version of Timatic provided by the International Air Transport Association. It's simple to use: You enter your personal details into the program (Passport information, intended destinations, length and purpose of your trip) and you will receive reliable information about the documentation you personally need to successfully navigate your itinerary.
Here are the differences between a Real ID and an Enhanced ID
Many travelers often express confusion about the differences between a Real ID and an Enhanced ID. Here's a breakdown of each one.
Real ID
Starting in May 2025, passengers on domestic flights in the United States will be required to minimally provide a Real ID-compliant form of identification in order to travel. After that date, a regular driver's license will no longer be a valid form of identification to fly domestically. As a result, every state in the U.S. is currently rolling out Real ID driver's licenses.
Here are some quick stats about a Real ID driver's license:
It has a star in the upper right-hand corner.
You can use it as an official identification to enter Federal buildings.
You can use a Real ID to fly domestically, but NEVER internationally.
Real ID proves your identity but not your U.S. citizenship. Therefore if you use it as photo identification to take a closed-loop cruise, you will still need a birth certificate to prove your citizenship.
It isn't possible to cross land borders with a Real ID alone.
Enhanced ID
An Enhanced ID functions much like a passport card – it proves both your identity AND your U.S. citizenship. At this time, in the United States, only five states issue Enhanced IDs. Those states are all located on our Northern borders, where people may frequently pass between the U.S. and Canada.
Here are some quick facts about an Enhanced ID:
Enhanced ID driver's licenses are only issued by Vermont, Michigan, Minnesota, Washington and New York. At this time, no other state can issue Enhanced IDs, so if you don't live in one of those states, you can be sure you don't have an Enhanced ID.
The word Enhanced appears at the top of the card.
There will be a colorful U.S. flag somewhere on the card.
An Enhanced ID can be used to cross land borders (Canada and Mexico).
You can use an Enhanced ID to take a closed-loop cruise without any additional identification.
It is not possible to fly internationally with an Enhanced ID, although you can use it to fly domestically.
Like a passport card, the Enhanced ID does prove your citizenship. It contains an RFID (Radio Frequency Identification) chip that allows immigration officers to read your personal details.
The bottom line
Any time that you're leaving the United States, whether on a closed-loop cruise or via land, it's always best to carry a passport. A passport proves your identity, citizenship AND will allow you to fly internationally. Should you find that you need to get back home quickly from a foreign destination, you will be relieved that you have the ability to travel by air with your passport.
An Enhanced ID or Passport Card are your next best forms of identification to carry if you intend to take a closed-loop cruise or cross over our land borders. But remember, you can never fly internationally with either of these forms of identification. So should you find yourself in an emergency and need to return home by air, you will encounter some difficult hurdles.
Finally, if you choose to leave the boundaries of the United States on a cruise or by land with just a Real ID, you must also have an official birth certificate with you to prove your citizenship. If you don't have both, you won't be going anywhere but back home – and that's an unpleasant fate that's completely avoidable. (Michelle Couch-Friedman, Consumer Rescue)
Last Updated on September 22, 2023 by Michelle Couch-Friedman