Jeri Lynn Wentz feels scammed after her recent shopping fiasco, which began through a Facebook ad. The "fashionable" clothes she bought took a month to arrive and were more suitable for a baby doll than a full-grown woman. When she asked to return the garments, the retailer first resisted and then gave her some strange instructions. In the end, the clothing company kept her money and the tiny, low-quality items Jeri sent back.
So now what?
Jeri's experience serves as a warning about impulse buying from unknown merchants on the internet. Although opportunities abound to buy stuff through Facebook ads, a significant portion of those "merchants" are scammers. So it's critical for consumers to do some basic research before a shopping spree. If you don't, you might also end up buying a bunch of junk you don't want, with no easy path to a refund.
Here's Jeri's tale and important things to keep in mind while scrolling through Facebook ads.
A Facebook ad for "Cute and fashionable" clothes
"A Facebook ad for a company called Berrylook kept showing up in my newsfeed," Jeri recalled. "I clicked on the link, and the clothes looked cute and were reasonably priced. So I bought a few things and paid using PayPal."
Jeri says that the company indicated a 5-to-7-day delivery window for the clothes.
Over 30 days later, Jeri finally received her order, which was to include several "fashionable" tops. Unfortunately, when she unpacked the box, reality did not match the photos Jeri had seen in the Facebook ad.
"The clothing was of shoddy quality and doll-like sizing," Jeri reported. "I felt scammed — none of it looked like the ad on Facebook. I wanted to return this stuff immediately and get a refund from PayPal."
Unfortunately, returning the unwanted items would prove to be a challenge.
Complicated return and refund instructions
The clothes barely resembled the items she had bought through the Facebook ad. The flimsy, see-through material and sizing problem made the articles useless to her. She hoped Berrylook would make the return and refund process quick and easy.
Of course, that was a lofty hope and one that was soon dispelled.
First, a Berrylook customer service representative asked Jeri to choose some replacement clothing instead of a refund.
Jeri was not about to choose any further products from Berrylook. The items in her possession had told her everything she needed to know about this company. Now Jeri only wanted to return the stuff and get her money back, and she told the agent so.
That's when the Berrylook agent gave Jeri strange return instructions. Although the company is based in China, this representative said to return the stuff to some guy's house in California.
"Return your items to Jimmy at this address," the agent explained. "Customer pays for shipping. Once we receive the items, we'll process your PayPal refund."
Spending extra money to return this stuff
Jeri did as the agent instructed, paying $15 to have the unwanted clothes she bought from the Facebook ad returned to Jimmy.
Soon USPS alerted Jeri that the occupant at that address in Los Angeles refused to accept the package. But during a second delivery attempt the next day, Jimmy was there, and he signed for it.
With the delivery confirmed Jeri assumed her PayPal refund would soon follow. It didn't. In fact, Berrylook stopped responding to her emails.
Jeri's frustrating battle to get her money back from her Facebook shopping spree was only just beginning.
Asking PayPal to get the money back
When Berrylook didn't send the refund as promised, Jeri started digging for information about the company. Scrolling through the plethora of scathing reviews, she realized this online sleuthing was something she should have done before her Facebook shopping excursion.
All over Facebook and on various review sites, Jeri found negative review after negative review about Berrylook.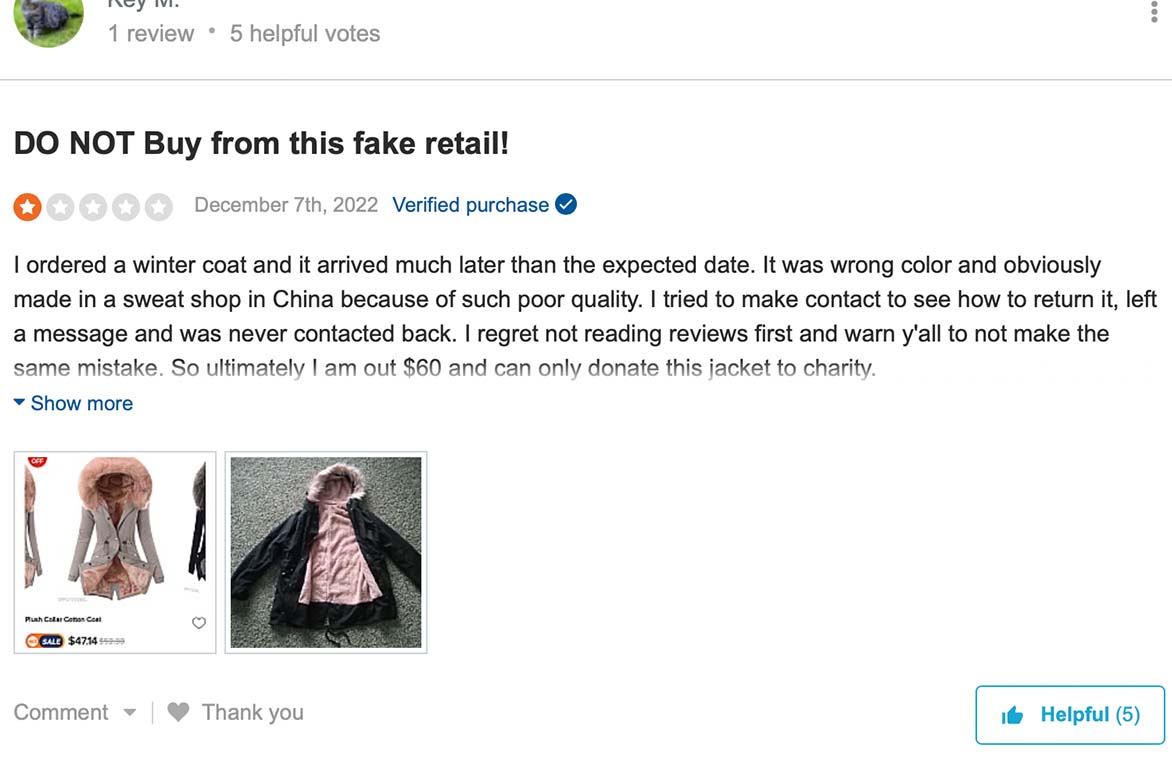 Now sure that the company did not intend to send her a refund, Jeri turned to PayPal for help.
Similar to the credit card dispute process that the Fair Credit Billing Act allows consumers, PayPal allows its users to dispute billing errors through its resolution center.
If you purchased something and would like a refund because you haven't received it or it's not as described, you can file a dispute in our Resolution Center to start the process of getting your money back.

You have 180 days from the transaction date to initiate a dispute.

PayPal terms and conditions
As a long-time PayPal user in good standing, Jeri felt confident that the company would refund the low-quality garments.
But, like other consumers you've read about at Consumer Rescue, she was in for another frustrating jolt into the reality of shopping online.
Paypal will not refund this shopping (mis)adventure
"I gave [PayPal] every single thing they needed to get my money back," Jeri lamented. "I sent [PayPal] the tracking number and delivery confirmation receipt. But the merchant said I sent [the clothes] to the wrong place."
As a result of Berrylook contesting the refund, PayPal sided against Jeri.
Jeri filed an appeal, which PayPal also dismissed on the basis that Berrylook never received the return.
We have reviewed this transaction(s) and are denying your case(s). This decision was made because we did not receive valid proof or tracking that you returned the merchandise.

PayPal dispute resolution team
Jeri realized she was getting no closer to her refund from PayPal or the merchant. So when she found an article I had written about a case I had helped fix for another PayPal customer, she decided to ask our advocacy team to assist her in this battle.
Asking our consumer advocacy team for help
When Jeri's request for help hit my desk, I initially thought a refund was unlikely. After all, Jeri had sent the clothing items to a first-name-only person at a residential address. It was no surprise that this highly unusual return process had not ended positively for Jeri.
"Unfortunately, I'm afraid I am going to have to call this a lesson learned," Jeri wrote. "I should have checked Trustpilot, as there are hundreds of consumers being ripped off by this sketchy company."
I headed over to the Trustpilot site to see if there really were hundreds of complaints about this merchant. What I found proved Jeri wrong… there were actually thousands of bad reviews that sounded strikingly similar.
The (5,700!) reviews are in: This Facebook advertiser is a scammer
With titles such as "Thieves and Scammers" and "Warning: Don't use this company!" Berrylook has earned a 1.5-star rating with over 5,700 reviews. If you're in the mood to go scrolling through Facebook ads looking for clothes to buy, this definitely isn't the place to do it.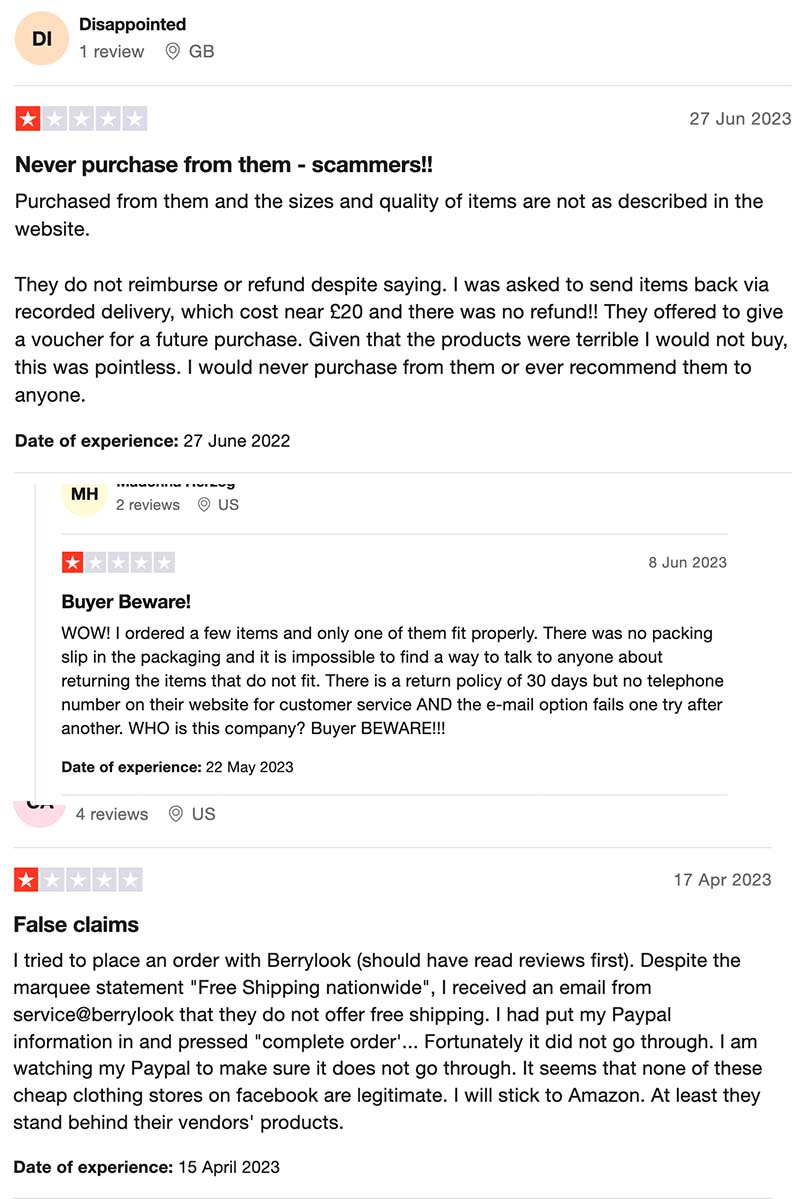 Trustpilot has entitled Berrylook's listing as "Bad" and even installed a warning banner at the top of the reviews. It seems that Trustpilot has detected an unusual number of fake, presumably positive reviews, which it has now removed.

Of course, Jeri hadn't seen any of these reviews or the warning until it was too late. And she was painfully aware of her mistake not to check ratings before her online shopping excursion. But after going through her lengthy paper trail, I could see that she had proof that she followed all the steps that Berrylook had given her for the return. A representative of the company told her to send the package to "Jimmy" — and that's what she did.
Jeri had even paid for a signature-upon-delivery service.
So why had PayPal rejected her refund request? It was time to find out.
The good news: Here's your refund from PayPal
I contacted our helpful friends at Paypal about Jeri's frustrating first Facebook ads shopping experience.
Jeri purchased some clothing through a Facebook ad from a company called Berrylook that seems to be a scam. [The clothing] was really poor quality and she asked the company to return it.

They agreed to allow her to send it back, but the customer service rep told her to return it to some guy named "Jimmy" in Los Angeles. She did that but the company has still refused to refund. When she filed a complaint with PayPal, her claim was rejected because PayPal said she didn't have proof that she returned the products. She provided proof that she sent the package to the address that Berrylook asked her to send it to — and she also has a USPS confirmation that someone accepted the package.

Can your team have another look?

Best,

Michelle Couch-Friedman, Consumer advocate
And very shortly came the good news for Jeri: PayPal approved her refund.
Hi Michelle,

Thanks again for reaching out. Our dedicated Customer Service team looked into the matter and determined the case was worked correctly. However, we plan to issue Jeri a courtesy credit because of her good customer history with PayPal. A member of our Customer Service team will be reaching out to let her know.

PayPal executive contact
Jeri is thrilled that this online shopping catastrophe has finally come to an end. She says in the future, should she see some eye-catching Facebook ads in her newsfeed, she'll likely just keep on scrolling.
How to safely shop on Facebook (Or any other online platform)
There are many unique things you can discover through the Facebook ads in your newsfeed. Much of what you see is from legitimate companies that want to build a positive customer relationship. But it's essential to keep in mind what Facebook is and what it isn't.
Facebook is a marketing platform not a department store — it sells ads that it shows to its users. It's very easy and cheap for a company to purchase an advertisement on Facebook. Although the ad must be approved by Facebook, the people or entities placing the ads are not vetted for quality. So it's up to you, the consumer, to take your own steps to protect yourself from scammy and disreputable businesses.
Don't pay with Zelle: The favorite payment method of scammers is currently Zelle. Online predators around the world advertise fake products on Facebook and other marketplaces and ask you to make your payment with Zelle. Don't make that mistake. Remember, Zelle is meant to transfer money to friends and family, not to pay strangers for items on the internet. Zelle payments do not come with the consumer protections credit card transactions do, AND these Zelle transfers are never refundable or reversible even if the item you paid for is low quality or, worse, doesn't exist. So stay far away from any merchant that tells you their preferred (or only) form of payment is Zelle – they're likely trying to bait you into a scam. Avoid merchants who don't accept credit cards.
Research: Google is your friend: The number one way to safely shop on Facebook is to research the company before you hand over your cash. Typing the name of the company into the Google search box can often give you everything you need to know. And sites such as Trustpilot, Yelp, Pissed Consumer and SiteJabber, among others, can steer you away from disreputable businesses.
Read the comments: Every business that advertises on Facebook has a page — likely with customer comments. Read those comments carefully. Are there a lot of happy consumers? Repetitive complaints of the same nature? And if the company has the comment feature turned off, take that as a warning. Many companies that have poor customer service or bad reviews will remove the commenting ability from their sites.
Send a question to customer service: Asking questions before you make a purchase from an unfamiliar online merchant can prevent many headaches. Ask about the procedures for returns and refunds. If the company doesn't respond to your inquiry promptly, you'll want to reconsider this business. If the customer service is poor before you have a problem, you can be certain it won't get better when you do. (Michelle Couch-Friedman, Consumer Rescue)