Rishabh Gupta expected to pay approximately $145 for his recent one-day Thrifty car rental. So imagine his surprise when the final bill rang in at just under $5,000.
Gupta's surprise turned to shock when he asked the car rental company to correct the outrageous billing error.
That's when Thrifty explained that the super-sized invoice wasn't a mistake at all. The car rental giant informed Gupta that he had returned the vehicle to a competing agency, where it remained undetected for a month.
Now with Thrifty's parent company, Hertz, confirming that Gupta owes the $4,320 tab, he's asking for help. He hopes Consumer Rescue can investigate and prove he returned the rental car to the correct location.
But with no evidence to support his claim, will he remain stuck with this nightmare car rental bill?
A one-way car rental from Detroit to Chicago turns into a nightmare
Back in February, Gupta, who lives in the Detroit area, booked a trip to India scheduled to leave from Chicago O'Hare Airport.
"I needed to get to Chicago, so I figured I would rent a car," Gupta recalled.
Going directly to the Thrifty site, Gupta booked a one-way car rental. He would pick up the vehicle in Detroit on Feb. 2, drive 5 hours to Chicago, and overnight there. Then he would return the rental car at the Chicago O'Hare Airport the next day before catching his flight to India.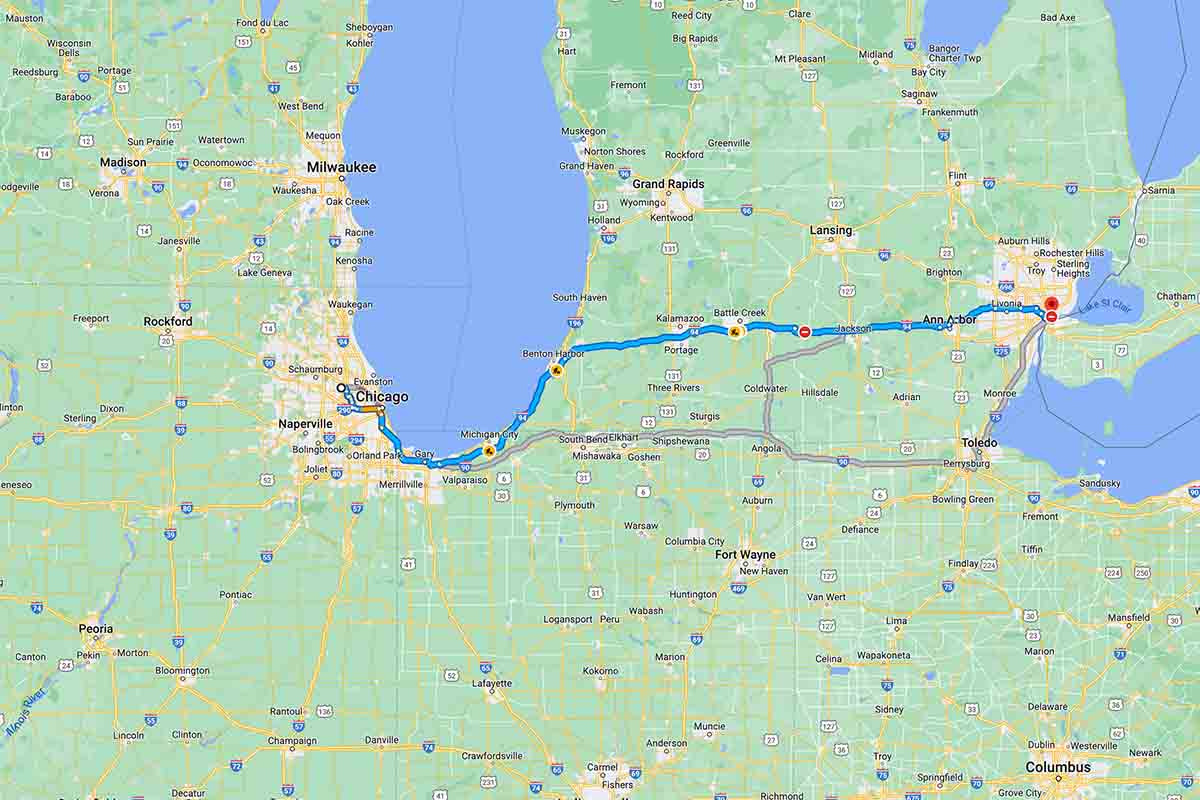 All went as planned and Gupta says he arrived at the Chicago O'Hare Airport around 10 am on Feb. 3 and drove into the car rental return area.
"I followed the signs for Thrifty, which was on the first level," Gupta told me. "A lady there told me to leave the keys in the rental car. So I did and then we walked into the airport."
Gupta had no indication that anything had gone wrong. He checked in for his flight and soon was on his way to New Delhi.
Thrifty and then Hertz: Where is that rental car?
Gupta landed in New Delhi and wasn't giving a second thought to the car rental he had left behind in Chicago. That is until some unusual emails from Thrifty and then Hertz began showing up in his inbox.
I started to receive emails about the rental car. Thrifty asked me to return it as soon as possible. I called right away and told the representative that I had returned the vehicle already. He [the Thrifty agent] told me that it was a computer glitch and it would be corrected within 48 hours.
That didn't happen.
What did happen is that every day for the next seven days, Gupta received a warning from Thrifty and then from Hertz to return that rental car.
Message after message arrived. Each time, Gupta would call Thrifty and remind them he had returned the rental car. And each time, a representative would assure him that the problem would soon be corrected.
Finally, an agent informed Gupta that he had disabled the auto-warnings.
Gupta was relieved. Thinking everything had been resolved, he was able to enjoy the rest of his time in India.
But as it turns out, the only thing the last Thrifty agent had done was to disable the auto-warnings. The underlying problem had not been resolved and Hertz still had no record of Gupta returning the rental car.
Unknown to him, each day of his trip, Hertz was billing him an additional $127 for that rental car. But he wouldn't find out until later – much later.
Will anyone at Thrifty confirm the return of this rental car?
On Feb. 24, Gupta returned to the United States. After passing through customs, he was soon back at the Thrifty Car Rental counter at Chicago O'Hare Airport. Still having an uneasy feeling about the flurry of emails accusing him of not returning his last rental car, he hoped to get a receipt or some other proof that the previous contract was closed.
I raised the issue with the Thrifty team and they said to reach out to the call center. But I had already done that several times.

They [The Thrifty team] did not care about what I was concerned about. I ended up taking a rental car back again from Thrifty to Detroit. They issued me the rental even when the previous rental seemed to still be open. In Detroit, I made sure to get a receipt for my car rental return this time. I asked the staff to make sure the other rental was closed as well. They were not concerned either and did not listen to me, and also gave me the call center number.
Frustrated, but assuming that since no one at Thrifty was worried about the situation, he shouldn't be either. Gupta decided to give up his search for a written confirmation of his car rental return.
That was a mistake.
Hertz: "Here's your final bill for the rental car: $4,469."
Six weeks after Gupta returned from India, Thrifty hit him with the surprise bill. There was no explanation as to why it had taken the car rental company nearly two months to send a final invoice.
"Now Thrifty said I owed $4,469," Gupta recalled. "I panicked since I couldn't pay that. Plus I shouldn't owe it. I returned that rental car as agreed. They kept telling me I returned the vehicle to Avis. I did not."
After sending repeated requests to Thrifty and Hertz to remove the incorrect charges with no positive resolution, Gupta went scrolling through the internet looking for answers. He came across a column I had written about another Thrifty car rental customer accused of returning the vehicle to the wrong place.
Gupta hoped Consumer Rescue might be able to help him too. He submitted his request for help and waited.
Is the evidence in this customer's favor?
When Gupta's plea for help landed on my desk, he had been fighting his car rental nightmare for over a month. By the time he reached me, Hertz had already re-confirmed that he owed the $4,320 extra.
But Gupta insisted to me that he had returned the rental car to the correct location. The problem? He had absolutely no documentation.
The only thing Gupta had was a photo that showed that Avis is located on level 2 in the rental car returns building and Thrifty is on level 1. He recalled returning the rental car to level 1.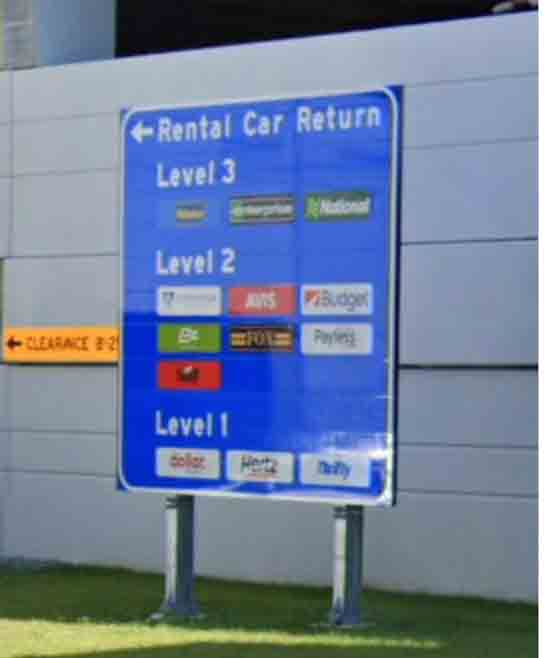 "I'm sure I delivered our car to the lower level and then walked into the terminal," Gupta explained.
Reading through his paper trail, I noted that his problem was strikingly similar to another case I mediated last year.
I've seen this type of car rental nightmare before
In that case, Claudia Lockwood had booked a one-day car rental before an international flight. In her car rental nightmare, she rented a vehicle with Avis and expected to pay a total of $115. After returning the car to a small Avis location in Connecticut, she got a ride to JFK and flew to Germany.
It wasn't until a month later she found out that the franchised Avis location claimed she had not returned the car to the correct space and they had been unable to find it. As a result, they billed her $4,428 for the month the vehicle was "missing."
Initially, when my advocacy team reached out to Avis, they agreed to "adjust" the bill and refund Lockwood just $614. That still left her with a nearly $4,000 overcharge.
That didn't sit right with me, and I pressed the issue further – I sensed some franchise car rental shenanigans. So I did a little digging and discovered that there was no way that this Avis location was unable to find the rental car Lockwood had parked on its tiny lot – no matter where she had parked it. To me, this looked like a complete cash-grab scheme.
So I reached out to our Avis executive contact, who is always very helpful and asked for another look.
Hi ****,

I don't think we can close this case the way it stands. It isn't clear why this Avis location took over a month to "find" this vehicle and close the rental. The evidence shows that this is a tiny location with a very tiny lot that it shares with National. This is a regional airport and the rental car companies seem to only open when flights are scheduled.

Claudia's contract with Avis shows that she was scheduled to return the car to this location at 9 am on Dec. 16.

Claudia has provided us a receipt for gas at a station just around the corner from this location timestamped at 9:01 am on Dec. 16.

She also has phone records showing that she called this local Avis branch at 9:11 am (4-minute call) when she found the office to be closed. She was instructed by Avis (Carlos?) to put the keys in the car and park it in that lot, which she did.

There is no way that this car could have been "missing" for over a month when it was parked in this small lot. (see satellite photo)

Michelle to Avis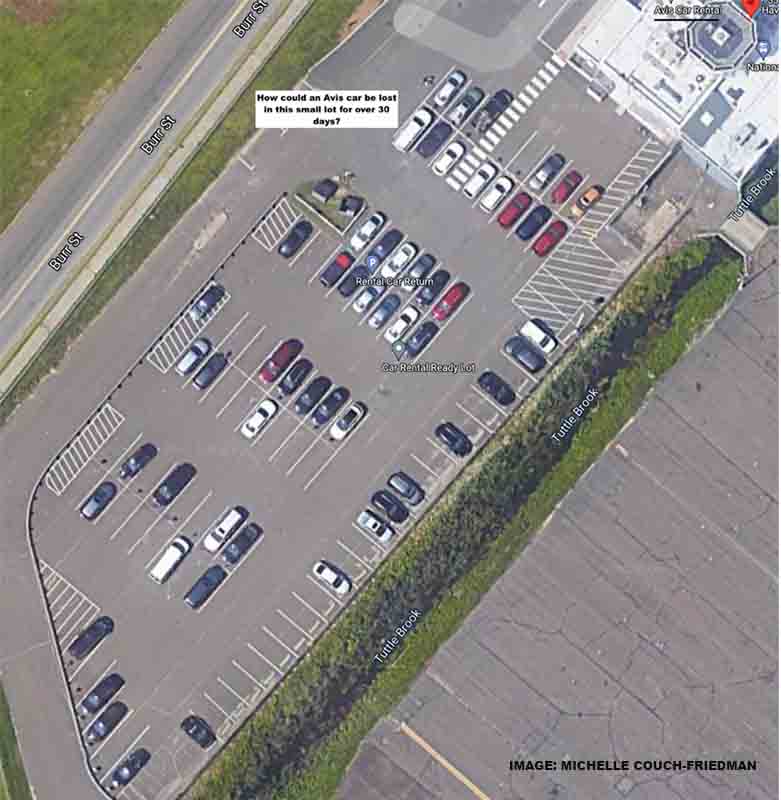 Faced with the undeniable visual evidence, Avis refunded Lockwood the entire overcharge.
I hoped for a similar outcome for Gupta. But I wasn't sure I could get the same result. Initially, there didn't seem to be any smoking gun.
There would be a smoking gun, but it wouldn't come to light until later.
Asking Hertz to have a look at this case
Gupta was insistent that he had returned his car to the first floor. But he had no evidence. I didn't have a satellite image or much of anything except his narrative. He had a boarding pass, a gas receipt and phone records to show that he flew to India on Feb 3. I hoped that would be enough to convince Hertz that he returned the car as scheduled to the correct location.
It wasn't.
Our executive contact at Hertz reiterated to me that the Thrifty location "confirmed" that Gupta had returned the rental car to Avis.
Good morning Michelle,

This is what [Thrifty] customer care shared with me:

The vehicle was returned to the Avis rental car lot. Avis then transferred the vehicle to their overflow lot and did not let us know until 3/1. We were unable to close out the vehicle until we actually had it in our possession. As a result, this vehicle was closed out the day they physically found it.

Hertz to Michelle
With Hertz not bending, I broke the news to Gupta. He continued to insist that he had returned the rental car to the first floor where Thrifty was located.
Please, can you continue to plead my case? I know I returned the car to the correct location. In the worst-case scenario, could you ask for a reduction in the fee?

Rishabh Gupta
I tried again with Hertz and asked if there was some way to reduce this fee. At the same time, I continued to scour through the paperwork Gupta sent me.
And suddenly, the smoking gun appeared in front of my eyes. I was sure that Thrifty Customer Care had made a mistake.
Who drove this vehicle 1,132 miles?
Gupta had sent me the final invoice for his car rental – the one Thrifty sent in April. That was two months after he had returned the vehicle.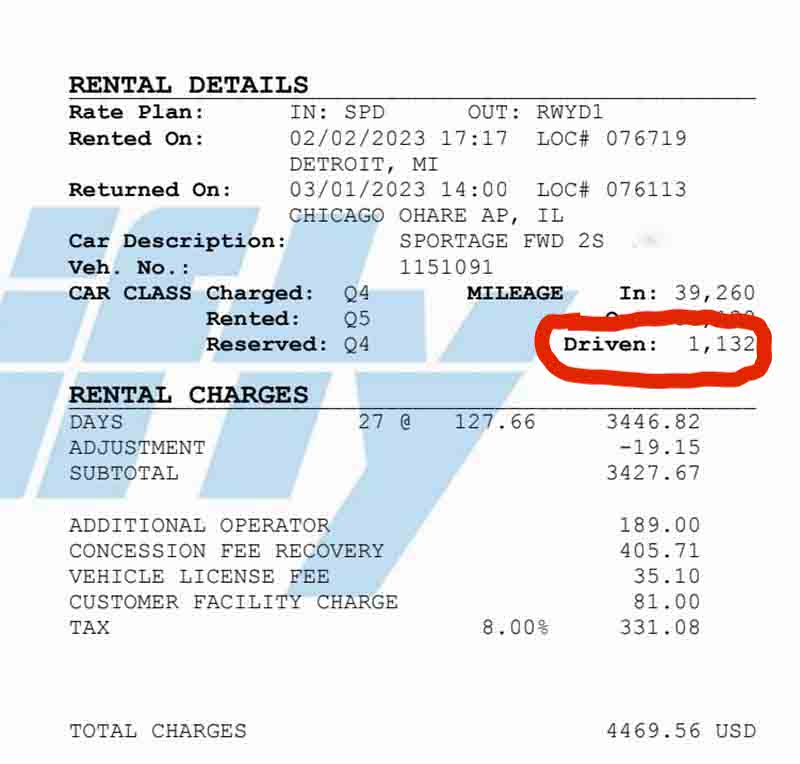 The distance between Detroit and Chicago is approximately 300 miles. Gupta picked up the rental car in Detroit at 5:17 pm on Feb. 2. He drove to Chicago and checked in for his flight to New Delhi approximately 17 hours later. He was confirmed to have boarded his flight to India on Feb. 3 at 2:20 pm.
There is no possible way Gupta drove 1,132 miles during his one-day car rental. This new information suggested that Thrifty had rented the vehicle to someone else while his contract was still open. I've seen this type of car rental fiasco before.
This receipt proved that Thrifty Customer Care had been mistaken when it reported that the car had been sitting unrented in an overflow lot for nearly a month. That mileage showed that the vehicle had actually been driven quite a bit during those 27 days that Thrifty was billing Gupta.
Just as I started preparing to share my findings with Hertz, I got a surprising email from Gupta.
Vindication: Hertz determines the customer didn't make a mistake with this rental car
Gupta was excited to let me know that Thrifty and Hertz had investigated further and discovered there had been a mistake. He shared the response from the car rental giant.
Thank you for your recent inquiry regarding your rental with Thrifty from Detroit to Chicago. I am reaching out from the Thrifty Executive Customer Service team to provide assistance regarding this matter. I appreciate your allowing me to assist.

I sincerely apologize for any concern caused regarding the additional charges made on your rental and the incorrect return date listed. Upon receipt of your inquiry below, I immediately began an investigation into your rental charges and have determined a billing error was made. I have processed a refund of the additional days billed in the amount of $4,320 which will show on your billing statement within 5-7 business days. An updated invoice will be available to you through our website within 24-48 hours which will reflect this adjustment and the new rental total of $149.44.

Rest assured, this matter is being thoroughly investigated with appropriate management and corrective action taken where necessary. As a gesture of concern, I am also mailing a $100.00 certificate to you at the mailing address listed on file. This certificate will arrive to you in standard mailing times and it is our hope that you will use the certificate toward a future rental and allow for us to regain your complete confidence in Thrifty.

Mr. Gupta, thank you again for allowing me to reach out to you directly to offer my assistance. If you have any questions or concerns, or if I can help in any way, please do not hesitate to reach out to me directly.

Thrifty explaining the findings of its investigation
So, in the end, Hertz/Thrifty agreed that it made a mistake in billing Gupta for those 27 extra days. The company apologized, refunded the $4,320, and offered a small goodwill gesture. And Gupta couldn't be more thrilled.
Hi Michelle,

We have received confirmation from Hertz about the full refund.

Thank you for all the support and guidance you provided to me. This would definitely not have been possible without your help and support. This is a huge relief and I can't thank you enough for your support and efforts.

Rishabh Gupta
You're very welcome, Rishabh. That's exactly why Consumer Rescue is here!
How to avoid your own expensive car rental nightmare
If you've spent any time perusing the articles on this site, then you know car rental problems are a common topic. It's very easy for consumers to find themselves with a hefty unexpected bill if they aren't careful. 
Here's what you need to know so that you don't end up in an expensive car rental nightmare of your own.
Make sure you know where you're going: Before you set off to return your rental car, make sure you know where you're going. Keep in mind, some airport locations are not actually at the airport. And some off-site locations might imply that they are at the airport, but they aren't. Andrew Dupuy found this out the hard way when he thought he had booked his Hertz rental to return to the Seattle airport. He didn't. And as a result, Hertz billed him nearly $1,000 for his car rental mistake – he returned the car two miles away from the intended location. Always double-check your target for return before you hop in the car and start driving. You can use Google Maps to easily see exactly where the car rental return on your contract is located.
Give yourself plenty of time: Most car rental mistakes are the result of consumers who are running late and fail to review the contract, don't wait for an attendant to inspect the car, or, still worse – don't realize that they've arrived at the wrong location. Always give yourself plenty of extra time to return your car (and when you pick up the vehicle as well).
Get a receipt: Remember, as a car rental customer, you are fully responsible for that vehicle until the agency confirms that you have returned it. It is never wise to drop off a $30,000 vehicle and assume you've transferred responsibility back to the car rental agency. That only happens after you've received a receipt. Maureen Heller discovered this in the most unpleasant way when she returned her Budget rental car to the Detroit airport and failed to get a receipt. A few days later, she began receiving threats from the company of potential legal action. Save yourself from this type of car rental nightmare by always waiting patiently and getting a return receipt.
Take a photo: If you absolutely must leave your rental at a location in which you can't obtain a receipt, make sure your return is well-documented. Refuel the car close to the location and keep your receipt. Take a photo and/or video of the vehicle in the parking space where you've left it in the lot. Take close-ups and pan out to show the location in detail. Finally, photograph the box where you drop the keys.
If you follow all of this guidance and still find yourself in a car rental nightmare, contact our advocacy team. We'll do our best to rescue you from your consumer problem, too. (Michelle Couch-Friedman, Consumer Rescue)
Last Updated on August 14, 2023 by Michelle Couch-Friedman