Andrew Dupuy made a "little" mistake when he returned his recent car rental in Seattle. He says an innocent oversight caused him to drop the vehicle off at the wrong place. Only after it was too late to fix the problem did he see the shocking price tag of his error.
Now Andrew is asking if he's really stuck with the $951 penalty the car rental company charged for this mistake.
Can we help?
This case underscores a basic fact: Car rental companies aren't prone to overlooking a consumer's little mistake. That's especially true at a time when these businesses have been hit hard by the global pandemic. Be warned; many travel-related companies are actively looking for ways to generate revenue and stay afloat during the coronavirus crisis. So it's up to you to make sure that you don't make yourself into an easy target.
Shopping around for the best car rental deal
Last September, Andrew was making plans for a road trip from southern California to Seattle. He intended to rent a car for the one-month, one-way journey up the beautiful coastline.
"I worked very hard to find a good rate," Andrew recalled. "Finally, I found a deal on Booking com for a total rate of $672 with Hertz."
Satisfied that he had found the best possible deal for his trip, Andrew confirmed the car rental. He would pick up the intermediate SUV in Torrance, Calif., and return it at the Seattle-Tacoma airport. From there, he would fly back home.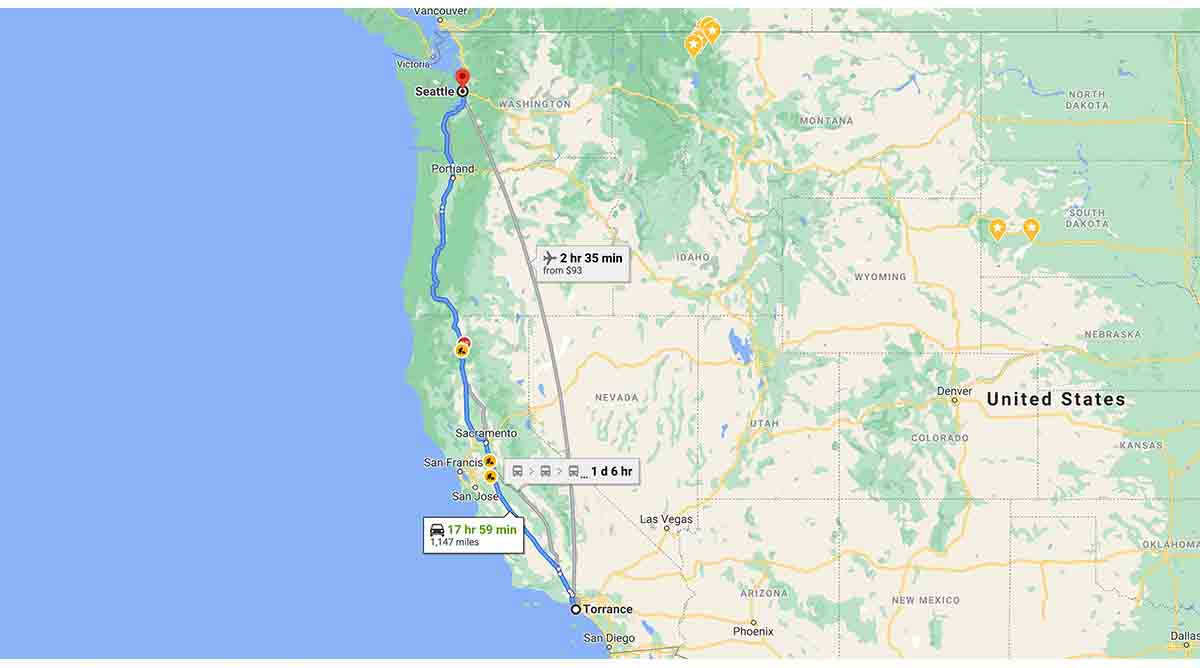 Pleased with his successful car rental bargain hunting, Andrew then began planning the rest of his adventure.
Unfortunately, he had already made a significant mistake in his planning — one that would ensure his car rental deal was no bargain at all.
A surprising car rental mistake: right time, wrong place
After an exciting 31-day road trip exploring the western coastline, the day came to fly home. Andrew drove to the Sea-Tac airport and pulled into the return lane at Hertz.
When I went to drop off the car, I was in that area of the airport for at least 10 minutes unpacking the car. No representatives came by to see if I needed help. As I was walking out, I approached a group of 3-4 Hertz staff members standing around. I sort of indicated I wanted help. They told me to leave the keys, which I did. I think if someone had offered to help me, this whole situation could have been avoided.
After Andrew dropped off the keys, one of the Hertz employees handed him a receipt. He then gathered his bags and headed into the airport. Unfortunately, Andrew never glanced at that receipt until he settled into his seat on the plane. And then he couldn't believe his eyes.
The vehicle's final cost was $1,617 — nearly $1,000 more than Andrew had agreed to pay. But he assumed the overcharge was a mistake by the car rental agency — not his own.
As soon as he landed, Andrew called Hertz and hoped to fix the problem quickly. Unfortunately, what he heard next shocked him even further.
"A customer service representative at Hertz told me there was no mistake," Andrew recalled. "He said that I had returned the car to the wrong place. As a result, the total price of the car rental had increased to $1,617."
Confused, Andrew explained that he had always intended to return the car to the SeaTac airport. He was confident his reservation indicated a return to that location. But when he asked the Hertz agent where the company expected him to return the car, he was in for the third shock of the day.
Hertz: "You returned the car to the wrong SeaTac location."
As it turns out, Hertz operates quite a few locations in the Seattle Tacoma area. Andrew had returned the car to the SeaTac airport location — and that was always his intended endpoint. However, he had mistakenly booked a return to the SeaTac "Burien" location — not the airport.
Andrew tried to reason with the agent — how could an innocent mistake like this cause his car rental price to increase by $951? The agent explained that Andrew had booked a special discount rate through a third party. If Andrew altered any of the details of that deal, the contract would become void, and Hertz would generate a new contract based on those facts. The agent declined to give specifics about how the company had determined the new rate, but he reiterated that it wasn't possible to adjust it.
Frustrated, Andrew gave up with this employee.
Andrew was familiar with our advocacy team's self-help guidance so he escalated his complaint and asked Hertz to look at all the facts of the case and adjust the bill.
But he soon received a final answer from Hertz: No.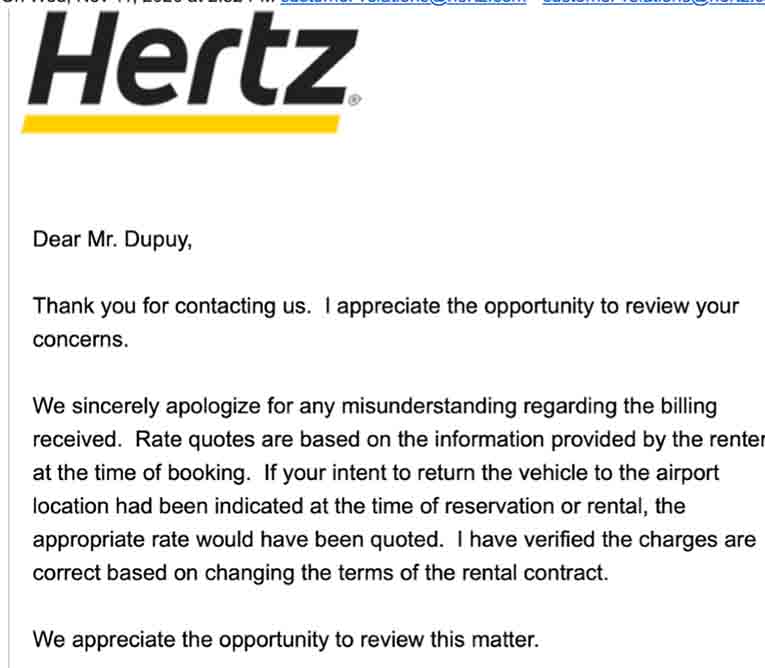 Can Hertz charge any fee it wants for this car rental mistake?
By the time Andrew's complaint landed on my desk, he had been trying for weeks to find someone willing to help him at Hertz. Instead of assistance or even someone willing to entertain a conversation, he was hitting a wall of resistance.

He explained to me:
I made a mistake returning the rental car to the wrong place. I should pay something for that. But the penalty is wildly disproportionate to the gravity of my innocent mistake. I am lucky I can afford to eat this charge (though as a solo traveler, it hurts more than if I had been with a group). But this could really hurt people financially, and Hertz's categorical refusal to even get on the phone, negotiate, or acknowledge the specifics of the dispute is scary. What's to stop them from charging me $10,000? I clearly have no recourse.
When I looked through Andrew's paper trail, I agreed with his assessment. The penalty that the car rental agency had charged for his mistake was outrageous. And I noted that both Hertz locations had the word SeaTac in the title. Andrew's error seemed like an innocent and easy one to make.
But when I pulled up the Google maps location, the outrageous nature of the $951 upcharge became even more apparent. Hertz SeaTac Burien is just three miles from the Hertz SeaTac airport location.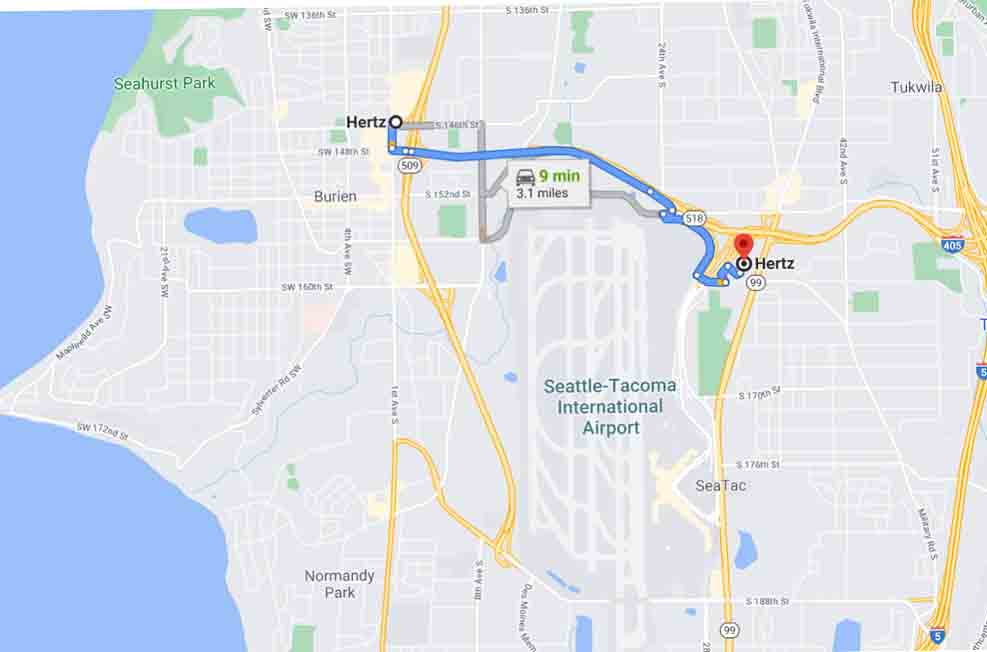 It's unclear how Hertz determined that those three miles were worth charging their loyal customer nearly $1,000. But someone at the company assessed that fee, and all agents afterward supported it.
I know the executive team at Hertz to be reasonable, and they're always willing to correct problems we bring to them.
So it was time to ask Hertz what was going on here.
Should returning a car rental to the wrong place end in a $951 penalty?
Hi ****,

How are you? We have a case over here and I hoped your team could take a look. Andrew Dupuy rented a car through Hertz for 31 days at a rate of $672. It was a one-way rental. He made a mistake and returned the vehicle to the airport in Seattle instead of the off-airport location, which is just 3 miles away from the airport. No one alerted him to his error when he dropped the car off at the wrong place. But when he reviewed the final bill, he discovered an upcharge to $1,617!

This seems to be a very, very high penalty for dropping the car off at the wrong location — just a few miles away. It appears that both Hertz locations are called 'Sea-Tac.'

Could your team have a look and see if something can be done to help this customer? Thank you!! 😊

Michelle to Hertz
I included a copy of the Google map that shows just how close these two locations are to one another.
The good news: A complete refund from Hertz
And the good news for Andrew came within hours of the executive team looking at the details. He would be receiving a complete refund for the upcharge assessed for returning the car rental to the wrong place.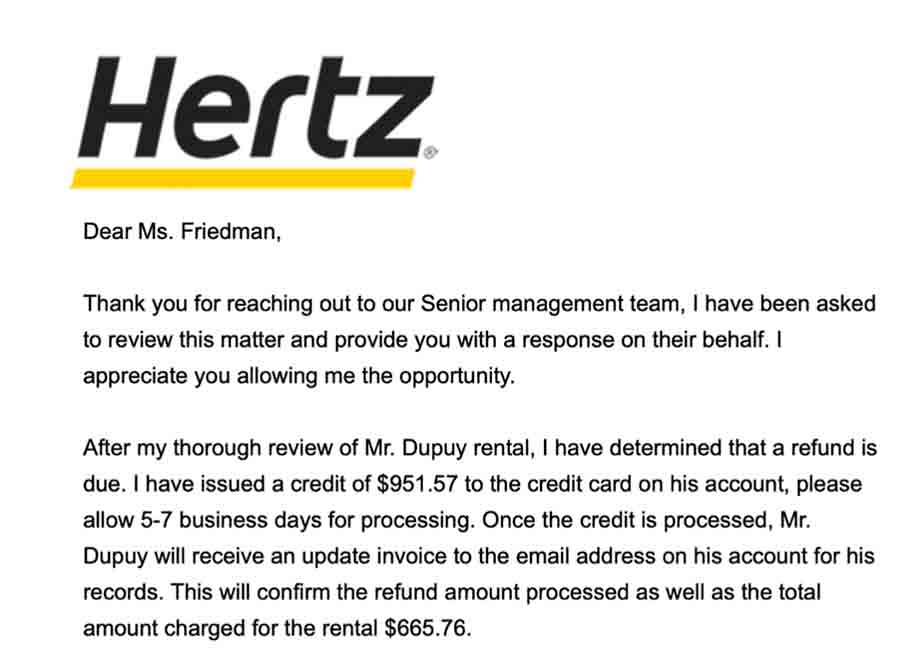 And with that, Dupuy is super-pleased to end this battle and focus on the wonderful adventure he took instead.
How to avoid making a car rental mistake of your own
Book direct
Cutting out the middleman in your car rental transactions can make your experience much less complicated should you need to change or cancel your rental. Remember, many of the deals you see through third-party booking agents are nonrefundable and can't be changed. These are use-it or lose-it deals. Booking directly through your car rental company typically gives you more flexibility, which is especially important during the pandemic when conditions are changing rapidly and cancellations may be necessary.
Read every detail of your booking
Make sure you read through every detail of your booking — before you confirm. Remember that in major cities, your rental car company might have multiple locations. Use Google Maps to make certain that you're booking the car rental location that you need.
Document the condition of the car
Documenting the shape of the vehicle before and after your rental is critical. Surprise damage charges and cleaning fees on car rentals are one of the most common complaints we receive at Consumer Rescue. If you photograph and/or videotape the vehicle's condition at pickup and dropoff, you can reduce your chances of becoming a target for these extra charges on your rental car. And if you find any damage to the car, do not drive off the lot until you alert the car rental attendant.
Get a receipt
As Maureen Heller found out after her rental car went missing, returning a vehicle and neglecting to get a receipt for the return is a recipe for disaster. Keep in mind, when you rent a car, the rental company has your open credit card. If you don't close out the account by confirming the state of the car and its return, you could be in for complicated problems — especially if you've returned it to the wrong agency completely!
Review that receipt
A common car rental mistake we often see at Consumer Rescue is when a consumer fails to immediately review the receipt handed to them. You can handle overcharge errors most easily at the moment they occur. In this case, if Andrew had taken a look at this receipt before boarding his plane, he may have been able to get in the car and return it to the correct location and saved himself a lot of aggravation.
Give yourself plenty of time
Being pressed for time at pick up or when you return your car rental can lead to costly mistakes. Be sure to give yourself plenty of time to document the state of the car and to review any inaccurate charges. And don't forget to stop and fill the car with gas. That's an easily avoided (and expensive) mistake. I guarantee you won't be pleased with the cost per gallon if you run out of time and let the car rental company fill the tank! (Michelle Couch-Friedman, Consumer Rescue)
Before you go: Looking for more car rental fiascos? His car rental crashed into the sea. Now he's in a $27,825 insurance nightmare!