An elaborate PayPal scam led an iPad thief directly to eBay seller Steven Sanderson's front door. The brazen predator came disguised as a friendly eBay buyer willing to purchase the digital device from Sanderson for $650. And it was weeks before the fraudulent nature of this transaction became clear.
Now Sanderson's iPad is gone and so is the money he made by "selling" it. He blames PayPal for this fiasco and wants our help getting his $650 back. But who really is responsible here?
Sanderson's troubling story has many lessons for anyone who buys or sells items on eBay using PayPal. PayPal has a variety of built-in protections to ensure safe transactions for buyers and sellers. However, it's critical to follow all the fraud deterrent guidelines that the company has outlined. If you don't, you might find yourself on the outside of the PayPal safety net.
An iPad thief disguised as an eBay buyer goes hunting
Just before Christmas, Sanderson listed the iPad on eBay for $650. Very quickly he received an inquiry about the device.
"Because of the proximity to the holidays, the buyer chose local pick-up for the iPad," Sanderson recalled. "He sent the payment through PayPal right away, and then we arranged for him to come and get it."
The "local pick-up" was Sanderson's home. Within hours of listing the iPad for sale, "the buyer" was standing at his front door.
A cordial Sanderson invited the iPad thief posing as a customer into his home to inspect the product. The friendly man told him the device looked great, thanked him and quickly left.
As Sanderson closed the door, he was pleased with the ease of the entire transaction from start to finish. And his focus returned to the upcoming holidays. It wasn't until after the new year that an entirely new light was shone on the person who had appeared on his doorstep that cold December evening.
Caught in an expensive PayPal scam
Sanderson explains what happened next:
On Jan 20, I received a possible fraud notification from PayPal. The buyer said he did not authorize the purchase of the iPad. I responded immediately with all of the information about the transaction. But all the funds from the sale were deducted from my account.
PayPal representatives told Sanderson that the owner of the PayPal account had disputed the charge. That person's credit card company reversed the transaction pending an investigation.
The turn of events stunned Sanderson. He had proof that he had sold an iPad to a person who had paid him with the PayPal account — indisputable proof. (We'll get to that surprising proof in a moment.)
What's going on with this eBay buyer?
When no one at the customer service level at PayPal was able to help, Sanderson says he then turned his focus upwards in the company.
Following the problem solving advice you can find in Consumer Rescue's article on self-advocacy, Sanderson began working his way through the PayPal executive chain.
Eventually, Sanderson reached the CEO. At each level, he received a negative response to his request for the return of his $650. In fact, he didn't find any sympathy, anywhere in the company. PayPal representatives explained that the "victim" of this scam was the PayPal user who reported this as an unauthorized transaction.
PayPal is effectively penalizing me because this PayPal user did not do an adequate job of protecting their online account. And PayPal, eBay and their financial institution did not do an adequate job of noticing suspicious account activity and preventing the scam from occurring in the first place.
Things went further south when PayPal also assessed various penalty fees on Sanderson's account. When he refused to pay those fees, Paypal sent his account to collections. And soon a collections company was sending demand letters to him to pay the $68 penalty.
Now Sanderson realized his credit rating was in jeopardy. That simple iPad transaction had spiraled into a financial headache with repercussions he never saw coming.
Can we help unravel this eBay buyer scam?
Sanderson's next hope was our consumer advocacy team. He hoped that we could convince PayPal that a scam perpetrated from their platform had caused all of his problems.
Unfortunately, there were issues with his plea for help.
As a consumer advocacy organization, we mediate cases between consumers and companies. Selling products for profit is a business transaction. And we aren't able to direct our limited resources to resolving these types of issues. We also can't investigate crimes or track down an iPad thief.
However, Sanderson's case had aspects to it that I thought warranted a second look by our friends at PayPal. The company protects sellers and buyers against outright fraud. So I wasn't sure why Sanderson had not qualified for that protection, especially after he sent me the smoking gun in this case: a crystal clear video of the smiling iPad thief standing on his doorstep.
Smile! An iPad thief caught on camera
When this criminal and his friend sauntered up to Sanderson's front door, they had no idea that a Nest security video was recording their words and actions. In the four-minute video, which I watched many times, these two are milling around outside Sanderson's brownstone. Then one of them comes up the steps. He tells his friend to go around the corner out of view. And then the thief sticks his face right up against the camera, smiles and rings the doorbell.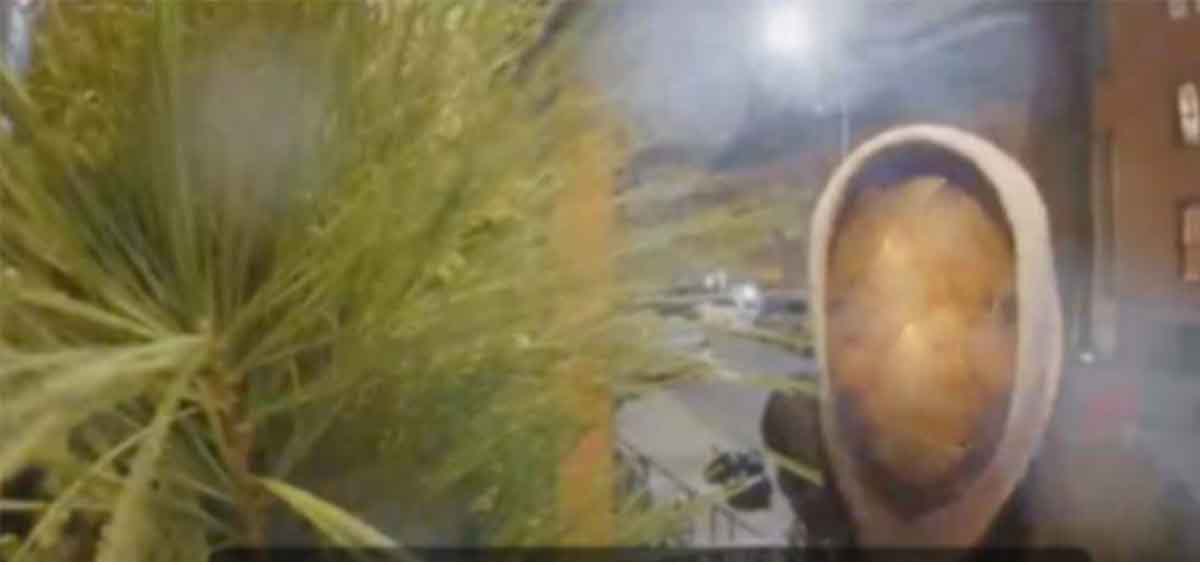 An unsuspecting Sanderson then opens the door and invites the perpetrator inside. A few minutes later, a second video shows the primary thief reunited with his friend. The last we see of the two, they are walking away with the iPad in a bag Sanderson packed for them.
Reporting this iPad theft to the police
After I watched both videos, I asked Sanderson if he had filed a police report. I thought the videos along with a police report should help him to convince PayPal that he also was a victim of fraud. But Sanderson says the police rejected his request to file a report.
The view of the police department is that the buyer is the only one that could file a report since it was the buyer's account that was compromised. In their view, I willingly gave the iPad away. They wouldn't take the report.
I encouraged Sanderson to go back to his local precinct and take the videos along with his paper trail with this iPad thief. If he could get a police report, I would forward it to PayPal and that could bolster his claim.
A few days later, Sanderson returned to the police department and this time an officer took his report. The report identifies this crime as a case of petit larceny.
Asking Paypal to review this iPad theft
After Sanderson sent me the police report, I forwarded it and the two videos to our executive contact at Paypal. I thought that, at the very least, PayPal might want to take a closer look at how Sanderson fell victim to this scam.
Our executive contact promised to have her team take a look at this case and see if they could do anything for Sanderson.
Soon the PayPal executive resolution team had some good and bad news for Sanderson.
Hi Michelle,

Thanks again for reaching out. Our dedicated Customer Service team has looked into the matter and will reach out to Mr. Sanderson to provide him with education about his case. On background and for further clarification, PayPal Seller Protection does not protect items that are picked up locally or in-person as an online proof of delivery cannot be provided.

Additionally, in this case, the credit card issuer and not PayPal made the final determination regarding the chargeback claim. As Mr. Sanderson is an established account holder, we're able to reverse the chargeback fee and offer him a courtesy credit to positively resolve his account, but per company policy, I'm unable to provide additional information.

Paypal spokesperson to Michelle
An expensive lesson about PayPal Seller Protection
And so, in the end, this transaction is an expensive lesson for Sanderson. By allowing the "buyer" to pick-up the iPad at his home, he had violated the basic requirements of the Seller Protection program. While a seller can conduct such transactions, they are risking a total loss should the transaction prove to be fraudulent. If a seller does not follow each and every guideline listed in the PayPal user agreement, the deal will not have any protection.
PayPal will protect most transactions as long as the user follows the terms and conditions. There are instances where the Seller Protection doesn't apply:
Claims, chargebacks, or reversals filed because the item is significantly different from how it was described (e.g. you described an item as "new," but sent a used one).
It involves an item that PayPal determines, in its sole discretion, is a counterfeit item.
It involves an item that you deliver in person, including in connection with a payment made in your physical store, unless the buyer paid for the transaction in person by using a PayPal goods and services QR code.
It involves sales that are not processed either through a buyer's PayPal account or a PayPal guest checkout transaction.
It involves items equivalent to cash including gift cards.
It involves a donation.
It relates to the purchase of a financial product or investment of any kind.
It involves a payment sent using PayPal's friends and family functionality.
It involves a payment made using PayPal Payouts and Mass Pay.
The item is a vehicle, including, but not limited to a motor vehicle, motorcycle, recreational vehicle, aircraft or boat.
Payments made in respect of gold (whether in physical form or in exchange-traded form).
In this case, because of Sanderson's good standing with PayPal before this problem, the company removed the fees that put his account in collections. But his iPad and the money he thought he made by selling it are gone forever.
Sanderson says he isn't willing to give up just yet and is exploring if there are any other possible avenues to get his money back. He hopes that his homeowner's policy might cover this theft.
How can you make sure your PayPal transactions are safe?
Whether you are a buyer or a seller who uses PayPal to send or receive payments, the PayPal User agreement is your friend. It's a lengthy document, but to make sure that you conduct all of your PayPal transactions in the safest possible way, it's imperative to familiarize yourself with it.
Last Updated on August 28, 2023 by Michelle Couch-Friedman