Could you be denied boarding your cruise even if you have a valid passport? The answer was 'yes' for one Carnival Cruise Line passenger who recently missed a much-anticipated trip.
Here's her unfortunate tale.
---
Last May, newlywed Charity Avila intended to take a Carnival cruise aboard Celebration with her husband and in-laws. But when she attempted to check in with her valid passport and marriage certificate, those plans came to a sudden end. Avila was denied boarding, causing the entire family to miss the cruise.
Things went from bad to worse when a Carnival representative explained that the cruise line would not be providing a refund.
Avila's husband, Oscar, is certain that Carnival employees made a mistake when they refused to accept her passport and other documents. How is he so sure, you might ask? He says they were just married on a Royal Caribbean cruise, and his wife used the same passport without a problem.
Now, Avila hopes we can convince Carnival of its mistake and secure a replacement cruise for the family.
However, as with most cases you read about here at Consumer Rescue, there is much more to this story. Avila's experience is an example of how a valid passport is sometimes not all you need to board a cruise.
After a Royal Caribbean wedding, a Carnival cruise to celebrate
The Avilas fiasco began back in December when they were married during their first cruise together on Royal Caribbean. Charity, who is from the Philippines, was traveling with her valid passport from that country with a U.S. Fiancée Visa stamped inside.
"We had no problems at all with her passport and visa," Oscar Avila recalled. "She handed over her passport and we were cleared to board."
The couple was married during the cruise and enjoyed the experience so much that they decided to plan another cruise.
For their next maritime adventure, the couple chose Carnival Cruise Line.
"We decided to take my mom and my disabled sister during the week of Mother's Day," Oscar explained. "My mother is quite elderly now and I thought it would be a really nice way to spend quality time together."
Looking through their options on the Carnival website, the family chose a closed-loop Caribbean cruise leaving from Miami on Celebration.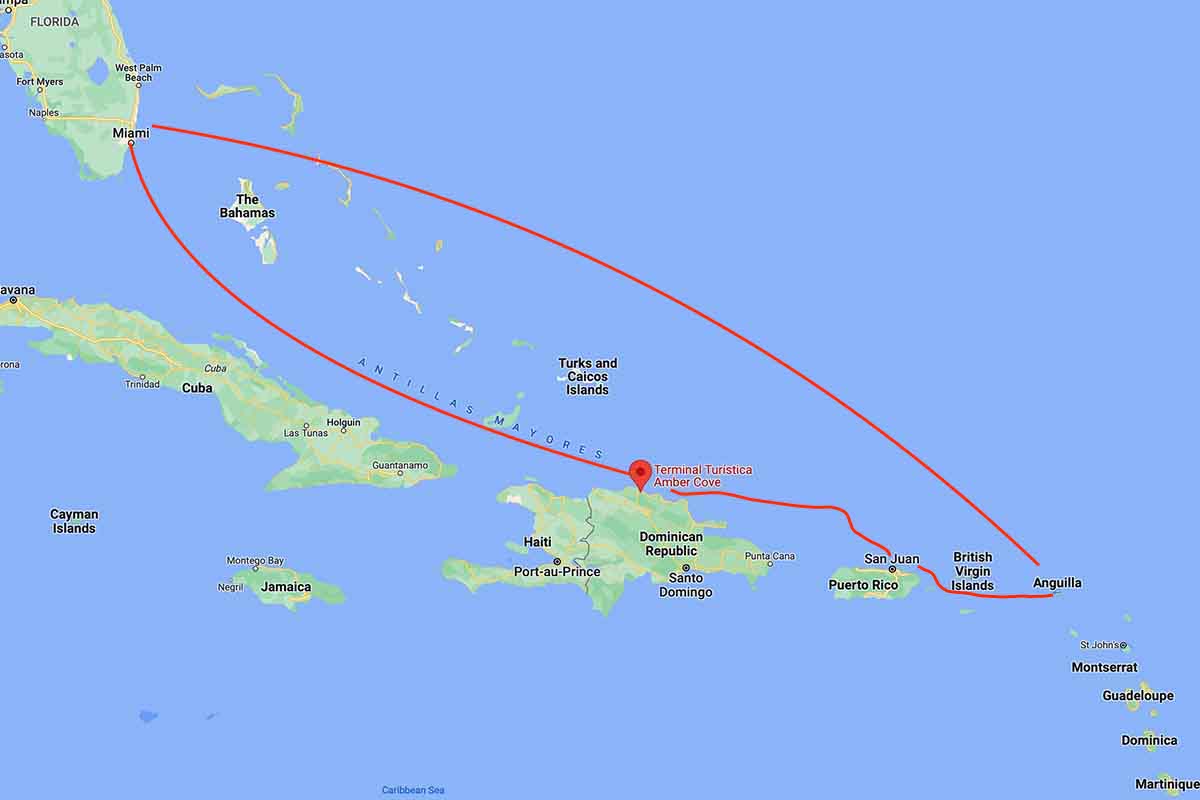 The Avilas booked the trip and were happily looking forward to their first Carnival cruise.
Unfortunately, they would never step foot on the Celebration, but it would be many months before that would become clear.
Carnival: "You're being denied boarding this cruise."
On the day the family was scheduled to embark on their Caribbean cruise, they excitedly headed to the Carnival pier in Miami.
My mother is elderly, and my sister is disabled, so we were making our way slowly to the check-in area with all of our luggage. Because my wife's situation is a bit complicated, she brought a lot of additional documentation to be on the safe side.

Oscar Avila
Avila says his wife handed over her passport, marriage certificate, social security card, a Florida State Real ID, and a receipt for her pending Green Card application.
And that's when the family's plans for the week fell apart.
Despite her plethora of documents, Carnival employees told Charity that none of it would be sufficient for boarding the cruise ship – including her passport.
Avila says no one at Carnival could explain exactly why his wife was being denied boarding the cruise.
For two hours, we argued and pleaded and waited for an explanation. I explained that we had just taken a Royal Caribbean cruise with a similar itinerary, and my wife had used the same documents. I asked why Royal Caribbean accepted Charity's passport, but Carnival Cruise Line couldn't. One of the Carnival employees told me that the cruise lines have different policies. None of it made sense.

Oscar Avila
In the end, Oscar's efforts to convince the cruise line it was making a terrible mistake proved futile.
Just five minutes before Celebration was to weigh anchor, a Carnival supervisor delivered the disappointing final verdict: The family would not be taking the cruise.
Exhausted from their two-hour battle to try to save their trip, the confused group watched in disbelief as the ship sailed away and headed toward the Caribbean.
And the Avilas headed home.
"My wife was denied boarding our Carnival cruise by mistake."
Convinced that the Carnival employees and the supervisor had made a mistake when they prevented the family from boarding Celebration, Avila pressed the cruise line for a refund.
In its response to Avila, not only did the cruise line refuse to admit it made a mistake, but there was worse news: Cruise lines, including Carnival, do not refund passengers who are denied boarding because of missing or insufficient documents.
Still not willing to give up, Avila started searching for stories about cruise passengers denied boarding by mistake.
That's when he found my article about another Carnival passenger prevented from boarding his cruise. In that case, we were able to show that Carnival employees had made a mistake and the cruise line provided a refund.
Avila began to hope that all was not lost and he sent his request for help to Consumer Rescue.
Consumer Rescue investigates: Did Carnival make a mistake?
When my team received Avila's request for help, I had just wrapped up another unfortunate case involving Carnival Cruise Line.
In that case, the honeymoon couple was sure that Carnival had made a mistake rejecting them from boarding Legend. However, after a careful review of all the details, it became clear that they had misunderstood the difference between a Real ID and an Enhanced ID. That caused them to show up at embarkation without the proper documentation to board the ship. Carnival hadn't made an error, and the cruise line didn't owe the couple a refund.
I hoped for a different outcome for the Avilas, especially after Oscar sent me a happy photo of the group looking forward to boarding the ship.
But, when Avila shared Charity's documents, that hope came to a swift end. Carnival had not denied boarding to her by mistake.
It's not possible to cruise with an expired visa in your passport
In December, the couple had married, and Charity quickly applied for her Green Card. But Green Card applications, like passport applications, are quite backlogged right now. In fact, it's not unusual for Green Card applicants to end up waiting years for their cards to finally arrive.
Although the Avilas were hoping for Charity to receive her Green Card by April, there was virtually zero chance of that happening.
In the meantime, her U.S. Fiancée Visa inside her passport expired. Despite the multitude of additional documentation that Charity had provided to Carnival, none of the documents would allow her to cruise on Celebration's itinerary.
Because her Fiancée Visa expired in February, she would have been traveling solely on a passport from the Philippines. That was a big problem because the first stop on the cruise was the Dominican Republic and that country requires travelers from the Philippines to obtain a visa.
Additionally, had Carnival allowed Charity to travel outside the country without a valid Green Card, she could have put her residency status in jeopardy or worse. As I recently wrote about over at The Points Guy, Green Card applicants should not travel outside of the U.S. while waiting for approval.
I broke the bad news to Avila.
Carnival didn't deny boarding to Charity by mistake. She didn't have the correct documents to take the cruise. The Dominican Republic requires travelers with a Philippines passport to apply for a visa. The reason she was fine traveling on the Royal Caribbean cruise is that her U.S. Fiancée Visa was still valid in December.

It would have been very precarious for her to travel out of the United States without a valid Green Card.

No Green Card applicant should travel out of the country without a valid U.S. residency document in their possession. I'm sorry I don't have better news.

Michelle Couch-Friedman, consumer advocate
Avila is disappointed with the outcome and says they will not consider Carnival Cruise Lines for future trips.
Of course that disappointment is understandable, but it's important to note that the mistake wasn't Carnival's in this situation. Had the couple chosen any other cruise line — including Royal Caribbean — the terrible ending would have been the same.
How to be certain you have valid documents to take your cruise
There is a common misconception among consumers that cruise lines are responsible for informing passengers of the required documents needed to complete their itinerary. This mistaken belief often leads travelers into a false sense of security and can end in a shocking reality jolt at the dock.
The documentation you personally need to cruise depends on many factors: your destination, your nationality, the type of cruise you're taking, your passport, transit locations, and the embarkation and debarkation points. For these reasons, there is no one-size-fits-all answer for cruise ship passengers – but it is your responsibility to do the research and confirm you have what you need to successfully board your cruise.
Here are some expert tips to ensure you have the correct identification for your next cruise.
Passport required
If your cruise is traveling to foreign destinations and is not a closed-loop cruise (beginning and ending in the same U.S. port), you must have a passport. In most cases, your passport must have at least six months of validity available beyond the date of your scheduled return.
If you're traveling on a non-U.S. passport, you will likely need additional documents even for a closed-loop cruise.
Passport recommended but not required
If your cruise is closed-loop and you're a U.S. citizen, you must have unexpired documentation that proves both your citizenship and your identity. Cruise ship passengers may use any one of the following to take a closed-loop cruise, as each one of these documents proves both the holder's identity and citizenship.
A passport
A passport card
An Enhanced ID (Note: Only five U.S. States currently issue Enhanced IDs. If you don't live in one of these states, you can be certain that you do not have an Enhanced ID: New York, Michigan, Vermont, Washington, Minnesota)
If you don't have a passport, passport card, or enhanced ID, you will need more than one document to take a closed-loop cruise. Most cruise ship passengers use this combination:
A Real ID or standard driver's license (Proves identity) –AND–
Original birth certificate (Proves citizenship)
Note: Only a valid passport will allow a traveler to fly internationally. For this reason, it is highly recommended that cruise ship passengers possess a valid passport regardless of the requirements for their sailing.
Many travelers don't think about what might happen if they miss their cruise ship's embarkation and want to try to catch up, miss their cruise ship in a foreign country, or need to get home quickly. You'll have significantly limited options, if you encounter an emergency during your cruise and don't have a passport.
If you need a passport, here's how to get one fast.
Visa required
Cruise ship passengers often overlook their potential need for a visa to enter foreign lands, sometimes with devastating consequences. If you're a regular reader of my column, then you'll likely recall the recent case of an elderly couple who flew the entire way to India before finding out they needed a visa to enter. They missed their bucket list Viking cruise and ended up on the next flight back to the U.S.
Travelers should always check the entry requirements for all destinations on their itinerary. Otherwise, if you don't have a visa for all stops on your cruise where one is necessary, you risk getting off-loaded halfway around the world. Don't forget to check transit requirements as well because you may need a visa even if you're just passing through another country on your way to your destination.
You can begin your research via the U.S. Department of State, which provides practical information about every country worldwide. On the individual destination pages, you will find links to the embassies and consulates of the countries on your itinerary. If you have any questions or concerns about the entry requirements, those foreign consulates can provide all the facts you need.
Don't overlook health requirements
It's critical to also check for any medical requirements for your cruise, like vaccines or proof of health insurance. Even in 2023, we've reported on cruise ship passengers blindsided by vaccination requirements at foreign destinations. Travelers should be aware that these rules can change suddenly and are usually set by the countries you'll be visiting. You can check those health requirements and documentation you'll need to successfully navigate your entire itinerary by using the free version of Timatic. It's a simple tool to use: You enter your specific details, and it will tell you what you need to travel.
Use a professional travel advisor
Especially if you're a novice traveler or if you have a complicated citizenship, an experienced travel advisor can be invaluable. These professionals will make sure that you understand what you need to navigate your cruise without fear of ending up at the dock without the correct documentation. On the American Society of Travel Advisors (ASTA) website, you can find a verified travel advisor specializing in cruise travel.
The bottom line
Consumer Rescue receives a high volume of requests for help from would-be cruise ship passengers who have been denied boarding dream vacations because of missing or incomplete documentation. But nearly all the expensive cruise fiascos you read about here were avoidable.
Don't let it happen to you.
With a bit of research and proper planning, you can be confident that it won't. (Michelle Couch-Friedman, Consumer Rescue)
*Before you go: What happens when a cruise line loads your luggage on the wrong ship? This
Last Updated on September 22, 2023 by Michelle Couch-Friedman