What should you do if your rental car gets towed and then goes missing while in your possession?
Traveling through the mountains of Colorado at dusk during a snowstorm, Annoris Perez suddenly lost control of her rental car. She was shaken but unharmed. The vehicle? Not so lucky. The rental car was towed from the accident scene, and she assumed she was no longer responsible for it.
She was wrong.
Weeks later, when the rental company called asking for its missing vehicle, Annoris found out just how wrong. Now, she needs our team's help to determine what happened to her rental car after the driver towed it away.
Driving (and crashing) a rental car in the beautiful Colorado mountains
Late last winter, Annoris decided to take a road trip from Texas to central Colorado. Picking the car up late one afternoon, she started heading north.
A little over 24 hours later, with about 1,000 miles clocked on the trip, things took a shocking turn. Annoris was maneuvering the often treacherous mountain roads high above Vail, Colorado.
Until she wasn't.
"It started snowing and quickly became a storm," Annoris recalled. "I lost control of the car! It was terribly traumatic."
Luckily, she regained enough control of the vehicle to stop it from plunging off the mountainside. Instead, Annoris had a somewhat low-speed crash into an embankment and some brush. But the impact was enough to render the car inoperable.
The rental car was towed away — but to where?
"I tried to get it back on the road and make it back down the mountain," Annoris reported. "But despite what looked like minimal damage, the car wouldn't cooperate."
With spotty cell service, she tried several times to call the police before finally succeeding.
"Soon, the police arrived," Annoris explained. "Then shortly after, Mountain Recovery Towing company arrived to take the rental car off the mountain."
Annoris, bewildered and not sure what to do next, accepted the tow driver's offer to take her and the vehicle into town. A bit later, he dropped her off as he towed the rental car to an unknown destination.
I didn't think to ask where he was taking the car. I wish I had done things differently, but It was a very traumatic experience. We were pretty much rushed out of the tow truck and dumped off at a hotel. I figured Avis would take over from there.
Annoris says that she spoke to someone at Avis that night but that the person was of no help.
"They [Avis] wouldn't give me a replacement car and just left us stranded," Annoris told me. "It was a horrible experience."
The experience was about to get much worse.
Avis: Why haven't you returned our vehicle?
Annoris says that she was forced to rent another car to complete her trip and drive home as scheduled.
Ten days after the date she had initially planned to return the rental car, Annoris received a threatening registered letter.
Avis demanded that I return the car immediately or face prosecution! The last time I saw that rental car, it was being towed away by Mountain Recovery. I have no idea what happened to the vehicle afterward.

Annoris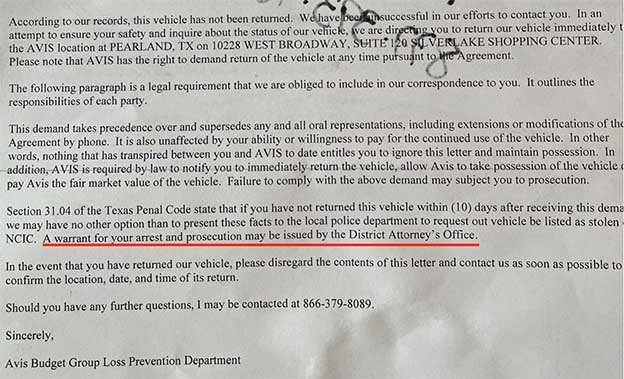 Annoris says she spent the bulk of the next several days worrying and trying to contact someone at Avis who could help. She also reached out to the company that towed the rental car for assistance.
With the 10-day deadline for possible prosecution approaching and still no confirmation from Avis that it had the car, Annoris started scrolling through the internet looking for help. There she found my article about a strikingly similar problem involving Budget (parent company: Avis) that I had mediated.
Hoping that we could help her as well, Annoris sent her request to our advocacy team.
And things soon took a positive turn.
The car was towed away, and the rental company took it back
In her intake summary, Annoris explained that she had developed anxiety and insomnia over this situation. The accident itself was stressful enough, but then being threatened with prosecution, and the massive financial obligations of a missing rental car, had pushed her to the edge.
Michelle, Can you help me? I've done everything possible to track down this car. The towing company told me Avis took the car and sold it at an auction last week. Avis still tells me it doesn't know where the car is and is charging me $60 per day until it turns up.
As soon as I reviewed the situation Annoris found herself in, I felt confident that we could put a quick end to her suffering. After all, we have a very helpful executive at Avis who is always willing to correct problems that we bring to him.
In fact, at the same time that this complaint came through our helpline, our executive at Avis was helping fix another problem for another troubled Avis customer.
It was time to ask Avis to have a look at this unusual case, too.
The good news: Avis confirms the rental car is not missing
Hi ****! How are you?

We have an Avis customer over here, Annoris Perez (Avis contract #####), with an unusual problem. She rented a car and drove it from Texas to Colorado, where she crashed it the next day. Apparently, the damage to the rental was severe, and Mountain Recovery towed the car away. Annoris doesn't seem to have followed up and assumed Avis would take it from there. But now Avis sent her a demand letter saying it doesn't know where the car is and is charging her every day for the missing vehicle.

Could your team have a look at this and see if Avis has possession of the car? Thank you! 😊

Michelle to Avis
And within a few hours, I received the confirmation that Annoris needed,
I closed the rental for the date of the accident. I confirmed fees paid — the rental car was delivered to Denver [a few days after Mountain Recovery towed it].

Avis to Michelle
Annoris was super pleased to hear that Avis confirmed it had the car and that a warrant for her arrest would not be issued.
But she only had a few days of relief before a new problem appeared on the horizon.
Who will pay all these bills for this crash?
It's essential for anyone renting a car to remember that you are fully responsible for that vehicle. The moment you drive off the lot, anything that happens to that car is your problem. That's why making sure that you have the correct type of insurance is critical before taking control of a $25,000-$50,000 automobile.
For most domestic car rentals, your personal car insurance should provide you with sufficient coverage. However, it's always a good idea to check your coverage before taking off on any adventure.
In this case, Annoris was using her own personal car insurance policy. She knew that the damage from the accident was her responsibility. But, like most insurance companies, her agency required an itemized damage report.
Hi Michelle, Avis sent me a non-itemized bill for $1,494 for damage to the rental car. My insurance asked Avis for an itemized bill, and they refused. They said that they only provide an itemized bill for damage above $1,500. My insurance will not approve a claim for a generalized bill. Can you help me with this too?
When I reviewed this new complaint, I found it so odd that Avis had declared the damage at just a few dollars under its self-identified limit for itemized damage. A cynical person might think that figure was by design.
But either way, I headed back over to Avis to straighten this out for Annoris as well.
And finally, a complete resolution.
Hi ###. Me again!

Annoris just received a bill for $1,494 for an un-itemized repair bill for the damage to towed away car rental. She asked why Avis was sending the bill to her instead of her insurance company, and the agent told her that they don't itemize for damage values less than $1,500 (or process them through insurance). This doesn't sound correct, does it? Not to mention this unitemized bill came in at just $6 under the threshold that this agent says allows her to send an unitemized damage bill. This seems unusual as well.

Progressive says they will not process an unitemized damage claim. The Avis agent says they're just going to charge her credit card today for the damage. It doesn't seem like this could be the official protocol since it would leave consumers no way to process an accident claim with a low damage value with their insurance company.

Could you see if your team could take a look? Annoris would like Avis to have this claim processed through Progressive OR minimally she needs a detailed damage report to send to her insurance company. Thank you!!

Michelle to Avis
And soon, Annoris was on her way to receiving the information that she needed to process her claim.
By way of explanation, when our client declines our coverage, they are responsible for any damage to the car while on rent. The Claims Department would typically send itemized repair bills to the client directly. The client would then either pay for the damages or create a claim with a third-party vendor. I apologize that Annoris hasn't received these documents yet. I have reached out to our Claims Office to obtain this information. Once received, I will provide the documents needed.

Thank you for allowing me to be of assistance to you.

Avis to Michelle
Within 24 hours, Avis provided an itemized list of the damage to the original rental car. She has submitted the claim to her insurance company, and she can finally sleep well again.
What to do if your rental car gets towed
If your rental car gets towed, there are a few things you must do immediately to protect yourself.
Call the rental car company.
Remember that whatever happens to that automobile is your responsibility until the rental car company closes out your contract. So before you allow a tow truck driver to take away your rented vehicle, it's imperative to call the rental car company. You'll want to ask for specific instructions to ensure you're handling the situation in the right way.
Call your insurance company.
If your rental car needs towing after an accident, your next step is to call your insurance company for additional guidance. You need to know what is covered and how you can minimize the financial impact. For instance, a driver may ask where you prefer the car to be towed; to answer this question, you'll need to know what your insurance will cover.
Take your rental agreement.
Do not leave your rental agreement inside the car. Of course, you'll need the document to file an insurance claim, but there's another reason that you should remove it from the vehicle. That document has a plethora of personal information that could expose you to identity theft if it fell into the wrong hands. Make sure to gather all personal belongings from the vehicle before you hand the car over.
Confirm where the rental car is going.
Many towing companies have multiple lots that they may use to store a car. Or they may use a public lot or preferred mechanic. Ask where the car is going and write it down. Get the tow truck driver's licensing information, which should be visible somewhere in the truck.
Take photos.
As Stephanie Patterson points out in Consumer Rescue's Ultimate guide to renting a car, you should always take photos before and after your car rental. This is especially true if you've had an accident and the car is leaving your possession. Photograph and video the car, the accident scene, and the tow truck — anything that might help you should there be problems later — like if the car goes missing!
Only use an approved towing company. You'll want to ensure that you're dealing with a licensed tow truck driver, approved by the rental car company. A common practice for independent tow truck drivers is to listen for reports of accidents on a police scanner. If a rogue tow truck driver shows up on the scene and wants to help, decline. Only release the car to an official towing company approved by the rental car agency. Your insurance company, the rental car company, and AAA will only send licensed and bonded towing companies to assist you. Make sure you have reliable roadside assistance protection before you set off on any road trip adventure. (Michelle Couch-Friedman, Consumer Rescue)
Last Updated on June 26, 2023 by Michelle Couch-Friedman