Could a hotel charge you for fake damage long after you've checked out? By the looks of our advocacy team's files, it seems so.
Imagine this. You're suffering from a terminal illness and hope to experience some adventures while you're still able to enjoy them. But then, the COVID pandemic comes along and throws a wrench into your plans. After nearly a year of waiting, things seem to be subsiding, so you take off for a short vacation with your family. Unfortunately, an opportunistic hotel manager has been waiting, too — for unsuspecting guests to hit with hefty fake charges.
What would you do if it happened to you? Give up, or fight back?
If you're Sherry LaSalle, you choose to fight back — with help from our consumer advocacy team.
Here's her maddening saga.
Booking a 2-star hotel during a family road trip
In July, Sherry's family decided to travel from Oregon to Montana. They were looking forward to finally breaking out of quarantine and seeing some of our country's beautiful landscape. They were headed to Kalispell, Mont, just outside of Glacier National Park.
Anyone familiar with the area knows that all hotels at that time of year come at a premium price.
The family booked a 2-star Red Lion hotel at the 4- to 5-star price of over $300 per night.
"We went there to see our niece get married," Sherry recalled. "We wanted to enjoy the family celebration."
Sherry says that after four days at the hotel, they checked out without any indication of a problem. The family believed the trip had been an overall success.
That perception would change four days after they returned home. That's when Sherry reviewed her online credit card statement.
I was shocked! Besides the nearly $1,000 for our room rate, the hotel had charged me an extra $500. I didn't know what it was for, but I called the hotel, and they claimed it was for room damage and smoking fees!! This is outrageous.

Sherry
Our advocacy team often receives complaints from travelers who say the smoking and other damage charges imposed on them by a hotel or car rental agency are outrageous.
Not personally knowing these consumers makes it hard to determine if the charges are "outrageous" or not. It probably doesn't come as a surprise to you, but sometimes, the people who contact us aren't entirely truthful. So these cases can be tough to assess.
But in Sherry's case, it was pretty easy to detect that the charges the hotel tacked onto her bill were "a mistake."
I have ALS! These are fake charges from this hotel
Sherry suffers from ALS, also known as Lou Gehrig's Disease, which is a fatal illness that impacts a person's ability to move, eat, drink and breathe. So of course, it's impossible for her to smoke.
On this trip, she shared a room with her husband and daughter – who also do not smoke. In fact, her daughter is a severe asthmatic.
However, the hotel sent this photo, which they claimed was the family's room, to support a $300 smoking fee.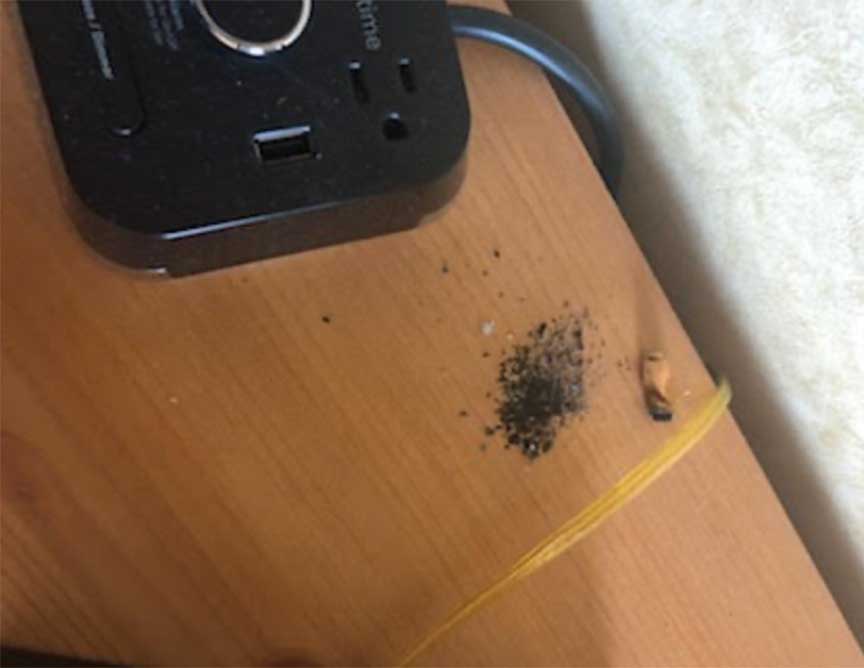 Initially, Sherry attempted to resolve the problem independently, even though it was causing her great stress.
She wrote to the "senior sales manager" of the franchised hotel, who appears to be acting as the general manager.
I'm dying of ALS. I am terminally ill, and your hotel has caused my family and me so much stress. I have been unable to get out of my bed for days. We came to your hotel to celebrate a family occasion. We left our room spotless and did no damage. Your hotel must need money to fabricate this. You should be ashamed. I have forwarded the pictures you sent me to the Red Lion corporate headquarters.

Sherry trying to reason with the hotel
An apology from the hotel manager and a partial refund
The sales manager responded by apologizing for the smoking charge and immediately agreed to refund the $300. But she continued to say that the room damage charge would stand.
"I will refund the smoking charge," the manager offered. "But I spoke to **** (an employee), and she says you agreed that you might have caused damage to the room."
The manager then sent these photos that show a small carpet area with some debris in an unidentified room. She claimed the white flecks to be a broken light bulb.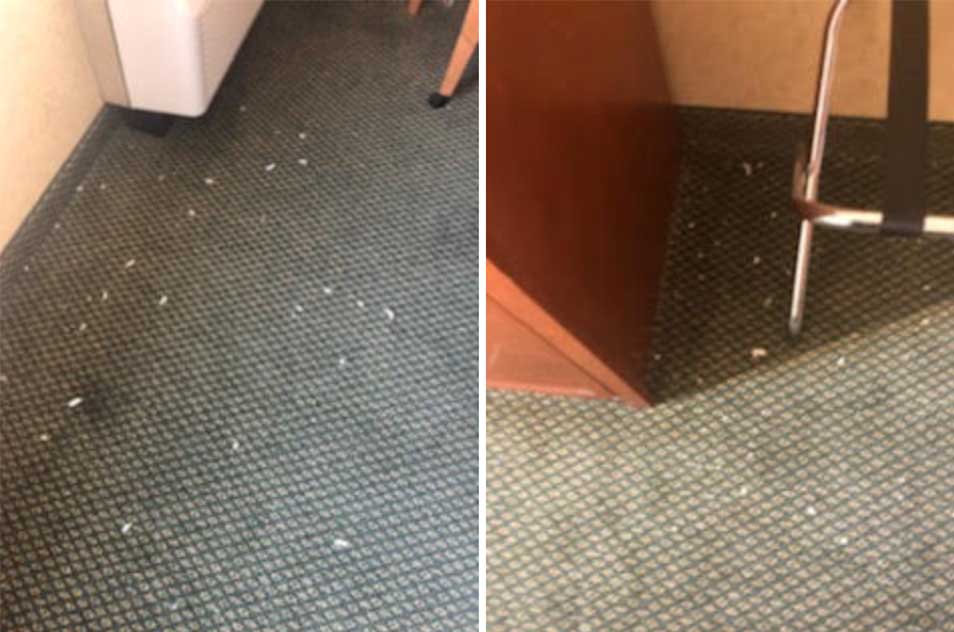 Sherry repeated to the manager that this wasn't true, that the family had left the room in perfect condition.
"We didn't cause any damage to that room," Sherry protested. "And your photo doesn't identify the room or tie it to my family. We may have to go to small claims court."
The manager said she was standing by the $200 extra charge.
Not knowing what else to do, Sherry scrolled through the internet and came across an article I had written about another nonsmoker who was hit with a hotel smoking fee. Her next step was to reach out to me.
Asking our advocacy team to look at these fake hotel charges
When I opened Sherry's email, the problem had already been causing her a great deal of stress for weeks. Her primary concern was that the hotel was accusing her of something that might be considered a crime.
They said we broke light bulbs and scattered the glass in the room for some reason. And that we rubbed a cigarette on the desk. They sent pictures of just the floor and desk. I am concerned that this constitutes a misdemeanor in Montana. If we take them to small claims court, it could backfire. But this is fraud – the hotel created these fake charges. We didn't do anything wrong! I am a law-abiding citizen. I've never even had a speeding ticket. This is causing me so much stress. I guess I will pay it just to end the stress?

Sherry
Pay a hotel a fake damage charge just to end the stress of the situation?
Uh, no, not on my watch. That's not happening.
I looked through the paper trail that Sherry provided, including the utterly underwhelming photos. I also looked up the hotel on some review sites and noted that many people complained that the rooms were beaten up. One reviewer posted a photo of "specks of blood on our room's wall."
The most curious part of Sherry's complaint was that the hotel didn't process any extra charges until three full days after the family checked out.
It was time for me to contact this manager and put an end to this nonsense.
What's going on here at the Red Lion Hotel?
We were contacted by one of your former guests today about a surprise post-stay charge that appeared on her credit card three days after she checked out.

Sherry Lasalle, her husband and daughter (an asthmatic), checked in on July 2 and checked out on July 5. On July 8, your hotel charged her card an additional $500 over the cost of the room. I have a paper trail in which you sent some pictures of debris in one area of a motel room and a smashed cigarette on a desk with some ashes (the room is unidentifiable and has no date). I also note that when Sherry informed you that she and her entire family are nonsmokers, you reversed that charge immediately. Sherry is adamant that no one in her family caused any damage to their hotel room.

Further, there is nothing in those photos that would tie this family to that debris. The fact that your hotel charged her credit card $500 — 3 days after they had left — is also of concern. We would like you to provide further evidence that ties those photos to her room on the date that she checked out.

Absent evidence that supports this $500 upcharge, we would suggest that your hotel reverse all of the additional charges placed on her card. Thank you.

Michelle to the Red Lion Inn
I attached the credit card processing receipt that showed that the hotel waited three days after the family left to charge their card.
Within 24 hours, Sherry's stress about this situation came to an end.
Michelle,

The hotel reimbursed the $200 dollars as well!

Thank you for the help and time!!

Sherry
Yay! Another happy and relieved consumer made whole by our advocacy team! 🎉
How to avoid fake hotel charges of your own
Unfortunately, my case files over the years strongly suggest that unscrupulous hotel operators aren't exactly rare. These predators appear to have cash-grabbing protocols in place that have little to do with guest behavior and everything to do with increasing the hotel's bottom line. (See: Here is the most ridiculous hotel theft charge ever: pillow thievery at a 2-star hotel) Here's some guidance to make sure you don't fall victim to a fake charges scheme during your next hotel visit.
Search reviews before you book
You can learn a lot during your trip planning by using Google search to find reviews of your potential hotel. As this type of fake charges scheme is not likely a one-off for a hotel, you may find information through various review sites that will help you steer clear of troublesome locations.
Do not pay with a debit card
At least 80 percent of the mysterious post-stay fee cases we receive involve consumers who paid for their hotel stay with a debit card. This isn't a coincidence. It's the path of least resistance for a predatory merchant. Remember, the Fair Credit Billing Act protects credit card users against fraud. If a hotel bills you for something it can't explain, your credit card company can investigate and reverse the charges. This isn't the case if you pay with a debit card. Ensure you have a layer of protection against this type of hotel shenanigans by always paying with a credit card.
Make notations at check-in
When you arrive for your next hotel stay, you can start protecting yourself at the check-in counter. The hotel will typically ask you to sign a card that you acknowledge that it can charge you for any damage you cause — typically focusing on smoking. Make a notation on that document that your party is composed of nonsmokers (assuming that is the case). That will cause a hotel employee to have second thoughts about choosing you when scrolling through the manifest looking for guests to ping with a fake smoking charge.
Inspect, photograph and video your hotel room
When you get to your room, it's essential to take inventory. Look around and make sure there isn't any prior damage to the room. If the room has any odor, alert the front desk immediately. When you leave, take photos and videos of the room to show its condition at checkout. Yes, I agree this sounds a bit extreme. However, after plowing through hundreds of these fake hotel charges cases, I recommend you err on the side of caution.
Don't give the hotel any reason to consider you a candidate for fake charges
Over and over, we've received complaints from travelers who have some explanation as to why they were charged for smoking or damage to a room. Many smokers say they inexplicably emptied their car's ashtray in their room. And we've had guests who say they moved furniture around the room, revealing damaged carpet underneath — and then they just left it for the maids to find. Long-time readers might remember the case of the mom whose son vomited all over their hotel room and, embarrassed, they fled in the wee hours of the morning without alerting the management to the problem. Do not give a hotel any wiggle room to charge you for any damages. Leave the room as you found it. Don't move furniture, don't bring garbage into your room, and don't smoke at the hotel's front door so management identifies you as a smoker. If you're a smoker, consider only staying at hotels that permit smoking.
And, finally, it's important to note that some of the cases we receive are from travelers who did smoke in their room or who have actually damaged a room. If you actually cause damage to a hotel room or cause it to be unusable because of an odor — expect to pay the price. Fair is fair. We aren't able to assist with those types of cases.
How to get your money back if fake charges appear on your next hotel bill
If you've checked out of a hotel and found surprise charges that you don't recognize, here's a plan of action to get your money back.
Be curious and ask for an explanation.
When you find unexplained charges on your credit card bill, your first step is to call the hotel and ask questions. It's important to be cordial and inquisitive but not accusatory. If you approach the situation as if you believe it's just a mistake, the hotel may back down immediately.
Escalate your complaint.
We know that many of the hotels at the center of these cases are franchises. The parent company brands these hotels, but escalating a complaint about a franchise will rarely result in the parent company taking action. This is true whether or not a consumer or a consumer advocate gets involved. Unfortunately, in today's hotel industry, it's almost impossible to avoid franchised properties. If you have a problem with a franchisee, you'll only be able to escalate to the owner. However, you can…
File a credit card dispute.
Ask your credit card company for help. The hotel owner will be forced to explain the charges. This is the step that will cause many franchise owners to finally back down. That's why it's crucial not to pay with a debit card. You can only use this step if you've paid with a credit card. You can also…
File a complaint with your state's the attorney general.
The more complaints an attorney general receives about a particular business, the more likely that business will get investigated. You can find your state's attorney general here.
Ask the Consumer Rescue team for help!
And, of course, don't forget that the Consumer Rescue team is always here for you — ready to investigate your complaint. We've got your back!  (Michelle Couch-Friedman, Consumer Rescue)
*Before you go: This couple found themselves with some hefty (and fake) post-stay charges on their vacation rental in Hawaii. Can we help?
Last Updated on November 28, 2022 by Michelle Couch-Friedman