Paul Trosclair says he just spent nearly $2,000 on a vacation rental that does not exist. To make matters worse, Vrbo sided with the person he believes is a thief disguised as a host.
Now Paul hopes our advocacy team can prove this vacation rental is nonexistent and get his money back.
But can we do it?
Searching for the perfect vacation rental in Louisiana
Last month, Paul was hunting for a one-month, last-minute rental in Lafayette, La. Scrolling through the many choices on the Vrbo site, one caught his eye.
"The property looked clean and spacious," Paul recalled. "It had all the amenities we needed, and the location seemed fine."
The rental fit Paul's budget, so he booked the property and paid for it through the Vrbo platform. Having settled that part of his plans, he began packing for his upcoming stay.
Paul was pleased with the nearly effortless way he had found a perfect place at such short notice.
But it wouldn't be long before Paul discovered the reality behind this vacation rental was anything but perfect.
This Vrbo property has unusual check-in terms
A few days later, Paul received the check-in information from his host, Karley. She gave him the address and explained that he could only show up after 9 p.m.
Paul didn't want to wait until late in the evening to check-in. So he contacted the host and asked for flexibility. Her response took him by surprise.
Karley explained that her rules were a 9 p.m. check-in. Then she made an unusual suggestion.
I cannot change the check-in times. You would have to cancel the reservation and rebook it again. Check-in times are after 9pm.

Karley a Vrbo "host"
Since his reservation was nonrefundable, Paul knew that he should not cancel it to be able to check-in earlier. He was beginning to get an uneasy feeling about this rental and host.
He refused to follow Karley's instructions.
Vrbo says 3 or 4 is the normal check-in time for rentals. I'm not sure why I can't check in a little earlier. If that is not possible, can we do 9:30 Tuesday morning? Or a little later in the day on Tuesday? I can't do Monday night at 9:30.

Paul's messages to this inflexible host
At that point, Karley stopped responding.
Is this a vacation rental scam?
Paul's reservation was set to begin on Feb 1 at 9 p.m. He showed up at the address listed on his check-in information on Feb 2 at 9 a.m. He found an apartment complex and a rental office at that location.
After a brief conversation with an employee there, Paul was sure that he had become involved in a vacation rental scam.
The property manager, Shelly, had never heard of Karley Walker. Now it appeared to Paul that both the vacation rental and the owner did not exist.
He texted "Karley" several times to ask what was going on and to request a refund. Now, this questionable Vrbo host had a decidedly unpleasant and almost taunting approach to Paul's inquiry.
Sir, you did not follow my policy. I have a strict policy clearly stated before booking. You failed to check in on the provided check-in time. You agreed to my policy and you breached it. Therefore Vrbo will not grant you a refund. I have all documents stating this directly from Vrbo. You have yourself a nice one.

And not to mention I have a NON REFUNDABLE POLICY, PAUL. Thanks.

"Karley" The host of this nonexistent vacation rental
Paul's next message was to Vrbo.
Vrbo: We'll be happy to find you a new vacation rental
Just a few minutes after Karley claimed that Vrbo would not refund this rental, Paul spoke to a customer service supervisor. Initially, it appeared that everything was going to turn out OK after all. A friendly customer service supervisor named Victoria told Paul not to worry. She confirmed that the Vrbo team would find alternative accommodations for its stranded traveler.
Dear Paul,

Thank you for that update. I have previously sent you a list of available properties. Please review these properties and let us know if any of these will work. We will be able to help cover the difference between these properties and the amount you originally paid. Thank you.

Best regards,

Victoria, A Vrbo customer service agent
But then, later, on that same day, Vrbo hit him with a brand new attitude. Victoria handed the case to a "global rebooking specialist" who saw things quite differently.
Vrbo: No refund — You are in breach of contract
Dear Paul,

I hope that this email finds you well!

Our Guarantee department denied the request for a forced cancellation. Due to the breech [sic] of contract, we cannot [make] the host refund if they do not want to.

At this point, your case will be closed. We recommend [that you continue to try to] resolve the issue with the host directly or contact your financial institution to see what options they have.

All the best,

Saphia | Vrbo Global Rebooking Specialist
(Note: I have edited Saphia's message a bit to make it understandable. It would appear that English may not be her first language)
Of course, by this time, Paul wasn't well at all. He could not believe that Vrbo expected him to walk away from the $2,000 he had wasted on this vacation rental. He was more convinced than ever that the property did not exist.
No one has ever heard of this Vrbo host or her fake rental
Paul explained to Saphia that he had no intention of giving up this battle. He had had a hectic day, first filing a police report and then contacting his bank. Additionally, Paul had gone back to the location two more times. Again, the property manager confirmed that no one had ever heard of Karley.
But Saphia remained unmoved. When Paul tried again later, she had handed the case over to Brad. He turned out to be an equally unsympathetic fellow at Vrbo.
I will be closing this case now. For all refunds, I suggest that you work it out with the property owner or manager directly. Again, Vrbo [cannot] process a refund or overturn policy made by the property owners.

Brad, a Vrbo customer service specialist
Paul had had enough. His next move was to contact our advocacy team.
Does this vacation rental really exist?
When Paul's frustrating tale hit my desk, I wasn't sure we could help. It didn't appear that Vrbo was admitting that the vacation rental was a scam. In fact, the paper trail from Vrbo portrayed that their team was in regular contact with the owner.
Vrbo seemed to support the host's contention that her policy permitted her to keep an entire month's rent only because Paul could not check in during her tiny window of opportunity late in the evening.
Karley's attitude from the onset was not what one would expect from a Vrbo host hoping to build her reputation. Just as surprising was that the Vrbo team seemed to support this very consumer-unfriendly behavior.
I wondered if the vacation rental actually existed or not. So I studied the listing, looking for clues. Soon I was quite sure that this was a fraudulent listing — a fake vacation rental.
Confirmed: This vacation rental does not exist
When I looked at the listing, I immediately saw that it was brand new with zero reviews.
Of course, not all new vacation rental listings are fake, but we know that most fake listings are new.
So that was strike one for this property.
Then I noticed that the heading of the listing was LOUISIANA LAFAYETTE USA AMERICA. It seemed off — as if someone from outside the country was listing this property. But Karley claimed to be from Louisiana.
Another red flag.
But the most significant warning sign came when I looked at the photos. This property had just appeared on Vrbo recently, so I would expect the pictures to look fresh. These did not. All the images attached to this property looked somewhat grainy, and I suspected they were screenshots.
Fact: Scammers often upload screenshots lifted from other places to advertise their fake vacation rentals.
So I uploaded the main photo from Karley's vacation rental to Google images, and bingo!
All the photos from this Vrbo listing appeared on an Airbnb listing in their full resolution. The Airbnb property was located in Atlanta, 580 miles from Lafayette. The host of that property is a superhost on Airbnb, with 164 positive reviews.
Those details leave little doubt as to which vacation rental listing is fake.
Paul was absolutely correct: He had booked a vacation rental that does not exist.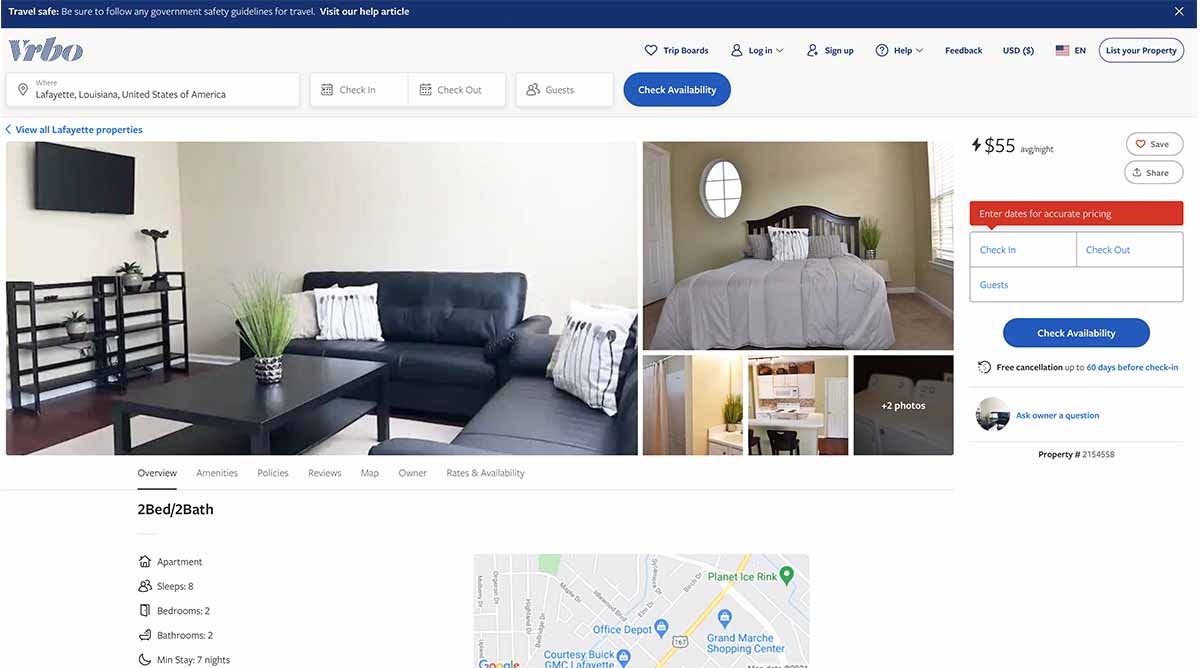 And next, we have the real vacation rental on the Airbnb site. This property is located in Atlanta.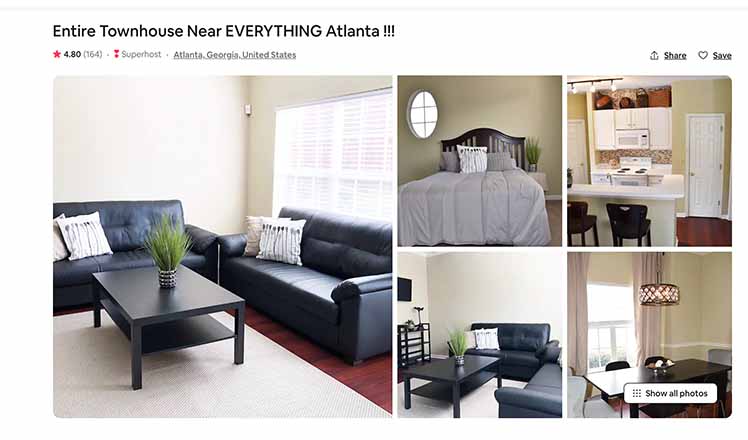 I now had the information I needed to prove to the Vrbo executive team that Paul was owed a refund. The vacation rental he booked through Vrbo does not exist — guaranteed.
The good news: Here's your refund from Vrbo
I hoped to put a quick end to Paul's $2,000 headache by sending over my findings to the Vrbo executive team.
Hi ****! How are you?
I have a case here that I know your team will want to take a look at ASAP. Paul Trosclair booked a Vrbo in Louisiana for 30 days starting on Feb 1. But when he showed up to check-in, no one seemed to know about the rental or the owner. The owner then claimed that Paul didn't show up at the right time (a strange check-in time of 9:00 p.m. — when the office is closed at the apartment complex). Karley then canceled the reservation and said she gets to keep his full month rental. Paul asked if he could show up the next day, but she refused.

It seems that Vrbo has sided with the owner, BUT I believe this is a fraudulent listing. I don't think it exists and that's why the "Host" has the very late check-in and refused to accommodate Paul in any way. The listing is very new, there are no reviews, the host's grammar is unusual and the photos on the listing look like screenshots. So I put the screenshots into Google images and found a listing on Airbnb where those photos came from. The host on Airbnb is a super host with many reviews (164) and this property is located in Atlanta. I'm including the photos of the fake Vrbo and the Airbnb below my signature.

Paul, of course, would like a refund of the money he paid for this property. Can your team have a look? The listing is still active on Vrbo right now. Thank you! 🙂

Michelle to the Vrbo executive team
And within 24 hours, Paul received word that Vrbo now agrees with his assessment of the property — it doesn't exist in Louisiana.
Hi Michelle,
The Customer Relations team looked into this case. We've removed this property from our platform due to fraudulent activity. Paul Trosclair will be refunded for the cost of his booking under our Book With Confidence Guarantee.

Vrbo executive contact
Paul is thrilled to get his money back, and that "Karley" and her fake vacation rental have been deleted from Vrbo.
How to spot and avoid a fake vacation rental listing
There are thousands and thousands of listings to peruse on sites like Vrbo and Airbnb. Unfortunately, it's a fact that some of those vacation rentals are fake listings created by scammers phishing for victims. Keep these tips in mind, and you'll significantly reduce your chances of ever booking a vacation rental that does not exist.
Be cautious of new listings.
Many scam listings are one-hit wonders. These online predators phish for, and snag a victim and then must quickly close up shop to avoid getting caught. You should always view new listings with no reviews on a vacation rental site with extra caution.
Use Google image search.
The scammers behind most fake vacation rental listings are sloppy in their efforts. As I recently pointed out in an interview with CNBC about vacation rental scams, you should consider grainy, low-quality photos as a red flag. Real owners listing properties on a vacation rental site want to present their homes in the best possible light. They know they are competing against many other properties in their market. If you suspect a property may not be real, just drag the photos into a Google image search and see if they exist in other places across the internet. As today's story shows, bad guys often just scrape photos from other listings for their con game.
Use Google Maps.
Another great tool that you can use to gather additional information about your potential vacation rental is Google Maps. Typically you will not receive the exact address until after you book a property, however, legitimate hosts may provide it to a potential renter if asked. Still, most listings show a general location of the rental prior to booking, and you can certainly learn a lot by doing a little research with Google Maps. Although, as we've seen in past cases, unfortunately, you can't always be guaranteed that the host has given an accurate location.
Make contact with the owner.
Before you commit to a specific property, make contact with the owner and ask questions — and actually listen to the answers or you might get an awful surprise even if the rental exists (See: Is this the worst Airbnb experience ever?). Both Vrbo and Airbnb have a message center that allows the renter and host to communicate before the booking is confirmed. If the owner doesn't respond to your questions or answers in an unclear way, move on. Yet another sign of a phony listing is when inquiries are ignored or deflected. A professional host has a vested interest in answering a potential guest quickly and clearly. Be wary of unusual requirements like checking in late at night or coming in through a back entrance. These are all signs that the listing may not be legitimate.
Make all payments through the vacation rental company's official platform.
Thieves often ask their targeted victims to pay for the vacation rental with an instant money transfer service like Zelle. Of all the red flags you might encounter when shopping for a vacation rental, this is the most alarming. Scammers love Zelle and wire transfers because they're impossible to reverse. Once the thief has your cash, your money will be gone, and you'll never hear from them again. Both Vrbo and Airbnb have security systems in place so that it's nearly impossible to lose your money to a scammer — if you follow the rules. But if you allow a criminal to lead you off the platform to conduct the transaction, all bets are off. Stay inside that safety net, which is put there by the rental companies to protect you.
Use your credit card to pay for your vacation rental.
Whether you use Vrbo, Airbnb or any other property management company, pay for your vacation rental with a credit card. The Fair Credit Billing Act protects consumers who use their credit cards to pay for goods and services. If you show up to a vacation rental and it is significantly different from the listing or does not exist, your credit card company can get your money back with a chargeback. If you pay with cash or a debit card, you will not have that protection. And one final tip: Don't store your credit card or debit card in your account. If a hacker gets in there, the criminal could take a vacation using your money. Then you'll have a whole different problem to deal with! (Michelle Couch-Friedman, Consumer Rescue)
Before you go: What happens if you travel to a remote area of Mexico and find out the hotel you booked is permanently closed? This.