The massive lifting of travel restrictions in the past few months came a little too late for Ann Shepherd. In April, she and her husband missed their much-anticipated Royal Caribbean cruise when Barbados rejected them for entry. As their cabin aboard the Grandeur of the Seas sailed unoccupied, the cruise line quickly refused Ann's refund request.
Ann says this isn't fair since she believes the Barbados Ministry of Health refused them by mistake. Now she's hoping Royal Caribbean will offer a replacement cruise for the one they missed.
Unfortunately, this cautionary tale highlights the confusing evolution of travel requirements and restrictions before, during, and after the pandemic.
Whose mistake really caused this missed cruise? That's the question for today.
Planning a Royal Caribbean cruise during the pandemic
Like many avid cruisers in early 2021, Ann and her husband were pining to get back on the water.
"In February of last year, we started planning this cruise," Ann recalled. "We are Royal Caribbean Diamond members and stockholders, and we were really looking forward to cruising again."
The cruise the two chose would take them through the southern Caribbean. This voyage on the Grandeur of the Seas would be a closed-loop 7-night cruise from Barbados.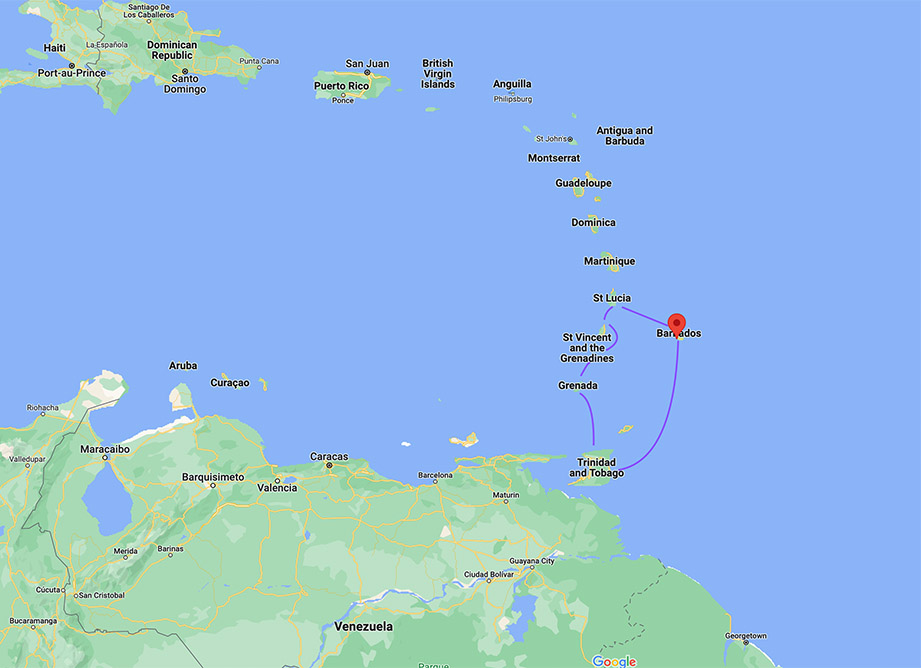 "We booked it and then looked forward to the day we could finally cruise again," Ann explained.
It would still be quite some time before any cruise ship would set sail. But for this couple, it was reassuring to have a voyage in the works.
Checking the requirements for this Royal Caribbean cruise
Fast forward to April 2022, and the Shepherds were excitedly planning to finally board the cruise they had booked so long ago.
"We carefully read through all the requirements for this trip," Ann told me. "We knew we needed negative COVID tests. So we made an appointment to get our tests exactly three days before the trip."
Ann reasoned that if the COVID tests came back positive they could still cancel the cruise under Royal Caribbean's 48-hour Cruise with Confidence guarantee.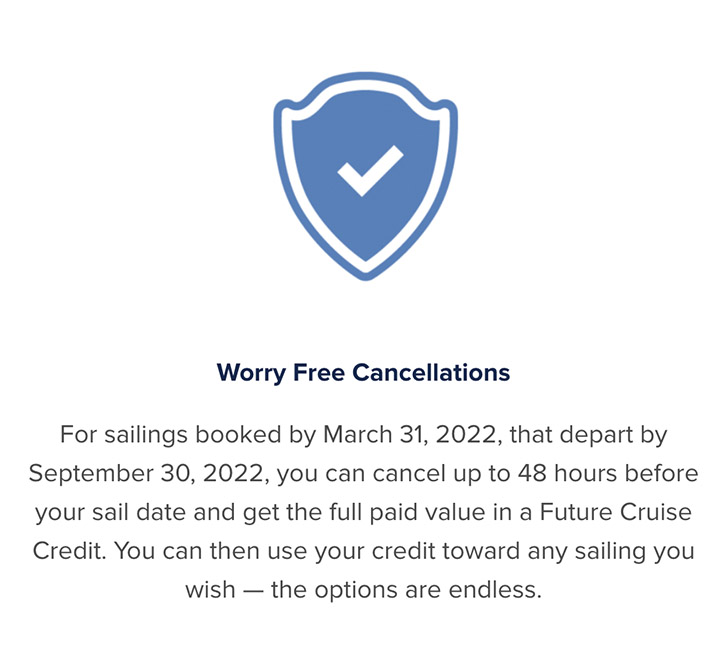 Ann says they didn't need to worry after all because their COVID tests quickly came back negative. Now they had just one more hurdle to navigate before leaving for their cruise: The Barbados Ministry of Health needed to certify their test results and approve the couple for entry.
Unfortunately, that was a hurdle that turned out to be impossible to clear.
The couple actually had a lot to worry about. But they didn't know it yet.
The night before the cruise: all is well – or is it?
During the pandemic, most countries have implemented pre-arrival entry procedures for travelers. In order to board a flight or cruise headed to those destinations, the passenger must have that stamp of approval from the receiving country.
On the night before this cruise, Ann and her husband had still not received the approval for entry from the Ministry of Health.
I had submitted everything we needed to the Health Ministry – including the negative COVID test. So we didn't anticipate any problems at all. We were told it was a simple approval process. We still weren't worried.

Ann
It turns out they should have been.
Ann says that she and her husband went to bed very early the night before their flight to Barbados to meet up with the Grandeur of the Seas.
"We were excited and tired," Ann explained. "I think we were sound asleep by 8 p.m., and we were sure the approval message from Barbados would be in our inbox by the morning."
When the couple woke up at 3 a.m. to meet the car service that would take them to the airport, there was indeed a message from "Barbados." But it wasn't what they expected.
The Ministry of Health of the island nation had officially rejected their request for entry – just three hours before their flight. Without that approval, they would miss the cruise.
They wouldn't need that car service to the airport after all.
Ann and her husband weren't going anywhere.
Asking Royal Caribbean what to do about the missed cruise
A few hours later, when the sun had come up, Ann was on the phone with Royal Caribbean. She had also sent a message to the Ministry of Health asking for a reconsideration.
Royal Caribbean told me we had missed the 48-hour cutoff for the Cruise with Confidence Guarantee. The Ministry of Health didn't answer, but the rejection said we didn't submit valid negative COVID tests. That wasn't true! We had negative tests, and I sent those.

Ann
The couple had purchased cancel-for-any-reason travel insurance through Royal Caribbean (underwritten by Aon). So in response to Ann's request for a refund or a future cruise credit for the missed voyage, Royal Caribbean referred her to Aon.
Ann hoped that policy would save the day and provide the refund for the missed cruise.
"We filed an insurance claim, and then we waited," Ann recalled.
Aon: This is not a covered reason for a cruise cancellation
Most travel insurance policies sold today are "named perils" policies. That means that the policy will only cover things specifically identified in the document. Mistakes by the policyholder that lead to a loss are not usually covered.
Ann promptly found this out as others before her have found out:
Aon rejected Ann's claim based on the terms of her policy which didn't include coverage for being denied entry to her destination.
However, because the policy had a cancel-for-any-reason waiver, she would still be eligible for a 75 percent reimbursement of the nonrefundable cash payment for the cruise. This compensation would come in the form of a future cruise credit.
This sounded okay to Ann until she took a closer look at that clause. The 75 percent reimbursement was based on the cash payments made for the cruise. Except for a $500 deposit, Ann and her husband had paid with Royal Caribbean cruise credits.
So now Ann turned back to Royal Caribbean. She explained why she was now requesting a goodwill gesture from the cruise line.
I maintain that if the Ministry of Health had informed us of their issues with our tests in a reasonable amount of time, we would have been able to exercise our Cruise with Confidence option and would have already received 100% of our cruise fare in future cruise credits. I hoped Royal Caribbean would reconsider.
Soon Royal Caribbean had what Ann thought was a positive response to her request. Ann explains:
The [Royal Caribbean] executive customer service team told me that as soon as I provided a copy of the end result of my Aon claim, they would grant me a future cruise credit equal to 75 percent of our fare.
But Ann says things continued to spiral downward after she sent Royal Caribbean the proof of her rejected claim.
Royal Caribbean: You were in a 100 percent penalty phase when you missed your cruise
Ann was hoping for a future cruise credit of around $2,500.
What she actually received after her Aon claim was processed was just 75 percent of the $500 cruise deposit. When she received the notice that no further credit would be coming her way, she decided she had struggled enough on her own.
That's when she contacted Consumer Rescue and asked for help. She had read some of my many cruise fiasco tales and hoped I could help her too (See: Norwegian Cruise Line made us stay in our cabin for four days. Is this legal? )
When Ann contacted me, she was still under the impression that the Health Ministry had rejected her in error.
I soon dispelled that thought.
Unfortunately, I believe you were denied entry correctly based on the rules in place for Barbados the week of April 13-20.

The test that your clinic administered is a rapid test. You could have taken that test the day before your trip, but not three days before the cruise. Three days before your trip, you would have needed to take a PCR test. That means you didn't have the correct documentation to enter Barbados. *

And it looks like your Aon claim was processed correctly as well, I'm afraid.

Michelle to Ann
*Note: In April, the Barbados Ministry of Health would accept a rapid test taken within 24 hours of arrival. The Shepherds took their tests 72 hours before arrival.
"Ok. But even so, **** at Royal Caribbean told me she would issue me a 75 percent cruise credit," Ann told me. "What about that? Don't they owe me that because she offered it?"
I went through Ann's paper trail, and it did seem to convey a confusing narrative from Royal Caribbean.
Did Royal Caribbean offer a goodwill gesture for this passenger's missed cruise?
I decided to send this over to our executive contact at Royal Caribbean to get some clarity.
Hi ****,

… Unfortunately, she and her husband took the wrong COVID test and were rejected from entry to Barbados. That rejection didn't happen until the night before the cruise. Although they purchased travel insurance, of course, it did not cover their documentation mistake. From their paper trail, it looks like **** had an email exchange with the couple and informed them that they would not be eligible for a cash refund but would receive a 75% FFC (that email is below my signature).

Ann contacted me yesterday because she says there seems to be some confusion, and all she has received is a refund for the shore excursions. Would your team be able to have a look at their case and see what's going on here and if they have a 75% FCC?

Thank you!! 😊🚢

Michelle to Royal Caribbean
And I soon heard back from Royal Caribbean. It seems that there was a misunderstanding about the offer.
Clarity from Royal Caribbean about this missed cruise
Dear Michelle,

Thank you for your return email.

Please allow me to clarify the 75% mentioned in my email to guest Ann Shepherd was in response to her advising that she received Aon's determination letter offering her 75%. Please see my email response to Ann with the update received from Aon.

Thank you for your follow-up, Michelle.

Royal Caribbean executive contact
And with that, the door was seemingly closed by Royal Caribbean for further mediation. The request was a goodwill gesture consideration – something we rarely take on here at Consumer Rescue – and Royal Caribbean had declined.
I gave Ann the bad news.
But she wasn't giving up. Ann was determined to pursue the FCC she believed had been promised to her by the cruise line…
The good news from Royal Caribbean
About two weeks after my last email with Royal Caribbean, I received a happy update from Ann.
Ann had followed our self-advocacy guidance for consumers and continued to persist because she believed the facts were on her side. In the end, Ann got what she believed the executive at Royal Caribbean promised her.
"Michelle, **** finally agreed to issue the future cruise credits!" Ann reported to me. "I'm relieved. Thank you for your help."
The couple will soon be sailing again and this time, they will make absolutely certain they have all the documentation they need to cruise.
How to make sure that you always have the required documents to cruise
Throughout the pandemic, we've been inundated with pleas for help from bewildered cruise ship passengers who found themselves rejected at the dock. Some of these travelers missed their cruises through no fault of their own (See: My Carnival cruise ended at the pier. Why was I denied boarding?). But many were denied boarding because of their own failure to understand the requirements for the trip. Still other passengers missed their cruise ship mid-journey when restrictions caused the itinerary of the ship to change.
Even before the pandemic, our advocacy team covered many cruise fiascos. But the coronavirus added a new level of confusion so that even seasoned travelers could not keep up with the rules.
Today, many travel restrictions have been eased, however, it's still critical for passengers to stay alert for documentation requirements right up to departure time.
Follow these tips, and you'll dramatically lower your chances of ever needing to contact our team about a missed cruise, family vacation or a honeymoon disaster.
Use the International Air Transport Association's Travel Centre
IATA's Personalized Passport, Visa & Health checker is the place to start when you want to know what documents you'll need for your next cruise. This helpful tool is free and highly accurate. In fact, during the pandemic, the system was updated many times per day to reflect the constantly changing requirements for travel. You can enter your personalized data into the program and receive a quick answer about the documentation you'll need to travel. Note: Don't forget to include every stop on your itinerary and any transit countries on the air portion of your trip.
Visit the cruise line's website – often.
Although in the past, you could rely on the documentation information contained in your cruise contract, that isn't necessarily the case now. Requirements can change quickly, so your contract will likely point you to the cruise line's website for the most current information and updates. Be sure to check that page frequently leading up to your voyage.
Go to the consulate's website of any country you'll be visiting or transiting.
Most countries maintain a consular website. It's a good idea to visit the consulate (online) for all of the countries on your itinerary and review the entry requirements. This is especially true if you have complicated citizenship, such as a permanent residency or dual citizenship.
Visit the U.S. State Department
The U.S. State Department is a valuable resource for travelers. It maintains an information page for every country in the world. You can find current entry requirements and health and safety information for all the places you plan to go.
Use a professional travel advisor.
Engaging a professional travel advisor to help plan your next trip can almost guarantee you'll never show up for your cruise without the proper documents for your voyage. You can find an ASTA verified travel advisor here.
The Bottom Line
As restrictions lift, it's becoming easier successfully navigate the globe again. We're slowly returning to pre-pandemic travel rules. But don't let your guard down. Keep checking those requirements and make sure you understand what you need to complete your trip. However, if, despite all of your preparation, you hit a roadblock, you know where to find the Consumer Rescue team – we're always ready to defend you. (Michelle Couch-Friedman, Consumer Rescue)
Before you go: Looking for more Royal Caribbean passenger fiascos? This cruiser seems to have paid $4,200 in the RoyalUp program and got a downgrade.
Last Updated on August 31, 2022 by Michelle Couch-Friedman