Rosalva Paulino recently used Travelocity to book a pleasant-looking historic property in a remote area of Mexico. However, upon arrival at the location, she was confronted by a permanently closed hotel. Complete with blocked entrances and overgrown vegetation, it was clear the hotel had been shuttered for some time. Bewildered, she scrambled to find alternative accommodations on her own.
Rosalva assumed Travelocity would apologize and quickly refund her prepaid reservation for the permanently closed hotel.
She was wrong. Her shock turned to anger when Travelocity rejected the refund request, claiming the hotel refused to approve it.
Now she wants our advocacy team to see if we can make sense of this nonsensical situation.
Rosalva's tale once again highlights the unusual experiences consumers can face with customer service powered by artificial intelligence. Increasingly, to the great detriment of customers, companies are replacing human support with computer bots. Unfortunately, in many cases, these "pretend people" posing as helpers have no actual ability to solve even the most straightforward problem.
Here's Rosalva's frustrating experience.
Booking a prepaid reservation with Travelocity
Early last summer, Rosalva was looking for a hotel in Uxmal, a town known for Mayan ruins and preserved architecture.
Rosalva says she soon found the perfect hotel to complement her exploration of the historic village.
"I decided to stay at the Hacienda Uxmal Plantation & Museum," Rosalva recalled. "It's just across the street from the pyramids, and the hotel itself looked like an oasis."
Boasting former guests such as Queen Elizabeth and Jackie O, the Hacienda certainly seemed like an opulent place to stay. Rosalva excitedly booked two nights at the hotel and soon received a confirmation from Travelocity. She was all set for her adventure to the heart of the Yucatan.
And it definitely would turn out to be an adventure — just not the type she expected.
A one-hour bus ride and then — a closed hotel
On the day Rosalva was set to check into the Hacienda, she boarded a bus for the one-hour ride from Merida to Uxmal.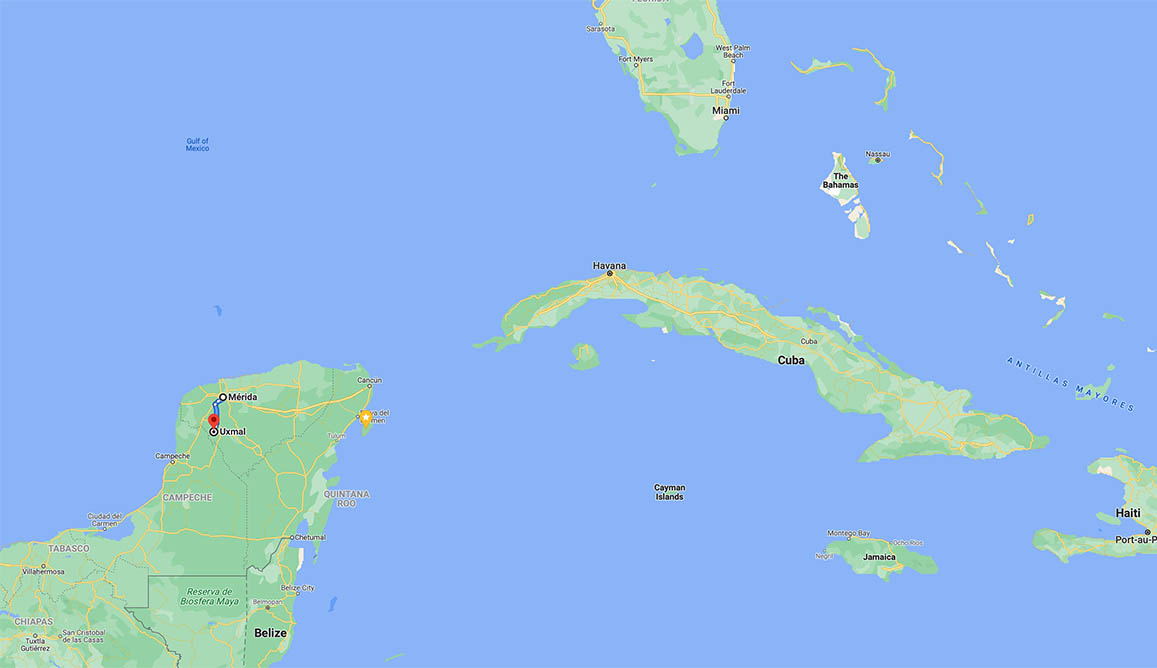 She was greatly anticipating seeing all the archeological sites the city and the surrounding areas have to offer. But the hotel was equally as important as the destination. Hiking around archeological sites and climbing pyramids can be challenging. With a beautiful tropical pool and well-manicured cocoa plantation, the Hacienda would serve as the perfect retreat at the end of each day.
As Rosalva sat on the crowded and stuffy bus, she was daydreaming about the oasis in the jungle. She had no way of knowing that the Hacienda's reality was completely different from what she imagined.
But soon enough, the unpleasant reality would be staring her right in the face.
Climbing off the bus a block from the hotel, Rosalva grabbed her suitcase and made her way down the street. Arriving at the property, she started to climb the stone stairs when she noticed some oddities. For some reason, someone had placed potted plants on the path to the entrance, which made maneuvering it quite tricky.
And then, suddenly, the entire picture came into focus.
This hotel is definitely not open for business!
Rosalva realized she was standing at the entrance of a closed hotel.
I had just traveled for more than an hour. There was no way to get into the property. Obstacles blocked all the entrances. I found myself in the middle of nowhere (the rainforest). Nobody was around to give me any information. I called the number I had for the hotel, and no one answered. The hotel looked like it had been closed for quite some time.

Rosalva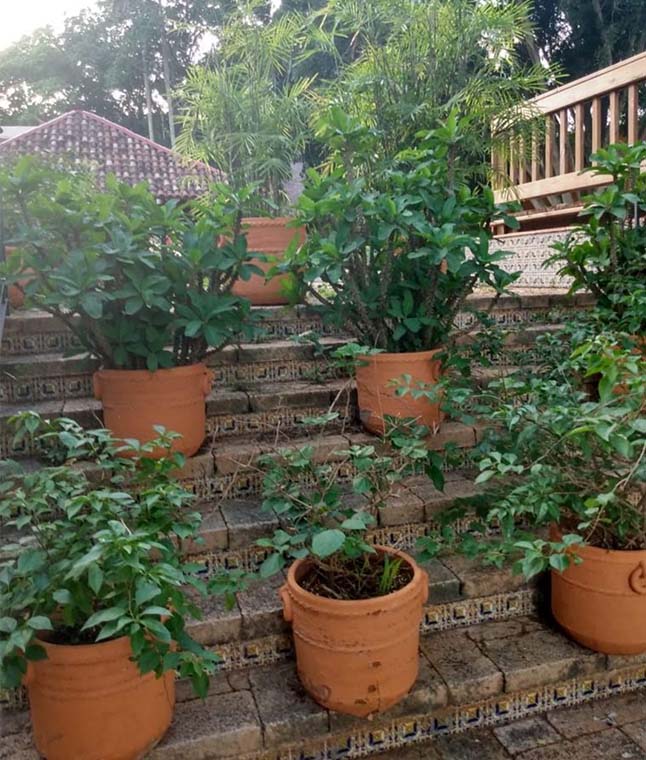 Standing in the heat, unsure of what to do, Rosalva made her way to another hotel across the street. That's when she found out some vital information about the Hacienda: The property closed soon after the pandemic began.
Is this a hotel bait and switch?
Rosalva says that the hotel manager across the street confirmed that the Hacienda was not open for business. However, he had good news for her.
"He said my reservation had been transferred to his property," Rosalva explained. "This man said that his hotel was taking in the guests that were displaced when the Hacienda closed."
Rosalva was trying to make sense of the situation and what the man was saying. But she couldn't. If the Hacienda had been closed for over a year, why was Travelocity still booking rooms at the hotel? And why did this manager have her personal information in his reservation system?
Looking at the replacement property, Rosalva was disappointed. It had none of the features of the Hacienda that she intended to enjoy. This looked and felt like a bait and switch.
"I declined his [the manager's] insinuation that my reservation belonged to his property now," Rosalva recalled. "I thanked him for the information and left."
Rosalva made a few calls to Travelocity and tried to find an alternative place to stay.
"I was on hold for a long time [with Travelocity]," Rosalva recalled. "I finally just gave up."
The feeling that she had been snookered had tarnished the trip, and she cut short the adventure. Paulino soon boarded another bus and headed back to Merida.
One of the reasons for my visit to Uxmal was to stay at the Hacienda. It bills itself as the oldest hacienda in the world. It's famous. When I found the hotel closed without explanation, it was very frustrating. I felt tricked.

Rosalva
The experience was about to get a lot more frustrating.
"Dear Travelocity: You booked me into a closed hotel. I want a refund!"
When Rosalva returned to Merida, she sent Travelocity a simple request: Refund the prepaid reservation for the closed hotel. She didn't anticipate any pushback from the company. In fact, she thought the booking agent would send an apology with that refund.
Much to her surprise, Travelocity quickly rejected her refund request for the closed hotel.
Hello Rosalva,

We spoke with Hacienda Uxmal Plantation & Museum, and they decided to follow the terms and conditions of the booking and not issue a refund.

We apologize for any inconvenience this may have caused. And we hope you will allow us to assist you with your travel plans again soon.

Thanks for choosing Travelocity.

Sincerely,

Jose G.
mnljgorayeb
Travelocity Customer Support Team
How did Travelocity speak to someone at the shuttered property?
Now, this was surely a strange turn of events. How could Jose have spoken to a representative of the closed hotel? And what exactly does that jumble of letters mean under his name?
Rosalva called Travelocity after receiving the disturbing email. She tried to reason with the phone representative and explain that the Hacienda was not open, so she should not pay anything. In fact, Travelocity had left her stranded in a remote region with no real alternative but to return to Merida.
This agent seemed to have no comprehension of what Rosalva was explaining nor how nonsensical his response was.
He pointed Rosalva back to the terms and conditions she had agreed to for this reservation. Since she hadn't checked in to the closed hotel, she would have to pay a one-night penalty. Travelocity would refund half of the cost of the two-night stay.
Paulino had reached the end of her patience. She submitted her request for help to our advocacy team.
Asking real people at the company: Why wouldn't Travelocity owe this traveler a refund?
When Rosalva's plea for help landed on my desk, she had struggled to reason with a variety of Travelocity customer service "people" — for months. She had even contemplated just letting the situation go and giving up.
But then she found out about our advocacy team, and she had renewed hope.
Hello! Could you give me some advice about what I can do next? Or could you contact Travelocity on my behalf and ask for my refund?

In the terms and conditions….they don't mention anything about selling you a room at a closed hotel. There is nothing about an [expectation that I must] accept their offer at a different hotel. I didn't ask for that other hotel. I still don't know who forwarded my information to that unaffiliated property. Can you help me?

Rosalva
Looking through Rosalva's paper trail, I recognized the telltale signs of artificial intelligence trying to brush off a customer. I've seen it many times in many other cases.
And, unfortunately, I also recognized the signs of a consumer on the verge of giving up her battle.
It was time to ask a real person at Travelocity how the company could possibly determine that it didn't owe this customer a refund. The company had booked her into a permanently closed hotel — in a remote location — disrupting all of her plans. And to boot, Travelocity expected her to pay for the experience. A real person at Travelocity could not have reviewed the details of this case. I was sure of it.
Success: Here's your Travelocity refund
The parent company of Travelocity is Expedia. So I reached out to our always helpful executive contact at Expedia.
Hi ****,

How are you?

This is a strange case. Rosalva Paulino booked a hotel in Mexico on Travelocity. When she traveled to the hotel, she found it closed and had been closed for a year. She paid $283 to Travelocity and only received half back for some reason. The Travelocity team told her that the hotel declined her complete refund request — which seems odd since they aren't even open for business. Can we get this refunded?

Thanks! 😊

Michelle to Expedia
And soon came the good news for Rosalva. Of course, when real people at Expedia and Travelocity looked at the outrageous situation, they refunded the total cost of this reservation.
The refund also came with that apology that Rosalva expected in the first place. She's pleased with the outcome, but the situation has left a bitter taste in her mouth. She's not sure if she would ever be willing to travel to a remote location again without first calling ahead to make sure the hotel is open for business. And I can't say I blame her!
How to get a refund from Travelocity (or any other booking agent)
Unfortunately, throughout the pandemic, we've found that refunds in the travel industry are a bit hard to come by. That's true even when the facts clearly show the company owes a refund to its customer. If you're owed a refund from Travelocity or any other booking agent, here's how to get it.
Keep a careful paper trail.
When you book a vacation using a third-party booking agent, you've added a layer of difficulty to resolving any problems if they come up. you'll want to keep records. What did the agent or listing promise you? What did the photos of the property look like? And of course, you'll want to document the terms and conditions you agreed to at the time of booking. Take screenshots of how the listing appeared on the day you booked. Carefully review your confirmation for errors as soon as you receive it.
Take photos and document the condition of the hotel.
Although it is unusual that a hotel chain or booking agent will confirm and send you to a closed hotel, Rosalva's case is not the only one of its kind I've tackled. Over at The Points Guy, an entire family showed up at a Marriott hotel in South Africa only to find it permanently closed. If you make your way to a hotel and it's closed or significantly deviates from the original listing or confirmation, you must take photos and video. Make sure that your photographs accurately depict the problem. You'll need to send that documentation to Travelocity or whatever agent you've used. It's best to do this in real time, if at all possible.
Alert your booking agent to the problem
As mentioned above, part of documenting the problem includes letting your booking agent know of the problem. Most companies, including Travelocity, require that the customer alert the agency as soon as they detect a problem. Of course, if you find a completely closed hotel when you show up at the location, your refund request should be a slam-dunk. Unfortunately, as we saw in this debacle, that depends on the traveler reaching a real person at the company who can understand the gravity of the situation. So…
Escalate your complaint to real people
Using Consumer Rescue's How to fix your own consumer problem as a guide, you can learn how to escalate your complaint to a real person within the company who can actually help you.
Ask your credit card company for help.
If you show up at a hotel and it's closed forever, common sense dictates that your booking agent owes you a refund. It's unclear why Travelocity continued to reject Rosalva's request to get her money back. But at that point, a credit card dispute would have been a reasonable response to Travelocity's continued refusal to return her cash. But remember: Consumers should only use a credit card chargeback as a last resort. When misused, a dispute can only add new problems to a consumer's dilemma. You can learn all about the right way to file a credit card dispute here. However, in Rosalva's case, she chose door number two, which was…
Ask the Consumer Rescue team for help.
If you cannot fix your problem through all of our standard recommendations, you might be up against a problem that needs our direct assistance. Send your request through the Consumer Rescue helpline, and we'll be happy to examine the details and investigate (always free of charge to consumers). Remember, we're here to help 365 days a year. (Michelle Couch-Friedman, Consumer Rescue)