Kin Wong planned a special Holland America cruise to celebrate his wife's 61st birthday. Unfortunately, things went awry on Day 1 of the trip when the cruise line delivered the couple's luggage to the wrong ship. Soon, the Wongs were cruising to Alaska on HAL's Volendam, but their clothes were sailing on the Sapphire Princess instead.
Despite repeated assurances from Holland America that the cruise line would quickly correct its mistake, it didn't. In the end, the couple cruised for six days without their clothes.
Now, Wong is asking for Consumer Rescue's help. He says Holland America ruined the birthday cruise meant to celebrate his wife's birthday – and he wants compensation. Wong figures Holland America should refund $2,000 to make up for their unpleasant experience.
But what does a cruise line really owe a passenger if it loads their luggage onto the wrong ship?
The answer will likely surprise you.
A special cruise on Holland America's Volendam
Back in May, Wong was looking for vacation ideas to make his wife's birthday memorable this year.
"We decided that a cruise to Alaska would be a great way to celebrate," Wong recalled.
Using a AAA agent, the couple booked the 7-night Holland America cruise aboard Volendam. The adventure would begin and end in Vancouver.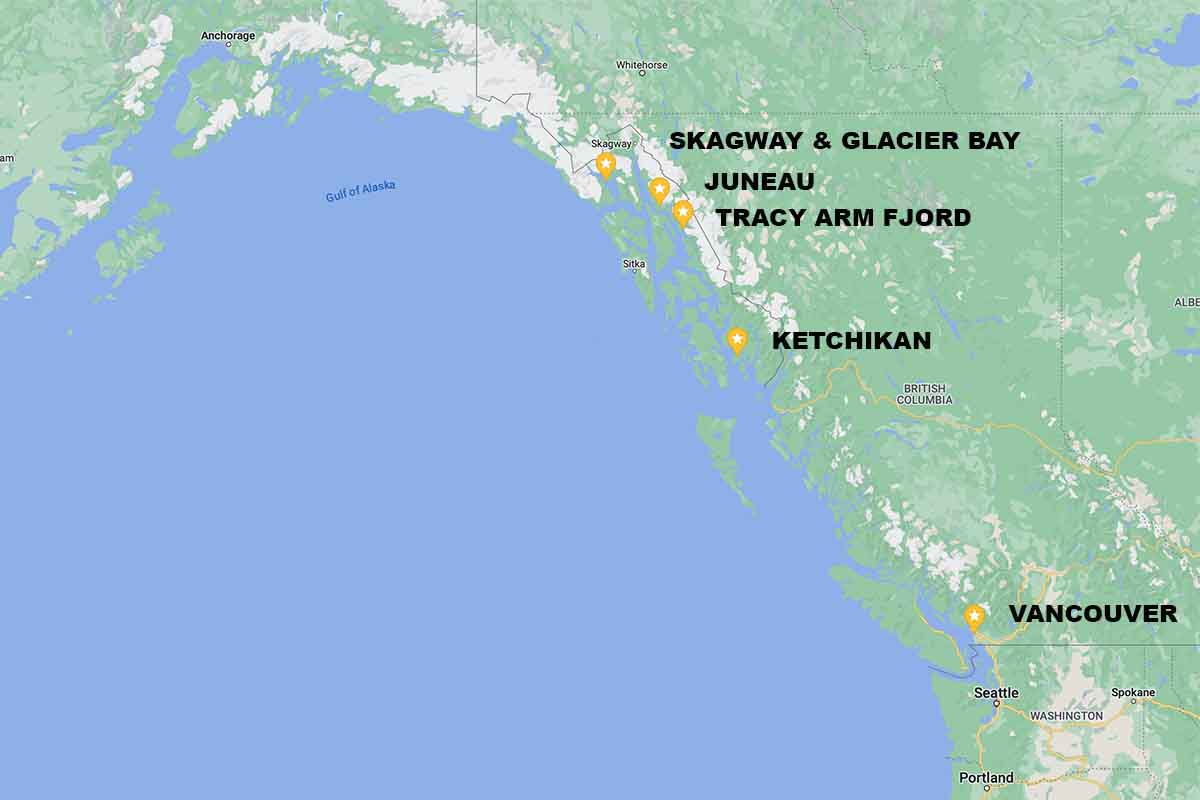 Aware of the dangers of flying on the same day as embarkation, they chose a Holland America air and hotel package. The couple would spend the night before the cruise in Vancouver.
"We had enjoyed sailing with Holland America in the past," Wong recalled. "I was happy to be able to leave everything to the cruise line."
Next the couple purchased a comprehensive travel insurance policy from Allianz, and they were all set.
The Wongs didn't know it yet, but that policy would end up becoming quite valuable.
Holland America: "We'll take your luggage to the cruise ship."
Just two months later, the Wongs were on their way to Vancouver to begin their Alaskan adventure. They were happy to be able to spend the evening before the cruise relaxing and exploring the city a bit.
Checking into the hotel the couple found a welcome message from Holland America. The letter explained the luggage transfer procedure from the hotel to the cruise ship.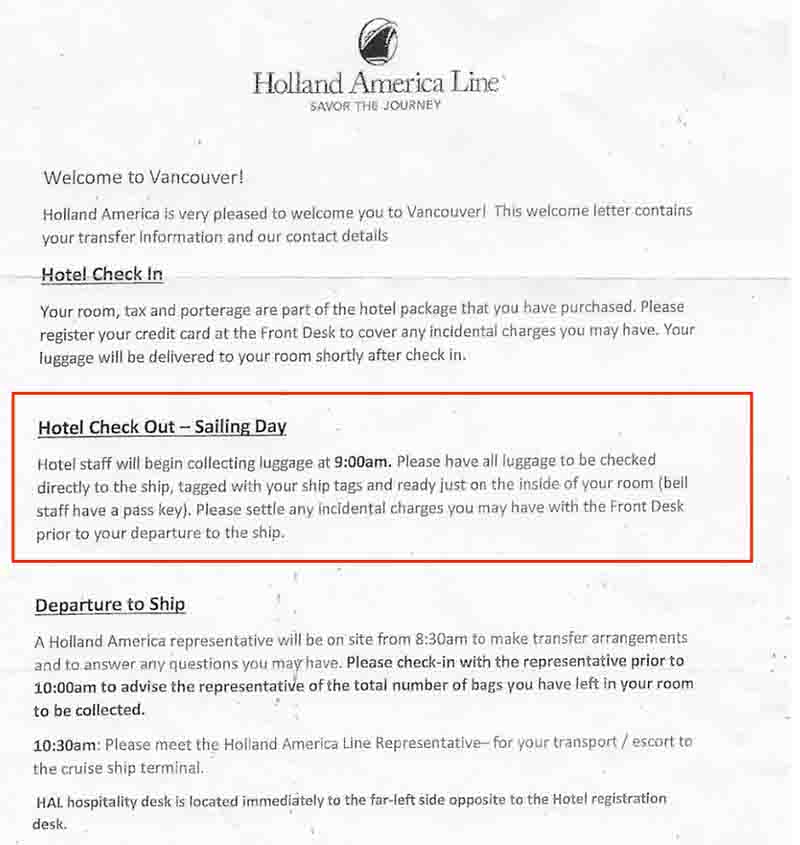 And although the message from Holland America was clear that its representatives would deliver the guests' luggage to the cruise ship, Wong wanted to make sure.
I personally went down to the lobby of the hotel and spoke with a Holland America employee before checking out. The representative confirmed that we were to leave the tagged luggage inside of our room. [She] asked me to confirm how many bags were in our room for transport. [She confirmed] as part of the hotel package, they [Holland America representatives] would pick-up our luggage and take it down to be loaded onto the cruise ship.

We attached Holland America Volendam luggage tags to our two bags. We left the bags inside the hotel room, as instructed, and proceeded to the lobby to check out. Then we were escorted to the cruise ship. We didn't expect anything to go wrong.

Kin Wong
Unfortunately, something was about to go very wrong.
"We're sorry your luggage was put on the wrong ship."
On the day the Wongs' Holland America cruise on Volendam was setting sail, Princess Cruises also had a ship embarking from Vancouver. Sapphire Princess was heading to Alaska as well, on a one way trip to Whittier, near Anchorage.
As the Wongs were boarding Volendam, they noticed the Sapphire Princess docked nearby.
They didn't give that ship a second thought. That is until several hours later – after their luggage failed to appear in their cabin and Holland America gave them the bad news: All of their belongings were onboard the Sapphire Princess.
Initially, Wong hoped that they could be reunited with their luggage at the ship's first port of call. But that hope was quickly squelched when Holland America explained that although both vessels were heading to Alaska on somewhat similar itineraries, the ships' paths would not intersect anywhere along the line. Volendam would be a day ahead of the Sapphire Princess at all their mutual ports of call.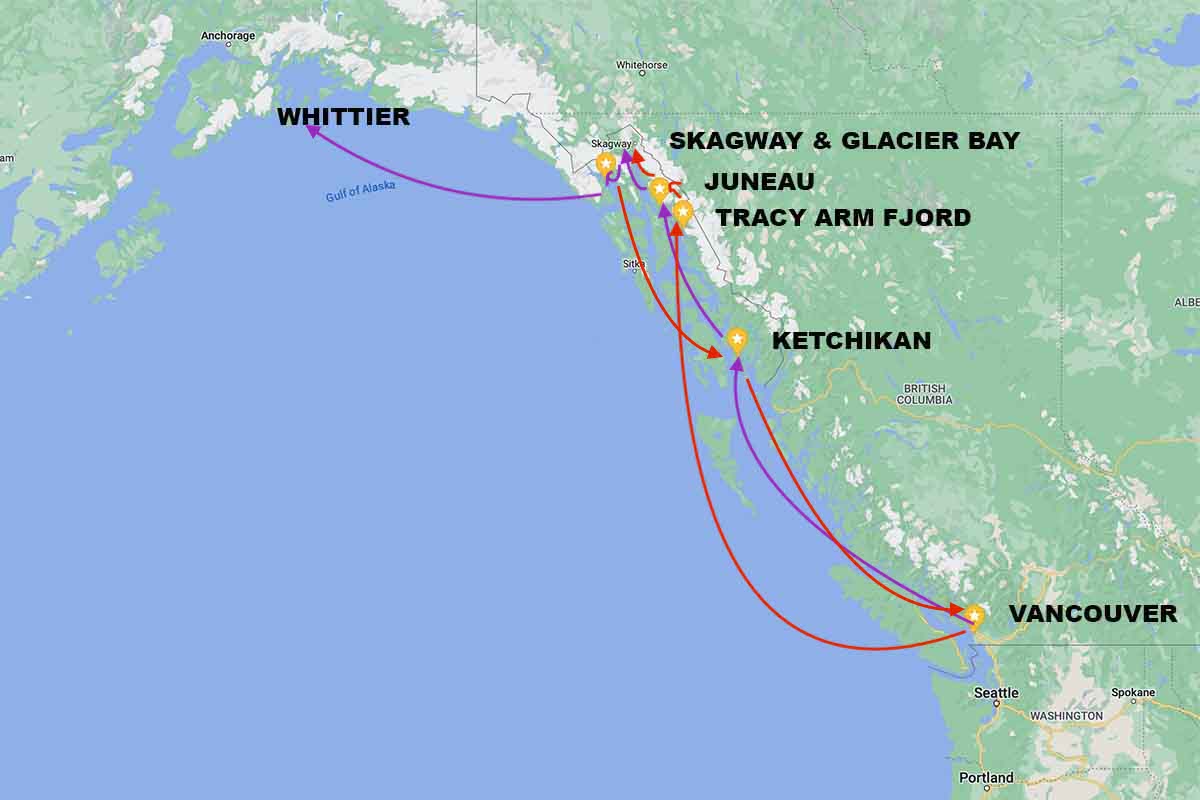 Taking a Holland America cruise with only the clothes on their back
"We couldn't believe it. My wife and I had embarked on the cruise with only the clothes we were wearing that day," Wong recalled. "We had no toiletries, no extra undergarments, no additional clothing. All of our belongings were on the Sapphire Princess."
Instead of spending their first night of the cruise enjoying a quiet dinner as they had planned, the couple spent it with Holland America guest services desperately trying to figure out how to get their clothes to the Volendam.
"It was very stressful. Eventually, they [Holland America guest services] assured us that when the Sapphire Princess docked in Ketchikan in two days, our luggage would be offloaded," Wong explained. "Then HAL would fly our bags to Juneau and bring them to the Volendam. It wasn't the greatest idea, but it was the best we could hope for."
Dejected, the couple headed back to their room with some complimentary supplies.
Just hours earlier they had boarded the cruise ship looking forward to seven days of fun and adventure. Things had certainly taken a sudden and unpleasant turn.
And things were about to get worse.
Will the luggage make it to the cruise ship in time?
The first day of the couple's cruise to Alaska was spent at sea. The Volendam was heading to Juneau where they expected their luggage to be waiting for them.
Unfortunately, it wasn't.
As the clock inched closer to the ship's departure time to cruise from Juneau, it became clear to the Wongs that their luggage wasn't going to make it.
Despite what Holland America told us, our clothing didn't arrive in Juneau. So we had to spend over $700 in the Volendam's overpriced shop. Of course, there were limited styles and sizes.

Then instead of enjoying the next port calls, we had to use up valuable time shopping for necessities and additional items. We still didn't have the correct clothes for many of the events on the ship. We had to endure other passengers' stares and under-their-breath comments regarding our attire for certain venues that had dress codes. It was embarrassing.

Kin Wong
This was definitely not what the couple had envisioned while planning the cruise all those months ago.
So what happened to the missing luggage?
As it turns out, the Wongs' luggage had been offloaded from the Princess cruise in Ketchikan. And that is where it stayed. No effort had been made by either cruise line to send the bags north to Juneau.
When the Holland America cruise arrived in Ketchikan four days later, the couple was finally reunited with their clothing – just in time to sail back to Vancouver and fly home the next day.
If the Wongs were expecting an apology to accompany their luggage, they were quickly disappointed.
"There was no apology," Wong told me. "No acknowledgment of our terrible experience. Just a notification that our luggage had been put on the wrong cruise ship and that we had sailed without our clothes for six days. It was insulting."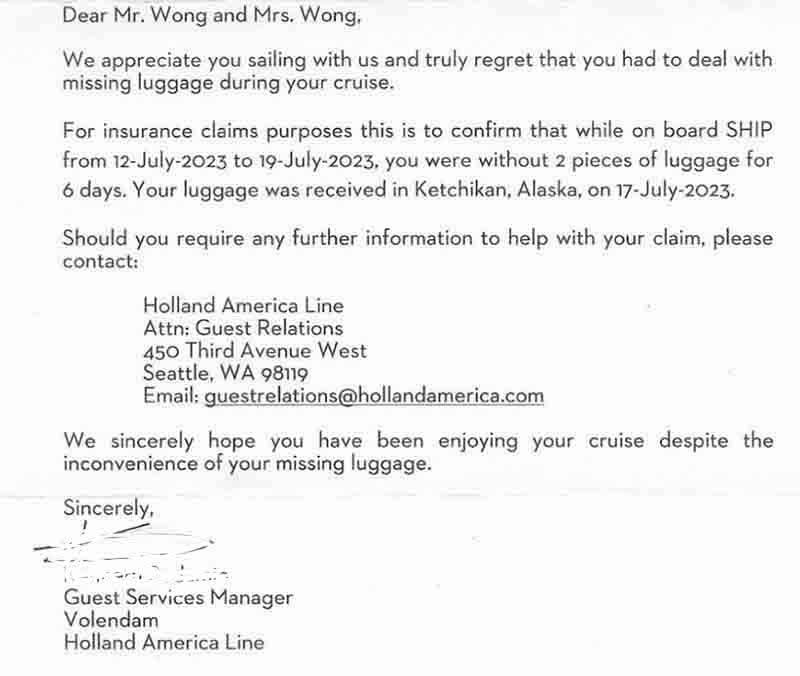 Early the next morning the disgruntled couple gathered their recently returned luggage, and left the cruise ship for the last time. By the afternoon they were on a flight back home, during which Wong had plenty of time to ruminate about the situation.
He soon had a figure in his head as to what Holland America owed him for the "inconvenience" mentioned in the letter: $2,000.
Asking Consumer Rescue: What does Holland America owe us?
Unfortunately, Wong quickly discovered that Holland America had no intention of offering the couple $2,000 for their unpleasant experience. In fact, the cruise line didn't intend to offer any compensation.
Not willing to give up just yet, Wong sent his request for help to Consumer Rescue after reading about another cruise ship passenger with a somewhat similar tale.
I say somewhat because in that case the confused traveler was responsible for her own predicament, having left her luggage behind at a hotel that offered no such transfer service. As a result, she sailed for a week on MSC's Seaside without any of her own clothes. When she returned from her cruise, she found her luggage exactly where she left it at the Embassy Suites.
However in the Wongs' case, there was no confusion about the luggage transfer service.
Their hotel, in conjunction with Holland America, did provide luggage transfer to the ship and had assured the couple of the same in writing. The Wongs had every reason to believe their bags would follow them to the Volendam.
Based on those details, Wong hoped our advocacy team might be able to negotiate the $2,000 compensation from Holland America.
But there was a big roadblock to Wong's request: the Holland America contract of carriage.
Cruise lines have limited liability for missing or damaged luggage
When Wong's plea for help hit my desk, I knew right away that he had overshot the mark – by far – in terms of Holland America's liability for their misplaced luggage.
Unfortunately, cruise lines have notoriously low limits as to what they'll pay to a passenger for lost or delayed luggage. Those inflexible liability limits are written into the contract of carriage of each cruise line.
I had a quick look at Holland America's policy and the bad news for Wong was there in black and white. No matter how much the couple had spent on replacement items, the absolute liability limit for HAL would be $250 per bag.

I quickly broke the news to Wong that Holland America would not be liable to pay $2,000 in compensation for this cruise fiasco.
But… there was still some good news for the couple.
Travel insurance will cover the expenses of the missing luggage
That travel insurance the Wongs bought from Allianz was a comprehensive policy that included lost or delayed luggage protection.
Wong filed a claim with Allianz which was quickly approved. All of their clothing and essential purchases were covered by that travel insurance policy. As a result, Holland America dodged any liability in this situation since the $250 is only paid if the passenger has no travel insurance coverage.
Wong says he is grateful for the reimbursement from Allianz. But…
It doesn't make up for the unpleasant treatment by Holland America.They didn't show any sense of urgency to reunite us with our luggage, despite their assurance to do so when they promised that they would fly it to Juneau from Ketchikan when there was ample time.

I greatly appreciate you and your organization's help. Thank you for your responsiveness. My best to you and your team at Consumer Rescue.

Maybe an article about my ordeal in your newsletters will help others.

Kin Wong
My thoughts exactly, Kin.
Here's what to do before and after a cruise line loses your luggage
Cruise lines, like airlines, can lose or delay your luggage as you head to your vacation. That is an unfortunate fact. But there are some things that you can do to prepare and protect yourself so that even if the worst happens, your trip won't be ruined.
1. Protect yourself against delayed luggage with travel insurance 
A comprehensive travel insurance policy can provide a great benefit if your cruise line or airline loses or misdirects your luggage on the way to the ship. As you're shopping for your travel insurance, look for a policy that includes delayed baggage coverage. That benefit will allow you to buy replacement items (within limitations) while you wait for your clothing to catch up with you.
Bonus tip: Make sure your policy provides delayed baggage benefits as primary coverage. Otherwise, the company may expect you to first file a claim with the cruise line. Save yourself that headache and get a policy with a primary delayed luggage benefit.
You can use a site like Insuremytrip to comparison shop for your travel insurance. Just add your personal details, and you'll get a free quote from multiple insurance companies.
2. Bring some clothes and your essentials in your carry-on
If you have even a little bit of paranoia about your clothes going missing, you should stuff your carry-on full of essential items. I always pack pajamas, a change of outfits and a bathing suit along with my toiletry bag. If you have a variety of basic items, you won't be in an uncomfortable panic while you wait for your luggage to catch up with you if it becomes misdirected.
Important: Remember, never pack essential items like medication in your checked luggage. A good rule of thumb: If you need something as soon as you arrive at your destination, always keep it in your carry-on bag.
3. Be aware of cruise line liability limits 
Cruise ship passengers are often shocked when I explain the liability limits of their carrier. That includes the liability for things such as altered cruise itineraries, shore excursions that didn't go exactly the way they hoped and cabins that maybe weren't up to par among other disappointments.
It's important to keep in mind that there are rules and regulations that govern your complaint against a cruise line and identify its liabilities. You can find those terms in your cruise contract.
It's not often that a cruise ship sends a passenger's luggage to the wrong ship, but it can happen. By following the tips above, you should be able to minimize the emotional and financial impact if it happens to you. (Michelle Couch-Friedman, Consumer Rescue)
---
If you have a complaint against a cruise line and you can't get a response or explanation, send your request for assistance to our advocacy team, where you'll find friendly and free help to solve your consumer problem.
Last Updated on September 18, 2023 by Michelle Couch-Friedman