Dollar Car Rental customer Kuno Zurkinden recently discovered how a surprisingly common mistake can end in a giant financial headache. At the end of an adventurous road trip from San Francisco to Los Angeles, he made a navigational error: He returned the rental car to the wrong airport.
As a result of that miscalculation, Dollar voided the original contract Zurkinden had through a third-party provider. On the spot, the rental car company created a new contract with new charges – astronomically high charges.
Now, Zurkinden is asking Consumer Rescue for assistance. He wants to know if his "little" geographic mistake really allows the car rental company to charge him $2,081 extra.
Something tells me he isn't going to like the answer.
Taking an epic road trip in a convertible Mustang
Last May, when Zurkinden was planning his road trip to explore the scenic California coast, he decided to do it in style. He booked a convertible Mustang with Dollar Car Rental via a third-party agency called QeeQ.
For the one-week rental, Zurkinden would pay 619 Swiss francs, which translates to about $698. After picking up the rental car at San Francisco International Airport (SFO), he was soon on his way.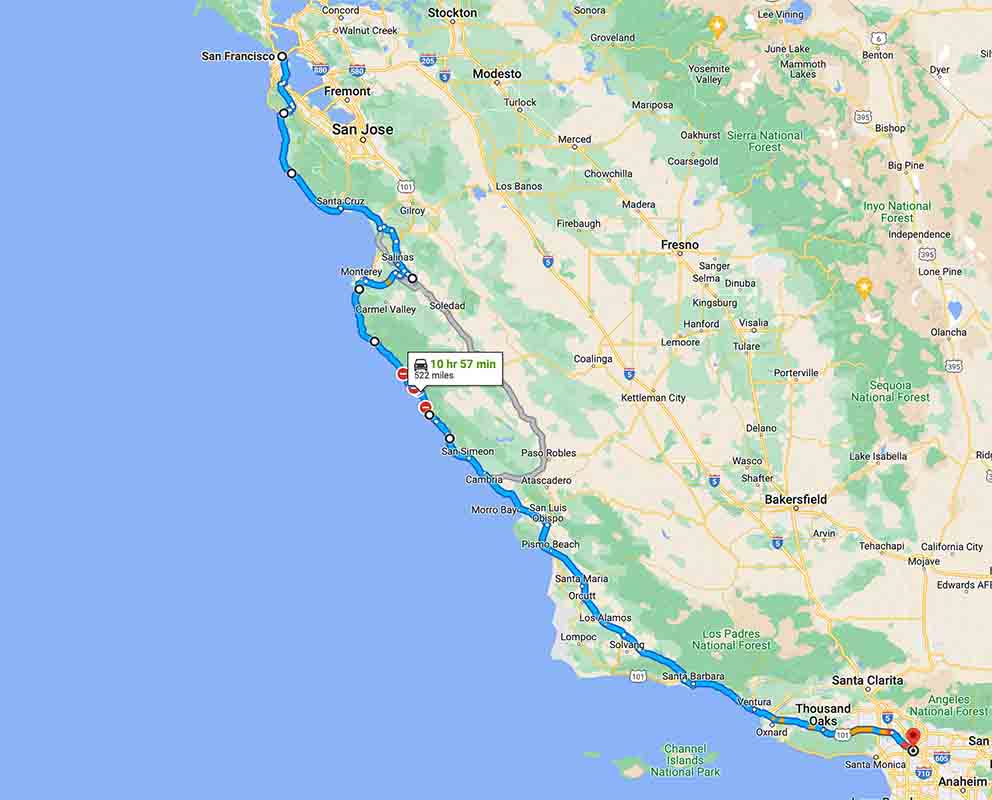 As he drove down the dramatic California coastline, Zurkinden had no idea there was a problem brewing.
But there was.
The GPS in the Mustang was set for Los Angeles International Airport (LAX), where Zurkinden was scheduled to fly home.
However, not being familiar with the city, he had entered the wrong return airport in his booking with QeeQ. That mistake had him heading to LAX, but his car rental contract showed he was to return the vehicle at Hollywood Burbank Airport (BUR), 30 miles away.
Returning the rental car to the (wrong) airport and flying home
After the long drive, Zurkinden arrived at LAX. He dropped the Mustang off and headed into the terminal.
"There was no one there to take the keys from me, so I left them on the dashboard," Zurkinden recalled. "I went into the airport and flew home. I had no idea there was a problem until later…"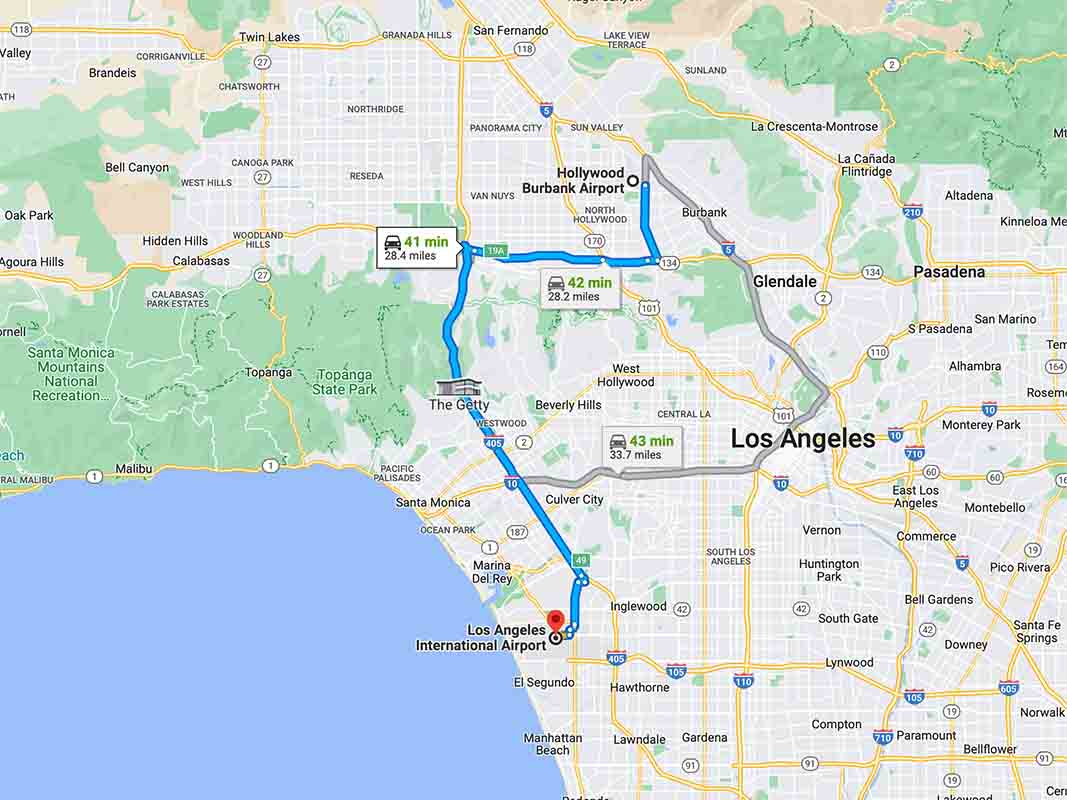 Surprise! Dollar Car Rental says your final bill is $2,881
A few days after he flew home, Zurkinden received a shocking email.
"It was my final invoice," he recalled. "Instead of a bill of around $800, I now owed $2,881!"
Confused, Zurkinden called Dollar and asked what was causing the inflated bill.
Dollar customer service informed me that due to the fact that I returned the rental car to the wrong airport, my discounted reservation through Qeeq became obsolete. They [Dollar] then applied a new rental rate (insanely high), including additional fees that were included in the initial agreement.
When Zurkinden realized Dollar had no intention of reducing the charges, he started browsing the internet for ideas about what to do next. That's when he found my article about another car rental customer who had made a similar mistake.
In that case, Hertz (the parent company of Dollar) charged Andrew Dupuy nearly $1,000 extra for returning his rental car to the wrong location, less than 2 miles from the one identified on his contract. Dupuy also used a third-party booking agent to get a discounted deal on his car rental reservation. And he saw his discounted rate evaporate after his error, too.
I contacted Hertz on Dupuy's behalf and there was good news for him: The car rental company agreed to erase the extra fee as a gesture of goodwill.
After reading that hopeful story, Zurkinden sent his request for help to Consumer Rescue.
A car rental deal with a third-party booking site can instantly disappear
Consumer Rescue receives a high volume of complaints from car rental customers who book great deals through third-party sites but then fail to follow all the terms of their contracts. Like Zurkinden, these travelers have found their discounted contracts canceled and replaced by new, shockingly expensive contracts. From customers who keep a vehicle for a few extra days to those who return their rentals to the wrong location – or even to the wrong car rental agency, we've certainly seen it all.
Consumer Beware: If you book a discounted car rental through a third-party site, pay attention to all the terms of that contract. Your discount will instantly evaporate if you deviate from those details in any way.
When Zurkinden contacted our advocacy team, he was already well aware of his mistake.
I mistakenly booked the destination location at Hollywood Burbank Airport, instead of LAX, where I returned the car on time.

I simply forgot to double-check that LAX is indeed the return point and also I did not know that Los Angeles has two airports. Also, when returning the car, nobody made me aware of the mistake. I would understand if Dollar would charge a fee for returning the car at the wrong place. But recalculating the initial rental fee to an amount nearly four times the initial price seems excessive to me. Can you help me?
Will Dollar Car Rental overlook this mistake?
Although Zurkinden made a significant mistake in returning his rental car to the wrong airport 30 miles away, I agreed with him that the resulting charges seemed unreasonable. I reached out to our always-helpful executive contact at Hertz to find out if her team also agreed.
Kuno Zurkinden booked a discounted one-way rental from San Francisco Airport to Hollywood Burbank Airport. He returned the car to LAX instead and flew home. Well, of course, that changed his contract and the rental went from $795 to $2,881. He says Dollar charged him $1,000 initially for dropping the rental car off at the wrong airport (which he paid). But now he's getting requests from a collection agency for an additional $1,800.

Is there anything that can be done to mitigate this mistake? Thanks!😊🚗

Michelle Couch-Friedman, Consumer advocate
And soon, I received the good news directly from Dollar Car Rental.
Good news: Dollar Car Rental will mostly overlook this mistake
Dear Michelle Couch-Friedman,

Thank you for reaching out to members of our senior leadership team. They have asked that I respond to you on their behalf.

I sincerely apologize for the experience that Mr. Zurkinden had and the inconvenience caused. The rental balance should have been $981. Since Mr. Zurkinden was charged $1,020, I have processed a refund for the difference in the amount of $38.44. Please allow 7-10 business days for the refund to post to the account. Furthermore, we will remove the balance of $1,861 from collections.

Please know we take all customer concerns very seriously, and I want to thank you for allowing us the opportunity to review this matter.

Regards,

***** ****

Dollar Executive Customer Service
The news that his car rental mistake would not end up costing him over $2,000 extra was a great relief to Zurkinden.
Dear Michelle,

That is very good news indeed! I can't thank you enough for your help. This would not have been possible without you.

At the same time, I am also shocked at how consumers are treated by this company. Really, it would not have been possible for me alone to get through to the right people to rectify this bill. That makes me really thankful for your help.

Best, Kuno
We're super pleased that we could help!
Most car rental mistakes are easily avoidable. Here's how
Consumer Rescue receives many complaints from travelers who believe they've been taken for a ride by the car rental companies they've patronized. Many of these pleas for help come from customers who have made mistakes that left the door open for the car rental agency to charge new inflated fees.
Here's how you can avoid making an expensive car rental mistake during your next rental.
Book directly with the car rental agency
Many car rental customers who contact us with problems about increased costs at the end of their rental have something in common: They booked a cheap rate through a third-party agent. That would suggest that making a mistake with your car rental – like returning it to the wrong airport – may be overlooked if you're a loyal customer and booked directly with the company.
Remember, the savings you find on a third-party site might seem appealing, but the savings are usually minimal, and you're typically locking yourself into a nonrefundable and unchangeable deal. You can often get the same or an even better rate by booking directly with the car rental company. And if things go wrong with your rental or if you need to make adjustments, you won't have the barrier of your contract with the third-party provider. It's almost always best to cut out the middleman and book directly with the car rental agency.
Review all details of your car rental booking before confirming
Car rental prices are dynamic. That means the rates can change based on consumer demand from one moment to the next. As a result, you will see many variations in rates and what's included in your rental. Travelers must carefully review all of the details of their rental before booking. Pay close attention to the pick-up and return location, whether or not unlimited mileage is included (See: Warning: your car rental may not come with unlimited miles), and whether you can make changes post-booking.
Return the rental car to the agreed location at the correct time and date
Unfortunately, based on our case files, many travelers aren't aware of this basic premise: You must return the car to the correct location at the agreed-upon time and date. If you don't, a number of things can happen:
Your car rental company is entrusting you with a vehicle that likely costs $30,000 or more. If you don't return it where and when you were scheduled to, you can expect a swift, often legal, response.
Ask the car rental company if you can fix your mistake
If you've booked directly with the car rental company and you realize you've made a mistake with the return location or realize you need to adjust your contract's details, you should be in luck. Contact the car rental company and ask how to fix your contract. You may need to return to a local office to complete the change and sign a new contract. Unfortunately, if you booked through a third-party booking agent, in most cases, you won't be able to negotiate. You will be locked into the original deal, and you need to return the car at the time and place indicated in that agreement — that is, unless you don't mind paying exorbitant additional fees.
Ask Consumer Rescue for help
If you've made a giant car rental blooper, you can submit your request for help to Consumer Rescue. We'll review your details, and if the cost seems outrageously out of step with a reasonable charge for your mistake, we'll do our best to negotiate a fair resolution. (Michelle Couch-Friedman, Consumer Rescue)
Last Updated on September 6, 2023 by Michelle Couch-Friedman