There's something very fishy going on with Eileen Whalen's lost credit card chargeback against bankrupt tour operator Vantage Travel. It's unclear who from the out-of-business company is fighting customer chargebacks for cruises it canceled, but someone is.
Whalen was plunged right into the middle of this bizarre mystery last month. That's when a strange chargeback response allegedly from Vantage Travel caused Capital One to reject her valid credit card dispute.
In that rambling missive, the grammatically and factually challenged anonymous author claimed Vantage Travel hadn't canceled any cruises in September. To add insult to injury, the letter implied Whalen was misusing the credit card dispute process. In summary, it asked Capital One to return the funds to the bankrupt tour operator.
And that's what happened.
Now, a stunned Whalen is turning to Consumer Rescue for help. She wants the $8,723 back that she paid Vantage Travel for a cruise that the bankrupt company definitely canceled. That fact, for anyone following the case, is not in dispute.
The former company sold what little assets it had to Pacific Travel Partners last month for $2 million. Those remnants primarily consisted of a customer list and the Vantage name.
Vantage Deluxe World Travel will never operate another trip. It is out of business. When it filed bankruptcy, its attorney revealed that it owed customers $108 million for trips it could not provide.
There are no employees left, and yet Whalen's strange experience is not unique. Someone is sending nonsensical rebuttals to the credit card companies of the former customers of Vantage Deluxe World Travel — suggesting an alternate reality – that the company isn't out of business.
So, who is behind this campaign to thwart the efforts of credit card-using victims to retrieve some of their lost funds? And why would any bank official accept an unsigned letter without a letterhead as a challenge to a valid chargeback?
That's what Consumer Rescue is investigating today.
Here's Whalen's frustrating tale.
Booking a fall cruise with Vantage Travel… before it went bankrupt
Last October, Whalen and her husband decided to book a fall cruise for this September. They had nearly $6,000 in Vantage Travel credit from a previously canceled trip to Easter Island. Using that voucher and a $3,000 bank transfer, the couple confirmed their river trip through Spain and Portugal.
The total cost of the trip came to over $18,000.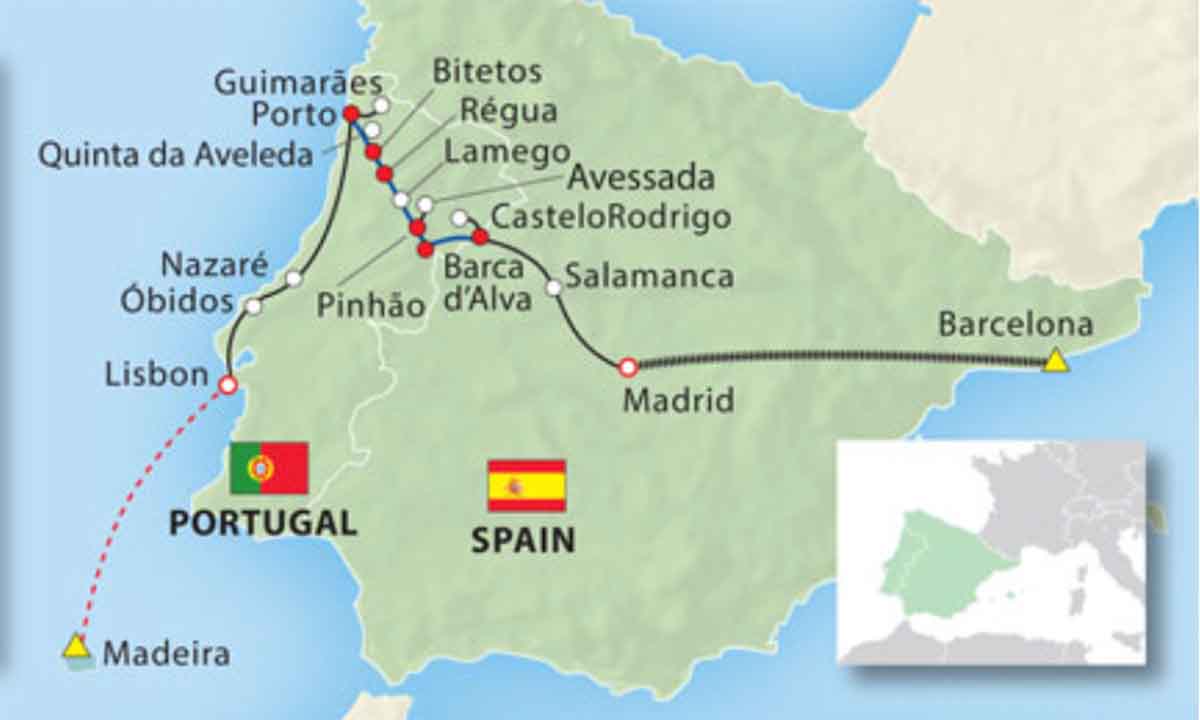 The final payment for the Whalens' trip would come due 120 days before embarkation.
Paying the balance for a cruise that the tour operator will certainly cancel
On May 17, a cheerful Vantage Travel salesperson processed Whalen's $8,729 credit card charge and her trip was now paid in full.
But by that date, there wasn't a chance that Whalen's cruise would operate in September. Vantage Deluxe World Travel was just weeks away from firing all its employees – including that "helpful" salesperson – and declaring bankruptcy.
Whalen didn't know it, but she had just been duped into sending $8,729 to a completely insolvent company. So she and her husband continued to happily look forward to their relaxing European River cruise that would never happen.
Just two weeks later, on June 2, it became clear that something was significantly wrong at Vantage Travel. Although the company didn't admit it publicly, an employee sent me an internal memo confirming that all Vantage Travel tours were canceled through the end of the summer.
There was more alarming news that day. Our executive contact at Allianz, the travel insurance company providing post-departure protection for Vantage customers, confirmed that Allianz had severed its relationship with the tour operator.
Reading the media reports, Whalen suddenly realized her trip – and cash – were both in great jeopardy. But since Vantage was still denying that it was insolvent and had ceased to operate, Whalen held onto the hope that her trip might still be a go.
It wasn't.
Vantage Travel declares bankruptcy, reveals a $170 million debt
For people who have been following the trajectory of Vantage Travel since the pandemic, the bankruptcy announcement wasn't surprising.
But the staggering debt Vantage Travel was able to accrue before going bankrupt was a shock.
All told, Vantage Travel owed customers, creditors, contractors, vendors and others over $170 million when it went belly-up.
When Whalen saw the announcement that Vantage Travel had gone bankrupt, she was saddened, angry and confused — and immediately filed a credit card chargeback.
"I was happy that I had paid the balance of the cruise with a credit card," Whalen recalled. "I knew I was protected for at least some of the trip."
A slam dunk: A credit card chargeback against a bankrupt tour company
The Fair Credit Billing Act (FCBA) protects consumers who use credit cards. If merchants don't deliver the products or services as agreed, the customer can file a credit card chargeback.
During a hearing in U.S. Bankruptcy court on July 5, which I attended remotely, the attorney for Vantage Travel explained that after May 11, the company continued to market and sell tours it knew it would not operate. This appears to have been done to prove to potential buyers of the company that despite all the negative publicity, the Vantage customer list still had value.
Between May 12 to June 20, Vantage salespeople collected an additional $2.1 million from unsuspecting customers for non-existent trips. Whalen was one of those customers.
The sales blitz finally ended when the company blindsided its employees and fired them all on that last day.
Those sales were successful in convincing not one, but two potential buyers to bid on the remnants of Vantage Travel.
But since neither of the companies would be providing refunds this would not help the Vantage Travel customers to retrieve their money.
Vantage Travel offered significant discounts for customers who paid for their trips with a bank transfer, and many took advantage of that offer. But bank transfers don't come with purchase protection and are not covered by the FCBA. So chargebacks aren't an option for those customers.
However, Whalen had paid for a significant portion of her cruise with her Capital One credit card. When Vantage's legal team declared in bankruptcy court that all future trips were canceled, that should have made Whalen's credit card dispute a slam dunk.
But things in this bankruptcy case were about to take yet another disturbing turn.
Who at the bankrupt company is responding to these valid credit card chargebacks?
In early July, Whalen filed her credit card dispute against Vantage. Capital One temporarily reversed the $8,723 while it completed its investigation. The initial letter Whalen received gave the impression that this investigation was simply a formality.

Of course, no bankrupt, out-of-business company whose legal counsel admitted in court that it legitimately owes its former customers over 100 million dollars for trips it will not provide would have the nerve to fight a credit card dispute.
Or would it?
In the case of Vantage Travel, the answer appears to be "Sure. Why not?"
In August, after the sale of the troubled tour operator was already complete, Whalen received shocking news. A Capital One representative told her that Vantage Travel had contested the chargeback, claiming her trip wasn't canceled. The representative read the unauthored letter to Whalen:
We decline this case as the date was initiated prematurely prior to the expected delivery date of September 15, 2023. The buyer of the company assets is expected to continue business operations including certain upcoming scheduled trips.

It is certainly premature to speculate or to reach unverified assumptions as what will occur with future trips scheduled for September 15, 2023. Per the public filing, upon completion of the sale, the company will determine which of the Vantage scheduled but not yet commenced trips.

Purchaser will operate on the scheduled timeframe.

Anonymous
An anonymous letter writer responded to Whalen's credit card dispute against the bankrupt company
The unsigned letter was filled with factually incorrect information.
Pacific Travel Partners bought the customer list, but did not assume the debt of the bankrupt company. It has no affiliation with Vantage Deluxe World Travel — and will not "…operate on the scheduled time frame."
In fact, Pacific Travel has no ships and no scheduled tours. It's a brand-new company being built from the ground up by its parent, Aurora Expeditions.
The anonymous rebuttal that caused Capital One to reject Whalen's $8,723 credit card dispute is a work of fiction. None of it is true. And depending on who sent this, it could be considered a form of fraud. It's no wonder that the author didn't put his or her name to paper.
But Whalen wasn't the only one who received such a letter in response to a credit card dispute against Vantage Travel.
Not by a long shot.
Is this really an invalid credit card dispute?
In our 2,200 member-strong Facebook group dedicated to guiding Vantage Travel customers through this bankruptcy, others have shared similarly bizarre documents. In many of the chargeback responses, the letter writer suggests that the consumer is "gaming" the system, simply by asking for the protection that the Fair Credit Billing Act provides to them.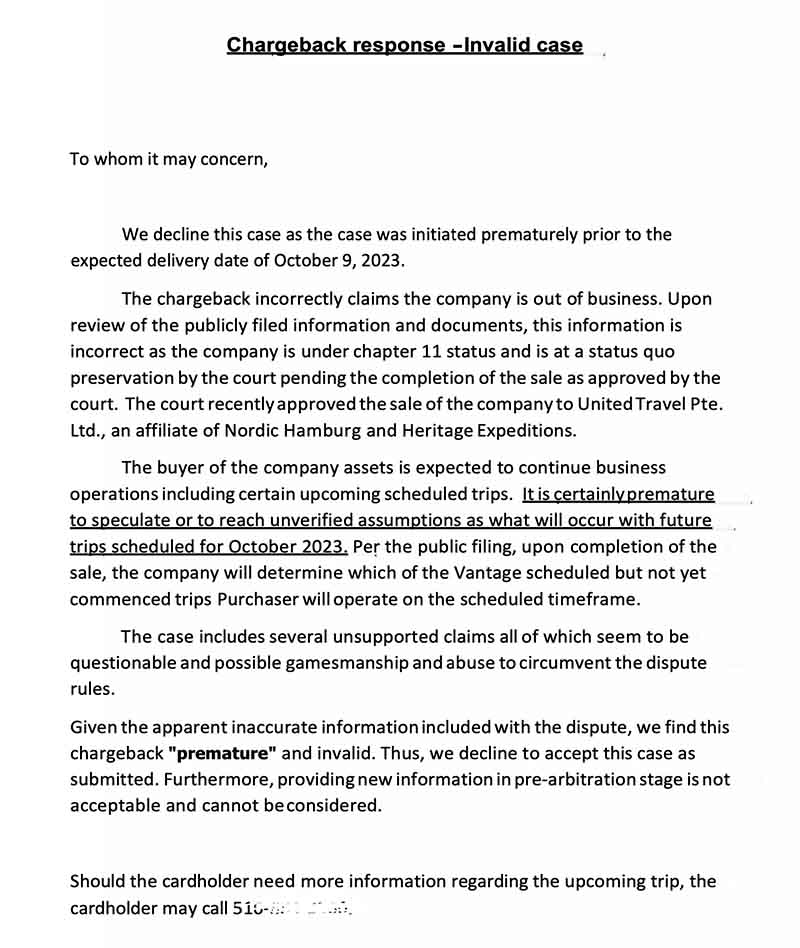 Since some of the chargeback responses ended with a phone number inviting customers to call to discuss their upcoming trip, I called it.
Are you challenging Vantage Travel customer credit card disputes?
The phone number listed on the chargeback response was registered to a woman on Long Island, New York. But when I called, a heavily-accented man answered.
Me: Hello! I'm calling on behalf of Vantage Travel customers. What is your relationship with this company?

Anonymous man: What is Vantage Travel?

Me: Do you work for Vantage Travel?

A: Why are you asking that? I don't know what you're talking about. Tell me more.

Me: Vantage Travel is out of business and owes 108 million dollars to customers. Your phone number is listed at the bottom of some sloppy, unprofessional, inaccurate letters challenging credit card disputes. Did someone from Vantage Travel hire you to fight credit card chargebacks?

A: Hey, what's unprofessional about the letters?

Me: Did you write these letters and send them to the credit card companies? They have factually incorrect information and sound a lot like "Mumbo Jumbo."

A: Who hired you?

Me: I'm a consumer reporter and I'm investigating why someone is challenging valid credit card disputes against a bankrupt company. Why are you doing that and why are you inviting customers to call you about their canceled trips?

My conversation with the person who may be responding to Vantage credit card disputes
Click.
Our call ended when this stranger hung up on me without clarifying anything.
Who changed the letterhead on a Vantage customer's invoice?
Next, I received more evidence that someone was sending fraudulent documents to credit card companies challenging Vantage customers' disputes.
One traveler who disputed charges from a cruise she took with Vantage on its ship Ocean Explorer in March got a surprise when Aurora Expeditions — a company she has never traveled with — seemingly fought her chargeback. (FYI: Aurora did not, but someone did and created a fake letterhead document.)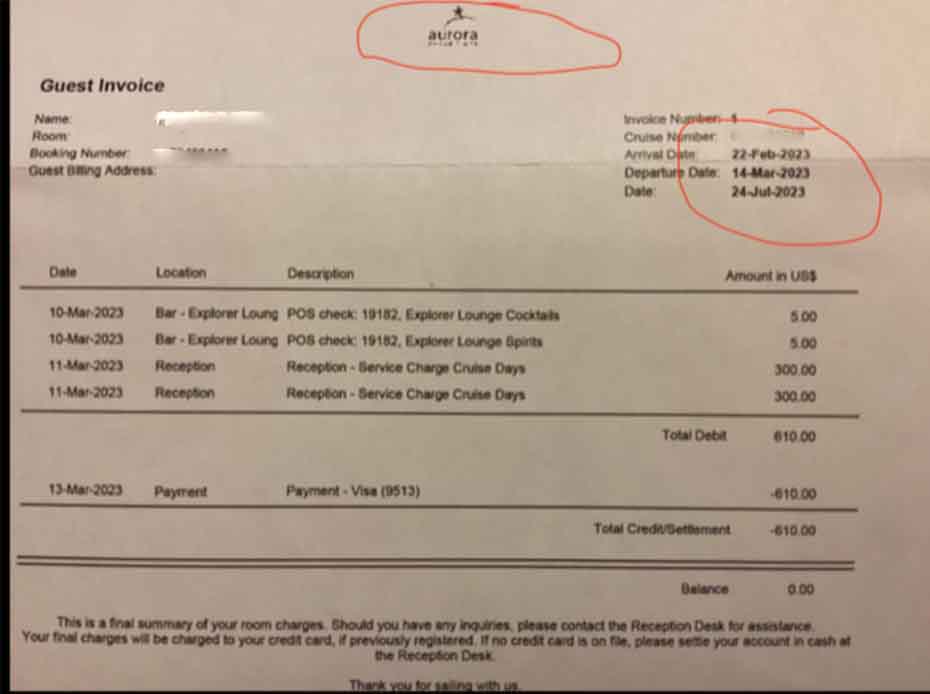 Note: This chargeback is an example of consumer misuse of the dispute process. The traveler tried to chargeback the tips on her cruise long after the journey was over because she suspected that Vantage had not shared the gratuities with the crew.
The FCBA doesn't allow for consumers to file disputes based on rumors or subjective opinions of a service. Filing a chargeback because you didn't like a meal at a restaurant, didn't enjoy a cruise excursion or suspect that your money didn't go where you wanted it to go, is not only incorrect, it is considered "friendly fraud." Consumers have been banned from cruise lines and other businesses for disputing charges for services that were in fact delivered.
But whoever fought this credit card dispute is committing a different type of fraud. There is no reasonable explanation why the Aurora letterhead has been pasted into a Vantage Travel invoice and sent to a credit card company to fight a chargeback.
Asking Aurora Expeditions to have a look at this document
I sent this document over to Aurora's chairman and to its legal department for review.
Both confirmed this document did not come from Aurora and that the company is not contesting any credit card disputes for bankrupt Vantage Travel.
The lead attorney for Aurora contacted the same person I had previously called in New York. He asked the stranger about his identity and his affiliation with the former company. That conversation ended in the same way that mine had. The anonymous person would neither confirm nor deny being the letter writer.
Then he hung up.
Will Capital One approve this credit card chargeback against Vantage Travel?
But let's get back to Whalen's credit card dispute.
I asked Capital One to have a closer look at the rebuttal it had received challenging her Vantage Travel chargeback.
Hi ****,

Your credit card customer, Eileen Whalen, was caught up in the Vantage Travel bankruptcy this summer. I have been reporting on this case for quite a while now and have attended all the bankruptcy hearings. Here are the details:

On May 17, 2023: AFTER this company already knew it was going out of business and had all of its ships repossessed, a Vantage salesperson took her final payment of $8,723 via her Capital One credit card for a trip scheduled for Sept. 2023 . Eileen had no idea of the problems at the company.
On June 20: The company fired all of its staff.
On June 29: Vantage Travel lawyers appeared for the first time in U.S. Bankruptcy court in Boston and revealed that it was 170 million dollars in debt — including 108 million owed to customers.
On Aug. 8: After a bankruptcy auction, the remnants of the former company were sold to Pacific Travel Partners — a brand new company with no ships or employees, which is only interested in the customer list to build a new company over the years.
On Aug.18: The sale closed. Vantage Travel no longer exists.

As the Fair Credit Billing Act allows, your customer filed a credit card dispute based on "services not provided as agreed." However, your customer service representative denied Ms. Whalen, telling her that this bankrupt company fought the chargeback, claiming it might still operate the tour. That "rebuttal," which was read to Eileen over the phone by your customer service agent, was unsigned and contained grammatical and factual errors — and since this company did not have any employees after June 20, it's unclear where it came from.

The bottom line is that Vantage Travel went out of business and took 108 million dollars of consumer money with it. Most of those customers didn't use a credit card, so they are out of luck, unfortunately. But your customer did use her Capital One credit card, and she's asking for the protection that the FCBA provides for her in this case. Her chargeback should be approved. Can your team have another look? Thanks!

Michelle Couch-Friedman, Consumer reporter and advocate
Good News! This credit card dispute is approved
Soon, Whalen received the good news.
After having another look at all the details, the Capital One executive team agreed that something went wrong with this case. Whalen's credit card dispute was approved, and the $8,723 was permanently returned to her.
Per the purchase agreement confirmed in the bankruptcy court, Whalen will receive the balance of what she paid for the canceled cruise in the form of a travel credit with the new company. You can read all those details here:
As for the letter writer, he remains anonymous. But that person is still busy challenging Vantage Travel customers' credit card disputes — and Consumer Rescue is still busy fighting his efforts.
If you're a Vantage Travel customer who believes your credit card dispute was denied in error, send your request here. We'll do our best to help you too. (Michelle Couch-Friedman, Consumer Rescue)
*Before you go: For more information about how to get a refund from a bankrupt cruise line, see our guide.