Attention Vantage Deluxe World Travel customers: The news isn't good if you've got a trip planned with this tour operator. The unfortunate reality is that you might not be going anywhere.
Since the beginning of the pandemic, my consumer advocacy team has been fielding a heavy volume of Vantage Travel complaints. But recently, the number of pleas for help from customers of the troubled tour operator has skyrocketed.
On April 21, things went from bad to worse. That's when the Vantage Travel website suddenly went offline, and its phone system stopped working. Simultaneously, the administrator of the tour operator's Facebook page disabled commenting.
But not before angry Vantage Travel customers began sharing disturbing stories of canceled cruises and missing refunds.
Why did the Vantage Travel website go dark for a week?
Many Vantage Travel customers are reporting that the company has canceled previously paid-for cruises, tours, hotels, and airline tickets. American Airlines, United Airlines, and Lufthansa have alerted some surprised would-be passengers that Vantage never paid for their airline tickets.
Vantage Travel says that the reason its site went down, its phone numbers aren't working, its currently sailing ships aren't able to dock in various ports, AND the reason it hasn't been able to pay the hundreds of thousands of dollars it has owed to a long list of customers since 2020, is because of a data breach that occurred in April 2023.
To this consumer advocate and reporter, the latest turn of events is ominous. I have reviewed hundreds of Vantage Deluxe World Travel complaints during the past three years. I know how many customers are waiting for substantial refunds — a great deal of these refunds are in the $20,000 – $30,000 range. For those on that list, things are looking grim.
Here are some of their troubling tales. Have a look and decide for yourself what's happening at Vantage Deluxe World Travel.
Could Vantage Deluxe World Travel right its ship?
As the pandemic restrictions began to significantly lift early last year, Vantage Travel seemed to be righting its ship. Refunds began to slowly but consistently appear.
Last December, over at The Points Guy, I reported on my efforts to get Vantage Travel to finally pay the $7,443 refund it owed Sethu Krishnan. He had been persistently pursuing his cash for over two years. When I received his complaint, I was hopeful that I could bring a quick and successful end to his lengthy battle.
At the time, Vantage Travel had assigned a helpful, friendly, and communicative executive to resolve as many complaints as possible from our advocacy team. The good news came for Krishnan very quickly, and he soon had his long-awaited refund.
As a result of that article, a tsunami of additional complaints about Vantage Travel hit my inbox. As I began to tackle these cases, I had great optimism. It seemed that 2023 could be the year that Vantage returned to its former pre-pandemic status of a trustworthy provider of deluxe travel.
Bad idea: A travel insurance policy administered by Vantage
After Krishnan came Dennis Mould, another traveler who asked for help when his efforts to get Vantage to pay his $10,598 refund had turned futile. His case added a new twist I hadn't seen previously.
The Moulds had wisely purchased travel insurance for their luxury cruise. They were under the impression that they had protected their journey through Allianz, a well-trusted travel insurance provider.
When Mould's wife suddenly needed heart surgery, the couple was forced to cancel their Vantage cruise through the Greek islands. The Moulds were relieved when Allianz swiftly approved their $10,598 travel insurance claim.
However, the relief was short-lived when they learned an unfortunate truth about that policy.
Vantage Deluxe World Travel had sold the couple a pricey travel insurance policy in which Vantage itself was the administrator of the "waiver product" part of the policy. That meant that Allianz would review and approve the cancellation claim, but Vantage was responsible for paying it.
Mould soon found himself on that long list of customers waiting for a refund from Vantage.
I reached out to our helpful executive contact at Allianz about the Moulds' approved travel insurance claim.
Hi Michelle,

I checked with our claims team and they let me know that the cancellation product purchased by Vantage customers is a waiver product. The cancellation portion of the waiver product is offered and administered solely by Vantage. The waiver also includes post-departure benefits such as those for medical emergencies. Those post-departure benefits are offered and administered by us.

While we do adjudicate all claims for Vantage, we do not provide payments for cancellations. Once we approve a customer's cancellation claim, it is their responsibility to provide the refunds their customers may be entitled to.

Allianz spokesman
The Allianz team reached out to Vantage Travel. They gave the company a reminder about the need to pay the couple's insurance claim.
Mould got lucky. After this nudge from Allianz, his $10,598 claim suddenly rose to the top of the refund list.
"I don't know how you did it, but sometime yesterday, I received a bank transfer [from Vantage Travel] for a full cash refund," Mould told me. "I can't thank you enough. We've been attempting to gain some satisfaction for four months, you did it in seven days."
Thanks to the Allianz team, Mould can focus on helping his wife recover instead of worrying about fighting with Vantage.
But as I dug through the ever-growing pile of pleas for help from Vantage Travel customers, my previous optimism about the tour operator's recovery quickly evaporated.
Another travel insurance policy administered by the troubled tour operator
When Shere Delafranier and her husband Leo booked a bucket list Nile River Vantage cruise in 2019, they could hardly wait. For the next several months, the couple looked forward to their dream trip, scheduled for October 2020.
But then Leo began feeling unwell and was diagnosed with an aggressive form of cancer. Just days before the pandemic would shut down the entire cruise industry, the Delafraniers canceled their much-anticipated Egyptian adventure.
The couple had purchased TripMate insurance through Vantage, and their claim was soon approved. Unfortunately for the Delafraniers, as in Mould's case, Vantage Travel would be responsible for the payment of the $11,540 insurance claim.
Nearly three years later, Delafranier, now an elderly widow, is still waiting for Vantage to pay the claim.
"My mother needs this money to live on," Delafranier's daughter told me. "I don't understand how Vantage Travel can get away with this."
Like the previous two cases, I hoped to be able to quickly put an end to this Vantage customer's wait.
Some bad news for Vantage Travel customers waiting for a refund
But then I received some bad news for all Vantage Travel customers.
The helpful executive who had for several years pushed through many refunds for the customers our advocacy team brought to him was leaving this position at Vantage. After some cordial introductions, it became clear that his replacement was not cut from the same caring cloth.
Since this changing of the guard at the company, none of the Vantage complaints that we've received have been resolved. Communication between my team and the Vantage team has ceased. In fact, last month, we received notification that our email addresses weren't approved to be delivered to this new contact. But not before I sent Delafranier's troubling case to her.
The new Vantage executive in charge of facilitating refunds assured me that her team was looking into why it hadn't processed Delafranier's refund.
And that was the last time I heard from Vantage Deluxe World Travel about any cases.
Multiple follow-up requests for Vantage to pay the widow the $11,540 it owes her have gone unanswered — including one to the founder of Vantage and one to TripMate asking if it could help.
Today Delafranier is still waiting for Vantage to pay that refund – three years after all parties agreed the money is owed to her.
Vantage continues to refuse to give any explanation as to why it still has her money.
May 7, 2023 update: A big refund for one Vantage Travel customer
As often happens after we publish an article about a company's bad behavior and the court of public opinion begins to weigh in, there's been a happy development in Delafranier's case.
Yesterday, she got a pleasant surprise when she opened her mailbox. The long-awaited refund from Vantage Travel — the one she thought she would never see — had arrived. The envelope contained no apology or explanation for the three-year delay, but that made no difference to Delafranier. She's just relieved to finally be able to put this awful battle behind her.
Hi Michelle,

I wanted to let you know my mom FINALLY got a check in the mail for her refund!!

My mom cried when she opened her mail. She had gotten an email asking her to verify her address but was wary the check wouldn't show after all the previous empty promises.

I hope all your other refund cases get resolved quickly now. It's mind boggling how many people they have done this to.

Thank you so much for all your help with this! I truly appreciate it and feel that we would not have gotten her money back if it weren't for your help!

Chelsea (Delafranier's daughter)
"Please allow us to see the human side of Vantage Travel once again!"
When Michael Meyer's wife took a terrible fall earlier this month, the couple knew that meant the end of the plans for their Vantage European river cruise, scheduled for this June. As his wife was recovering, Meyer tried to take care of the cancellation details with Vantage.
"I called and spoke to a Vantage agent and explained that we weren't looking for a refund," Meyer explained to me. "We just wanted to reschedule for next year for the same cruise."
But to Meyer's surprise, after his phone call with the Vantage agent, he soon received notification that he should file a travel insurance claim with TripMate.
I immediately sent an email to Henry Lewis, the founder of Vantage Deluxe World Travel. I was desperate and I explained that my wife took a terrible fall. My hope was that I could appeal to his sense of human compassion.
As others before Meyer discovered, most emails to Lewis go unanswered at this time. Instead of the compassionate response he expected, Meyer received a summary of his cancellation.
Lufthansa hasn't received payment for the airfare
Meyer then reached out to TPG for guidance, and his request for help landed on my desk.
Two problems immediately became clear. The trip insurance policy Meyer held was issued in 2019. That $2,198 policy has been discontinued since late 2020, but Vantage applied it to a trip in 2023.
TripMate accepted the claim for review to determine if the couple has coverage protection for the cruise and ground portion of the trip – $14,400. But as we've already determined, the pre-departure cancellation waiver product of the claim, if valid and approved, will revert back to Vantage for payment.
Meyer had purchased his nearly $8,000 refundable business class airfare to Europe on Lufthansa directly through Vantage. I hoped that we could at least provide some relief to Meyer and get the refund of the airfare in process.
But when I checked with Lufthansa, I (and Meyer) got a surprise – the tickets for the flights were never issued. The airline was still waiting for payment by Vantage Travel — the airline had nothing to refund.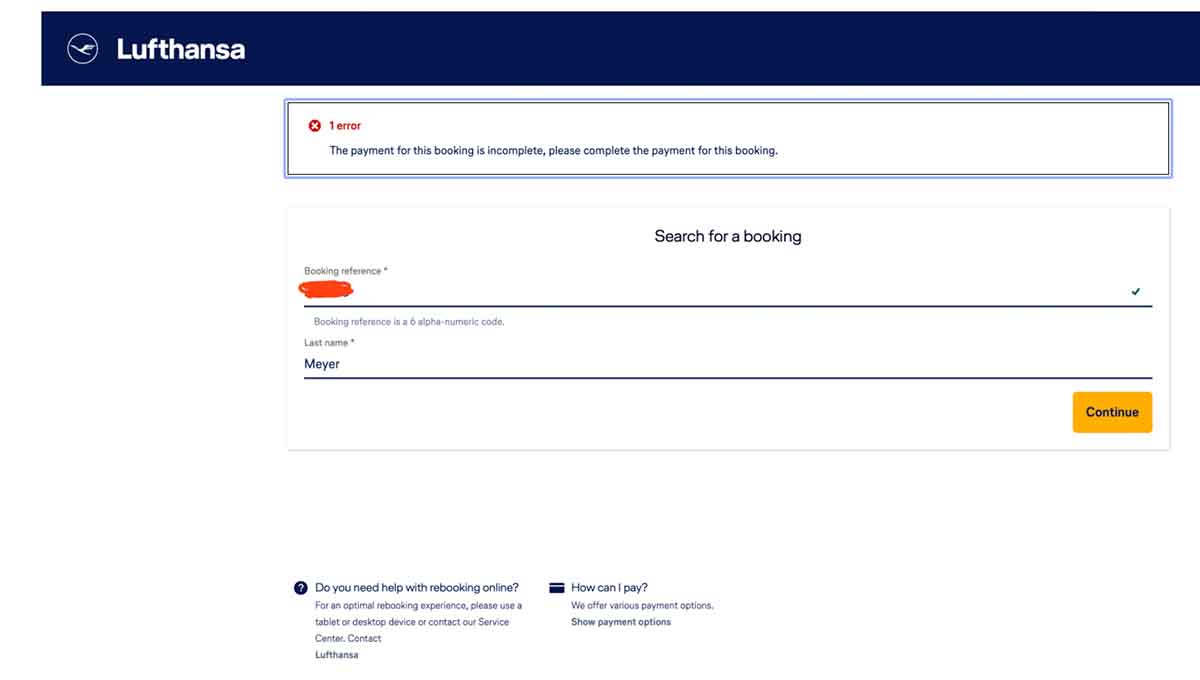 Meyer was stunned. He had long ago paid Vantage for those Lufthansa tickets.
Can the Fair Credit Billing Act help?
The Fair Credit Billing Act allows credit card using consumers to dispute charges when a merchant has not provided the goods or service as agreed.
If a tour operator charges a traveler $7,362 for business class flights but never pays for tickets, this qualifies for a credit card dispute. I advised Meyer to provide this information to his credit card company ASAP.
He did and there is now an active credit card dispute investigation about this charge. Vantage will have 30 days to respond and explain itself. If that doesn't happen, Meyer will win the dispute and get his money back.
Something tells me that Vantage will not be fighting this credit card dispute.
Meyer is currently waiting for the determination from TripMate. But if his claim is approved and must be paid by Vantage, he'll likely be waiting a long time for that refund.
Paying Vantage Travel $66,000 for a cruise and then… tragedy
Maureen Bova's request for help came in the same wave as the others.
She and her husband had planned a $66,000 bucket list adventure with Vantage Travel set to begin in October 2022. Unfortunately, just before the couple's journey, Vantage gave them some bad news.
It was a new ship, Ocean Odyssey, and [Vantage explained that] due to Covid and supply chain issues, the first two legs of the cruise were cancelled [by Vantage]. This occurred early October 2022. We were then scheduled to start our trip November 17th.

Maureen B
As the couple readjusted their plans and prepared to begin their trip in mid-November, the unthinkable happened. Bova's husband was diagnosed with ALS — and it began rapidly progressing. There was no way the couple would be able to proceed with the trip and she alerted Vantage Travel.
Bova and her husband had insured the trip with Allianz via Vantage… so you can probably predict where this is going. Allianz quickly approved the claim and Bova expected to receive her money back. Vantage Travel acknowledged that it owed her the refund and representatives repeatedly thanked her for her patience. But they admitted they had no idea when the payment would be processed.
Over the course of several weeks, Bova pleaded with Vantage to process her refund. Her husband's unexpected catastrophic illness was expensive and her family needed the $66,000 to pay bills. But her pleas fell on deaf ears as cheerful Vantage representatives continued to remind her of the terrible impact the pandemic had on the cruise industry. According to Vantage agents, the company was "doing the best we can" to process refunds.
When I read through Bova's paper trail, I hoped that an AI chatbot had written the responses she received to her pleas. Only a heartless human could have responded so coldly to Bova's emails.
This was especially true after Bova's husband died in January 2023.
Please! We payed over $66,000 total for this trip. My husband passed away on January 14, 2023. ALS is an expensive disease and I have been trying to get an idea of when we can expect our refund and all I get is [repeated thank yous for my patience]

Maureen B to Vantage Travel
But true to form, the Vantage Travel representatives had emotionless responses — not even condolence for Bova's devastating loss.
Hello Maureen,

The answer remains the same as when I responded to your email asking for a time line on 1/18/23. There are no new updates.

Warm Regards,

Courtney (Vantage Deluxe World Travel customer service)
Warm regards? There was nothing warm about those regards. In fact, this Vantage Travel agent sounded irritated that Bova had the gall to send an additional email after her husband died.
Now Bova joined that long list of Vantage Travel customers waiting for refunds. Today, her $66,000 remains in the hands of Vantage.
More customers report that their flights have been canceled by Vantage
Last week more Vantage customers reported that their previously confirmed flights have been canceled.
Just days ago, Liz S. sent a troubling summary of her experience. She and her friends have been trying unsuccessfully for years to reschedule a cruise that Vantage canceled in 2020.
Liz says that she asked for a refund at the time of the originally canceled cruise. Vantage pushed back and told her that the trip wasn't canceled; it was only "postponed."
That is a Vantage twist of the meaning of the word "cancellation" that I spoke about on ABC News way back in 2021.
Like thousands of other Vantage customers, Liz was faced with no other choice but to rebook… and rebook… and rebook again.
That leads us to the situation in April 2023.
Our latest rescheduled trip was to start on Apr 25, 2023. Vantage had scheduled our flights with United and I had confirmed on the United website the confirmation number and seats earlier.

On Apr. 22, 2023, I went on United's website to review our flight reservation for some additional information and found out that our flights to Europe had been canceled on April 18, 2023, by Vantage. We immediately tried to contact Vantage. It appears that they have taken down their website and they are not reachable by phone. We have not been notified by Vantage, but it appears that the company has stopped operating.

We also had trip insurance for the trip, but the insurance company informed me yesterday that this situation is not covered.
Now Liz and her friends have been added to the enormous list of Vantage Travel customers who are owed a refund from the troubled tour operator.
Filing a chargeback for a Vantage cruise deposit owed
Then I received a request for help from Jane McGrath.
We canceled a wait-listed trip with Vantage Deluxe World Travel. A few days later, a member of Vantage's "Yield Management Team" called and verified that we are due a $5,586 refund. But then we received an email from Vantage that said their team had no idea when they would be able to process the refund.
The good news for McGrath was that she paid for that deposit with a credit card. Vantage owed her a refund. It provided that information in writing and it had been over 90 days since it promised that refund. I gave her the same guidance as I offered to Meyer.
McGrath soon had good news for me as well. She had "won" the dispute. Her credit card company had retrieved the $5,586 refund from Vantage Travel.
Hi Michelle,

[The credit card company has permanently] credited our account!!!! Thanks for your suggestion and support.

We would not have been brave enough to do this [credit card dispute] without your suggestion.

Best, Larry & Jane
And the team here at Consumer Rescue couldn't be happier to hear this bit of good news!
What to do if Vantage Travel canceled your trip and owes you money
So what can you do if you are one of the unfortunate consumers waiting for giant refunds from Vantage Deluxe World Travel? There are a few things depending on how you paid, when you paid, the trip insurance you purchased, the state you live in and what Vantage does next.
Here's what you need to know about how to get your money back from Vantage Travel.
File a credit card dispute
If you paid Vantage for airfare, hotel or cruise expenses with a credit card, which it has canceled or not paid for, you may be able to breathe a sigh of relief. The Fair Credit Billing Act protects consumers who use a credit card for purchases. If a merchant fails to provide the service or commits outright fraud, your credit card company can reverse the charge and investigate. The merchant has 30 days to respond to the claim. If it doesn't respond within those 30 days, you will win the dispute and the credit will become permanent. At this point, it is highly unlikely that Vantage will challenge any valid credit card disputes.
Appeal to your state's insurance board
If you have an approved travel insurance claim that Vantage hasn't paid, your state's insurance regulator may be able to move things along. That agency is responsible for making sure insurance providers are paying claims in a timely manner. You can find your state's insurance regulator here.
Consult with an attorney
As some of the claims against Vantage Travel are in the mid to high five figures, consumers may wish to consult with an attorney to determine the absolute best way to approach this terrible situation. Your state's bar can recommend an attorney who can guide you. Contact the American Bar Association to find your state's bar.
Will travel insurance covers insolvency? (June 29 bankruptcy update)
Update: On June 29, 2023, Vantage Travel filed for Chapter 11 bankruptcy protection and announced it had a buyer for whatever assets it has left (United Travel Pte. Ltd., an affiliate of Nordic Hamburg and Heritage Expeditions).
If a tour company, cruise line, or airline ceases to operate, and you've got a trip planned with it, you'll want to check your travel insurance policy to see if it covers insolvency. Unfortunately, many Vantage customers purchased their insurance through Vantage, and those policies won't protect the customer if the company is unable to pay its bills. (See: How buying travel insurance from a tour operator could be a $20,000 mistake.)
If you've purchased third-party travel insurance for your trip, check your policy or call your insurer to find out if you're protected in this way.
Does your state have a Seller of Travel restitution fund?
A limited number of states require Sellers of Travel to pay into a restitution fund that will protect travelers from a company's insolvency. In order to operate in a state with such laws, the travel provider must register and pay into the fund.
If your state has such a rule, you may be able to recoup some of your money through that fund. Contact your state's attorney general to find out if this applies to you.
Editor's note: A previous version of this section noted that Vantage is a registered Seller of Travel in California, where there is a restitution fund. Unfortunately, while that is true, because Vantage is headquartered in Massachusetts, it hasn't paid into the restitution fund. Out-of-state Sellers of Travel must pay into California's restitution fund only under certain conditions.
Join the bankruptcy class
The longest and least likely path to get your money back from a bankrupt tour operator is through court. Unfortunately, consumers are always the last "creditors" on the list for repayment during bankruptcy proceedings. But something is better than nothing. So should Vantage Travel file for bankruptcy, you'll want to make sure you're on that list.
The bottom line
Unfortunately, the Vantage customers you've just read about today represent a tiny fraction of the cases which are sitting in my advocacy folder entitled "Vantage Deluxe World Travel owes these customers lots of $$$." This folder is growing in size by the day as the future of Vantage is unclear.
Today the Vantage website is live again with limited functions. But its call center remains closed. It has now enabled commenting on its Facebook page on one post. That post has hundreds of comments and shares. There you can read many similar tales from bewildered, formerly loyal Vantage customers.
It's not hard to guess that this company owes refunds in the high six-figure, probably seven-figure, range. That's just what it owes its customers. There's no way of knowing how much the company might owe to other creditors.
Hopefully, Vantage Travel will somehow recover from this latest event — whatever this event actually is — for the sake of all those customers who have been waiting and waiting for their money. But that remains to be seen. (Michelle Couch-Friedman, Consumer Rescue)
*June 2, 2023 update: Vantage Travel canceled my cruise. What can I do?
*June 20 Vantage Deluxe World Travel update: At just after 9 a.m. today, I began receiving messages from Vantage employees who attended a meeting this morning and were informed that the entire team was being laid off. The offices are now closed without any explanation from the company. I will continue to update as I learn more.
*June 29, 2023: Vantage Deluxe World Travel filed for Chapter 11 bankruptcy protection today and announced a buyer has intentions of buying its assets in those proceedings.
*July 16, 2023: Vantage Travel is bankrupt: Here's what customers need to know
Aug. 20, 2023: Vantage is sold. Here's what it means to customers
---
*Before you go: Could a cruise line cancel your entire cruise based on a $112 unpaid ground transfer offered by a third party? NCL says it can. That didn't seem right to Consumer Rescue!
Last Updated on August 20, 2023 by Michelle Couch-Friedman