Zelle users, beware: Scammers are aiming their sights right at your bank account. It's true – the money transfer service has quickly become the preferred method of thieves everywhere looking for instant cash. In fact, we receive daily pleas for help from bewildered victims of these Zelle scams.
Here are six of the latest Zelle scams that you need to know about now.
1. The "buy a cute puppy or kitten with Zelle" scam
During the pandemic, pet scams have been on the rise. Virtual breeders, who aren't actually breeding anything but scams, have set up shop on the internet. There they use stock photos of cute puppies or kittens to lure their victims. Once the thief has hooked the victim, they request a deposit via – you guessed it, Zelle – to hold the new furry friend.
But that's just the beginning of this scam.
Regular readers of my column may recall Maria Witrod, who was hit hard by Zelle scammers selling a nonexistent puppy. First, the thieves charged her nearly $1,000 for the dog. After that payment went through, the fake breeder asked for another $1,000 to cover a pressurized shipping crate. Next came an additional request for cash to cover insurance. And so it went until Maria ran out of money, and the scammer finally disengaged. Of course, the puppy never materialized, and Maria learned a terrible lesson about Zelle: if a user makes a mistake and sends money to someone who turns out to be scammer, the company will not reverse willingly-made transactions.
There is no puppy or kitten. This is a Zelle scam!!
But she isn't alone. Since we published that article, we've received many more similar cases. Elizabeth Hernandez was browsing a Facebook group when she saw the cutest Cavalier King Charles puppy for sale.
I was searching to buy a Cavalier King Charles spaniel puppy, and I came upon this Facebook page. I looked at their reviews section. There was even one review about the breeder's honesty and that the buyer got their puppy. So I decided to message them. Once I got more information, I knew I wanted one of the puppies. But I talked to my family first since each puppy was $1,200. We decided to buy one, and the seller told me that it would be delivered the very next day.
Her story turned out no better than Maria's.
The next day as Elizabeth was eagerly waiting for the express delivery puppy, she received unexpected news from the "breeder." There were many previously undisclosed fees that she would need to pay right away.
He told me that the pet nanny picked up the puppy and even sent me a picture of the travel crate. BUT then he said that I would need to pay $200 for city permit and $300 for traveling insurance fee both refundable once puppy was delivered. I sent the money though Zelle again but to a different number. Later that day, I get a text saying the State of Texas is requiring two vaccines for the pup so I paid $250 for the vaccines and vet service to yet another number. Then next day came, and apparently the puppy had a penalty, feeding, and delay charges of $250 so I paid one more person through Zelle. Then, the puppy needed to be on hold due to the vaccines and I had to pay $500 refundable for that to this guy — ***** — thru Zelle.
In fact, by the time this nonsense was all over, Elizabeth had sent the scammers nearly $5,800 through Zelle. And the end result? A drained bank account and, of course, no puppy to show for it.
The bottom line: These scams happen fast. The scammer relies on keeping you off-kilter. They may tell you that others are interested in the same puppy to create a now-or-never sense of urgency. Don't let fake reviews trick you — ask for contact information of previous customers. Better yet, never commit to buying a puppy or kitten from a stranger on the internet who wants you to pay for it via Zelle. It's a scam 100 percent of the time. Instead, consider visiting your local pet shelter. There you'll likely find many needy animals that would love to become your family's new best friend.
2. No, you aren't going to get rich. It's a scam
Lately, a new Zelle scam has come over the horizon. This one plays on the victim's desire to get rich quickly.
Kai Chang was scrolling through Instagram when she saw a post from her friend.
There was a casual friend's Instagram account that posted a video of how she makes money. She recommended that I talk to this person on Instagram. Then that person contacted me directly. Since my friend was suggesting the deal, I fell for it. I sent over $500 via Zelle from Capital One. This lady promised $5,000 back by the end of the day. Then she started to ask for more money. First, a $999 release fee. I said I don't have that type of money. Then she asked me to send over what I had, and they would take (the rest) out of the investment's payout. She said the more I invested, the more I could make by the end of the day. So I sent another $600. Then they asked for another $1,500…
Finally, starting to realize that she was involved in a scam, Kai asked her new Instagram friend to send the money back via Zelle. She told the scammer that she no longer wanted to be involved.
But then there were some unusual terms to cancel the deal.
"She told me to take a video and photo of myself with a pile of money and say I made it using this scheme," Kai explained. "I didn't have any money to do that. But I did film a video and said this scheme worked for me. I was desperate to get my money back."
Unfortunately, even though Kai caved to the blackmail tactics, she didn't get her money back. And when she complained to Capital One that scammers had taken her money using Zelle for a nonexistent "day trade," the bank declined to pursue her case.
As it turns out, Kai's friend's account had been hacked. The scammers had posted the testimonials to her account themselves.
The bottom line: Do not use Zelle to invest in anything – especially a "get rich quick" scam you find scrolling through Instagram. No legitimate investment pays ten times over in one afternoon. And no legitimate investment company will ask you to pay via Zelle. And make sure you warn your children and grandchildren of this scam because this one originates on Instagram, so it tends to aim at a younger, more naive victim.
*I sent this case over to Facebook, the parent company of Instagram, for their trust and security team to review all account holders involved in this particular Zelle scam. Instagram declined to comment.
3. The fake "items for sale" scam
There are many online platforms today where consumers can buy things from each other. For the most part, these consumer-to-consumer transactions aren't regulated by anyone. So the rule of the land is "buyer beware" because all types of scammers hunt on those grounds.
Anthony Quarm thought he had done his due diligence when he fell victim to a scam via Twitter.
A Twitter account that has been around since 2014 and has over 80,000 tweets made a post stating that the first few people to respond to their tweet would be selected to purchase a PlayStation 5. As I'm looking for one for my kids, and I happened to be on their page right when the post went up, I replied. They immediately messaged me.
Anthony was on the hook.
He couldn't believe his luck when the Twitter account told him he had won the ability to purchase the coveted PlayStation 5. When he asked how to seal the deal, the scammers told him to send the $549 payment via Zelle ASAP.
Not wanting to lose out, Anthony quickly completed the transaction. But when he asked the previously friendly, anonymous person what the next step would be, he got an unpleasant surprise.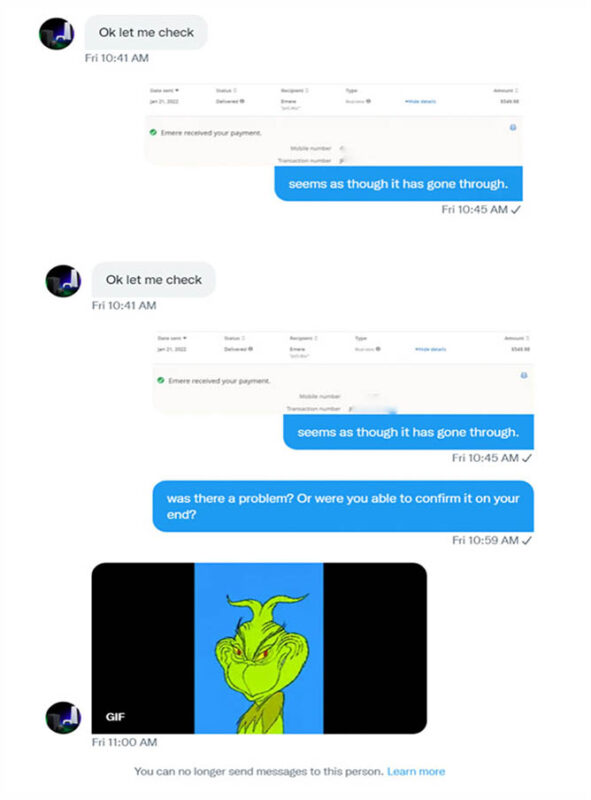 This scammer got right to the point, in a somewhat comical way — sending a photo of the Grinch. Then he blocked Anthony.
Hook, line, and sinker.
"I asked the bank for help, and as you've pointed out in your articles, they said they can't help," Anthony lamented, "I thought I had done the proper research. I want to warn others."
The Bottom line: Don't go shopping online for high-ticket items from unfamiliar sources that aren't readily available elsewhere. Remember, if the deal sounds too good to be true, it probably is. And if the seller/scammer wants you to pay for it with Zelle immediately, then you can be sure it's too good to be true.
4. The Zelle scammer pretending to be your bank
One of the most devastating Zelle scams today hits the victim entirely by surprise because the scammer presents himself as the bank.
Debra DeBiase was at home minding her own business when someone called her from "Chase." Under the pretext that Chase was trying to protect her account from a scammer, the person gave her some instructions that strangely involved Zelle.
This guy called saying he was from Chase. He said he had an urgent warning. Someone took $4,500 from my account and I needed to reverse it right away. He told me to use Zelle and send myself $4,500. The person pretending they were from Chase said the bank would reverse it back to me. I was skeptical at first and didn't really understand. I asked how I could know for sure that he was from Chase.

He told me to check the number he was calling me from and see that it matches the back of my Chase card. It did. So I sent the $4,500 to "myself" (the account he told me to send it to). He hung up and that was it. My money is gone.

That was all the money I had there, and I have no money to pay my bills or buy food now. I went to Chase right away and spoke to a high level supervisor. They told me it's not in their policy to give my money back. I am beyond upset.
Unfortunately, this is true across the industry. If you willingly send money to a scammer via Zelle, the banks will not reverse the transaction. You will likely need to hire an attorney familiar with banking law. (Here's how to find your state's Bar Association for a recommendation.) You should also file a complaint with the FBI's internet crime unit.
The bottom line: Scammers can make virtually any number they like to appear on your caller ID. You should pay no attention to the name and number shown there. Remember, your bank will not ever ask you to send money to yourself via Zelle – but a scammer will. Never send instant money anywhere on the urging of an anonymous stranger on the phone. Hang up the phone and don't give it a second thought – much less any money – it's a scam.
5. Pay to get supplies for your new job
Last summer, Sam Erin discovered the dangers of Zelle and other cash apps during a job search via Linkedin. When she landed what she thought was a dream job, working from home, her new employer had good and bad news.
"Because of the pandemic, they weren't able to send my supplies," Sam recalled. "As part of my new job, I would get a free Macbook. But I would have to buy it with Zelle."
Huh? Yes, that should have been the point when Sam turned down this "perfect" job offer. But she was desperate, and this employer was willing to pay $20 an hour for her to work from home during a pandemic. So she continued to follow the instructions of her new boss, who, strangely, only wanted to talk via text.
He told me he would be sending me a check, and I would need to deposit it into my bank. As soon as the bank allowed the funds to be available, I should buy my supplies. But I had to use their vendors, and the only payment they accepted was Zelle or Cash App.
Within a few days, she received the promised check and deposited it into her bank.
FYI: This scam, like others involving checks, depends on the bank making the funds available before it discovers the check is bad. If the customer has a good banking history, that will quickly happen. (See: How to quickly lose $1,100 in the Walmart Mystery Shopper scam.)
Sam had a good banking history.
Soon the funds were made available, and the scammers urged Sam to make nearly $9,000 in purchases via Zelle. Of course, these purchases had to be made at her new employer's preferred vendor. Then that "vendor" would ship the (nonexistent) supplies to her home.
While Sam was waiting patiently for her supplies that would never arrive, the bank discovered the check was fraudulent. They removed the $9,000 from her account, and the money she spent on the fake supplies came out of her own savings. Shocked, she called her employer for help, only to find that the scammers had closed up shop and taken her money with them.
Chase gave Sam the same answer as the others — Zelle transactions are final. She also received a stern warning from the bank about depositing fraudulent checks into her account.
The bottom line: If your new employer doesn't want to speak to you on the phone or in a video chat, you should take that as a giant red flag. No legitimate business wants to hire employees via text. But scammers don't mind how they hook you. They prefer no verbal communication where you might detect an unusual accent or lack of knowledge of the English language. Finally, if an employer wants you to deposit checks into your personal bank account and buy products via Zelle, there is no doubt you're involved in a scam. Run!
6. The fake vacation rental host asks you to pay with Zelle
When Don Boyk signed into Vrbo earlier this year in search of a vacation rental, he never imagined he would end up losing $500 in a scam. But that's exactly what happened.
After he booked and paid for a property, Don received a confusing request from the friendly "host."
She (the vacation rental host) asked me to send her a $500 deposit though Zelle. I had never heard of Zelle before. She told me it was an acceptable payment method and then Vrbo sent me an email and gave me instructions about how to use Zelle. After I sent the deposit, Vrbo informed me the listing and the owner were fake.

Don Boyk
As it turns out, not only were the host and vacation rental fake, but also the official-looking payment instructions from Vrbo. The listing giant refunded the money Don paid for the fraudulent listing, but declined his request for a refund of the cash he sent with Zelle to the anonymous stranger.
They (Vrbo) said I had sent the money outside of the protection of their Book with Confidence Guarantee and so the company wasn't responsible. How do I get my money back?
Unfortunately, for Don and many other travelers blindsided by this Zelle scam, the answer is: you won't.
Fact: If you willingly send money to a stranger using Zelle, and that person turns out to be a scammer, there is no mechanism to get your money back.
But Don's tale has a happy ending. I contacted Vrbo on his behalf, and the executive resolution team agreed to refund the $500 as a goodwill gesture because he had made the acquaintance of this scammer through its listing platform.
Bottom line: Never pay for any part of your next vacation rental using Zelle. Vrbo will never ask you to use an instant money transfer app to make a payment. If a host asks you to use Zelle to send cash, you can be sure that you're dealing with a scammer. Always keep in mind: Zelle is only intended to be used between friends, family, and other people you know and trust. It is always a big mistake to use Zelle with a stranger.
You can use Zelle safely. Here's how to avoid a scam.
Remember, Zelle transactions are not reversible.
That is why Zelle has emerged as a primary tool for scammers, big and small, during the pandemic.
But this app can be safe if used properly. If you intend to use Zelle, keep the following three things in mind, and it will be nearly impossible for you to end up in a scam.
Carefully read the Zelle terms of use.
It's critical that you read through Zelle's terms of use before you download the app and connect it to your life savings. I would venture to guess that most Zelle users have not read through that lengthy document. But if you do, I guarantee that you will find lots of eye-opening cautionary information in there. It should be required reading with a test at the end for anyone considering adding the app to their phone.
Only use Zelle to send money to friends and family.
Do not use Zelle to buy pets, pocketbooks, services, or anything else from a stranger. Make absolutely sure you have your recipient's name, number, or email correct. If you make a mistake and send money to the wrong person, neither the banks nor Zelle will facilitate a correction. You'll need to depend on the stranger's willingness to return your money. And, of course, a scammer is unlikely to give back your cash even if you ask nicely!
Read all prompts on the screen.
After you enter your friend or family member's contact information, there will be a confirmation screen. Do not skip this step. Review all the information and be certain it exactly matches your recipient's details. Remember, if you make a mistake and send money to the wrong person with Zelle, you likely won't get it back!
We know that Zelle scammers prey on their victims' confusion. That's why there is always a component of urgency in all of these scams. These predators depend on completing their scheme before you figure out what they're doing. Don't install any app on your phone unless you completely understand what it is and how to use it properly. That's especially true for an app that's connected directly to your bank account. And never give money to a stranger – because once you do, even our advocacy team can't get it back. 😢 (Michelle Couch-Friedman, Consumer Rescue)