Falling for a vacation rental scam surely is not at the top of your list of things to do this summer. It certainly wasn't in Don Boyk's plans. But that's exactly what happened when a thief disguised as a Vrbo host persuaded him to send a $500 deposit via Zelle.
His cash was soon in the hands of the scammer and Vrbo informed him the listing was fraudulent.
Now Don hopes we can find a way to save him from this vacation rental scam and retrieve his money.
But if a consumer uses Zelle to send cash to a stranger, is there any way to get it back?
Scrolling through Vrbo to book a vacation rental in Arizona
Don's vacation rental fiasco began earlier this year when he and his wife decided to take a trip to Flagstaff, AZ. Scrolling through the Vrbo site, Don soon discovered a property that seemed perfect for their three-night jaunt.
He carefully reviewed all the details of the listing – location, size, amenities and cost. Although the listing contained no reviews of the property yet, that didn't seem like a deal breaker at the time. In hindsight, it should have been.
Don entered his credit card information and confirmed the vacation rental.
"The Vrbo host texted me almost immediately and we were impressed," Don recalls. "She seemed caring and asked us some questions about our visit."
The friendly nature of the host reinforced Don's belief that he had made the correct decision about the property.
But then "Mary" [the vacation rental host] texted Don some confusing and unexpected instructions. She said that he needed to send her $500 right away and do it via Zelle to confirm the Vrbo property.
Why would a Vrbo host ask for $500 via Zelle?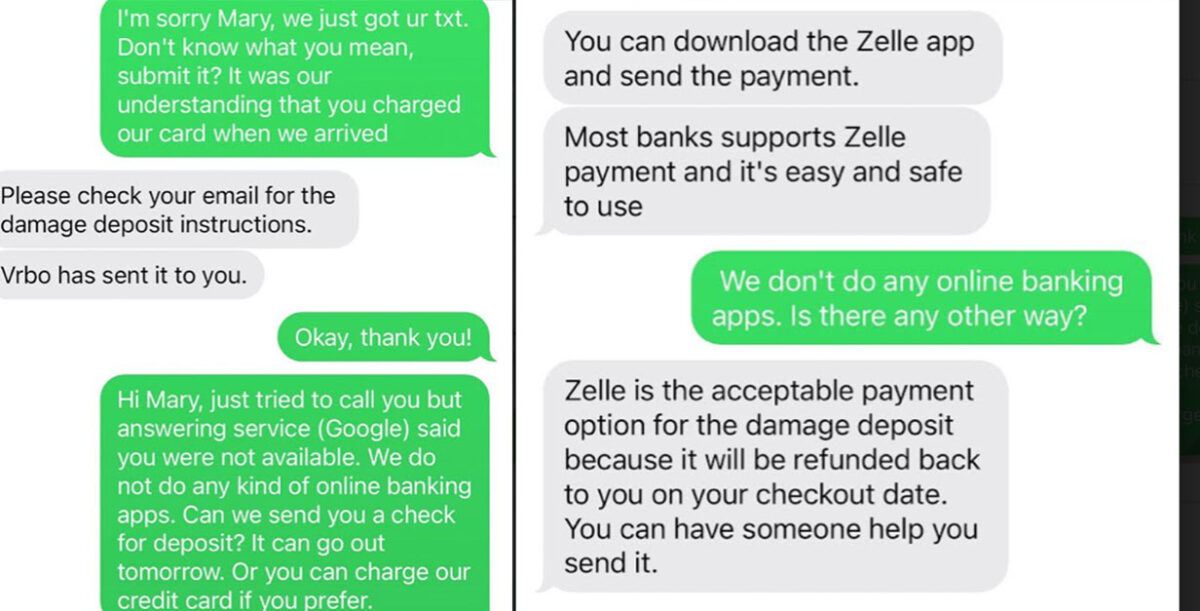 Sending a security deposit wasn't a problem. But I didn't know anything about Zelle and I told her we preferred to pay with a credit card or a check.

Don Boyk
Not possible, the person on the other end of the text messages told Don. She said he should check his emails and he would find additional information from Vrbo about the Zelle transaction.
When Don checked his emails, he found a strange message from "Vrbo."
The instructions to send a $500 Zelle payment to an unrelated person named "Ashaunti Wells" should have caused Don to instantly realize he was dealing with a scammer.
But it didn't.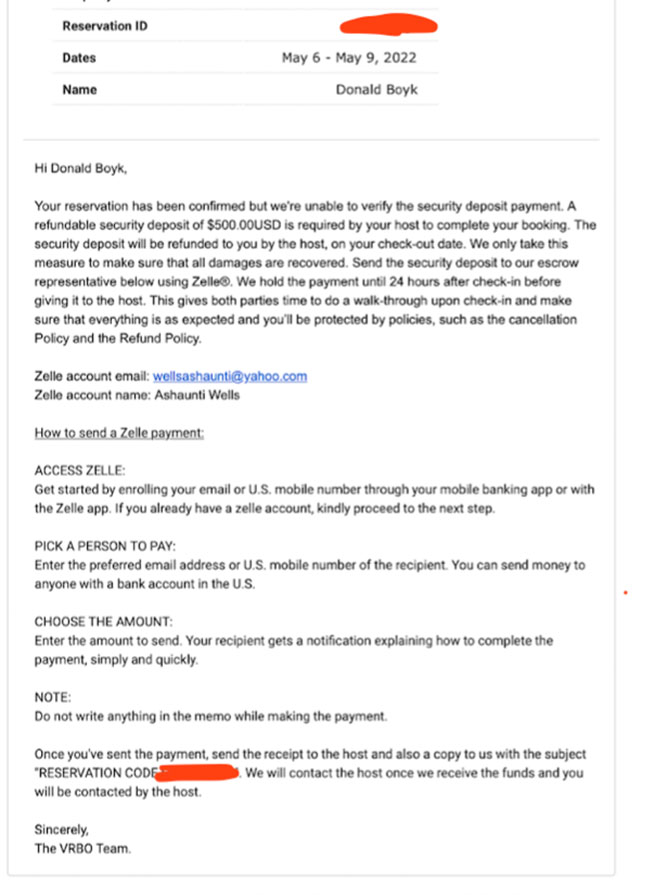 Unfortunately, because Don was unfamiliar with Zelle and the terms of use of Vrbo, he missed this giant red flag. And the scammer had him fully on the hook.
Fact: Vrbo will never ask you to use Zelle to pay for your vacation rental
The email that appeared to be from Vrbo, encouraging him to make a Zelle transfer lulled Don into a false sense of security. After all, he thought, the vacation rental listing giant surely wouldn't promote an unsafe payment method.
And with Mary insisting on the Zelle payment before she would confirm the rental, Don decided to ask a friend for help.
I didn't want to open a Zelle account just to pay for this vacation rental deposit. But I knew my friend used Zelle, so I asked him to send the money for me. But after he did, things got more strange.
Now the host told Don that his reservation had been canceled because of some problems at Vrbo. She assured him that he shouldn't worry and that the rental would be reinstated shortly.
Suddenly Don was able to see all of the red flags at once – and he was feeling quite uneasy about this rental. He sent Mary a text to ask to cancel the reservation, given all the circumstances. And he wanted his $500 Zelle payment reversed.
But Don would never hear from this fake Vrbo host again. The scam was complete: Mary disappeared with his cash and Don was left bewildered – no vacation rental included.
Asking Vrbo for help
When Don's request for help reached me, he had been struggling for months to find someone who could help him. As I recommend in my article about self-advocacy, he had escalated his complaint through various channels at Vrbo and he had made some progress.
Vrbo had determined that the vacation rental listing was just a scam. The host and the listing were removed completely from the Vrbo site. Don received a refund for the rental payment made on the Vrbo platform.
If you send money to a scammer with Zelle you aren't getting it back
But the $500 "security deposit" made with Zelle? That was a lost cause, Don was repeatedly told by Vrbo.
Because of the instant and irreversible nature of Zelle transfers, the app has emerged as a favorite way for scammers to conduct business in recent years. Each week, there seems to be a new Zelle scam being reported by unsuspecting consumers. (See: Here are six Zelle scams you need to know about now!)
Fact: Zelle transactions are not reversible.
You should never use Zelle to send money to anyone who you don't know personally. Zelle is meant to send cash to friends and family only – in other words, people you trust.
If you use the service in any other way, you're violating Zelle's terms of use and there are currently no consumer protections that cover this type of "banking." Once you hit "send," your money is gone and is quickly deposited into the recipient's account. This is a dream come true for scammers everywhere.
All of this information was news to Don – especially since he wasn't even a Zelle customer. Vrbo had rejected his request to be reimbursed for the $500 he lost in the scam because he had made the payment outside of the company's platform.
While this was all true, I still thought that Vrbo held some responsibility. After all, the listing giant had provided the "introduction" between Don and this scammer.
Will Vrbo reconsider this customer's plea for help?
It was time to ask our executive contact at Vrbo about this particular vacation rental scam… and also see if we could get Don's $500 reimbursed.
Hi ****

How are you? We have a case over here where it seems that this Vrbo listing was hacked. Or the listing was completely fraudulent in the first place. But Donald Boyk made a reservation through the Vrbo website and then "Vrbo" sent him an email and told him the host required a $500 security payment paid through Zelle.

He paid for the rental through the Vrbo website but then sent this fake host $500 through Zelle. Sometime after that Vrbo detected that the listing was fraudulent or had been hacked and canceled his reservation and provided a refund. Of course, Vrbo did not refund the Zelle payment because it was done away from the platform. But is something like this covered by the Vrbo guarantee? The emails that Donald received from this scammer look official if a person isn't very familiar with Vrbo.

Could your team have a look at this? Thank you! 😊

Michelle Couch-Friedman at Consumer Rescue to the executive Vrbo team
And in a short time, Don's five month unpleasant saga came to a happy end.
The good news: Vrbo is sending you a $500 goodwill gesture
Hi Michelle,

We looked into Donald Boyk's case. As you noted, the property Donald booked was determined to be fraudulent by the Vrbo customer support team. Under the Book With Confidence Guarantee, Donald was refunded in full for the cost of his booking. Additionally, the property and host have been permanently removed from our platform.

The email Donald received instructing him to pay an additional $500 security deposit through Zelle was also fraudulent and not sent from Vrbo. Because Donald paid the deposit off the Vrbo platform, the payment is not protected under the Book With Confidence Guarantee.

However, we are sending Donald $500 as a gesture of goodwill and he will be contacted by our Billing team for next steps.

This case is a great reminder to guests that they should always book and make payments through the Vrbo site or app to be protected under the Book with Confidence Guarantee. Guests should also contact our 24/7 customer support team with any questions or concerns about a property or booking, including if they suspect fraudulent activity.

The Vrbo executive team to Michelle
Don is thrilled with the outcome. He's pleased to be able to put this frustrating experience in the past – and put the $500 back in his wallet!😀
How to spot and avoid a vacation rental scam
It's fairly easy to avoid a vacation rental scam if you know how to recognize the signs.
Here's what you need to keep in mind as you plan your next trip.
Familiarize yourself with the listing platform's terms and conditions: No vacation rental platform wants its customers to be victimized. For that reason, companies such as Vrbo and Airbnb have clear terms of use. Those rules are designed to protect renters and hosts – and keep out scammers. It's quite difficult for a criminal to prey on you if you follow all the guidelines in the terms of use. Reading that document is the foundation to protecting yourself against a scam.
Be on the lookout for red flags: Unfortunately, it is a fact that a percentage of the listings you see on both the Vrbo and Airbnb sites are fraudulent. Remember, these platforms are just listing sites – these aren't management companies. The properties you're viewing aren't vetted by the listing agents. That means you must be on the lookout for red flags that suggest you might be dealing with a scammer.
Don't be lured away: If a host encourages you to ditch the Vrbo or Airbnb platform with the promise of a better deal, hit the eject button. This is a hallmark sign you're dealing with a scammer – or possibly an unethical host who wants to cut the listing agent out of the deal. Either way, if you allow yourself to be lured away, you'll be leaving the safety net of the platform. If something goes wrong, you'll have no protection.
Always use a credit card to pay for the vacation rental: The Fair Credit Billing Act protects credit card-using consumers against fraud. Not surprisingly, scammers don't have the ability to accept your payment via a credit card. A criminal will always need to ask you to use a different payment method – like Zelle. You can be certain that you're dealing with a scammer if your host asks you to pay for your rental with a cash app. Remember, cash app payments are instantaneous and not reversible and are the favorite payment method of thieves everywhere. Always use a credit card to pay for your vacation rental.
Don't respond impulsively – take your time: Vacation rental scammers, like all criminals, depend on catching their prey off guard. They often create a false sense of urgency so that their targets don't have time to recognize all the red flags. When their victims have a chance to catch their breath and see things clearly, it's often too late. If a host is pressuring you to act quickly, resist the urge, take your time and review the big picture. A legitimate host will not try to force you into booking before you've had time to make sure the property is right for you. Of course a scammer doesn't care about what's right for you at all – they just want your cash as fast as they can get it. If a host is being a little too persistent with a request to seal the deal, you just might be talking to a scammer. Keep that in mind when you're booking your next vacation rental. (Michelle Couch-Friedman for Consumer Rescue)
Last Updated on July 23, 2023 by Michelle Couch-Friedman