Home Depot sold Marcea Cazel a beautiful 7-foot pre-lit Christmas tree with an extended warranty two years ago. The family loved the tree's realistic look and soft twinkling lights and hoped to enjoy it for years to come. Unfortunately, the tree turned out to be a dud.
Last year, the family spent hours placing sentimental ornaments on their tree and reminiscing about each one. After the decorating was complete, the family gathered around for the big reveal. To their great disappointment, when Marcea flipped the switch, the bottom of the pre-lit tree remained completely dark. Since that time, Marcea has repeatedly asked Home Depot to honor the warranty and replace the tree. But she still has a pre-lit tree that only lights up on top.
Now Marcea is asking for our team's assistance. She's hoping that we can help Home Depot see the light about this tree and save this year's Christmas!
With just days before Santa's scheduled arrival, can we do it?
Shopping for the best pre-lit Christmas tree at Home Depot
In November 2019, the Cazel family went to Home Depot to pick out a new pre-lit Christmas tree.
I wanted a pre-lit Christmas tree to avoid the hassle of stringing lights every year. I loved the idea that I wouldn't have to worry about untangling wires anymore. We could just put the tree together and plug it in. So easy! We went to Home Depot to buy [a pre-lit tree]. We found one that looked impressive and fit our budget.

Marcea
At the check-out, Marcea decided to purchase Home Depot's two-year extended warranty for the pre-lit Christmas tree.
"The warranty would cover the tree for two years beyond the standard one-year coverage," Marcea explained. "For my peace of mind, it seemed like a good purchase."
And if the warranty had worked the way it should have, it would have been a good purchase.
But it didn't.
Unfortunately, the warranty Home Depot sold Marcea turned out to be just as useless as the defective Christmas tree.
This pre-lit Christmas tree doesn't light up
When the lights at the bottom of Marcea's Christmas tree refused to turn on in December 2020 after just one successful season, she expected Home Depot to fix the problem quickly. But there was a complication that no one had expected when she originally purchased the tree. As we all know, in March 2020, a global pandemic hit the world. As a result, most companies – including Home Depot – temporarily closed and scaled back dramatically on customer service.
When I called the warranty company a recording told me that the holiday department already closed for the season. The message said to call back in the fall of 2021. I also emailed Home Depot directly to see if their team could help get the tree repaired before then. None of my inquiries led me anywhere.
Faced with no other choice, Marcea took down her defective Christmas tree and packed it away for the season.
"I figured I would get it all straightened out as soon as the holiday department reopened in the fall," Marcea recalled.
Home Depot: We've processed your warranty claim
At the beginning of November 2021, Marcea discovered that the Home Depot seasonal department was open again. So she submitted her warranty claim and asked for her tree to be repaired as soon as possible.
Within a few days, she received a confirmation that the fix to her Christmas tree problem was on the way.
Marcea breathed a sigh of relief. She and her kids would be able to put up the tree right on time.
But then Home Depot's "fix" arrived.
When Marcea opened the box from the company administering the warranty, she was shocked to find one single strand of LED lights.
The implication was clear: The "repair" covered by this warranty wasn't a repair at all. It was a patch. And Marcea didn't want a patch. She wanted the Home Depot warranty to make her whole.
She composed a complaint to the Home Depot executive contact, who our advocacy team has curated.
No, a single strand of lights won't fix this tree
Hello. I received a box from Polygroup yesterday, but it only included a strand of lights.The bottom part of my pre-lit tree isn't lighting. I cannot unhook the lights that aren't working because they are tied and entwined into the branches. There is no way for us to remove them without cutting the cord and ruining the side of the lights that work (and possibly causing a fire hazard). Beyond that problem, we purchased a pre-lit tree so we don't have to string lights onto it every year. I just called your 1-888 number and spoke with a representative named Evelyn.

She said she couldn't do anything from her end and that I should email you back.

I would like either to have the bottom part of the tree replaced, be sent a new tree, or be given a refund for the original purchase price. We purchased the warranty from Home Depot, and they claim that if it can't be fixed, it will be replaced.

If you could please respond ASAP. We want to get our Christmas tree up this year and can't do that until this is resolved. Thank you.

Marcea to Home Depot
Trying to find someone who will fix this tree
And then, for the next month, Marcea used every tool and piece of advice our advocacy team provides to try to fix this problem on her own. She methodically sent her plea for help straight up the Home Depot chain of command, waiting a week after each inquiry to give that person a chance to respond.
Receiving a strand of lights for a defective pre-lit tree is not a sufficient response to my warranty claim. I purchased the warranty from Home Depot to ensure I'd get assistance if something happened. However, all I've gotten is the probability that my family won't have a Christmas tree up this year since we don't want to put up a tree that doesn't work.

Could you please advise how I can get my warranty honored to get the entire bottom half of our tree replaced? My warranty paperwork from Home Depot says, "If we can't repair it, we'll replace it!" I really hope that is the case and this can be resolved ASAP since Christmas is only a little more than three weeks away. Thank you.

(Marcea trying to find someone who will fix her tree before Christmas)
The result from all her efforts: crickets.
She even sent her plea out to the Twitterverse. Still no response from Home Depot.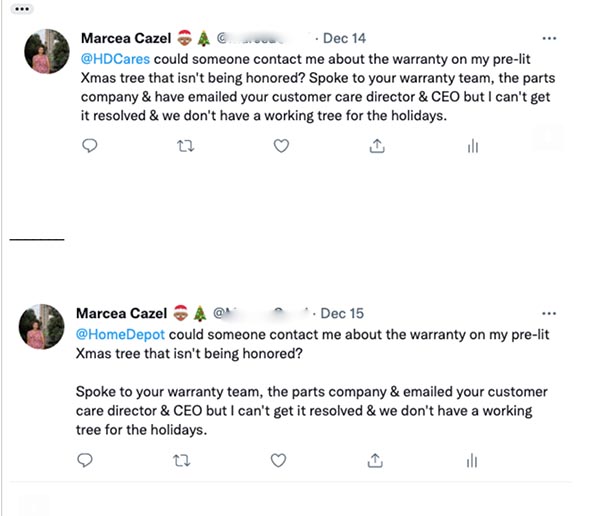 As time continued to inch closer to Christmas, with just one week to go, Marcea made one final effort: She contacted our advocacy team.
Why hasn't Home Depot fixed this problem yet?
When Marcea's plea for help landed on my desk, it was late in the evening on the Friday before Christmas Eve. And when I read through her lengthy paper trail, I couldn't help but wonder why Home Depot had allowed this problem to escalate for so long.
After all, this customer had a warranty, and her pre-lit tree was only lit on top. No one who purchases a pre-lit tree from Home Depot or anywhere else would expect a proper warranty repair to include a random $10 string of lights. 😳
I need help. I want Home Depot to either send a new bottom half of the tree or, if that tree part is no longer available, allow us to select a comparable tree in the same style. The price of trees has increased in the past two years, so a refund of our money won't allow us to purchase a new tree.
I agreed that Marcea's request was entirely reasonable. And since I know the Home Depot executive resolution team also to be reasonable, I assumed they would want to resolve Marcea's Christmas tree problem ASAP.
And I was right.
The good news from Home Depot: This customer will have a tree in time for Christmas!
It was time to loop in the executive resolution team at Home Depot to Marcea's nearly year-long struggle to get a working pre-lit Christmas tree.
Hi *****!

Can you have a look at this customer's request?

Let's do a Christmas miracle here! 🎄☃️

Let me know what you think and if your team can help tomorrow.

Michelle to our Home Depot executive contact
I didn't have to wait until the next day. Exactly 5 minutes later, Marcea's plight came to a quick and happy ending. Our executive contact and his team intended to make things right for the family ASAP.
Hi Michelle, Total no-brainer.

We can easily get them a new tree and throw in some ornaments and decor to make it right.

This is nuts that we've put them through this, and apologies that it got this far.

Home Depot resolution team members- please work your magic!

Home Depot executive resolution team to Michelle
And very quickly, the executive resolution team confirmed they would make sure that the family had a fully lit tree in time for Christmas.
Just wanted to let you know that we have contacted [Marcea] and [heard her plight]. We contacted her local store and had them set aside a comparable tree for the customer, marked with her name, and we have forwarded a Gift Card to the customer with enough funds to cover the tree and ornaments, etc. The customer was extremely pleased, and we should be good to go. We advised [Marcea] that [ the store] has held the tree on her behalf.

The Home Depot executive resolution team
Marcea is delighted with the outcome. She and her family returned to Home Depot right away and picked out their replacement Christmas tree. Yesterday they decorated it, and the family is prepared for Santa's arrival.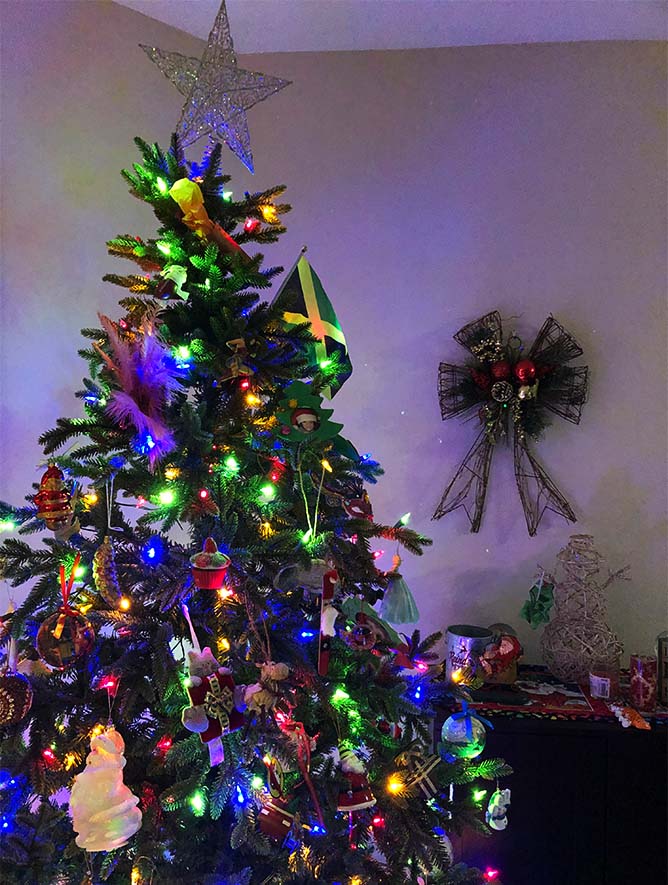 How to troubleshoot and fix your pre-lit Christmas tree
As I understand, Santa Claus uses Christmas lights to find his way to each home he visits. Obviously, broken lights will interfere with his ability to deliver his presents to the correct locations. So I'm thrilled that Home Depot replaced the dud with a Christmas tree with lights that will send the proper signal to Santa for Marcea and her children! 🎅
If you've got a lighting problem with your pre-lit Christmas tree, here's how to troubleshoot.
Ensure the tree is plugged in, the wires are tightened, and the foot pedal and remote are on.
Of course, this seems like common sense, but on pre-lit trees, components on the cord often need to be tightened for the connection to be made. If your tree has a foot pedal, ensure you've engaged it. Finally, check that the remote is on.

Check that you've firmly connected each part of the tree
A pre-lit Christmas tree typically comes in 3-5 segments depending on the height. These segments must be firmly attached to each other. And there may be additional wires to connect. If your tree only partially lights, the prime culprit is a loose connection between those segments.
Do you need to replace the fuses?
If your pre-lit tree is still not glowing with sparkly Christmas light, your next step is to change the fuses in the cords. To do this, unplug the tree from the wall. Take a small eyeglass screwdriver and open up the fuse box on the cord. Replace the fuses with brand new ones and then close the box. Depending on your tree, you may have fuses in each segment to troubleshoot. Make sure to replace the fuses with the correct voltage (stamped on the cord). These are 125V. You can buy 20 replacement fuses for about $10 on Amazon.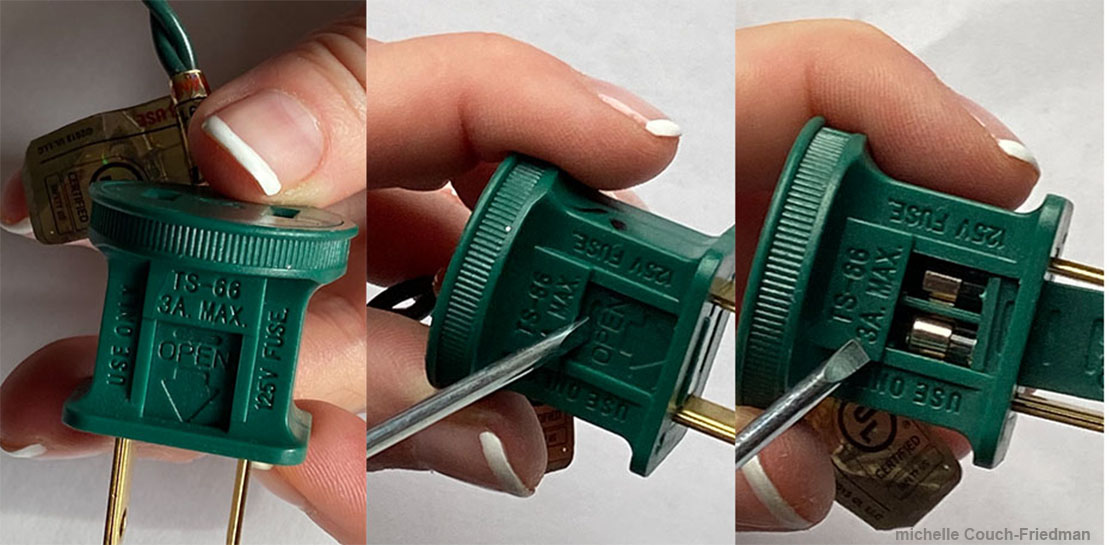 If you've followed all those steps and your pre-lit Christmas tree is still dark, unfortunately, it's probably unfixable. If the tree is under warranty with Home Depot, it's time to ask for a replacement. And if you have a problem getting it, you know where to find the Consumer Rescue advocacy team. We're here 365 days a year – yes, even on Christmas – always ready to help. Happy Holidays! (Michelle Couch-Friedman, Consumer Rescue)
Last Updated on April 15, 2023 by Michelle Couch-Friedman