Isaac Chambers says an Airbnb host just hit him with an expensive bait and switch scam of sorts. After you hear his troubling story, you'll likely agree.
---
Many months after Chambers booked the perfect vacation rental for his wedding party, the host of the Airbnb abruptly canceled the reservation. Citing "synchronization" issues as the cancellation reason, the management company of the home suggested several unacceptable replacement properties.
Now just two months before his wedding set for Palm Springs, California, Chambers' group has nowhere to stay. That is unless they want to rent the exact same Airbnb vacation rental from this host – for an additional $13,314.
So what are those "synchronization" issues that allowed the host to cancel this Airbnb and relist it at a much higher rate?
That's what Chambers is asking Consumer Rescue to find out.
Booking a beautiful Airbnb in Palm Springs
Last winter, Chambers, his fiancée, and their extended family were discussing potential locations for their October wedding. After settling on Palm Springs as the destination, the large group began looking for an Airbnb where they could all stay together for a week-long celebration.
"My fiancée's father found the house through Airbnb," Chambers recalled. "The vacation rental wasn't for the event, just for our stay in the area."
Boasting six bedrooms, a luxury kitchen, and a beautiful outdoor area with a tropical pool, the vacation rental checked all of the required boxes. Chambers' father-in-law quickly sent a request to book the seven-night stay.
Putting down the initial payment of $4,000 took the Airbnb rental off the market and confirmed the reservation. The family would pay the $4,000 balance 30 days before check-in.
Chambers soon received a friendly welcome message from the Airbnb host.
With the wedding venue booked and the vacation rental confirmed, everything was in place for the October event.
Or so they thought.
The Airbnb host: "Sorry, we had a synchronization error."
Over the next six months, the couple busied themselves with putting the finishing touches on their wedding planning. Things were proceeding without a hitch. That is until suddenly the Airbnb host hit them with one giant hitch: a "synchronization error."
Opening up his email one morning in June, Chambers' father-in-law was shocked to find a cheerful cancellation message from the Airbnb host.
We're reaching out to you because we've learned that the home you've booked can no
longer accommodate your trip due to a synchronization error between Airbnb and our internal booking system. Your dates are not available.

We appreciate your understanding!

We sincerely apologize for this inconvenience and would love to work with you to get you
confirmed in a new home in the area!

From the host of the Airbnb
Included in the email were links to three homes that the Airbnb host claimed to be comparable.
They were not.
The suggested replacements were 2 to 4 miles from our wedding location and where all of our other guests are staying. I explained to the host that none of these properties were acceptable. The host's synchronization error with Airbnb shouldn't be our problem. I asked that the host reinstate our reservation immediately.

They said it wasn't possible since the home was no longer available.

Isaac Chambers
The insinuation from the host was that a problem in the Airbnb communication system had double-booked the property.
But that wasn't true at all and Chambers was about to find out in a most unusual way.
Is a synchronization error really just a bait and switch scheme?
Over the course of several weeks, Chambers pleaded with the host and with Airbnb, asking to restore their reservation. Repeatedly, both told him that it was impossible because of the synchronization error. The home wasn't available.
Not willing to take a subpar replacement for his wedding week, Chambers continued to search for a similar property on Airbnb.
That's when he received a recommendation from Airbnb that turned his extreme frustration into anger.
Airbnb sent me an automatic email with alternative recommendation rentals for our dates. Unbelievably, the house that we had confirmed back in January — the one that the host said was no longer available — Airbnb was asking us if we would consider it as a replacement!

Isaac Chambers
Clicking on the recommended rental, Chambers soon discovered that the property was indeed available for their wedding week. And he could book it, too — if he was willing to pay an additional $13,314!
Then scrolling through the internet to see what might be causing an Airbnb host to inflate the cost of a weekly stay from $8,000 to over $21,000, Chambers got his answer.
…A major music festival featuring AC/DC, Metallica, Guns N' Roses, and others had been announced months after we booked the property. It is taking place the same weekend as our wedding!
Now it was very clear to Chambers that no such synchronization error had caused this cancellation. The announcement of the Power Trip music festival was what led the host to dump their reservation and relist the house at nearly three times the cost.
Chambers had reached the limit of his patience. After finding several articles in which our team had fixed problems between Airbnb hosts and guests, he submitted his request for help to Consumer Rescue.
Asking Consumer Rescue for help with this vacation rental fiasco
On the day that Chambers contacted Consumer Rescue, I signed into Airbnb. Easily, I found the property still available for the same dates. Now the cost for one week was an astronomical $21,314.
This situation was looking pretty fishy now.
What this Airbnb host had done certainly can't be an acceptable business practice. So I wondered why Airbnb had not simply made the host reinstate the reservation — especially after it was clear the property was not double-booked at all.
But when I reviewed the paper trail that chronicled Chambers' efforts to get help from Airbnb support, the answer to that question came into focus.
Are AI chatbots responding to Airbnb complaints?
The correspondence between Chambers and Airbnb "customer service" had all the hallmarks of artificial (un)intelligence (AI) at work. As we've seen time and again, many companies are assigning much of their customer service to AI chatbots. These programs often misinterpret issues and frequently have no ability to solve even simple problems.
At one point, Chambers encountered a particularly dramatic "customer service" agent who I suspected was a chatbot programmed to express compassion — although still unable to facilitate the correct solution to the problem.
It really breaks my heart to know that this may not be the outcome you expected. I want to assure you that I have explored all available avenues and exhausted all the options to work on your request, but my hands were tied to Airbnb's Policies and Guidelines.

Please know that if there was anything else I could've done, it would've been done it [sic] right away.

I hope you'd [sic] still appreciate the efforts I did to address your concerns and I hope that the inconvenience you encountered today will not be a reflection of the service I have provided you.

A strangely emotional Airbnb "customer service agent"
I had seen enough of Chambers' documentation. It was time to ask some real people at Airbnb to have a look.
Asking Airbnb: Can a host do this?
Our Airbnb executive resolution friends are always helpful in these situations and since the house was still available, I hoped to get a quick, common sense resolution for this family.
…The home is now relisted on Airbnb for the exact same dates. It's still available today at a much inflated rate. Something is definitely wrong here. This host should not be allowed to cancel a confirmed reservation so that they can try to price gouge these people (since they still want to stay there).

Could your team have a look at this case and see if this Airbnb host can be "encouraged" to reinstate this reservation at the price agreed upon way back in January? This isn't just their vacation. They're going there for their wedding!

Thank you!! 🤓

Michelle to Airbnb
The good news from Airbnb: bait and switch averted
Faced with proof of this bait and switch scheme, Airbnb swiftly helped the host to correct the so-called "synchronization error."
Chambers soon received the good news. Airbnb had spoken to the host, who now agreed to honor the original reservation at the original rate.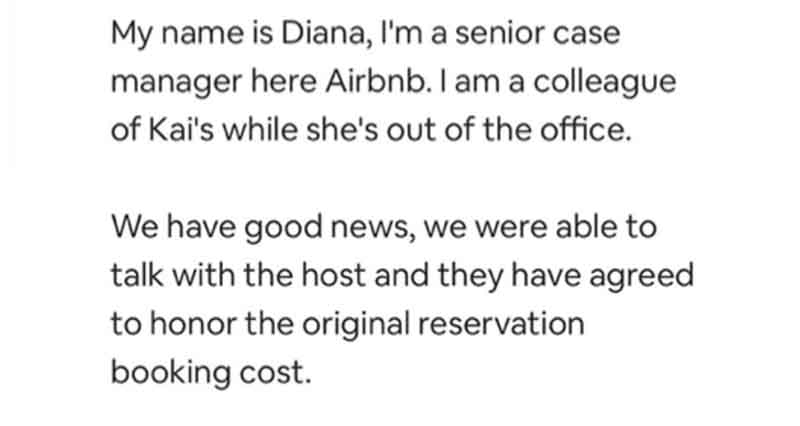 Chambers and his family are relieved that they can stop fighting this battle and instead turn their attention to what they should be focused on: the wedding.
We wish Chambers and his bride a wonderful wedding week and can't wait to see the photos!!
What to do if an Airbnb host tries a bait and switch on you
Most Airbnb hosts wouldn't dream of canceling a confirmed guest's reservation to relist the property at a higher rate. But as I discussed with Insider earlier this year, it does happen.
Here's what you need to know to protect yourself against bait and switch vacation rental shenanigans.
Look at property and host reviews: Protecting yourself from a host who may cancel if a better deal comes along begins before you book an Airbnb property. These types of shady dealings aren't typically limited to a one-off. So having a look at all the reviews of a property and the host could reveal whether a particular Airbnb is associated with bait and switch shenanigans. Look for language in the review like "I was originally booked at…" Or "The host asked me to move to …"
Take screenshots of the listing: Travelers should always take screenshots of how an Airbnb appeared on the day of booking. When you arrive at the property if reality doesn't match what the listing showed when you reserved it, you'll need evidence. Taking screenshots of the listing will help you convince Airbnb that you might be in a bait and switch situation. (See: I didn't want a shared space Airbnb, so how did I get one!?)
Ask to escalate your complaint: Chambers did everything correctly in this case. The host in this situation did something that Airbnb doesn't permit on the platform. However, the Airbnb customer service agents that Chambers reached weren't able to understand the magnitude of what the host had done. Instead of forcing the restoration of the legitimate reservation, these agents, who may or may not be AI chatbots, simply approved a refund for Chambers. If you find yourself stuck in the same type of strange, unhelpful, circular customer service loop, you can "Just Ask Meera" at Consumer Rescue. She can provide you with contact information for a real person at the company your struggling with.
Ask the Consumer Rescue advocacy team for help: If all else fails, and you can't get the host or Airbnb to fix your problem, Consumer Rescue is here for you. You can send your request to our team and we'll do our best to help you too. (Michelle Couch-Friedman, Consumer Rescue)
Last Updated on August 21, 2023 by Michelle Couch-Friedman