It's easy to find a shared space Airbnb rental if that's what you're looking for. Each one is clearly labeled and it's difficult to book a shared space property by mistake. So that's what makes Maxim Belyayev's recent Airbnb experience so unusual.
He used the listing giant to book a private condo in London for his upcoming vacation. But when the Airbnb host sent the house rules, it sounded more like a youth hostel than a $3,668 luxury apartment. A follow-up message made it clear that Maxim would be sharing the common space in the Airbnb rental with strangers.
Maxim immediately canceled the unwanted shared space rental, and the Airbnb host just as quickly rejected his refund request.
Now Maxim hopes that we can get his money back. He believes this Airbnb host is a scammer. And if you're a regular reader of my column, I suspect you'll soon agree with him.
Not having much luck with Airbnb for a trip to London
Back in April, Maxim and his friends arrived in London where an unpleasant situation confronted them.
On Day 1 of our trip to London, we were forced to cancel our original Airbnb rental with another host. That apartment did not match the online description.

As a result, myself and my two friends were suddenly without a place to stay for the next eight nights! Desperate to find a place, we searched Airbnb endlessly until we found a seemingly suitable vacation rental.

Maxim Belyayev
The description of the new property sounded great to the group of friends: A luxurious 2 bedroom apartment near Big Ben. Surprised by their luck that this perfect property was available at such short notice, the trio quickly confirmed the Airbnb rental.
But within minutes, they would realize that – for the second time in one day – their "luck" with Airbnb was not the good kind.
Surprise! You just booked a shared space rental
As the group prepared to make their way to their new vacation rental, Maxim received a surprising message.
To make sure you know, you booked two private rooms with a shared bathroom and common space with the host and other guests.

Adam, Airbnb Superhost
Attached to that message Adam had attached a list of house rules for this Airbnb rental.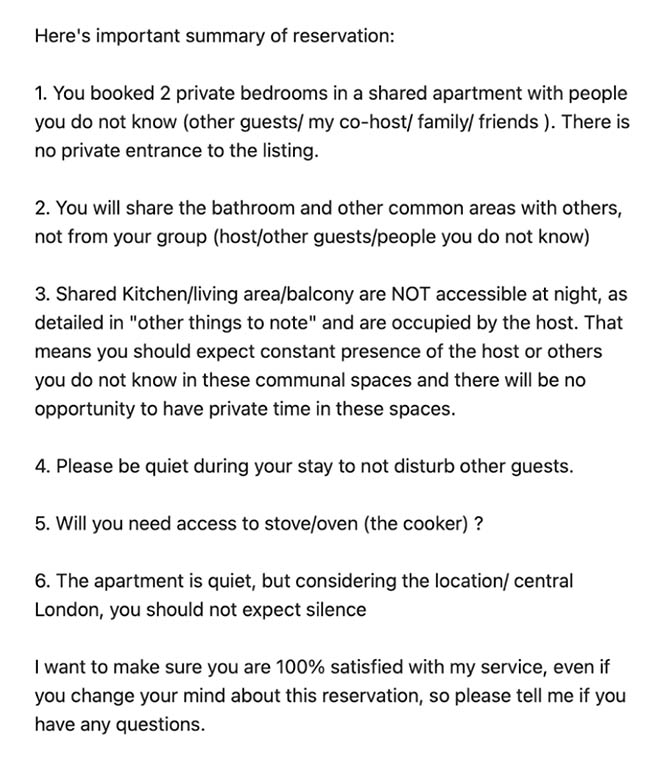 This all sounded terrible to Maxim and his friends – and the perfect Airbnb rental suddenly became anything but.
We told the Airbnb host that there was some mistake and that we had no desire to book a shared space rental. I told him we had only searched for entire properties and I wasn't sure why his apartment showed up in the results. He said ok, we should cancel and he would give us a refund.
So Maxim clicked cancel as the host suggested. That was a mistake.
Warning: Never cancel a nonrefundable Airbnb and expect a refund
Airbnb users should heed this warning: Never cancel a nonrefundable Airbnb at a host's insistence. This is true even if there is a promise of a refund. Nearly 100 percent of the time, this is a trick – a tactic used by unscrupulous hosts.
If there is a problem with an Airbnb property, you must get a refund approval through the company's resolution center before canceling. If you cancel a nonrefundable booking without the involvement of Airbnb, you're unlikely to ever get your money back. (Unless, of course, you ask the Consumer Rescue advocacy team for help.)
The reason? Airbnb will always support the cancellation terms of the contract.
Unfortunately, for Maxim, he didn't find this out until it was too late. When he followed up with Airbnb later that day, a customer service "Ambassador" gave him the bad news.
I explained to the Airbnb agent that the property had been misrepresented. I told [Airbnb support] that I had searched for an entire property but this unit is a shared space rental. So based on that inaccurate information, I should get a refund. They said Adam refused to approve it.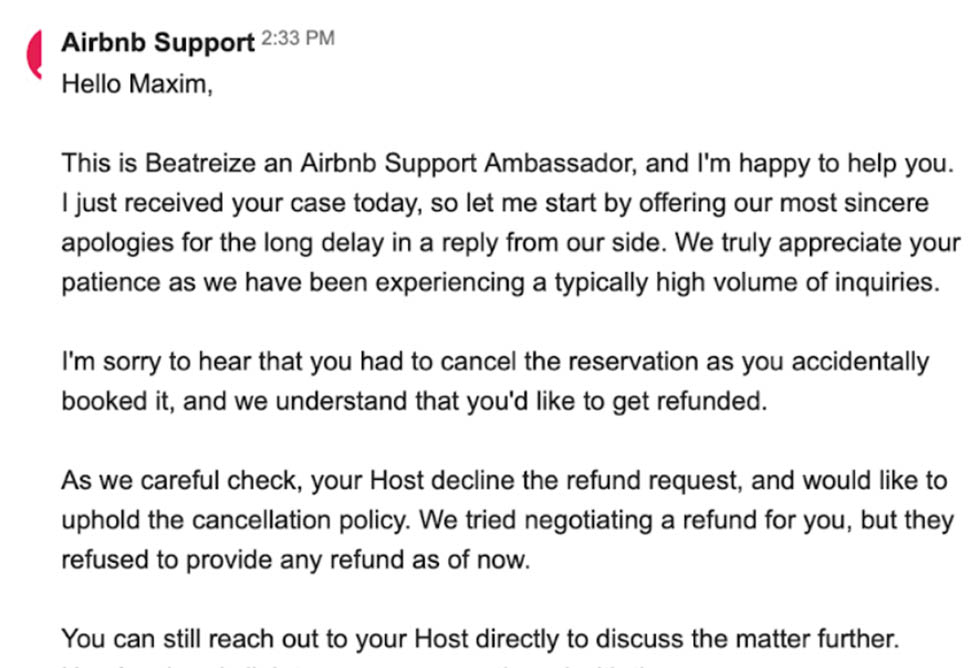 This trip had quickly become a traveler's nightmare. With $3,668 on the line, Maxim started searching the internet for what to do next.
And suddenly he hit pay dirt! All the information he needed about this particular Airbnb host and his shared space rental appeared right in front of his eyes.
This Airbnb host is no stranger to controversy
Back in March, I received a request for help from Jeremy Little. He was taking a trip to London with his wife and children. They certainly weren't interested in using Airbnb to book a shared space rental with total strangers. Using the search feature for an entire home, he also found Adam's "Luxury 2 bedroom apartment near Big Ben." And he also was just as shocked as Maxim when he received the house rules.
Adam used nearly the exact language with Jeremy to encourage him to cancel the reservation. Airbnb subsequently denied his refund request just like Maxim's. The stories of Maxim and Jeremy are nearly identical.
Both Airbnb users were certain they had searched for a private rental.
But Jeremy had something Maxim didn't — a screenshot of the listing labeled as an entire home.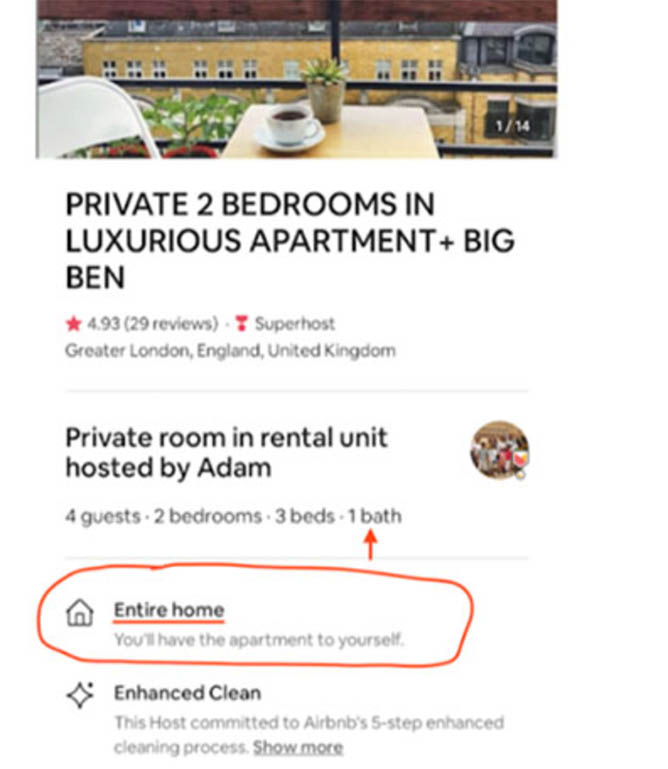 Later, when Airbnb investigated the case, the listing appeared as a shared space. Clear shenanigans by this host.
After I brought that evidence to the Airbnb executive team, Jeremy received his refund. So when Maxim read that tale, he hoped I could do the same for him.
"I found the column that you (Michelle) wrote about this same Airbnb host in London," Maxim explained. "I shared your article with Airbnb, but they still rejected my refund request, citing the host's policies. Can you help me?"
The evidence mounts against this Airbnb host
I certainly hoped I could help Maxim. In fact, that same week, yet another Airbnb guest contacted me on social media about Adam and his luxury apartment.
Dear Michelle,

I came across your very interesting article about the Airbnb listing which was misleading. Guess what? I made the same "mistake" last week. I'm from Finland and we were about to travel (me, my wife and our daughter) to London (we still are… but not with this "superhost"). Luckily I found this article you have published recently.

I have had exactly the same discussion as the family in that case.

I did share your article with the Airbnb support team and told them that the case is so clear that they should refund my payment immediately. I'll have to wait until next week, as the clerk's shift ended for today. Anyway, I just wanted you to know that I'm glad I found your article and I trust that this is strong evidence and I will get my refund. If not from Airbnb, then from my bank.

J — Another Airbnb guest tricked by this host's fluctuating listing
With the evidence mounting against this superhost, it was time ask the Airbnb executive team to have a look.
Asking Airbnb: What is going on with this "Superhost"?
Hi ***** & ****

We have another case here involving the same host that was accused of switching his listing at various times to portray it sometimes as a shared space and other times as an entire home. We published an article about this host back in March.

The Airbnb guest below had the same experience with "Adam" so I think the evidence is mounting that he is doing what the first Airbnb guest suggested. He seems to be doing this so that his listing appears in a wider search. Then after guests book the property he confirms a shared space rental. When the guest says that isn't what they were booking, he tells them to cancel and request a refund from Airbnb. I reviewed the paper trail between Maxim Belyayev and this host and it is strikingly similar to the paper trail between this same host and Jeremy Little. And yesterday, I received yet another complaint about Adam (attached).

Could your team have a look at this case and see what can be done for this guest? And what might be going on with this Superhost? Thank you!

Michelle to the Airbnb executive resolution team
The good news: A refund and a "superhost" is kicked off Airbnb
Soon Airbnb refunded both of these additional "victims" of this shared space rental scheme. Even better? After a complete investigation of this Superhost, he's been shown the door at Airbnb.
Hi Michelle,

We have fully refunded Maxim and after a thorough investigation of this Host, we have removed them from Airbnb.

Thanks for flagging this for us.

The Airbnb executive resolution team
Maxim and his friends couldn't be happier about the news.
Hi Michelle,

Thank you so much, my friends and I are extremely relieved and thankful. We really can't thank you and your team enough.

We've been fully refunded after an email from one of their escalation agents. Again, thank you.

Maxim B.
And I couldn't be happier to have been able to help get their money out of this schemer's hands and back where it belongs.
How to make sure that you don't accidentally book a shared space Airbnb rental
Without a doubt, an Airbnb shared space rental is a unique experience only suitable for a certain type of traveler. Some people enjoy it and see booking communal vacation rentals as a way to make new friends and save money along the way.
However, I would venture to guess that most travelers aren't looking to share their vacation rental with total strangers. The good news is that most Airbnb hosts are honest and will not intentionally mislabel their property.
But to make sure you don't "accidentally" book a shared space rental, here are a few things to keep in mind.
Ensure that you've selected "Entire Home" in the search filter: Airbnb's search feature makes it very simple to find the type of vacation rental you want to book. If you want a private property, sign into your account and click "filters." A pop-up box will be displayed and the first filter will allow you to search for "Entire Home" or "Private Room." If the host has properly labeled their property, you will only see the type of vacation rental you've selected.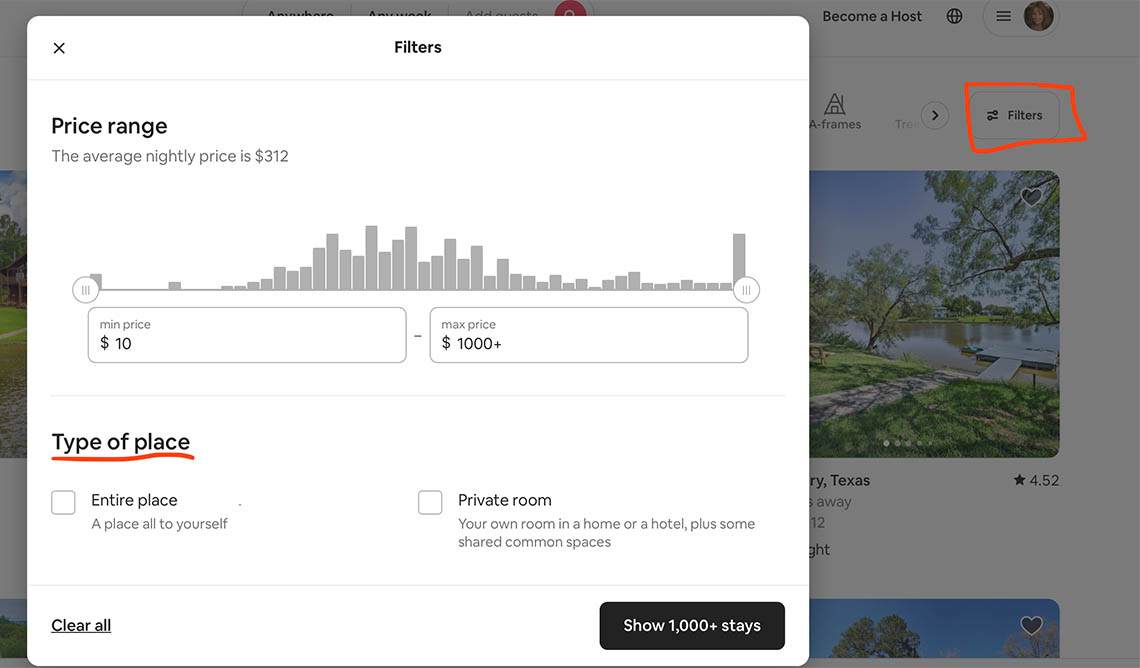 Carefully look at the details and reviews on the Airbnb listing: Don't disregard any of the details on the Airbnb listing. Although it isn't common for hosts to intentionally mislabel their property, mistakes can happen. As can misunderstandings about the level of privacy. For instance, you may book a private home, but the pool or hot tub may be shared. Reading through the list of amenities and the reviews will give you the information you need to know before you book.
Screenshot the Airbnb listing before booking: You should always take a screenshot of the listing before you book the property. This is a good idea for many reasons. If any part of the vacation rental is not as described and you need to escalate your problem to the Airbnb resolution team, or to the Consumer Rescue advocacy team, that visual documentation will help support your complaint.
Oh, and one final tip: No matter what vacation rental platform you use, if you notice the property you're considering is hosted by "Adam in London" – Run! 😜🏃 (Michelle Couch-Friedman, Consumer Rescue)
Last Updated on September 4, 2022 by Michelle Couch-Friedman