If you book a vacation rental and it has mice, are you responsible for catching and disposing of the rodents? And if so, does the Airbnb host owe you a refund or other compensation for your troubles?
That's what Gabriella Costanza wants to know after her recent unpleasant experience. She and her significant other had planned to celebrate the holidays in a clean, cozy Airbnb property. Unfortunately, soon after the couple arrived, it became clear they weren't alone in the vacation rental. And although Airbnb allows shared-space rentals, these additional "residents" were of the most unwelcome and unapproved kind – mice.
But maybe even worse than the reality that mice were living at this Airbnb was the host's response. This vacation rental owner expected Gabby to put down glue traps to catch the rodents — and spend her holiday dealing with the inevitable outcome, which the young traveler did.
Now Gabby is asking Airbnb for a refund for this most unpleasant vacation rental experience. But will the fact that the couple completed their entire stay make that an impossible outcome?
Maybe not.
Planning a holiday vacation rental using Airbnb
Late last fall, Gabby's long-distance beau, Toby, made plans to spend the last two weeks of the year with her. He would fly from Arizona to New Jersey in mid-December. Gabby, a full-time student, began searching for a suitable Airbnb vacation rental where the couple could enjoy the holidays.
Before we go any further into this story, I should disclose that I have more than a passing interest in this case. Gabriella is all grown up now. But for much of her childhood, for various reasons, she lived with my family. So I've been her "mom by proxy" for many years. However, our relationship did not change how I mediated this case.
OK, back to Gabby's saga.
Being a full-time student on a budget, Gabby was looking for a reasonably priced one-bedroom apartment. She wasn't looking for anything fancy, but cleanliness was a priority in her vacation rental search.
"We wanted to stay somewhere near the Rutgers campus," Gabby explained. "I found an apartment that was only $89 a night, and it was in a great location."
Gabby, who had never booked an Airbnb on her own before, looked at the photos and some of the reviews and made her decision. She confirmed the property, paying just under $1,000 for the 10-night stay.
That was easy enough, she thought. Next, Gabby set about making other holiday plans and looked forward to Toby's arrival.
This place doesn't look clean or safe!
Late afternoon on Christmas Eve, Toby arrived from Phoenix. The couple took the short drive from Newark to the Airbnb and checked in.
The first thing we noticed was that the apartment looked a bit run down. The photos of the Airbnb site looked much better. But then, when we looked a little closer, we saw mold and other signs the place wasn't clean. I was a little embarrassed since I picked this vacation rental. I figured I would do a little cleaning. But then I saw that the only sponge in the house had black mold.

Gabby describing the Airbnb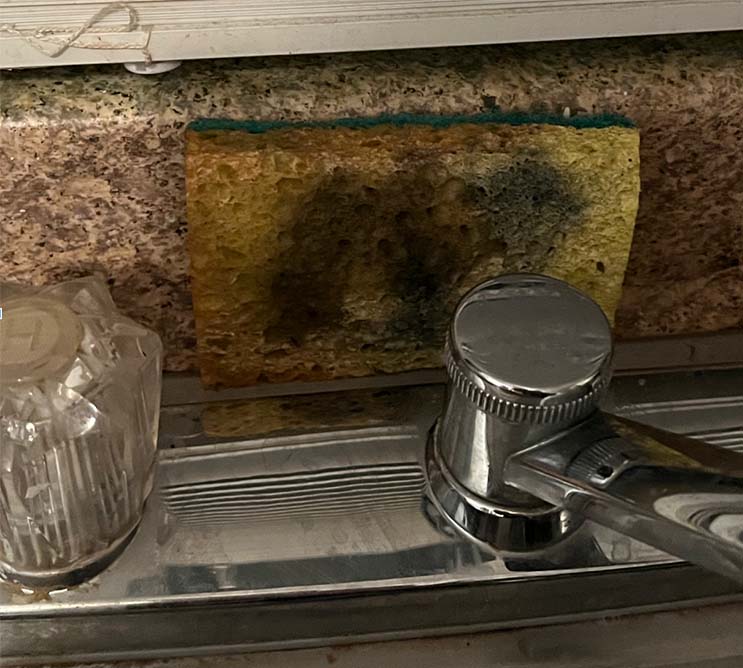 It was getting late, and the couple had plans early the next morning, so they decided to call it a day.
"When we went into the bedroom, I noticed right away that the only smoke detector in the unit wasn't working," Gabby reported.
Not only was the smoke detector not "working," but oddly, it looked like it had actually caught on fire at some point.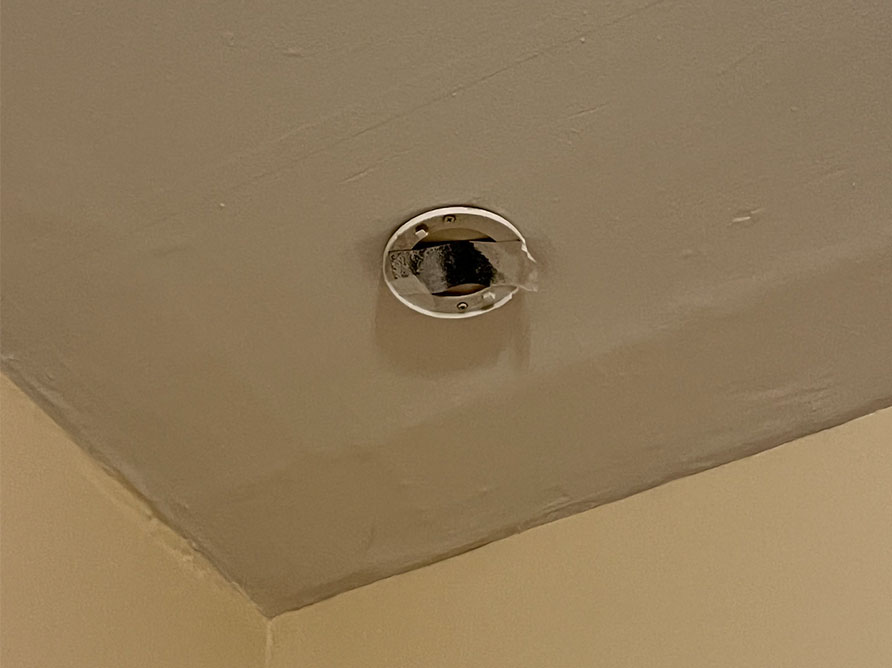 When Gabby went into the bathroom to brush her teeth and change into her PJs, things continued to go south.
"There was mold and grime on the sink and bathtub," Gabby reported. "By this time, I was really disappointed with myself for picking this place."
But when the couple turned out the lights, things went from bad to worse.
Christmas Eve: Not a creature is stirring, not even a… Nope, that's definitely a mouse!
As the tired duo began to drift off to sleep on their Christmas Eve, Gabby heard a little rustling on the floor.
I sat up in bed and flipped on the light, but I didn't see anything. I thought maybe I had imagined the sound, so I turned the light off and tried to go to sleep. Sure enough, a few minutes later, I heard the same sound on the other side of the room. I was pretty sure a mouse was running around, but I didn't see it – yet.

Gabby describing her first inkling there were mice in this vacation rental
After a few more rounds of turning the lights on and off and trying to go back to sleep, she finally caught a glimpse of the offending creature.
"I was so grossed out," Gabby recalled. "I only saw it for a second, but it looked big like a rat."
As a result of that sighting, she stayed up almost the whole night, afraid the rodent would crawl on her.
Merry Christmas.
The vacation rental host: "I've never had rats before."
The next day – Christmas Day – the couple was up early, heading to visit family. Gabby says she didn't text the Airbnb host that day because she thought maybe her rodent sighting was a fluke.
"I didn't want to bother the host until I saw the mouse or rat again," Gabby says. "I thought maybe I was imagining things."
That night, though, there was no mistake — there were mice at this vacation rental.
Just after the lights went out again, the couple heard the familiar pitter-patter of tiny feet. Not only that, Gabby says when she looked under some of the furniture, she saw what looked like mouse droppings.
Sure of herself now, Gabby contacted the host by text to report the problem.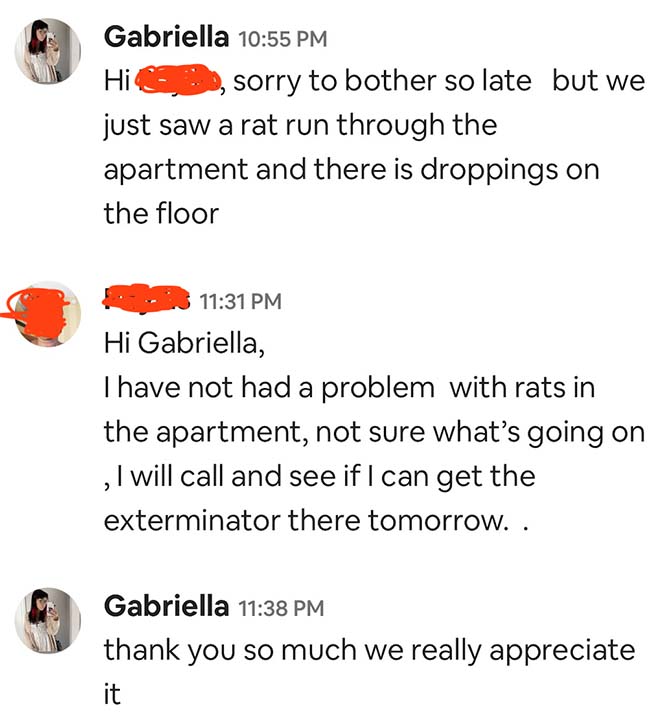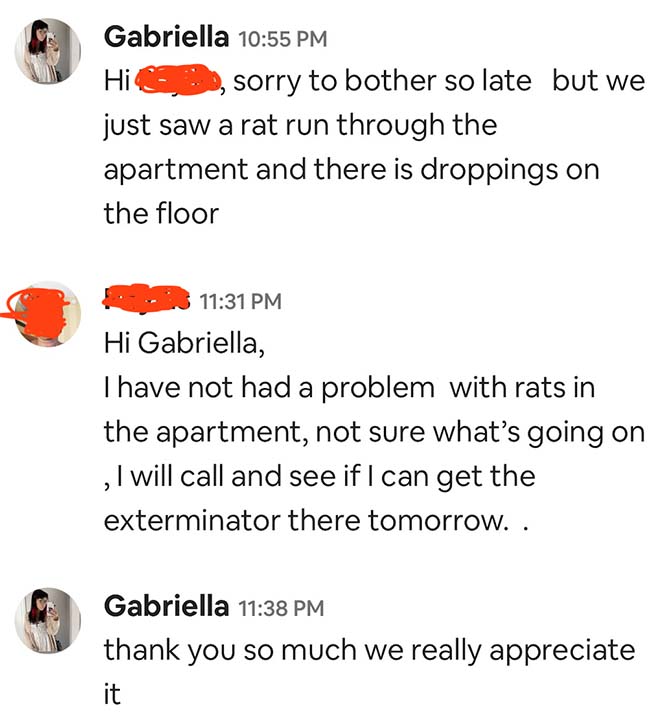 Although the host assured Gabby that she had never had a rat problem before, she committed to sending an exterminator over to the property.
However, the host did not send an exterminator the next day. Instead, when Gabby returned from a day out with Toby, she found a bag of glue traps that the Airbnb host had dropped off with instructions to place the mouse traps around the apartment.
And soon, Gabby was faced with a new, more disturbing problem.
The Humane Society: Glue boards are inhumane and cruel
Anyone familiar with glue traps can already foresee the unpleasant situation that was about to hit Gabby. But in case you don't know, glue traps don't kill mice, they only imprison them on a bed of sticky gunk. This leaves the creature's fate up to the person who discovers the trapped rodent.
The Humane Society says that glue traps are one of the cruelest and most dangerous forms of pest control.

If you're an animal lover, even if you don't love rodents, you likely aren't keen on killing a mouse on a glue trap. But if you find an animal stuck on one of these torture devices, you will be forced to do one of three things: 1) Allow it to suffer and die slowly. This might take days. 2) Find some way to kill it quickly. 3) Spend time on a rescue mission to slowly release the mouse from the trap and then take it outside and set it free.
I've had my own extensive experience with these glue traps. In my early career as a psychotherapist, I worked in a very old state psychiatric hospital in Brooklyn. The place was overrun with rodents. In fact, I would often find mice living in my desk drawer. Believe me when I tell you that it is incredibly distracting to be in a session with a patient and find a mouse staring up at you when you reach for a pen.
The answer to my complaint was for hospital maintenance to hand me a pile of glue traps. Suddenly I had a whole new time-consuming problem. When I arrived for work each day, I would find at least one trapped mouse screaming inside my desk. So I learned how to carefully take them off the trap and release them out into the yard.
Releasing a mouse from a glue trap isn't easy, and it isn't quick… and sometimes it doesn't work. I will spare you further details, but when this mission fails, it's very disturbing for anyone with emotions.
This is the situation that Gabby soon found herself in, an experience for which she had paid Airbnb nearly $1,000.
There's a mouse stuck on a glue trap in my Airbnb. Now what?
Within hours of placing the glue trap, Gabby heard a different noise. This time there was no rustling but screeching. She turned on the lights and found a poor little mouse trapped on the glue board.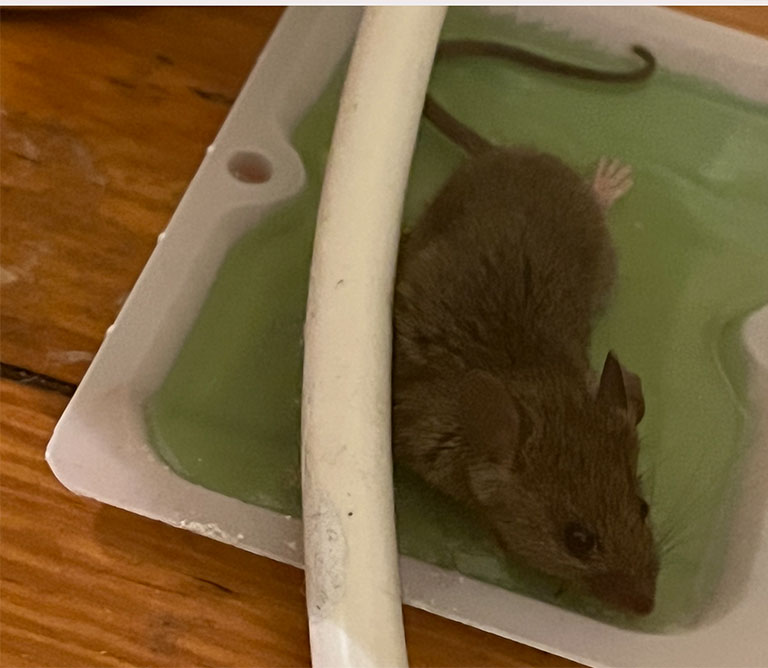 Now sleep was no longer possible because the mouse was crying, and Gabby didn't know what to do. She immediately picked up the rest of the glue traps because she had no desire to catch any more of these tiny creatures.
I really didn't know what to do. This was very upsetting to me because the little guy was in pain. His leg was twisted in a very weird way, and he was looking at us for help. I was crying. Toby was forced to put the mouse out of its misery because it was stuck and injured, and he didn't want it to keep suffering. It was very traumatic and not something I wanted to do.

I just stopped complaining about the mice then. And I figured since it was the holidays, there wouldn't be anything Airbnb could do. So we decided just to finish our stay and spend as much time away from the property as possible.

Gabby describing the plight of the entrapped mouse.
If you're a regular reader of this site, you know this was a mistake. Airbnb users must alert the resolution team as soon as a significant problem becomes apparent. That is if the renter hopes to receive a refund (or rehousing) from Airbnb.
Of course, we know that involving Airbnb right away doesn't guarantee an easy path to a refund, even in the most egregious situations (See: Is this the worst Airbnb experience ever?). But this is a required step as per the terms and conditions of use.
However, being a novice Airbnb user, Gabby wasn't aware of this requirement. She took photos of the mouse and all the other problematic things, made some notes, and completed her stay. THEN she contacted Airbnb.
Definitely the wrong order of events.
Airbnb: We'll review your case
After Toby flew home to Sedona, Gabby compiled her documentation about her experience and sent it to Airbnb.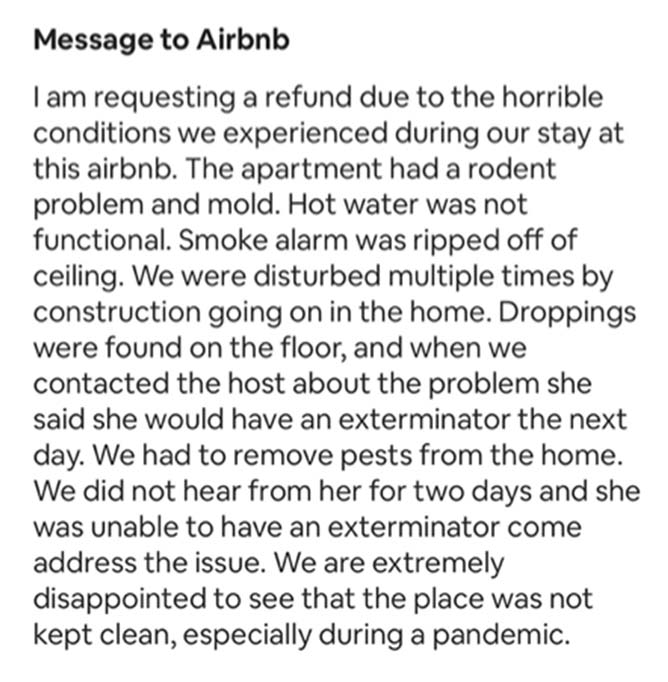 Although an Airbnb ambassador promised to "review" Gabby's complaint several weeks after the rental, she was still waiting for the results.
That's when she decided to tell me about what had happened and asked me for help.
"Michelle, do you think Airbnb owes me a refund based on all of this?" she asked. "I should have talked to you sooner."
The truth was that I could see that she had done quite a few things wrong, and I explained that to Gabby. But I also know that sometimes, in situations where something has clearly gone wrong, the Airbnb team will make exceptions.
Asking Airbnb: Shouldn't a guest get a refund if there are mice in the vacation rental?
Since I don't think anyone should have to pay for the privilege of pulling mice off of glue traps in their vacation rental, I decided to send her case to Airbnb.
… Upon entering the property, Ms. Costanza found mold and other alarming signs of an unkempt property. At night she began to hear chewing noises around the apartment, and then she found signs of an infestation of mice in the Airbnb (mouse droppings and little footprints in the dust on the floor). When Ms. Costanza contacted the host about her concerns, the host said she would send an exterminator, but instead, she just dropped off mouse traps — the glue kind that doesn't kill the mouse but just leaves it stuck in the glue for the humans who find it that way to deal with. So this left Ms. Costanza to deal with the live, entrapped rodents during her stay.

I don't know what can be done now. But the host has been nonresponsive to Ms. Costanza's request for some kind of refund. Airbnb is looking into it, but she's not heard anything for over a week, and she's concerned that her case is being ignored. She is a college student, and I think it's possible the host didn't take her complaints or concerns seriously because of her age and unfamiliarity with Airbnb.

Could your team have a look at her case? I've included the photos of one of the rodents Ms. Costanza was responsible for taking care of and disposing of during her stay, as well as the broken fire detector and moldy kitchen area. Thanks! (Please note that the mouse on the trap is alive).

Michelle to the Airbnb resolution team
Airbnb's mouse policy: the guest gets a full refund
It turns out that Airbnb agrees that a vacation rental should be free of mice and other pests — and if it isn't, the guests should receive a refund. They should never be charged to capture and dispose of rodents or other vermin for the vacation rental host.
Airbnb's Rebooking and Refund Policy says mice, rats, vermin, and other pests in a property make it "not habitable," and guests who are confronted with rodents after check-in can receive a refund or ask to be rebooked. However, the problem must be reported within 72 hours of the discovery of the offending creature(s).
The good news: a full refund from Airbnb
Unfortunately, as we know, Gabby did not report the mouse problem to Airbnb until after her stay. But, given her well-documented attempts to allow the host to fix the rodent problem, the Airbnb executive team decided to refund Gabby completely for her unpleasant experience.
This was a lot of money for me to spend on this vacation rental. This was an expensive and disturbing experience. This host should not make her guests catch mice and I appreciate that Airbnb sent me a refund. Thank you for your help, Michelle.

Gabby
How to get a refund from Airbnb if your vacation rental is uninhabitable
Vacation rental refunds are one of the common help requests we get from travelers. Unfortunately, many of these cases are impossible to resolve successfully. The reason? The travelers didn't follow the required steps before, during, and after the rental to qualify for a refund.
Here's how to make sure that you get an Airbnb refund if your vacation rental turns out to be uninhabitable.
Read the listing carefully – especially the cancellation policy.
When you're considering a vacation rental on the Airbnb site, you'll want to pay careful attention to the cancellation policy. A common mistake is to assume that all listings have the same policy. The reality is that Airbnb hosts set the cancellation terms for their own property. Claiming unawareness of the terms will not be a foundation for a successful refund request. So make certain that you read through the policy before agreeing to it. Remember, some bookings become nonrefundable at the moment you confirm. It's also a good idea to take a screenshot of that listing as it appeared on the day you booked the property. As we've seen recently, some Airbnb hosts have been known to make surprising changes after a guest passes the penalty-free cancellation phase.
Message the owner – before you confirm the rental.
It's always a good idea to message the host before confirming the rental. This is true even if you don't have any specific questions. By messaging the owner beforehand, you'll get an idea of how responsive they are. That will give you a clue as to how fast any issues will be addressed should you book the property and run into problems. A host who ignores an inquiry from a potential renter is probably someone you'll want to avoid. Worse? This could be a sign the listing is fake. But if you do reach the owner, make sure to ask any questions that would make or break your decision to book. If you wait until after you've confirmed the rental to ask critical questions, you again will not have a foundation to ask Airbnb for a refund.
On arrival, inspect the property and document any damage.
When you arrive at the property, inspect the entire property. Take photos and videos of any oddities or obvious damage and report your findings to the host ASAP. Let that person know if any issues need immediate attention.
Involve the Airbnb resolution team.
If there are significant problems with the vacation rental that make it uninhabitable, (Like finding evidence of mice or other vermin) you'll need to involve both the host and Airbnb. You can quickly and easily contact the Airbnb resolution team through the app on your phone or your computer. This creates an excellent paper trail that will document your efforts to resolve the problem and the response of the host and Airbnb to your complaint. You'll be able to easily upload your photos and videos as well. It's vital for Airbnb renters to remember that if you skip this step and independently hit the eject button, Airbnb will rarely entertain the complaint later. As part of the terms and conditions of Airbnb, you must allow the host and the company to address your complaint.
Get approval to leave – do not cancel.
Recently we've seen a trend in which travelers have found an Airbnb property unsatisfactory, and the host advises their guest to cancel. This is almost always a trick. If an Airbnb host responds to your complaints with instructions to cancel and ask for a refund, don't do it. As soon as you press that cancel button, Airbnb will allow the host to apply their cancellation policy. This will also put the brakes on your ability to have Airbnb address the actual issue you were complaining about. What you need to do instead is to ask Airbnb to approve you, based on your evidence, to leave the property and either go to an alternative Airbnb or a hotel. Then you'll have the perfect paper trail to prove your case later if things go south and you need to contact the Consumer Rescue team.
Keep all receipts for alternative accommodations.
Typically, if Airbnb agrees with you that the property has problems that qualify you to leave and receive a refund (like it being inhabited by mice), the company will often find you alternative accommodations. The Airbnb team will send you a list of comparable, available properties for you. If you choose one of these suggestions, Airbnb will apply your refund to the new vacation rental. If the new rental is priced slightly higher, Airbnb will sometimes (if you ask nicely) cover the difference. And if there are no other Airbnb properties available, and you end up at a hotel instead, make sure to keep your receipts. You can submit those to Airbnb at the end of your stay, and sometimes Airbnb will cover the difference if the cost is reasonable. The key word here is "reasonable." So don't check into the Four Seasons to replace your 2-star vacation rental and expect Airbnb to refund the difference.
Ask the Consumer Rescue team for help

The good news is that if you've followed all these steps and you still can't convince Airbnb to process your refund, you can contact the Consumer Rescue team. We'll be able to investigate and work hard to get your money back – even if I'm not your mom by proxy. 👩😜 (Michelle Couch-Friedman, Consumer Rescue)
---
Before you go: Airbnb rentals aren't the only ones that can have a rodent problem. This Vrbo host had a full-blown rat problem on his property.