Mary Shaw was confident that she had done everything right while planning her trip to Paris. She had carefully selected what she thought was the perfect apartment for her family. But when Mary arrived in the French capital, she hated the Airbnb vacation rental so much that she knew they couldn't stay.
Now Mary wants to know how she can get a refund from the unwilling Airbnb host.
If you're currently in vacation planning mode, you'll want to read about Mary's horrible rental experience. Her tale serves as a reminder that not all Airbnb listings are as they seem. So it's critical to be aware of how to protect yourself and your finances should you arrive at a vacation rental that you absolutely hate.
"The place was filthy with bloodstained sheets."
Mary and her husband paid Airbnb $2,491 to rent the Parisian apartment in question for one month. She would arrive several days before her husband to settle into the vacation rental.
Early on the morning that their rental was to begin, Mary landed at Charles de Gaulle International Airport ready to start the vacation. After collecting her luggage, she hailed a taxi and headed to the Airbnb.
During the 45-minute ride, she looked forward to settling into the quaint apartment with a charming balcony. The photos on the Airbnb website showed a small, clean home where everything was in its place. And Mary thought it seemed like the perfect location for the couple to enjoy the City of Lights.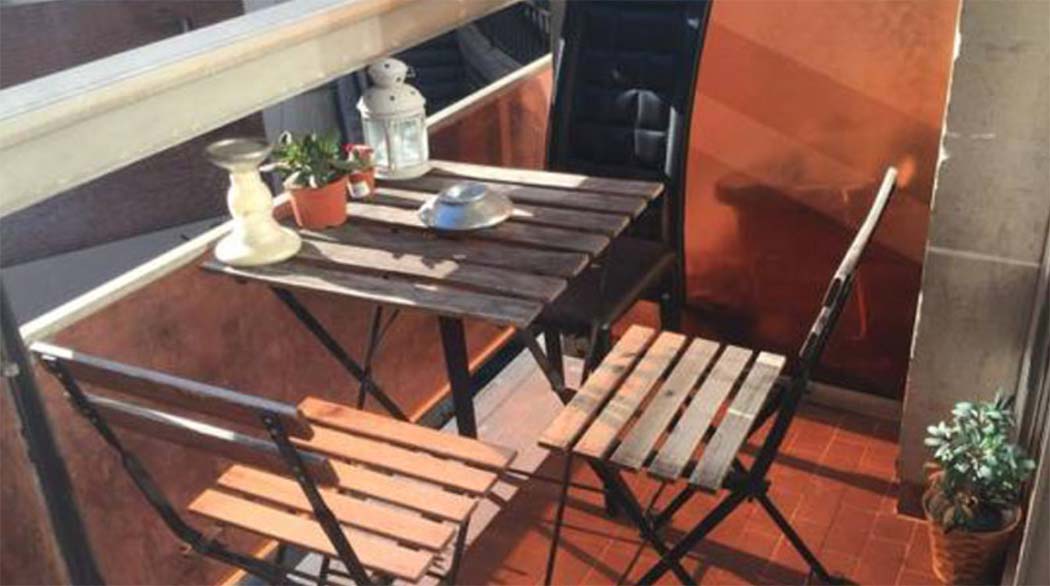 It turns out that Mary could not have been more wrong. And she was about to be confronted with a shocking reality: The photos on the Airbnb site weren't current. And the apartment was definitely not orderly or clean.
"The place was filthy," Mary reported. "There were bloodstained sheets, mold, and old food in the kitchen. And every shelf and closet in the entire apartment was filled with junk."
"I hate this vacation rental. I need to leave!"
Walking into the apartment for the first time, Mary was speechless. She says that it looked as if no one had cleaned the place for a substantial period.
"I immediately hated everything about this vacation rental," Mary recalled. "It bore some resemblance to the listing's photos, but there was clutter everywhere. The place was so dirty."
After a long, overnight flight from the United States, this was the last thing Mary wanted to be confronted with. She had been hoping to unpack her luggage, take a power nap and then head out to explore her new neighborhood.
Unfortunately, now her day would be spent on another task: extricating herself from this horrible vacation rental.
She tried to reach both the Airbnb host and the local agent via email:
I am very disappointed and angry. The apartment is not as you advertised on the Airbnb site. It is dirty and smells of cigarette smoke. The kitchen is dirty and full of junk. The bed linens are stained. The couch is filthy. The closets are filled with trash — there is no place to hang my clothes. There is only one bed, not two as advertised. The list goes on and on.

Mary to the owner of the Airbnb
As day turned into night, Mary did not hear from either the Airbnb host or agent. She tried to make the best of it and spent one uncomfortable night in the dirty apartment.
It would be her only night at the vacation rental she absolutely hated.
Leaving this horrible vacation rental and expecting Airbnb to send a refund
The next morning, a Sunday, Mary sent another email to the host. This time she informed him that she would not be staying, and she asked for a refund. She also contacted Airbnb and advised the representative of the terrible conditions at the apartment.
Mary then gathered her belongings and checked into a local hotel.
Finally, more than a day after Mary had first been confronted with the disgusting rental posing as a Parisian vacation getaway, the owner responded.
In his email to his troubled guest, the Airbnb host expressed bewilderment as to why Mary found the place objectionable. He said his maid had cleaned the apartment before arrival. But he pointed out that the vacation rental is actually his home, so his belongings are there too.
This is my apartment, and some places are not for you to use as my personal effects are [there]. Maybe the places are not organized, but your living space must be clean. I added a brand new table and seats. The old ones have been badly used by former Airbnb guests. I decided to change them for you.

[The maid] can come back and clean whatever you want. If you need more space, we can move some of my clothes to the cave. [This is] not an apartment made only for rental. There is a life in it. I'm sorry you did not like it. I'm not in France and cannot meet you.

The Airbnb host
Mary responded that she would not be coming back to the apartment. And she repeated her request for a refund. She then followed up by sending photos (and a video) of the unacceptable vacation rental to Airbnb.
What does Airbnb think about this filthy vacation rental?
A few days later, Mary received yet another shock. After reviewing her photos, an Airbnb representative told her that he determined there was only a "minor" problem with the cleanliness of the vacation rental. As a result, Airbnb would allow the host to determine her refund eligibility.
We reviewed the case as well as the documentation sent in accordance with the refund policy. This issue is primarily a minor cleanliness issue that could have been easily resolved by the host by cleaning up and replacing the sheets. By canceling the reservation, the host did not have the opportunity to solve the problem. Reasonable efforts were not made to attempt to remedy the circumstances of the travel problem with the host.

Airbnb customer service
Soon the owner sent a $1,000 refund which he determined was a fair resolution, and Airbnb closed Mary's case.
And she reopened it with our advocacy team.
Asking the our advocacy team to help retrieve a refund from this Airbnb host
When Mary's request for help landed on my desk, I had just finished writing an article about another consumer's struggle with Airbnb. Laura Ward's plea for help to Airbnb had similarly been met with a "case-closed" pronouncement. In that case, a hacker had broken into her Airbnb account and taken a vacation using her stored credit card.
After I contacted Airbnb in that case, the company reopened it, and after a 6-month battle, her case ended with an entirely positive resolution. Mary had read my article detailing Laura's experience and hoped that I might be able to do the same for her.
Initially, when I read through Mary's paper trail, she had omitted the photos of this "horrible vacation rental." And I noted that she had never used Airbnb before. So I wondered if her expectations had been set too high.
After all, we've received many complaints from consumers who don't fully understand the nature of listing sites such as Airbnb and Vrbo.
Airbnb, unlike VRBO, allows shared rentals. The company began as a shared-property rental site. And some of the listings you see on Airbnb are still shared properties (although these common space rental properties must be clearly labeled.). You may only be getting a room in someone's home — the owner may be staying with you, too. Or you might just see the remnants of the owner's life during your stay. Many hosts simply vacate their homes when they can rent the property.
What Mary was describing sounded like she hadn't expected to see any evidence of the host in her vacation rental.
So I asked to see her photos. And those snaps left no doubt in my mind that this Airbnb host should refund any money Mary paid him to stay in his dirty apartment.
Asking the Airbnb executive resolution team to reconsider this refund
I sent a short summary of Mary's ongoing battle to our executive contact on the Airbnb resolution team. I included the worst of her photos, which showed a filthy bed with stains, cabinets stuffed full of food, and piles of old, dirty shoes. This vacation rental looked nothing like the cute Parisian apartment depicted on the Airbnb listing.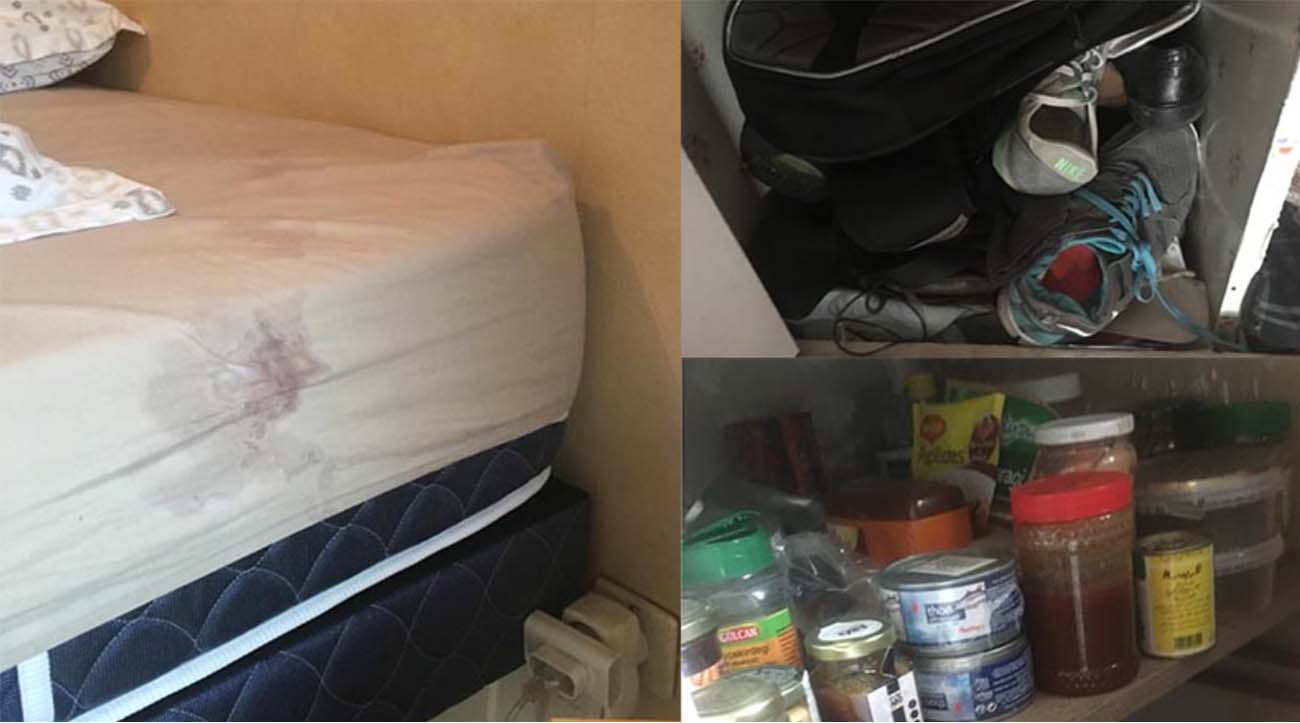 No, you don't have to pay for this horrible vacation rental
And within a few hours, Mary received the good news. Still in Paris, she checked her email, and Airbnb alerted her of a full refund. The executive team agreed that this property wasn't inhabitable in its current state.
Mary says this is a satisfactory resolution to her complaint, and she hopes no other travelers fall prey to this "Bel Appartement."
(*The listing is no longer active on the Airbnb site.)
How to get a refund when your Airbnb vacation rental is not as described
Airbnb has specific requirements that you must follow to be eligible for a refund should you hate your vacation rental so much that you want to leave. Remember, your rental is a binding contract, so you can't unilaterally decide that the property is unacceptable. Here are the steps you must take if you want to receive a refund.
The first step is to contact the host to report the problem and ask for help.
You must also contact Airbnb within 24 hours of identifying a problem. Stay off the phone. Make your complaint through the Resolution Center in your Airbnb account. This creates a perfect paper trail to document your efforts.
Make sure to document the evidence of the problem via photos and/or video. This is a critical step. Visual evidence is much more compelling than just your narrative, which can often simply turn into a he said/she said situation.
If your host is unresponsive or unable to correct the problem, allow the Airbnb resolution team to assist you in finding an alternative accommodation. Your payment can be applied to the new rental. And in many cases, we've seen Airbnb cover any difference in rental costs for the new property IF you've followed the steps to a resolution as outlined on the Airbnb site. (Michelle Couch-Friedman, Consumer Rescue)
*Before you go: Although this Airbnb property was pretty bad, it definitely isn't the worst we've seen. This Airbnb guest had the worst experience by far!