Scrolling through Airbnb one evening, Jeremy Little thought he'd found the perfect vacation rental for his family's trip to London. With scenic views and a spacious layout, it had everything he, his wife, and children could need…and more. Unfortunately, the "and more" turned out to be a real deal-breaker: total strangers sharing the common area. That's something the host failed to mention until after Jeremy booked and paid for the Airbnb.
As a shared space rental was never part of his family's vacation plans, Jeremy immediately asked Airbnb to cancel. Much to his surprise, the listing giant allowed the cancellation but refused to refund the payment.
After many unsuccessful attempts to retrieve his money, Jeremy hopes our advocacy team can help. But with Airbnb firmly on the side of the property's Superhost, is there anything we can do?
Trying Airbnb for the first time on a family adventure to London and Paris
In January, Jeremy and his wife decided to take their two children to London and Paris for spring break. After nearly two years without travel because of the pandemic, the family was eager for the adventure.
But when Jeremy started exploring potential hotels for the trip, he quickly became frustrated.
"Most hotels offered rooms that were expensive and not the right size for my family," Jeremy recalled. "We decided that an Airbnb would be a more cost-effective way to have more space."
Excitedly, Jeremy and his wife began looking through all the possible listings on the Airbnb site.
Having never used Airbnb previously, they studied each property's details carefully. And suddenly, there it was: the perfect one for the London portion of their trip. Jeremy explains:
The two-bedroom apartment looked clean and modern. It showed a photo of a little balcony overlooking London. It was perfect. The location was within walking distance of interesting things. And best of all, the kids would have space to stretch out, and we would have private bedrooms.
The bedrooms would end up being the only thing private in this Airbnb, but the couple didn't know that yet. They quickly confirmed their dates, feeling lucky to find such an excellent fit for their family.
But soon, the Airbnb host shocked the couple with some news – other people would also be "fitting" into this apartment at the very same time.
Surprise! You and your children will be sharing this Airbnb with some strangers.
After the 48-hour window for a penalty-free cancellation, Jeremy says he suddenly heard from the Airbnb "Superhost." (Airbnb Superhosts are hosts who have an established history on the site with a significant number of 5-star personal reviews as a host).
He (The Airbnb Superhost) wanted to confirm my reservation 'details.' His note highlighted we had booked a shared space with strangers, with no locks on any doors. I went back to check the listing, which now prominently said "shared space." I knew I had requested an entire, private home, so I didn't know what went wrong.

Jeremy Little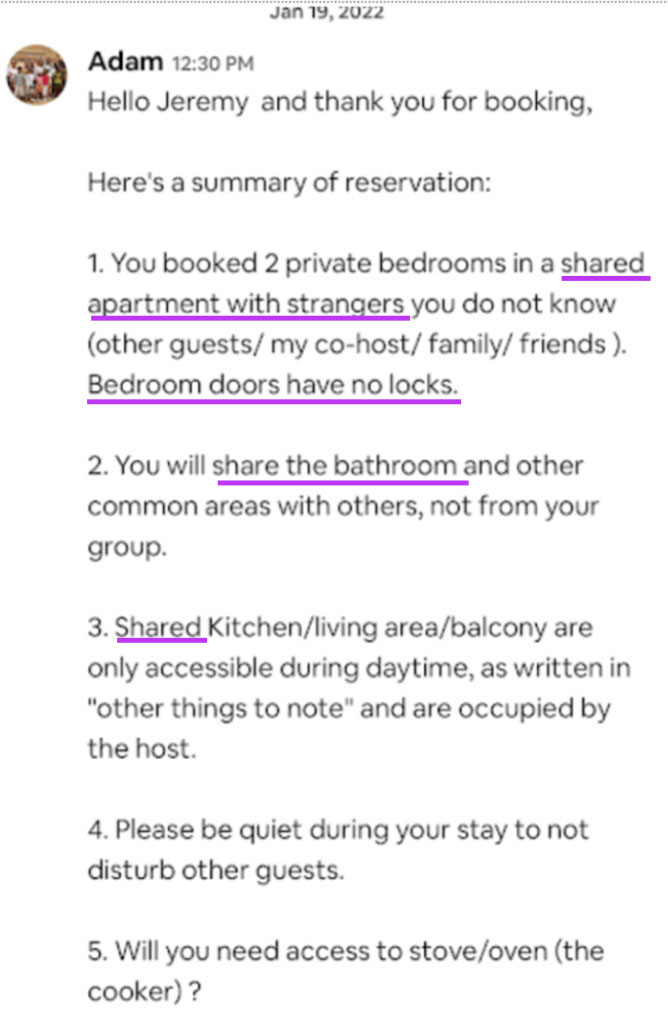 The couple read through the host's message with growing incredulity. That cute little balcony he and his wife imagined enjoying a glass of wine from at the end of the day wasn't even accessible. Now it sounded as if the family would actually be living with the host and other strangers, with no locks anywhere.
Jeremy was stunned. The family had turned to Airbnb to have more freedom to spread out and relax. But it now seemed that he had somehow accidentally booked the family into a regimented youth hostel of sorts.
We would like to cancel the vacation rental and get a refund
Obviously, there had been some misunderstanding. He and his wife would never have booked a shared-space apartment even if they were traveling alone. But the thought that they would risk staying in a home with total strangers without door locks, in a foreign country, with their young children in tow, was outrageous.
The absurd nature of the situation was nearly laughable – except that the Airbnb host wasn't laughing.
I explained to Adam, the host, that I was bringing my children and that there was no way my wife and I could share his Airbnb with strangers. I thought he would see that it was an impossibility and that there must have been some mistake with the listing. But he refused to consider giving me a refund so I could book a suitable vacation rental for my family. He offered me a 50 percent refund.
Jeremy couldn't believe it. There was no way that the picture he had of his family's dream vacation included hanging out with strangers in a shared apartment.
His first brush with Airbnb had quickly devolved into a bizarre vacation rental nightmare!
Asking Airbnb about this surprise shared space rental
After many polite interchanges between Jeremy and the host, things began to turn a bit cold – although still cordial. The host pointed out that he is a Superhost for a reason and he wanted to try to make things right.
He said he understood that my family didn't want to share space with strangers. But for procedural reasons, he had to tell Airbnb support that he was not refunding or canceling. He then told me that he is a very popular host with many requests, so he would reach out to some other prospective guests to see if they would like to stay in this place instead of one they were considering. If he could rebook our space, he would refund us.
Realizing that this would be the best outcome he could get directly from the host, Jeremy turned his attention to Airbnb.
And that's when things really started spiraling downward.
First, Jeremy found it challenging to reach a human. In a chat, an "Airbnb bot" asked various time-consuming questions that ultimately led nowhere. Then when he tried again later, what appeared to be a real person told him that an Airbnb agent would call him back in two hours.
That never happened. And every time I tried to fix this with Airbnb, I had to start all over. I explained the situation over and over. I was almost certain that the host had listed this property incorrectly, but no one at Airbnb would investigate.
Unfortunately, during the pandemic, we've heard from other Airbnb guests with similar experiences. When Lee Smith found herself in a shared space rental with a drunk, she also couldn't get an Airbnb agent to understand the gravity of the problem:
Getting nowhere fast with Airbnb, Jeremy started to do his own investigation.
Showing that the Airbnb host is confusing his potential guests
Having invested far more time in the planning portion of his family's much-anticipated vacation than he expected, Jeremy was on a mission. He was convinced that he had used the Airbnb search filter properly. He had only requested "entire place" listings. So he started looking carefully, examining this particular host's listings (yes, he has many).
And suddenly, he was sure that the mistake about this Airbnb wasn't his own. This Superhost seemed to have identity confusion on his listings, changing them periodically. Sometimes these listings would show up as an Entire home, and other times the same property would be listed as a Private room.
Now that Jeremy had a smoking gun, he was confident that Airbnb would approve his refund. He gathered his evidence and presented it to an Airbnb customer service agent.
What happened next was probably the most frustrating part of Jeremy's experience. The Airbnb agent reviewed Jeremy's screenshots and told him that the property is an entire home. He completely missed the point of why Jeremy was contacting Airbnb and believed he was looking for assurance that the property was an Entire home (which it is not).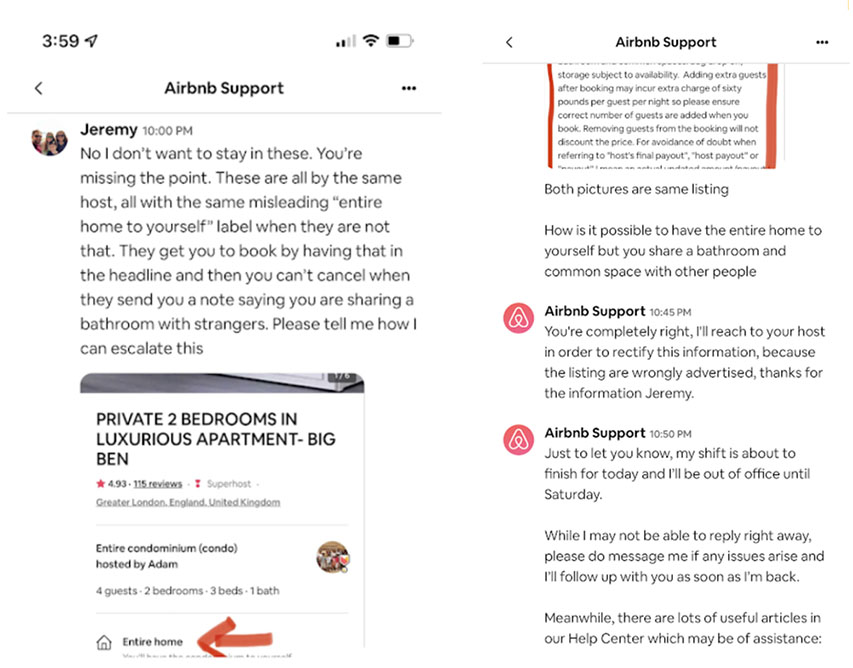 Eventually, this Airbnb agent agrees that the property is miscategorized but continues to ignore Jeremy's refund request, despite the evidence he presented. Then suddenly, the employee announces that it is the end of his shift. The chat is over.
Announcing a shift change is, by the way, something we've seen seems to be a standard way that Airbnb customer service representatives conclude their conversations when they've reached the end of their "script."
And Jeremy had reached the end of his tolerance of Airbnb's inability to see the reality of this Superhost's listings. That's when he did a web search and found an article I had recently written about another consumer's vacation rental problem.
What's going on with this vacation rental listing?
When Jeremy's request for help hit my desk, he had been trying to resolve this problem with Airbnb and the host for weeks. He was frustrated. But he was no closer to getting his money back than he was at the beginning of his battle. In fact, the host was now ignoring his inquiries.
The fun of vacation planning had evaporated for Jeremy.
Airbnb has given me a 50 percent refund which doesn't seem fair. Why does this person [the Superhost] get to keep over $1k of our vacation money?? I've saved up to finally take my family on spring break after postponing for two years. Now, this guy gets to take it for his own benefit. Please let me know if you can help me.
If what Jeremy was saying was true, then, of course, this host should return the rest of the money ASAP.
I did a little digging, and it appeared that the host was, in fact, fiddling with various parts of his listings from time to time. I suspected he was doing this so that his properties would appear in more searches, but I didn't know for sure.
It was time to ask the Airbnb executive resolution team to have a look.
Asking the executive team about this shared space listing
Hi ****,

We have another Airbnb case here that I think your team will want to have a look at. Jeremy Little was searching for an "entire home" in London for April. He's bringing his wife and children, so he had no desire to book a shared space rental. After he confirmed the rental, the host told him he would be sharing a bathroom and other areas of the property and that there are no internal locks on the doors. This isn't acceptable to Jeremy, and he asked to cancel and get a refund. This host (who is a Superhost) denied Jeremy's request, and then Airbnb initially told him he would qualify for a refund, but then later reversed the decision and sided with the host.

It looks to me that this host is not being honest about what he's doing. He seems to be frequently editing his listings so that they show up in searches for "entire homes" even though they are shared space rentals. Then he edits the listing again later to include the shared space information. I'm including multiple screenshots of the same listing taken at various times of the day. You'll see that on the first one, the property says "entire home" later that same day, about an hour later, that icon is gone. I just checked the listing right now, and he's edited the property again so that it says "Shared bathroom."

This family would just like to be able to cancel, get a refund, and book an alternative rental that actually is a full home. Could your team have a look at that listing and see how many times he's edited the information? The version that says "entire home" is a misleading listing, and it lured Jeremy into booking. (Michelle to the Airbnb executive team)

Michelle to the Airbnb executive team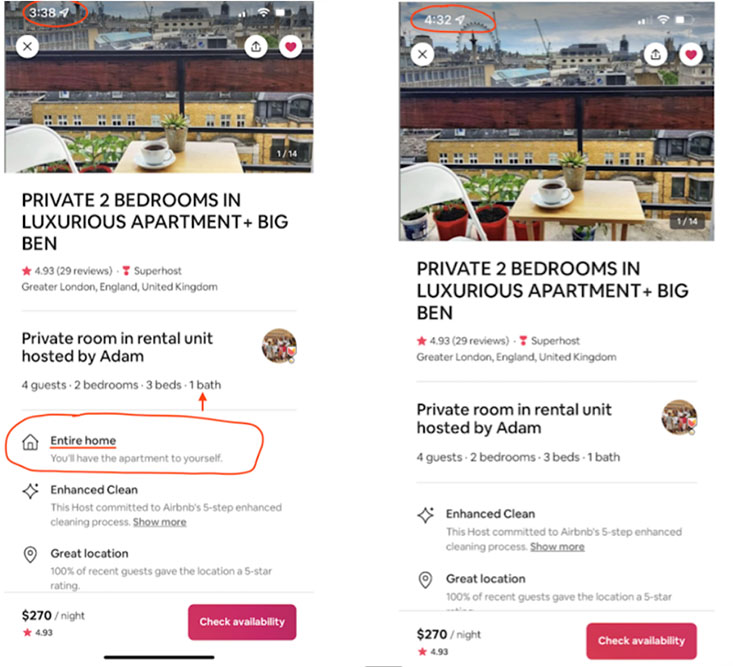 The good news from Airbnb: Here's your refund
Soon, Jeremy's frustrating battle with Airbnb and this host was over. Although Jeremy came out the victor, Airbnb maintains that this Superhost didn't change the listing multiple times (*See footnote at the end of the story to find out what happened after we first published this story). The executive team says their IT records show the host only edited the listing(s) once.
Hi Michelle, I had our team review this case thoroughly. They were able to see exactly what the listing page looked like when the guest booked the reservation. At that time, the listing was advertised correctly as a Private Room. We are seeing that the listing type only changed to an entire home once and is currently accurately advertised. That being said, our team is reaching out to the host to help them understand how to properly list their home, and they will be contacting the guest to assist with rebooking.

Airbnb executive team to Michelle
Jeremy received all his money back, and his family's plans for London and Paris next month are back on track. They're now confirmed in a full Airbnb vacation rental that is completely 100% private – with locks on all doors – and no strangers to share a bathroom with. Just what they always wanted. Yay!
Hi Michelle, I cannot even begin to tell you what a relief this is! It is a huge financial and frankly emotional weight that no longer burdens our long-delayed vacation.

I also cannot thank you enough. None of this would have gone anywhere without your effort. Thank you so much for just taking the time to listen and understand my side of things.

Jeremy Little
Yes, Airbnb allows shared-space rentals. Here's how to make sure you don't accidentally book one
When Airbnb started out, it was known as "Air Bed & Breakfast," and all of its offerings were shared space. But that was in 2007. Today many Airbnb users aren't even aware that any of the listings on the site are anything but private. This can lead novice Airbnb users into accidentally booking a shared space property.
Here's how to ensure that unwanted strangers don't surprise you in your next Airbnb.
Enter "Entire Place" in the search field.
If you're not looking to share a bathroom or anything else with a stranger during your vacation, pay attention to the Airbnb search field. At the top of your screen, you'll see a variety of filters. Click on "Type of Place," and you'll get a dropbox with four options. Make sure that you place a checkmark in the top box – Entire Place. Shared space rentals can appear in your search results if you leave that field blank.
Carefully review the words in the listing.
Even if you've indicated that you're only looking for an entire place, carefully review each Airbnb listing you're considering. You'll want to make sure that the property hasn't been miscategorized. Look for any language that would suggest you won't be completely alone. Words like: "private room" or "shared common area" should be cause for concern even if the listing says it's an entire home.
Read the listing's reviews.
Look for signs in the guest reviews, not only for the quality of the property but also for the level of privacy. If what you really want is an entire private home, make sure no previous guests mention encountering other occupants – including the owner. Keep in mind some owners may block off parts of their home during your stay and continue to live there. So although you may be booking an entire home, the owner or caretaker might still be staying on the property somewhere within peering (and listening) distance. The property reviews should give you clues to that type of setup. And FYI: Even if you're positive that you've found a private rental, reading the reviews is always wise. You can definitely learn a lot from that content — like whether the vacation rental is in the advertised location or not. Remember, only Airbnb verified guests can publish their opinions of a property. So you can assume most reviews under a listing are reliable.
Contact the host before booking.
If you still have any questions about the listing, use the Airbnb "message-the-host" feature on each listing and ask directly. Contacting the owner before booking a property is a step you should not overlook, even if you don't have any pressing questions. Just as all guests aren't created equally, neither are all hosts — and some may not even exist. Before handing over your cash to an owner and agreeing to stay in their home, you'll want to get a vibe about that person. Sending a short question or even just a 'Hello, I'm considering your property' should provide you with some essential information about that person. If an owner is inattentive and unfriendly before you book the Airbnb, there's no reason to expect things will improve after you show up.
Take a screenshot of the listing.
As today's tale of woe shows us, sometimes hosts might adjust their listings after you make a booking. Taking a screenshot of exactly how the listing looked when you booked it will be very helpful if unusual changes happen to the listing (or property) before your arrival.
And don't forget, if despite following all of these suggestions, you can't find someone at the company who understands your plight (See: If an Airbnb scammer takes $1,942 from your account, can you get it back?), send us your details, and we'll join your battle! The Consumer Rescue team is always here to help. (Michelle Couch-Friedman, Consumer Rescue)
* Since I first reported this story earlier this year, I heard from a handful of other readers who had a similar experience with Adam. You can read about those other Airbnb guests and what eventually happened to this "Superhost" here.