After a 12-hour flight from Israel to the U.S., college students Shaked and Segev were eager to get settled. They grabbed their luggage and headed to the cute Vrbo in Queens, scheduled to be their home base for three months. But those plans quickly changed when they arrived at the vacation rental and shockingly found rats already settled there.
Then things went from bad to worse for the tired and bewildered United Nations interns. The Vrbo host refused to release them from the nearly $9,000 rental contract. Instead, he told the students to go to a youth hostel while he evicted the rats from his vacation rental property.
Now, after several weeks of trying to reason with this Vrbo host, they're asking for our team's help. The college interns do not want to return to the basement-level apartment where the rats have been residing. But the owner claims they are in breach of contract, and he says he gets to keep the $9,000.
That definitely doesn't sound right to the Consumer Rescue team. Can we fix this vacation rental fiasco?
Planning for an internship far from home
Shaked and Segev, students at Shalem College in Jerusalem, were thrilled to be selected for internships at the United Nations. They would fly to New York City at the end of August and return to Israel on Nov. 30. The two would need to find a short-term apartment for their stay.
Scrolling through the Vrbo site and careful to stay within the school's budget, Shaked zeroed in on one particular listing. It was a two-bedroom apartment in a brownstone in Queens. The place looked clean and comfortable – a bit lived-in, but it checked all the required boxes. She booked the rental, and Shalem College paid the $8,865 bill.
With all of the details confirmed, the students excitedly prepared for their upcoming adventure to the United States.
Unfortunately, their first impressions of the city would be terrible.
An unpleasant welcome to this Vrbo
When Shaked and Segev arrived at New York's JFK on Aug. 28, they had just traveled over 10,000 miles. They looked forward to unpacking and having a good night's sleep in the small, quaint apartment before exploring the Big Apple. They were excited to finally be starting their adventure.
But then a taxi delivered them to the place that was meant to be their home away from home for three months.
That's when their shared happy mood quickly changed.
The Vrbo vacation rental was located in the basement unit of the brownstone. Piled up around the unit's windows were full garbage bags and miscellaneous trash everywhere. Discarded fast food bags, candy wrappers, newspaper remnants, and more, littered the entrance.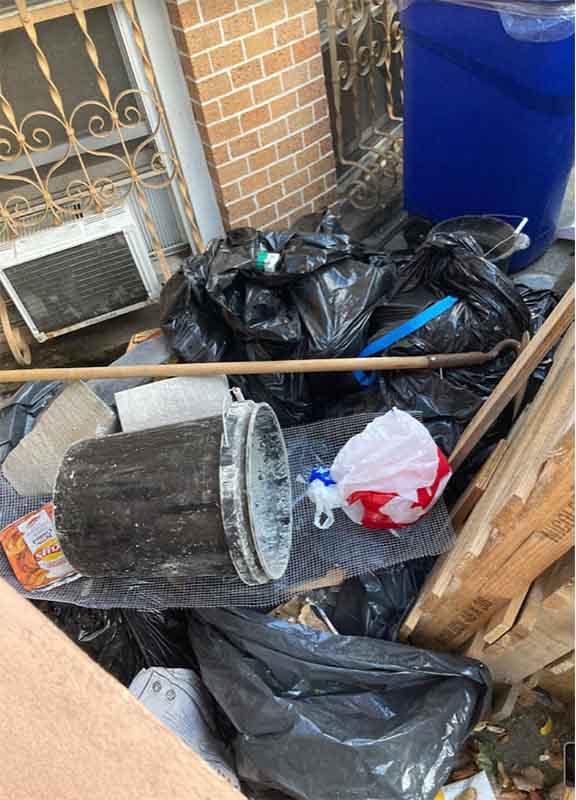 But that wasn't the worst part of this scene.
When the two tired travelers headed down the steps to the door of the Vrbo rental, there was what appeared to be a dead rat on the concrete among the debris.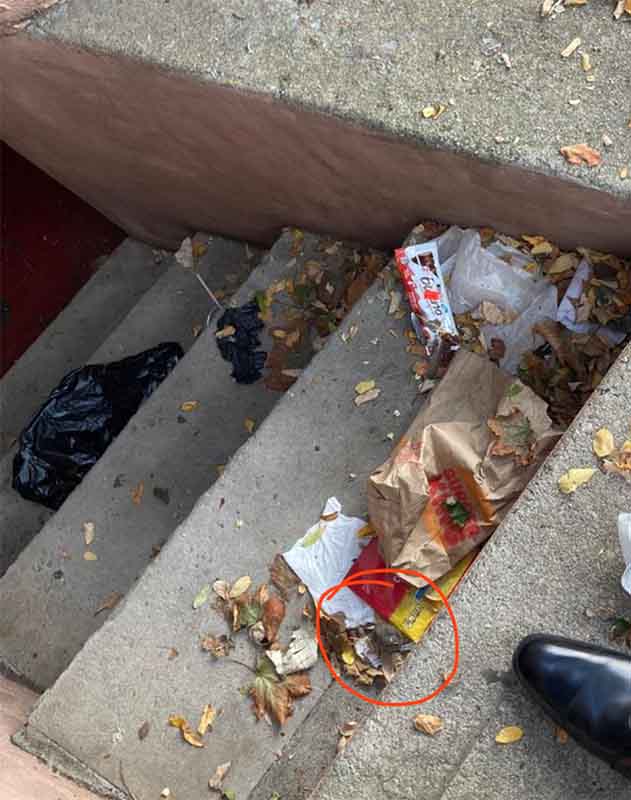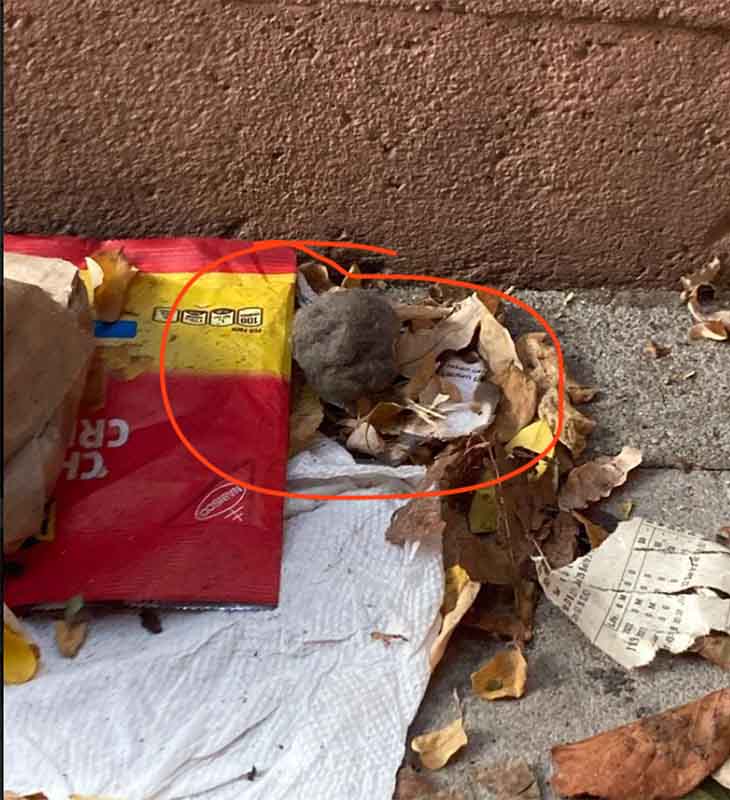 Now quite discouraged, the students entered the unit with trepidation. Their impressions of the Vrbo property didn't improve as they looked around. The apartment was dark and didn't look very clean. There were air fresheners placed around the rental, and some unidentified white material was smeared on the floor.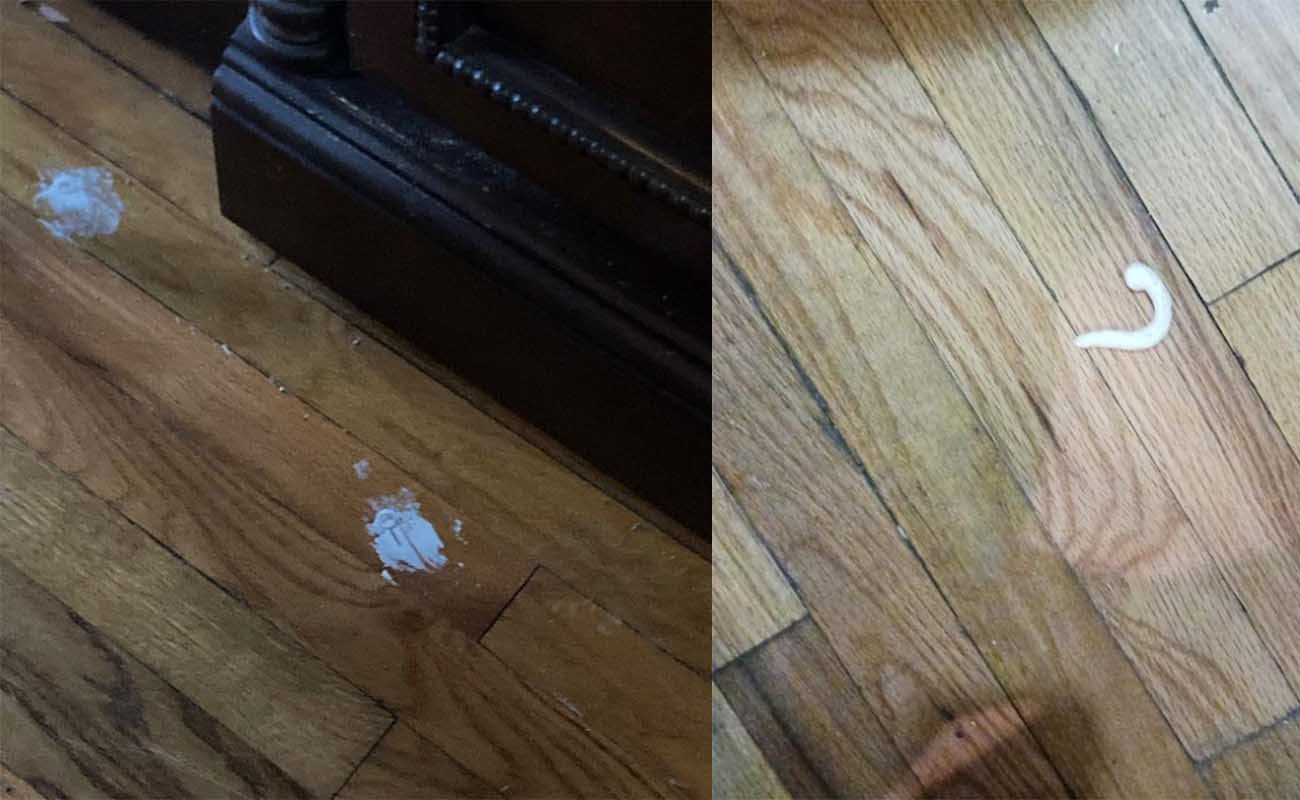 The situation was astounding to the two friends. They never expected anything like this when they booked the Vrbo. Not knowing what else to do, they decided to report the garbage problem to the host and hoped things would get better the next day.
That hope turned out to be quite lofty.
There are rats inside this Vrbo rental! We have to go
The next day as Shaked and Segev tried to gain their equilibrium in their new surroundings, something that they could not accept confronted them.
"We saw rats enter the apartment through a hole in the wall behind the TV," Segev reported to Vrbo. "There is a hole there and all along the length of the wall. These holes allow the rats to come inside!"
The friends waited until one of the rats poked his head out of the hole, snapped a picture and a video, and gathered their belongings.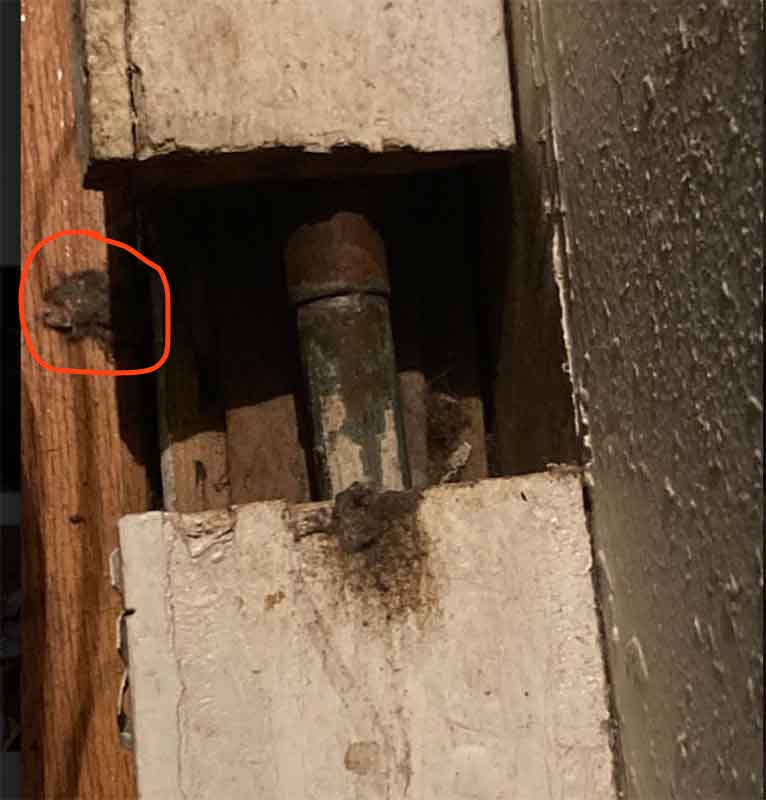 Next, they sent messages to Vrbo, the host, and to their advisors at Shalem College. There was no way they would be able to stay at the property any longer.
Asking the Vrbo host to get rid of the rats in the rental
Because the students speak limited English, their college advisors began to contact Vrbo and the host on their behalf. Jonathan Mensch, CFO of Shalem College, reached the host, and the two began having polite texts. Initially, Michael (the Vrbo host) is confident he can fix the problem within a day or two.
Throughout the long text string, Michael apologized and offered to pay for the ladies to go to a youth hostel while he corrected the significant issues at his property.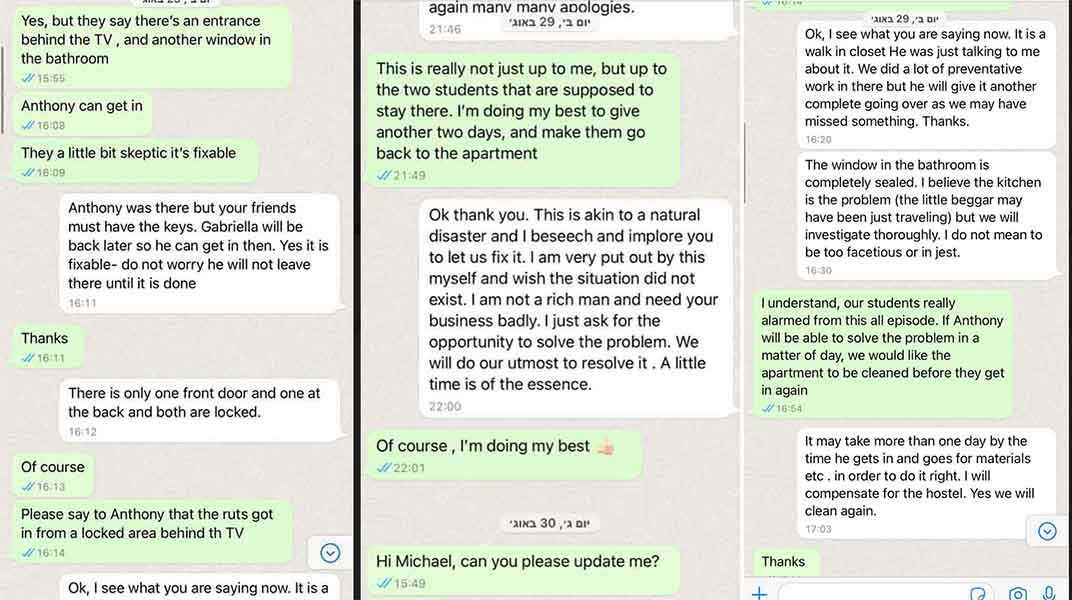 Inexplicably, Michael compares the situation to a natural disaster — as if he had no control over the garbage pile on his property and the holes in the floor of the rental that allowed the rats to come in.
As a former New York City resident, I found Michael's comparison quite disingenuous. It's well-known that all five boroughs of NYC have rats and mice (and cockroaches). City dwellers must take precautions so that these disease-carrying rodents don't take up residence in their homes. The NYC Board of Health dedicates a page on its website to rats. To say that both the inside and outside of this Vrbo property were a perfect lure for rats is not an understatement.
The Health Department warns property owners to take the following precautions to make buildings unappealing to rats:
Clean up. Garbage and clutter give rats a place to hide.
Rats eat your garbage, so store all garbage in hard plastic rat-resistant containers with tight fitting lids. Provide enough trash containers for all of the occupants of your property. Any exposed garbage will attract rats.
Keep landscaped areas around your property free of tall weeds and trim shrubs that are close to the ground.
Check for cracks or holes in the foundation of your building, sidewalk and under doors and repair them by filling and sealing them. [Source: The New York City Health Department.]
Looking at the video and photos of this Vrbo rental, it's clear the rats weren't just traveling through as the host suggested. And the situation at his property was nothing "akin to a natural disaster." Michael had created a perfect vacation rental — for rats to enjoy.
Moving from a two-bedroom apartment to a youth hostel
Faced with no other choice, Shaked and Segev, who had expected to be staying in a comfortable, private two-bedroom apartment, checked into a local youth hostel to wait. It was just one more unwelcome turn of events since their arrival in the United States.
"Since the host would not cancel our stay and refund our money, we were basically homeless," Segev explained.
After several days at the hostel, the friends were becoming impatient. Michael appeared no closer to having the rental inhabitable for humans. He continued to give excuses and pushed out the date of completion of the repairs and cleaning. The final straw came when he suddenly told the students and Jonathan that the apartment probably wouldn't be ready until the end of September.
Segev sent Michael an email informing him that they were done waiting. The friends expected a refund of the $8,865 they had spent on the uninhabitable rental. He refused and then outrageously accused the students of breach of contract. When Jonathan sent him a text to reiterate that his students would not be returning, Michael's previously polite tone changed in a vulgar way.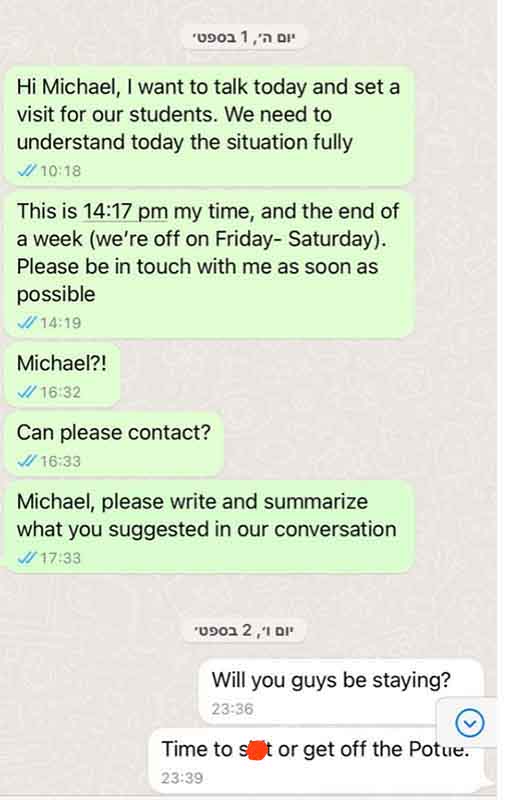 When Jonathan received this text, he had enough. His students only wanted a clean, rodent-free place to sleep during their internship. This Vrbo host had added unnecessary distress to the adventure they had been so looking forward to.
That's when Jonathan decided to reach out to Consumer Rescue and see if we could help.
Consumer Rescue investigates: Why are there rats in this vacation rental?
When Jonathan's plea for help landed on my desk, he, his team, and his college students had been fighting this Vrbo host for weeks. Not only had the owner sent hostile texts but had also become aggressively rude on the phone with another representative of the college.
Several of the later WhatsApp messages were sent from the owner with offensive responses and in later phone conversations the owner became very angry and yelled at our representative.

VRBO has not responded to the initial complaint or to any of the email messages sent. Can you help?

Jonathan to Michelle
The rental contract was still open, and Jonathan pondered whether he should cancel it so the students and the college could get a refund. The answer to that question was "absolutely not."
Warning: Do not ever cancel your vacation rental if you're having a dispute with a host. This is true on Vrbo, Airbnb, and other listing sites (unless you have a fully refundable rental contract). If you initiate a cancellation, you will compound your problem tenfold. The host will receive their payment, and in most cases, the listing agent will close your case. You will likely need assistance from an outside mediator in this situation.
I reviewed the paper trail between Jonathan, Shaked, and Segev, and it was clear that this host was way off track. His property was not suitable for renting to humans. No one wants to pay to live at the bottom of steps covered with garbage and dead baby rats.
This Vrbo host had suggested that his two "guests" go live at a youth hostel while he corrected the problem. His last email with Jonathan said that he predicted the problem would not be corrected until the end of September.
None of this was acceptable to Shaked, Segev, Jonathan, his staff at Shalem College, or the team at Consumer Rescue.
It was time to contact our always helpful executive at Vrbo about this vacation rental that came with rats!
This rental is uninhabitable, shouldn't the host refund the guests?
When I sent this case over to Vrbo for their executive team's review, I knew something had gone seriously wrong here. No vacation rental guest should be expected to live with rats – and this host didn't even deny the problem. The Vrbo customer service team should have quickly canceled this rental and refunded the money to the original form of payment.
These young college students just wanted to be able to complete their internship at the United Nations with a clean, relaxing place to retire to each night. They wanted to focus completely on their purpose in New York, but this Vrbo distraction had made things difficult.
I aimed to correct that ASAP.
Hi ****

These students were forced to stay in a youth hostel while they waited for this host to complete "repairs" — close the holes in the walls, remove the tons of garbage, and clean the apartment. The host asked for a few days and then he asked for a few more days and then he said it would be Sept 22 before he could get everything fixed and cleaned. And now he's hostile because these students do not want to complete their stay at this place.

The owner says if they don't return, he will not refund any of the nearly $9,000 the college paid for these students to stay in the apartment.

The rental is still open, neither side has canceled. But I believe the owner should officially cancel this uninhabitable rental and return the money so these students can stay somewhere else.

He should get the place in order before he puts it back up for rental. I'm attaching the photos of the property. The students also have a video of the holes in the walls that seem to be the problem. But they don't want to return to an apartment where they've seen rats inside (and outside), and the owner is hostile. I have a copy of a lot of the texts between the host and these guests and some of it isn't very nice at all.

Could your team have a look?

Michelle to our Vrbo executive contact
The good news: Here's your $8,865 refund from Vrbo
The good news came swiftly for everyone involved in this case (except, of course, the host). As I suspected, the executive Vrbo team wanted to correct the obvious problem for these college students. Clearly: No vacation or any other type of rental should come with rats!
Hi Michelle,

Thanks for bringing this to our attention and apologies for the delay! Our Customer Relations team has looked into this case – we're sorry Jonathan and the students had a negative experience with this booking, and we're providing a full reimbursement of the $8,865 paid for the booking. The Vrbo Billing team will be reaching out shortly with next steps.

Our Trust & Safety team is also actively investigating the complaints against this host and listing and will take action accordingly, which can include permanent removal of any host in violation of our policies.

Best,

Vrbo executive contact
Jonathan and his students are thrilled by the outcome, and we couldn't be happier.
Michelle,

We couldn't have reached this outcome in such a quick and efficient manner without your time, effort, and direct involvement. We are very grateful for your assistance and will spread the word as far and as wide as needed. Also, happy to act as an advocate on your behalf.

Thanks again!

Jon
What to do if your vacation rental has rats (or any other intolerable problem)
No Vrbo host should expect vacation rental guests to pay to share space with rats, mice, roaches – or other people (See: Vrbo doesn't allow shared space rentals, so why won't this host get out?). These rentals should be clean, safe, free of vermin, and private. Unfortunately, as our case files show, from time to time, there are Vrbo and even Airbnb hosts who don't seem to agree.
Here's what you need to know if you arrive at your next Vrbo and find unwanted roommates of any type.
Do not cancel the reservation: Never cancel your reservation in an attempt to force a refund from the host. If you preemptively cancel your reservation before you resolve the problem with the owner, Vrbo will send your payment to the host of the property. Your booking will be complete. Keep in mind, Vrbo is just a vacation rental listing site – not a management company. You must work with the host to resolve any problems with a property. If the owner refuses to correct significant problems that make the rental uninhabitable, you need to keep the reservation open so that you can work with the Vrbo resolution team.
Contact the host immediately: In most cases when there is a problem at a vacation rental, you must give the host an opportunity to correct this issue. This is true if you find that the property hasn't been cleaned between guests or nearly any other issue – unless it is a health/safety issue. Having rats present in a vacation rental is a health issue and guests are not expected to tolerate such a situation. Feral rats can transmit a host of serious illnesses to humans. If you see a rat or evidence of rats at your vacation rental, you should immediately let the host know. Then gather your belongings and leave.
Take photos and videos: It's important to thoroughly document the problem at the vacation rental. In many cases, your narrative will not be sufficient to convince a resolution team to rule in your favor if the host is resistant. Remember a photo is worth 1000 words – and a well recorded video can "speak" 10,000 words. Both can be highly effective in your complaint against an unreasonable Vrbo host. So take as many photos and videos of the situation as you can and make sure the area is well lit and a third party can easily understand the evidence. (PS. Even if you don't have a complaint, it's a good idea to take photos of the state of the vacation rental before you leave as well to protect against false damage accusations.)
Involve the Vrbo resolution team: It's critical to involve the Vrbo resolution team as soon as you become aware of a problem at the rental. Always contact the host and the Vrbo resolution team through your account with the listing giant. This creates and preserves a perfect paper trail should you need to involve a consumer advocate later.
Ask the Vrbo team for alternative accommodations: Often, the Vrbo resolution team can help find you alternative accommodations if your reserved vacation rental is uninhabitable. But you must request this assistance. You can do this through the resolution center.
The Bottom Line
Most Vrbo hosts are reasonable and professional. These property owners want to make sure you have a pleasant stay in their vacation rental, free of rats and any other unpleasant disturbances. But if you discover you're dealing with a not-so-reasonable host and need help, remember the Consumer Rescue team is here. We're ready to defend you – and always free of charge. 🤗 (Michelle Couch-Friedman, Consumer Rescue)