Laura Fernandez just got charged $500 for stealing a stove from her Home2 Suites hotel room. However, this accusation has two big problems. First, she says there was no such appliance in the suite, and second, she's not a thief.
But the management of the franchised property didn't let those little details get in the way. Two hours after Fernandez checked out of her hotel room, they swiped her debit card for an extra $500.
And she called the police to file a robbery charge against the hotel.
Now she's hoping that Consumer Rescue can get her $500 returned and clear her name.
What's going on here?
Jump right to:
Taking a road trip and making a pit stop at a Home2 Suites
In January, Fernandez was taking a solo road trip from Houston, Texas to Maryland to meet up with her husband.
At the end of the first long day of driving, she found herself in Hattiesburg, Mississippi.
Looking on the Booking com website, she found the Home2 Suites. The property looked clean and comfortable and the price was right. Fernandez made the reservation and was soon settled in for the night. In the morning, after a restful sleep, she gathered up her belongings and got back on the road.
But two hours after checkout, she received an alarming message.
"My bank texted me an alert. The hotel had deducted an additional $500 from my bank account," Fernandez told me. "I figured it was a mistake since I paid Booking com for the hotel room already. It only cost $159."
Fernandez quickly called the hotel and explained the mistake to the woman who answered the phone.
Things swiftly went downhill from there.
The hotel: "Bring back the stove you stole from your room."
The lady at the hotel accused me of stealing a cooking top from my room. I didn't even know what she was talking about. But she wanted me to bring it back immediately.

English is not my first language so I called several times to try to understand the situation. I was shocked and I couldn't even figure out what type of [item] they were talking about and why I was accused. I didn't steal anything. The employees refused to tell me their names.

During my fifth call, the supposed manager of the hotel said to stop calling or they will [report] me for harassment.

Laura Fernandez
Completely shocked by the turn of events and still wondering if she was misunderstanding something, Fernandez called the Hattiesburg police.
Fernandez filed a report, which the police department categorized as a "Civil dispute." She hoped filing the official report would cause the hotel to realize its mistake and return her $500.
It didn't.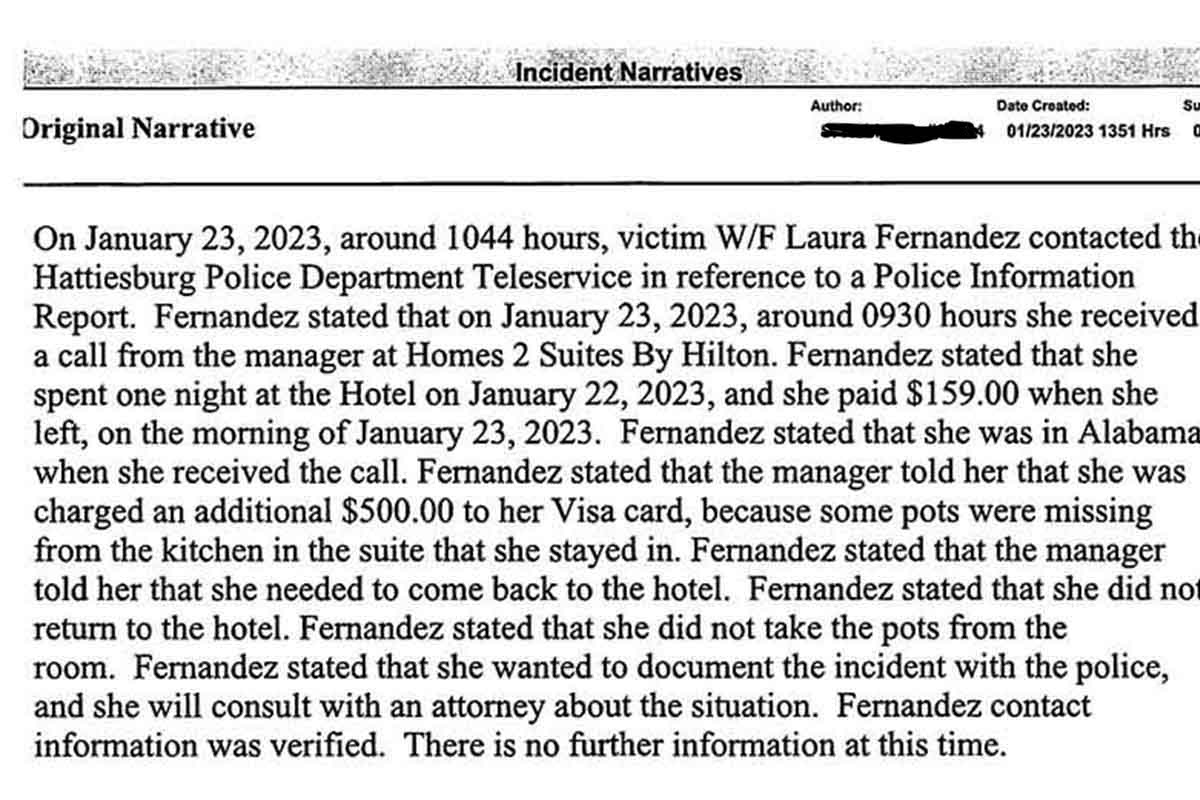 If the hotel won't refund this charge, can Hilton help?
Unfortunately, filing the police report did not lead to the outcome Fernandez hoped for. When the hotel manager would not change his stance, Fernandez turned to the corporate office of Hilton for help. (Hilton is the parent of Home2 Suites)
She would quickly find this outreach to be a pointless endeavor.
Consumer Alert: The corporate offices that brand franchise hotel properties allow the owners to make their own billing and refund decisions. This is true nearly 100 percent of the time across the industry. If you have a problem with a franchise hotel you will likely find no relief from the corporate parent.
We've seen this situation play out time and again in our case files. Regular readers of my column will remember the tale of Tim Kendall. He was on a bucket list adventure on his motorcycle when he spent the night at a Quality Inn. After he checked out, the manager accused him of stealing low quality (but very expensive) pillows from his hotel room.
It was all nonsense, but Choice Hotels would not intervene until… We published an article about his outrageous case and as in other cases — the court of public opinion weighed in. Suddenly Choice Hotels changed its opinion and Kendall was vindicated.
Beware of branded hotels with limited customer support
Unfortunately, travelers to independently owned hotels should not expect customer service support from the corporate parent of the brand.
But back to Fernandez. She soon received the predictable answer from the executive offices of Hilton. The owner of the "independently-owned hotel" would have the final say.
That's when Fernandez, in her search for answers to her problem, found an article I had written about another hotel guest, charged a fee for nothing.
In that case, a young nonsmoking mother was billed $250 for smoking in her hotel room — a room she was sharing with her baby. When I asked that hotel manager for proof that this guest had smoked in her room, she first sent me evidence that was clearly fabricated. Then she sent a refund when I pointed out why her photos seemed to be evidence of fraud.
Hoping we could help her in the same way, Fernandez sent her request to the Consumer Rescue team.
Was there a stove top in this guest's hotel room?
When I started going through the facts of this case, I immediately saw a glaring problem with the hotel's accusations.
The website of the hotel has photos of each room category, and there are no stove tops in those pictures. The rooms have microwaves, refrigerators, and dinner plates. The description of the rooms note that "cook tops" are a special amenity that guests must request. In fact, they must do this by checking out the appliance at the front desk — in writing.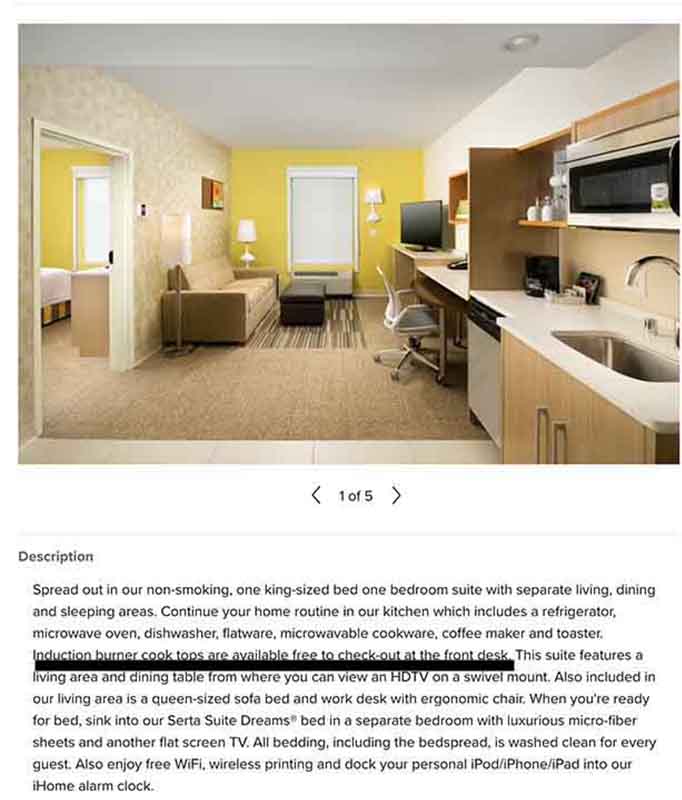 Fernandez was just passing through Hattiesburg. She assured me that she hadn't made a request for a stove top device and there hadn't been one in her hotel room.
At this point, I was sure that there was some "mistake" on the part of the hotel. It was time to ask the manager what was going on.
Will the hotel manager explain this charge?
…About two hours after checkout, someone from your hotel called her and accused her of stealing a "cook top" stove from the room. Laura says there was no cook top in the room, and she was stunned by this accusation — so much so that she called the police and made a report about your staff member's accusation. Subsequently, a $500 charge was put through on her debit card from your hotel without permission and without any evidence of this theft.

In fact, your hotel doesn't offer this type of appliance as a standard amenity. There are no pictures of a stove top [in your room descriptions]. I do see your site mentions that a "Cook top is available on request" for long-term guests (which she wasn't).

Do you have something in writing that shows she requested this item?

In absence of that documentation,I would suggest that this is a simple error by whichever staff member reported this item missing from her room, and your accounting department should correct this error immediately. $500 is not a small amount to take from a customer without any evidence — in fact, the evidence points to an error on your hotel's part. Thank you.

Michelle Couch-Friedman, Consumer Advocate
My outreach was met by silence. This usually means that the recipient of my email does not wish to make a public statement OR doesn't intend to fix the problem (sometimes both).
Asking Hilton to have a look at this hotel's billing practices
Next, I reached out to our executive contact at Hilton to see if this hotel's post-stay billing practices were OK. I provided the evidence that shows the hotel doesn't offer this item as a standard amenity in any of the rooms.
As I suspected, the executive team would not get directly involved except to send a message to the hotel manager asking him to respond to me within 72 hours.
At the same time, Fernandez did something that we don't recommend. As I was attempting to nudge the owner to reverse the charge, which I thought he would now have no choice but to do, she asked her bank to reverse the charge and investigate, too.
So now the hotel no longer had the money to refund. When consumers do these types of concurrent complaints it makes it impossible for our advocacy team to effectively resolve the problem. And worse, if the bank sides with the merchant and the consumer loses the dispute (as often happens), the merchant no longer has any reason to participate in mediation with our team. See:
Note: Fernandez used a debit card to pay for this hotel room and so the Fair Credit Billing Act doesn't apply here, but her bank was willing to initiate an investigation of the charge.
Additionally, Fernandez complained to Booking com about the hotel helping itself to the $500 via her debit card.
No surprise here. The hotel ignored the inquiry from the bank and from Booking com as well.
The silence made it clear to all involved that no one at the hotel was able to justify this $500 cash grab from its transient guest.
Booking and the bank each refund $500
With the bank and Booking determining that the $500 was a billing error (or fraud), suddenly Fernandez found herself with an extra $500. That was a bit of a problem. Our advocacy team seeks to make consumers whole, not perform a reverse gotcha to the business. So we needed to correct this double reimbursement.
Fernandez agreed and alerted her bank of Booking's decision to refund her $500. The bank dropped the dispute and that made her whole. Fernandez is relieved that the bank, Booking and our advocacy team agreed with her that this was not a valid accusation. She feels vindicated.
And one thing is certain, she won't be making any pitstops in Hattiesburg, Mississippi on her next roadtrip.
How to protect yourself against post-stay hotel charges
This section assumes that you didn't actually steal anything from your hotel room. If you did take something you shouldn't have taken, these tips aren't for you.
Take an inventory of the hotel room
When you check in to your hotel, look around and take an inventory of the contents of the room. Also, take a close look at the condition of high ticket items like the television, duvets, and other furniture. Of course, this shouldn't be necessary, but I know from experience that some hotel properties will simply charge guests for worn out items when it's time for a replacement.
To make sure you aren't the unlucky guest who gets charged for the hotel room's upgraded furniture or appliance, take a short video of the room at check in. Zoom in on anything damaged or worn – including carpet.
Recently, I reported on the experience of a TPG reader who arrived at a terrible hotel in the Caribbean. In her hotel room, wires were sticking out of the wall where there was supposed to be a tv.
If you see anything obviously missing from your room alert the front desk immediately.
Leave the room the way you found it
I hate to say this, but some travelers are sloppy. And typically the people who are very messy are unable to detect how outrageous their messiness is. Don't do something that will give a housekeeper extra work – like leaving the room in total shambles.
No, you don't need to clean your hotel room before you check out, but leaving a giant mess for someone else to clean up is not only rude, but it could make you the target of a damage report — and extra charges on your bill. Be kind and try to leave your room close to how you originally found it.
Do not use a debit card to pay for a hotel room
Never use a debit card to pay for a hotel room. If you do that, you're leaving an open doorway to your bank account to an entity that may or may not be trustworthy to have such information.
The Fair Credit Billing Act can help you if an unscrupulous hotel owner tries a cash grab on you – charging you for damage to your room or accusing you of stealing things. But only if you use a credit card.
During a credit card chargeback investigation, the hotel will be required to provide some type of evidence – like an incident report – to justify the charge. But if you use a debit card, you will not have that protection (although, as we saw in today's case, your bank may decide to pursue your complaint).
Always use a credit card to book and pay for hotel and vacation rental stays. And as an aside – never use Zelle to pay for any travel – that is a disaster waiting to happen.
Read the reviews
It is virtually impossible for a business to have no online reviews in today's modern world. Too many times consumers contact my team who have only looked at the reviews of a hotel after they've already been victimized by it. Always search online for reviews of any hotel – before you book it. Not after. And remember, online reviews are not always in chronological order, so always search by star rating.
Contact your state's attorney general
Your state's attorney general can provide legal guidance for you if a hotel has accused you of stealing something you didn't take. Unfortunately, during my years tackling consumer complaints, it has become clear that some businesses do not have their customer's best interest at heart. In fact, some establishments may be very willing to take advantage of people who stumble into their web.
The more complaints an attorney general receives about a specific business, the more likely it will be to launch an investigation.
Filing a complaint with your state's AG's office may not provide immediate results. But if you believe a company in your state has scammed you, file the complaint. It doesn't cost you anything and you may be helping the AG's office build a case to protect you and other consumers. Here's how to find your state's attorney general.
The bottom line
Unfortunately, none of these tips will provide absolute protection from a hotel manager or owner who is integrity challenged. But if you follow this guidance, you will greatly reduce your chances of becoming a victim of this type of cash grab.
Of course, you know where to find our advocacy team if you're in need of rescue from your own consumer problem. (Michelle Couch-Friedman, Consumer Rescue)