Linda Ralston has been fighting an expensive hotel billing error for months. Several weeks after her 3-night stay at the Westin La Paloma in Tucson, Arizona, she discovered an extra night's charge on her credit card. Now her battle seems to have ended in a lost chargeback, with the resort coming out the winner.
But with all the evidence on her side, how did she lose?
Linda's case is an unfortunate example of how credit card disputes can go wrong if your bank doesn't take a keen interest in defending you. And it should also serve as a lesson for the Westin. Proper hotel hospitality should always include a careful review of all the facts of a guest's complaint. That didn't happen here — that is, until our advocacy became involved. And this oversight led to months of unnecessary aggravation for Linda.
Discovering a $200 hotel billing error
Linda's frustrating odyssey began after she checked into La Paloma for a 3-night getaway. At that time she was asked to sign a signature card, presumably for incidental charges during her stay. She had no idea that later that signature card would be used against her.
"On the day I checked out, June 24, I left at 1:46 p.m. The front desk employee gave me a receipt for my stay," Linda recalled. "The total was $624 for three nights. Several weeks later I noticed the hotel actually charged my credit card $832!"
Linda immediately called La Paloma and reported the mistake. The additional charge seemed to be equivalent to one extra night. Since she had a copy of her final invoice for her stay, she assumed this hotel billing error would quickly be corrected.
She assumed wrong.
First, Linda explained the billing mistake to a reservationist at the hotel. That person referred her to a supervisor. Then Linda explained the error to him. That staff member transferred her to the billing department to retell her story for yet a third time.
How did the hotel guest's signature get there?
The billing department employee told Linda that she found no billing error. In fact, this employee informed a stunned Linda that the additional charge covered the extra night that she had stayed at the hotel. Linda explained that she had not stayed an extra night. But that employee remained unconvinced and would not reverse the charge. And when Linda received a copy of that final invoice, she was surprised to find her own signature at the bottom.

"What's your opinion of a hotel asking for a signature upon arrival and then later using it to overcharge a client?" Linda asked me.
What's my opinion? Of course, as a consumer advocate and a frequent traveler myself, I'm very much against this type of shenanigans. But since my opinion alone won't resolve a case we needed to build the evidence of this overcharge.
Linda then sent me a copy of the original receipt that she received at 1:46 p.m. on June 24 when she checked out. Each of these receipts had her identical signature at the bottom; giving the impression that she had signed both and approved the charges. As you'll see later in this story, La Paloma used that signature to win the chargeback case.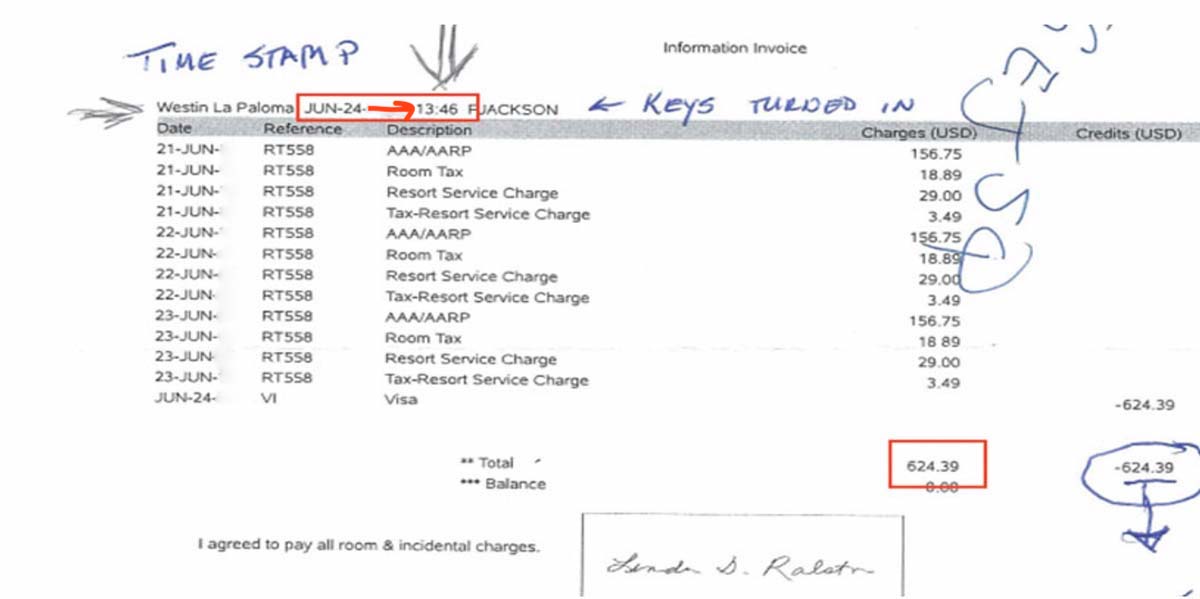 Did a late check-out lead to this extra charge from the resort?
When I reviewed Linda's paper trail, I noted that she had checked out late. I suspected that late checkout had caused this problem.
Checking out late from a hotel without prior approval can trigger additional charges. But if the hotel intended to charge her for an extra day, she should have been informed at the time. She checked out and returned the keys to a front desk employee who made no mention of any extra charges coming her way.
But had Linda really overstayed her welcome? La Paloma has a standard check out time of 11 a.m. So I asked Linda about her unusually late departure.
"My original confirmation invited me to have a 3 p.m. late check-out," Linda explained. "I left well in advance of that cut-off. But I do think that's what caused this confusion."
Linda forwarded the copy of her original confirmation that showed a 3 p.m. late checkout.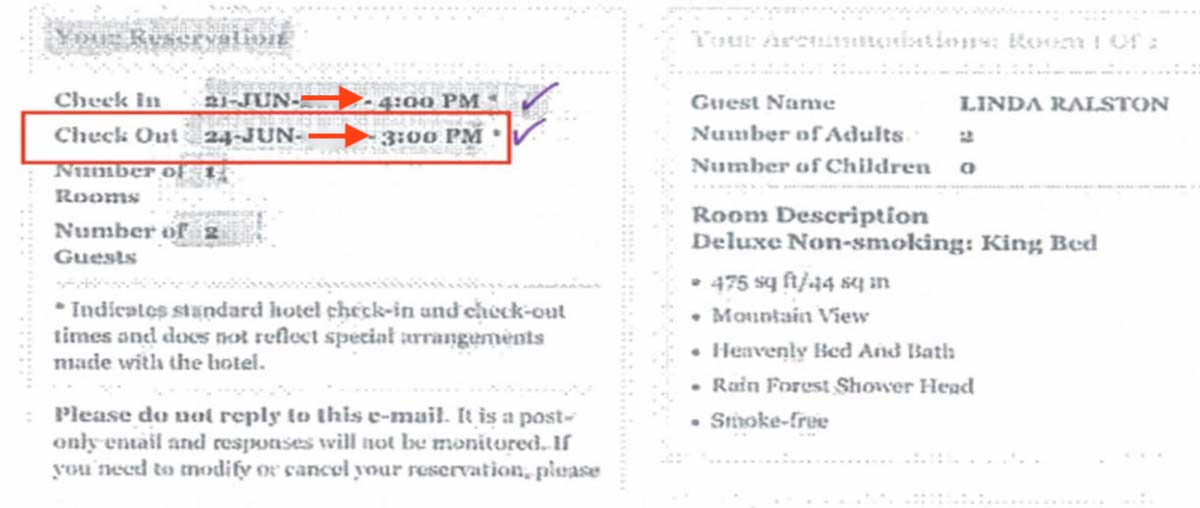 Warning: Losing a credit card dispute is easy when no one looks at the facts
The Fair Credit Billing Act (FCBA) protects consumers against credit card billing errors and fraud. In Linda's case, the additional charge was unauthorized, so the final bill was incorrect. Unfortunately, as she was about to find out, losing a credit card dispute is easy if no one actually looks at the facts.
After finding no one at La Paloma willing to look at the details of her case, Linda filed a credit card chargeback. She felt confident that her credit card company would be able to defend her and resolve this hotel billing error.
Linda forwarded the copy of the original confirmation with the late checkout highlighted. She explained her suspicion that this late checkout had caused the confusion and the extra night's charge.
During a credit card dispute, the merchant has 30 days to respond to the bank's investigation. If the business declines to participate in the investigation or fails to provide proper justification for the charge the consumer wins the chargeback.
La Paloma fought Linda's chargeback of the extra night. It provided a copy of the updated invoice with the additional night charge with Linda's signature at the bottom.
"Because my signature was copied onto the overcharged invoice and the Westin also said they had proof that I was in the room, I lost the chargeback case," Linda lamented. "The $200 extra night charge came back to me."
Asking a consumer advocate to prove the hotel made a billing error
Before contacting the hotel, I asked Linda for some proof of her location on the night in question. I needed something to present to the hotel to convince an executive that its billing department had made a mistake.
Then we hit another problem. Linda had driven to her vacation home about three hours north of the hotel. She said she didn't have any evidence of her whereabouts that night — although she thought her neighbors might have seen her. Of course, it's ridiculous that Linda had to prove her location to this hotel, but the case had dragged on for so long that I felt sure it was necessary. After all, once a consumer loses a chargeback, it's rare that a company will reopen the case.
I asked Linda if she had purchased gas or made a phone call later that day. Luckily, she had made a phone call, and her cell phone records showed that she was nowhere near La Paloma that evening. Linda forwarded a copy of her phone records.
Armed with this proof, I reached out to both the manager of this hotel and its billing department about its error.
The evidence clearly showed that the hotel's billing department had made a mistake. Linda had prior approval for a late checkout and she left La Paloma well in advance of that time. That evening she was home in her own bed, not at the hotel.
I also requested the evidence from the hotel that Linda stayed the extra night — that was proof the hotel claimed to have while fighting the chargeback case. As I suspected, there wasn't any since she wasn't there.
Success: The hotel is refunding the billing error
Within hours, Linda's frustrating battle came to a happy conclusion. I received the following email in response to my inquiry:
We have researched our records and discovered a clerical error. We will be issuing a refund to our guest.

Thank you for bringing this to our attention. We apologize for any inconvenience.

La Paloma
Linda is pleased that the hotel has finally admitted to this billing mistake. But she remains disappointed that it took so much effort to reverse this charge.
Her frustration is reasonable. La Paloma could have easily corrected this problem with a little personalized attention to the details months ago. And her credit card company let her down too. The facts were clear, but it appears that no one took the time to look at the evidence or hear this consumer.
Regular readers of my column know that Linda's case is not unique. Our advocacy team regularly receives many pleas for help from guests who have been hit with surprise hotel charges, post stay. Some of these fees and accusations are more ridiculous than others (Like the 76 year old man traveling by motorcycle who was accused of pillow thievery at a two-star hotel and the nonsmoking mom with a baby in tow charged a smoking fee by a Holiday Inn). But these cases all have caused considerable distress to the traveler involved.
Unfortunately, these surprise post-hotel charges seem to be on the rise.
If you find yourself in a similar situation, make sure to follow the guidance in Consumer Rescue's guide to fixing your own consumer problem.
And if all else fails, remember you can contact our advocacy team through the Consumer Rescue helpline. We'll be happy to investigate your complaint – free of charge – and, if the facts are on your side, get your money back in your pocket right where it belongs! (Michelle Couch-Friedman, Consumer Rescue)