What if you locked yourself out of your Airbnb rental thousands of miles from home? Would your host or the caretaker immediately come and rescue you?
Xiamin Qi discovered the answer to both questions after she locked herself out of her Airbnb rental in Barcelona. Despite the host warning her about the self-locking feature of the front door, she says jet lag caused an oversight. That fatigue led Qi to walk out of the vacation rental and leave the keys inside.
Now she is asking the Airbnb host to refund $500 for her trouble. But is this a reasonable request?
For anyone intending to spend time in an Airbnb vacation rental, Qi's story is instructive. It's important to make sure that your expectations are in line with the nature of Airbnb. In this case, Qi's assumptions about the host's responsibility to her appear to have been set too high — way too high.
Oops! The door of the Airbnb locked behind me
When Qi and her husband began planning their trip to Spain, they decided to use Airbnb for their stay in Barcelona. They booked a small apartment with a view of one of the most famous pieces of architecture in the city: La Sagrada Familia. The couple thought the location and apartment would be perfect for their stay.
And for the first few days, it was. But on the last night of their stay, things took an unpleasant turn.
"We locked ourselves outside without a key," Qi recalled. "The door in this Airbnb rental locks automatically."
Suddenly, the couple found themselves locked out of their Airbnb rental. Standing on the street pondering their next move, Qi says she first sent a message to the owner. "Enric" responded within 15 minutes, but clearly, he was frustrated with the situation. He pointed out that he lives 35 miles out of the city and that he had warned Qi and her husband about the self-locking door and his location.

Waiting and waiting for someone to unlock their Airbnb rental
Qi says that she and her husband went to a nearby coffee shop and waited for further instructions from Enric.
Two hours later, around 7 p.m. Qi alerted Enric that their phones now had low batteries. They requested an update. And then they decided to go to a restaurant about 30 minutes away by taxi from their Airbnb rental.
This jaunt turned out to be a mistake and it ended up compounding their initial error.
At 8:50 p.m., the caretaker, Packo sent a message to the couple that he was ready to meet them with the key.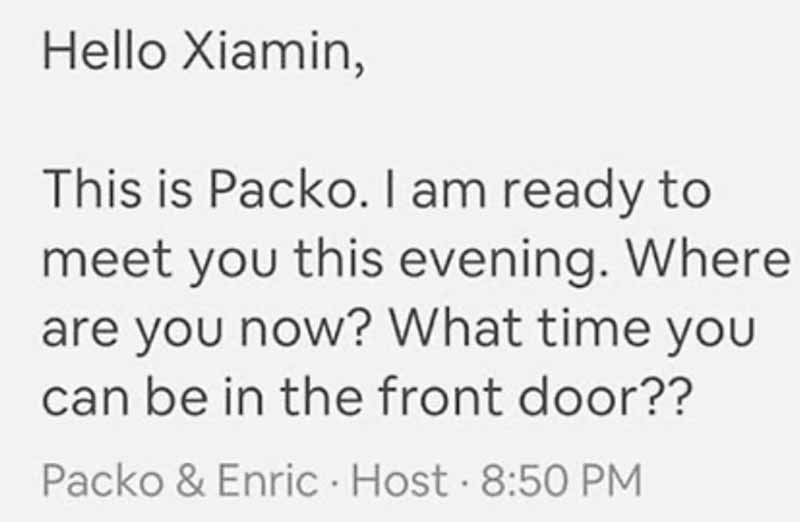 But now Qi and her husband were in the middle of dinner. Inexplicably, Qi responded that they would not be able to return to meet Packo until nearly 11 p.m.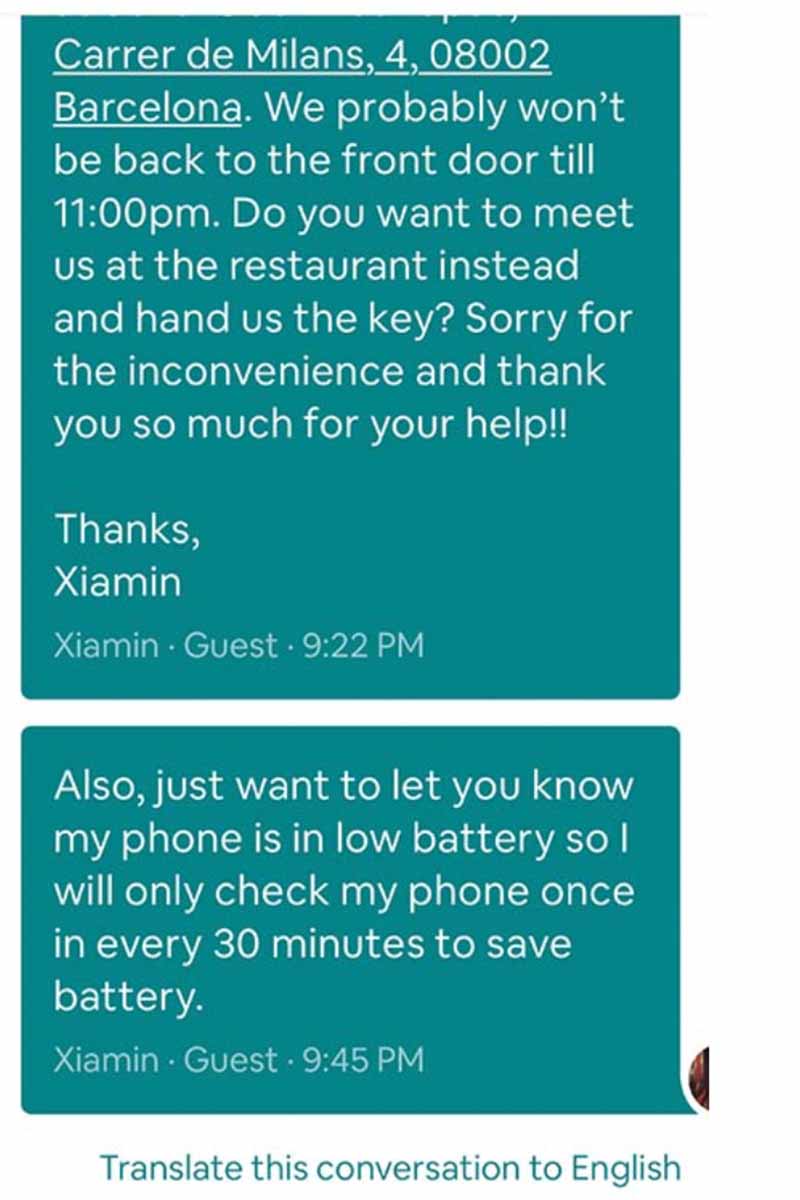 Just an aside here: If you lock yourself out of your Airbnb and a caretaker or host drives 35 miles to let you in — you should abandon your dinner plans. But that isn't what Qi did. She told Packo that she would be turning her phone off to save her battery and she would check again in 30 minutes.
And when she checked again Airbnb representatives had taken over the situation.
The host cannot wait for you to be done with your dinner
Qi received a final message from Packo when she turned on her phone again 30 minutes later. He said he had to work early in the morning and could not wait for their dinner to be over. He also did not "want" to travel across town and bring the key to her at the restaurant. After waiting some amount of time at the building, he had contacted Airbnb. Per the resolution center's instructions, he went home.
Now Qi asked if he could wait until 10:45, but Packo was already driving.
An Airbnb representative responded. Qi and her husband would be permanently locked out of the Airbnb rental for the night.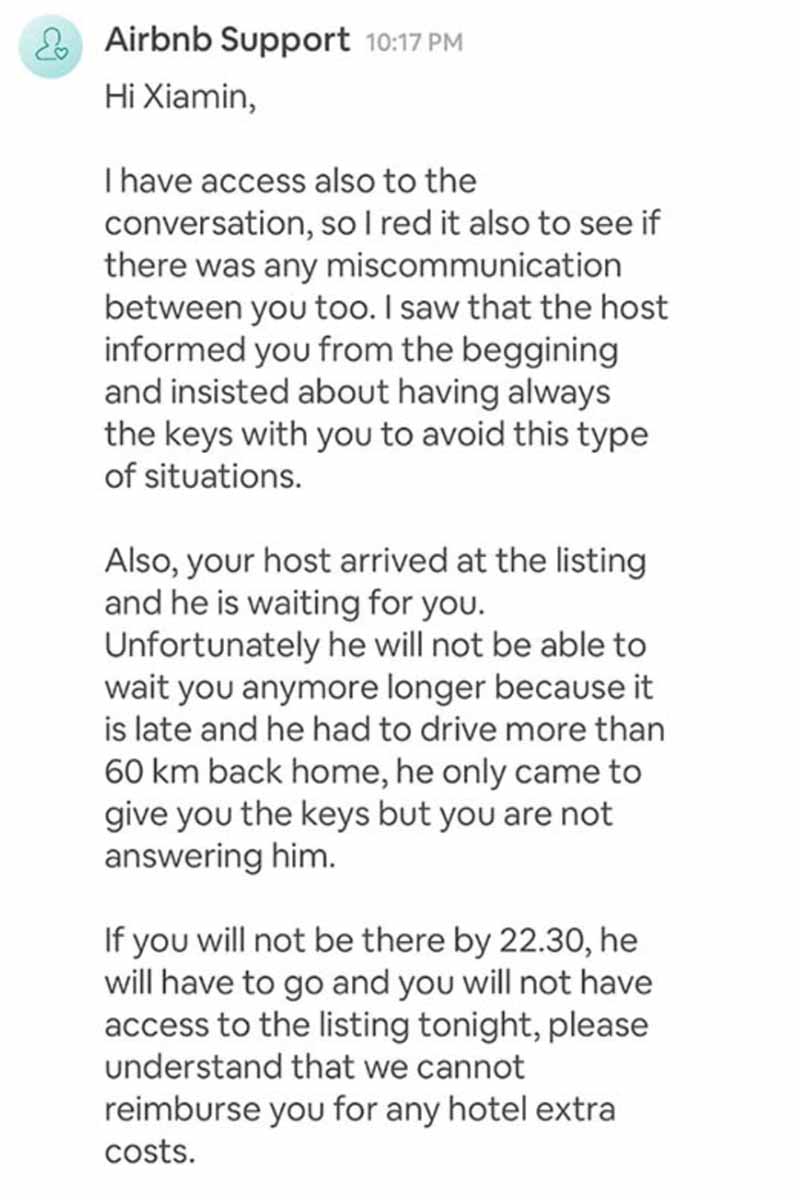 Locked out of their vacation rental. Now what?
As the reality of their situation set in, the couple wondered what they could do. They didn't have their passports and they assumed most hotels would require such documentation. Qi describes what happened next:
The night turned really tough on us, since we were at a point without phone, passports, and a place to go. We were basically walking on the main street. We didn't know the neighborhood at all and went in every hotel along the way to try our luck. Most hotels were either fully booked or cannot accept us since we didn't have passports with us. After 2 hours, finally one hotel showed us sympathy and allowed us to stay otherwise we would truly [have become] homeless in a place we don't even know.

Qi explaining the evening's turn of events
Finally settled in for the night, the couple thought about the day's events. They became convinced that Airbnb and the host were responsible for their predicament. Now with her phone fully charged, Qi sent multiple pleas for help through the Airbnb resolution center. But Airbnb had already determined that the couple, after locking themselves out of the property, had not made themselves available to work cooperatively with their hosts. The case was closed, according to Airbnb.
But Qi felt wronged and decided to contact our advocacy team.
Asking our advocacy team to take a look
My experience with Airbnb over the years is that when something goes wrong, their executive resolution team is always willing to jump in and quickly correct the problem.
In fact, we recently had what could easily be considered the worst Airbnb case that I've ever mediated. Lee Smith found herself living for a month in a shared-space Airbnb rental with a drunk man with questionable health.
After Smith reached out to me I was able to facilitate her extrication from the horrendous situation and Airbnb offered her a full refund. But…
It probably comes as no surprise to our regular readers to know that some portion of the help requests we receive have no merit (See: Never claim to be nearly killed by an inflight injury if you weren't).
And so we don't present every case that arrives in our inbox to every company involved. It's important for our team's reputation to carefully consider the validity of each plea for help that we receive.
Unfortunately for Qi, I noticed many problems with her complaint. First, she was asking for a full refund for her stay in Barcelona. Even if the Airbnb host caused her problem, it didn't begin until the last day of her stay. So a full refund of the cost of the vacation rental wasn't a reasonable request.
But her situation wasn't caused by this Airbnb host.
All of her problems began with her mistake when she locked herself out of the Airbnb rental. And then she compounded the problem by taking a taxi 35 minutes away for dinner. It's not wise to leave the area when you've locked yourself out of your vacation rental. It's important to stay local, as your host is likely somewhere trying to resolve your situation.
Finally, when Packo sent the message that he was ready to meet Qi, she seemed to have misinterpreted him. This may be due to the language barrier. But he was at the Airbnb rental waiting to let her in. When she responded that she could meet him 2 hours later, he contacted Airbnb for help. And she had turned her phone off since it was going dead.
Based on Qi's entire paper trail, I explained to her why I could not advocate her case. She was polite and said that she still wanted her story told. She would like it to provide a warning to other travelers that Airbnb doesn't respond to problems in the same way as a hotel. If something goes wrong, you might need to wait for help.
On that point, Qi is exactly right.
What you should do if you accidentally lock yourself out of your Airbnb
If you find that you've locked yourself out of your Airbnb, here's what you should do:
Contact your host
Ask what you can do to help correct the problem. Keep in mind that you've made a mistake that will inconvenience your host (as well as yourself). In this case, the couple may have been able to take a taxi or Uber to meet the host or caretaker halfway.
Contact Airbnb
Use the Airbnb resolution center for all your correspondence. It can easily be accessed through an app on your phone. Ask the same questions as you've asked the host: What can you do to help correct the problem?
Stay local
While waiting for your "rescuer" don't travel long distances away from the property. This is critical. Make sure you stay close by and available.
Always carry a portable phone charger
An additional problem for this couple is that their phones were going dead. When traveling internationally a portable charger can be a critical piece of your travel ensemble. You can purchase a portable battery pack for less than $50 that can provide hours of battery power.
Consider your need for an international calling plan
Before traveling abroad, you should contact your cellular carrier. In this case, Airbnb had called Qi but her phone could not accept the call. You may find that for around $10 per day you can have a calling and texting plan while abroad that is similar to what you enjoy at home. This can be invaluable should a problem arise with your vacation rental or any other aspect of your trip.
Last Updated on April 11, 2023 by Michelle Couch-Friedman