Last August, Allen Nicholsen and his wife used a Norwegian Cruise Line consultant to book their first-ever cruise together. But when they attempted to board NCL's Getaway last week, a now-pregnant Lindsey was stopped, questioned, and denied boarding the cruise.
Then things took a really bizarre turn for the parents to be.
As the expectant couple's friends and family boarded the ship without them, the Nicholsens asked crew members about their options. That's when an NCL agent cheerfully told Allen the good news: he was still welcome to join the cruise. But his pregnant wife would not be allowed to sail on the Getaway under any circumstances.
Of course, like any sane husband, Allen quickly let the crew member know he wouldn't be taking the cruise without Lindsey. An NCL supervisor then handed the stunned couple denied boarding cards, and Getaway sailed without them.
Now Allen is asking Consumer Rescue for help. He's hoping we can convince Norwegian Cruise Line to give the disappointed couple a do-over or refund their money.
But when a passenger is denied boarding – even a pregnant one – does the cruise line owe them anything?
That's the question for today.
Planning to cruise for the first time with Norwegian Cruise Line
As last summer came to a close, family members of the Nicholsens were discussing their planned winter cruise scheduled for February. Allen convinced Lindsey that they should go too. She had never taken a cruise before but thought it might be fun to try it.
The fact that Norwegian Cruise Line's Getaway would set sail from New York City, just a short Uber ride from their home, made the decision even easier. After all, air travel in February can definitely be problematic in terms of weather delays and cancellations. But if the cruise ship came to them, that possibility would be eliminated.
Allen made all the arrangements directly with a Norwegian Cruise Line cruise consultant named Lisa. The booking was simple since the couple's family members were already confirmed on Getaway.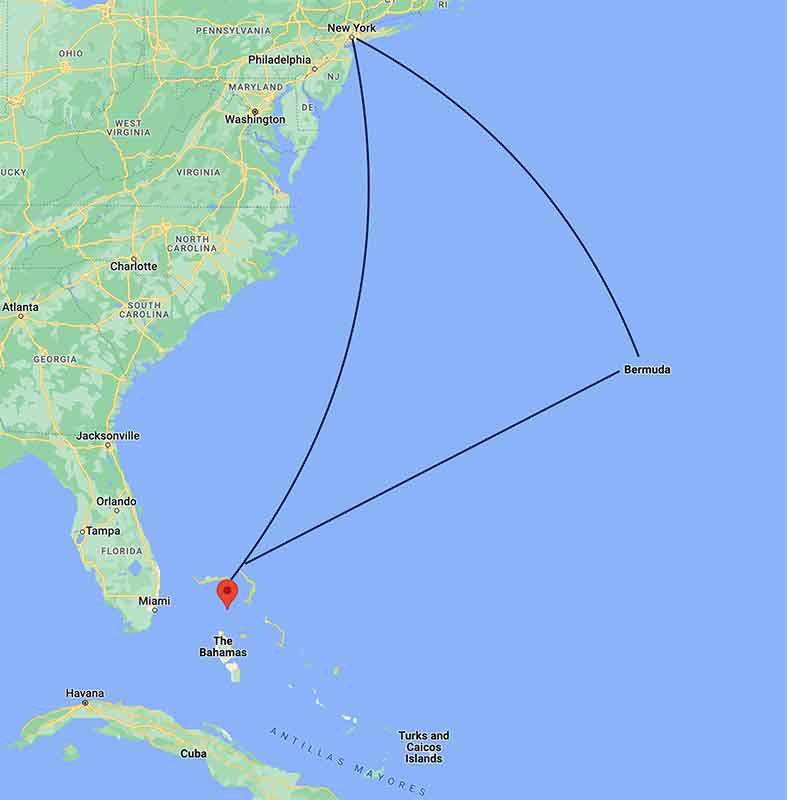 Soon the couple had paid their initial deposit of $500 and received confirmation of their reservation. Allen noted they would need to pay the balance by mid-October.
By then, the Nicholsens had some unexpected but exciting news.
Lindsey was pregnant.
An unexpected but very welcome pregnancy
In September, the Nicholsens, who had been hoping for a baby for some time, had just completed an initial consultation with a fertility specialist. But just after the appointment, Lindsey discovered a follow-up wouldn't be necessary. A home test confirmed the fabulous news – she was pregnant.
Instead of going back to the specialist the couple headed to their obstetrician's office. There they received confirmation of their happy news and a due date for their first baby: June 7, 2023.
The couple couldn't have been more thrilled.
A few days later, Allen's thoughts turned to the cruise, which would now be a "babymoon".
Initially, the couple chose a premium beverage package with alcoholic drinks. Obviously now Lindsey would have no need for that deal. Allen decided to ask their NCL cruise consultant about removing it.
Announcing the pregnancy to the NCL cruise consultant
Twenty-one weeks before the scheduled cruise on Getaway, Allen announced the happy news to their NCL cruise consultant.
It looks like my wife is pregnant. Is it possible to discontinue the free open bar offer for our cruise for her alone so that we aren't paying $20 per day in tips when she can't drink alcohol anyway?

Allen to his NCL cruise consultant
Lisa acknowledged the request and asked for "proof of pregnancy."
Yes, I believe I can put in a request for that. Can you forward me your reservation number, please? She will need to provide proof of pregnancy documented from her doctor, lol. I know it's obvious when someone is pregnant, but that's just the process. I'm sorry.

Lisa S, NCL cruise consultant
Two weeks later, after Lindsey's first ultrasound, Allen forwarded an official notification from her doctor to the NCL cruise consultant. Lisa removed the open bar package for Lindsey from the couple's cruise contract.
Then the NCL consultant reminded the couple of the final payment for the cruise, 19 weeks away.
Lindsey was now six weeks pregnant.
Fact: No cruise line allows women to cruise after the 24th week of pregnancy.
Getting denied boarding NCL's Getaway was now a guarantee for Lindsey. But she didn't know it – and for some reason, the NCL cruise consultant appeared not to know it either.
Allen paid the balance on the cruise, and the couple, their friends, and family happily looked forward to their winter getaway on Getaway.
NCL: All Aboard Getaway! Wait a minute – how pregnant are you?
On the day of their planned babymoon cruise, the couple, two friends, and two family members made their way to the ship. The group was eager to board the Getaway and enjoy all its amenities. And Lindsey was primarily just looking forward to relaxing on her first cruise. She was now 24 weeks pregnant.
Allen and Lindsey approached the check-in area and handed over their documents. That's where things started to go wrong… very quickly.
They gave Lindsey a waiver, and on that document, it asked her if she had reached 24 weeks pregnant. She answered: "Yes."

Allen
Uh-oh… wrong answer.
Well, it was the correct answer. But not an answer that would allow Lindsey to proceed with boarding the cruise ship.
NCL: Once you are 24 weeks pregnant, you can't cruise.
As per the Norwegian Cruise Line contract and NCL's website, pregnant women are welcome aboard:
…provided you have not reached your 24th week of pregnancy by the time the cruise ends.

Norwegian Cruise Line
The NCL representative in front of the couple explained that Lindsey was being denied boarding Getaway as she had already entered her 24th week of pregnancy.
And although a cruise line agent offered Allen the opportunity to board the ship without his pregnant wife, since he's no dummy, he wisely declined.
She was denied boarding, and I wouldn't go without her. This was supposed to be a relaxing vacation before the baby was born. Instead, my wife was crying and distraught as our friends and family had to go on without us.

Allen
Lindsey and Allen were handed the denied boarding cards and a cruise line agent explained that they would receive no refund — and no future cruise credits.
As the couple's friends and family sailed south on the bright and lively Getaway, Allen and Lindsey took a quiet Uber back home to dark and rainy New Jersey.
A decidedly unpleasant conclusion to the day.
Asking Consumer Rescue for help
Days after the couple had been unceremoniously denied boarding Getaway, they were wondering what to do next. Their friends and family were, at that moment, still aboard the ship. It had been a disappointing week for Lindsey and Allen.
But then Allen came across an article I had recently written about a couple who had missed their bucket list Viking cruise. In that case, a cruise consultant had informed his clients of one necessary visa, but not the other. That caused the elderly couple to fly the entire way to India only to be denied entry. After some negotiation, we were able to secure the couple a favorable outcome (at least the best one I could have expected).
Allen hoped my team and I might be able to do the same for them as well.
I realize that the 24 week pregnancy limit is in the Norwegian Cruise Line contract and it is our fault for not knowing about it, as well as the travel agent's fault for not advising us of the limit once I let her know my wife was pregnant back in September, five months ago. The travel agent felt really bad about this and I'm sure is going to ask about due dates for any future pregnant passengers she advises.

I filed a claim with NCL but fully expect to get nothing back for fare, and only taxes, port fees, tips.

I was hoping to get a future cruise credit or refund for the fare. Having read your other reports, I know my chances of this are not high.

Allen, asking Michelle and Consumer Rescue for help
When I went through Allen's paper trail, I agreed with him. The cruise consultant shared some of the responsibilities here. And since I know the Norwegian Cruise Line team to be fair and reasonable when things go wrong on their side, I decided to ask their executive team to have a look.
Why didn't the NCL cruise consultant know her client was too pregnant?
Hello NCL friends! I'm working on a (sad) case today that I hoped your team could review.

Last August, Allen and Lindsey Nicholson booked a cruise aboard the Getaway scheduled for Feb 18, 2023. They used an NCL cruise consultant, Lisa ****. In mid-September they discovered that Lindsey was pregnant (due on June 7, 2023). Allen contacted the NCL cruise consultant and told her about Lindsey's pregnancy (in writing) and provided her with a doctor's note on Sept. 27 to request that Lindsey's alcohol package be canceled since she clearly wouldn't be drinking any alcohol on the cruise in Feb. Lisa told the couple it wouldn't be a problem (with the doctor's note) to cancel the beverage package. However she never mentioned to the couple that there is a restriction for pregnant women (no cruising after 24 weeks). Lisa took the couple's final deposit in October.

On Feb 18, 2023, the couple showed up to board the Getaway and Lindsey was denied boarding because she was 24 weeks pregnant.

Of course, we know that it is always the passengers' responsibility to know the rules of cruising, but in this case, it would seem that NCL's cruise consultant had some obligation to alert a first-time cruiser AND a first-time pregnant woman that she wouldn't be able to take the cruise at all. This would have been clear on Sept. 27, by simply consulting with a calendar.

If the couple had known Lindsey couldn't cruise they may have been able to switch the cruise dates to an earlier sailing or minimally cancel and only lose their deposit. I was hoping (as is the couple) that NCL might offer them a do-over in future cruise credits that they could use after the baby is born. 😬🚢 As always, I appreciate your team's consideration. Thank you!

Michelle Couch-Friedman, consumer advocate and ombudsman columnist
The Good News from Norwegian Cruise Line
The empathic response from Norwegian Cruise Line came swiftly.
Hi Michelle,

Thank you for reaching out and bringing this situation to our attention. I must say, your representation of the Nicholsen's situation is admirable and well-received.

In this instance of both great news (baby on the way) and unfortunate occurrence (denied boarding), we shall contact the Guests directly with resolution to their query.

Thank you again and have a wonderful day,

Executive Resolution
Norwegian Cruise Line
And soon Allen and Lindsey had a similarly pleasant email from Norwegian Cruise Line.
Good afternoon Mrs. and Mr. Nicholsen,

Thank you for wanting to join Norwegian Cruise Line on your inaugural cruise vacation. We greatly appreciate your patronage and hope this email finds you well.

In review of the circumstances expressed below, we are both elated and saddened at the same time. Elated for the upcoming arrival of your child and saddened concerning the boarding denial.

In response to the latter, we apologize for any misunderstandings. As a result, we have extended a Cruise Coupon Certificate (CCC) in the amount of $1713.50 ea. These coupons are good for sailings up to 12/31/25 but must be used to book a cruise by 6/30/25.

Again, Congratulations on the pregnancy and we hope to have the three of you onboard in the future.

Kindest Regards,

Executive Resolution
Norwegian Cruise Line
That letter from NCL's executive team took the sting out of being denied boarding the cruise. And with a generous 34-month validity for those future cruise credits, the Nicholsens have plenty of time to plan their do-over – this time as a family of three! 👪🚢
(Although, they may want to read about this frazzled mom's experience before booking that cruise with the baby!)
Booking a cruise and hoping to become pregnant? Here's what to keep in mind
It isn't unusual for travelers to plan their cruises a year or more in advance. Of course, many things can happen between the time that you book and your scheduled cruise – like becoming pregnant.
If you're planning for or are pregnant and considering a cruise, here's what you need to keep in mind.
Travel insurance is imperative for a pregnant cruise ship passenger
If you're planning a cruise at the same time that you're also hoping for a pregnancy, then travel insurance, which includes medical coverage, should be considered mandatory. Medical treatment onboard a ship and abroad is expensive and typically requires upfront proof of an ability to pay the bill.
You can use a site like InsureMyTrip* to compare comprehensive travel insurance policies and ensure you're covered for all possibilities – including an emergency evacuation if necessary. Remember, no matter what policy you choose, you will have 10-14 days (depending on the insurance company) to review the entire document and make sure you have the coverage you need. After that time, the policy will become nonrefundable. 
*InsureMyTrip and Consumer Rescue are affiliated partners. That means if you use the above link to purchase a travel insurance policy, we may receive a small commission at no additional cost to you. It's important to note that I have been recommending InsureMyTrip for years before this affiliation. Consumer Rescue will only ever recommend services and products we believe will be helpful to our readers.
Consider the destination
If you're planning a cruise at the same time you're planning a baby, carefully select your itinerary. Although insurance may cover your treatment if you have a medical emergency during your cruise, consider whether you would trust your and your baby's care to what is available at those ports of call. You should check the standard of care at the various destinations on the itinerary. You can do this by visiting the U.S. Department of State's online portal to learn about all destinations on your potential cruise.
Bring a doctor's note
Women tend to "show" at different rates during their pregnancy. I remember when I was nearly eight months pregnant with my first child and attended a Lamaze class, the instructor took a look at me and suggested that I may have signed up too soon and that I should come back closer to my due date. But other women have the opposite experience. To avoid being denied boarding your cruise by mistake, if you're pregnant, you must bring an official note from your doctor to indicate your due date because you may have to prove you're not beyond 23 weeks pregnant.
Mind the 24-week pregnancy rule for cruising
No cruise line will willingly allow a woman to board a ship beyond the 23rd week of pregnancy. That means that if you will reach 24 weeks during your cruise, you will be denied boarding – and per your contract, you will not receive a refund. Here is another reason that travel insurance is essential. If you become pregnant after booking the cruise and purchasing the policy, you should be able to file a successful claim if you can't sail because of your "condition." Note: Keep in mind most insurance policies do not cover pre-existing conditions, so if you buy an insurance policy after becoming pregnant, you won't be able to file a claim.
Bottom Line
Taking a cruise while pregnant is a personal decision and should only be done after careful consideration and preparation. In this case, the couple didn't intentionally plan to take a cruise while Lindsey was pregnant. The surprising but happy news of the pregnancy caught them off-guard.
However, it isn't likely that they would have been able to receive a future cruise credit or refund for the cruise had they not reached out to Consumer Rescue. In fact, just this morning, Allen received a rejection of his request to NCL for a goodwill consideration. Apparently, the executive team did not communicate the positive resolution with the front-line customer service.
This case serves as an important reminder: Not all unexpected events that interfere with your travels will be negative (like finding out a new baby is on the way!) – but it's still important for you to be prepared.

If you or someone you know is struggling with a problem with a company that seems unresolvable, send your request for help to our advocacy team – we're always here, ready to rescue consumers. 🛟 (Michelle Couch-Friedman, Consumer Rescue)
Last Updated on May 17, 2023 by Michelle Couch-Friedman