Angela Romero and her buddy Gail recently arrived in Miami ready to sail on Carnival Cruises' newest ship, Celebration. But the two shocked friends were rejected for boarding the cruise when Angela discovered she had accidentally packed an expired passport.
Gail says Carnival Cruises made a mistake rejecting Angela for boarding Celebration. While she concedes that passengers can't cruise with an expired passport, she maintains Angela had other acceptable documentation with her.
Now the friends are asking Consumer Rescue to investigate. They hope our team can convince Carnival to admit its mistake and provide a future cruise credit to the pair.
But what did Angela hand over to Carnival Cruises besides that expired passport? Their case hinges on that detail.
Planning to cruise on Carnival's newest ship: Celebration
Early last summer, Gail received a Carnival Players Club flyer. On the mailing was a photo of the cruise line's flashy new ship, Celebration, set to sail for the first time in November.
That photo got Gail thinking about spending Thanksgiving aboard the brand-new ship.
She picked up the phone and discussed the possibility with her friend, Angela. The two decided that a Carnival cruise would be a perfect way to spend the holiday.
Gail's next call was to Cruise Only, part of the Hilton Vacation Club. When all was said and done, Gail and Angela were booked on Carnival's Thanksgiving cruise aboard Celebration. It would be the first time Celebration would sail to the Caribbean.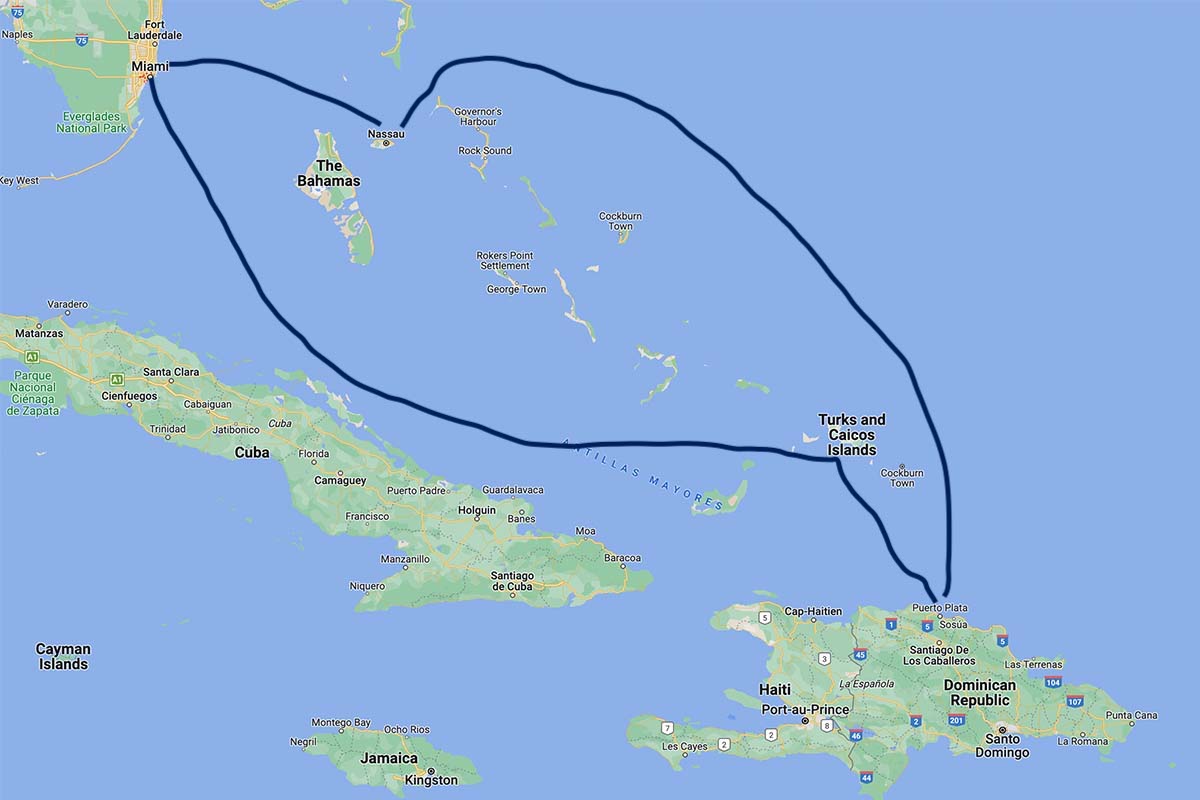 For the next several months, the two friends happily looked forward to the closed-loop cruise. (FYI: a closed-loop cruise is one that begins and ends at the same U.S. Port). They would enjoy a balcony suite aboard the sparkling new ship, which would take them from Miami to tropical Turks and Caicos, Dominican Republic, and The Bahamas before returning them to Florida.
At least that was the plan.
Carnival Cruises: Welcome aboard Celebration!
As a long-time cruiser, Gail was well aware of the dangers of scheduling arrival to the port city on the same day as the cruise's embarkation.
"We arrived with plenty of time to spare," Gail recalled. "But we were really eager to board the Celebration. It's really exciting to cruise on a brand new ship."
Soon the friends had checked their luggage and were ready to climb aboard Carnival's newest vessel, which boasts a roller coaster, a lively tiki bar and a bistro by Emeril Lagasse among its numerous selling points.
"At 1:30 p.m., we arrived at the pier ready to be Funderstruck!" says Gail.
But by 2 p.m., the entire mood had shifted. In fact, Gail and Angela had become decidedly thunderstruck instead. That's when they received some terrible news from Carnival.
Accidentally bringing an expired passport to the cruise ship
At the final checkpoint before boarding Celebration, Angela handed over her passport to a Carnival agent. Expecting to soon be on her way, she was startled when the cruise line's representative shook his head and explained that her passport was expired.
Fully expired.
Angela had accidentally brought a passport for this cruise that had expired in 2021.
The Carnival crew member said Angela couldn't cruise with the expired passport. But I explained that it didn't matter because she also had her Naturalization Certificate with her, and she also had our Texas driver's license, so she still had everything we needed to go on the cruise.

Gail B.
The Carnival agent told the pair that Angela's documentation was insufficient to take the Caribbean cruise.
Carnival: You can't board this cruise with an expired passport
"I asked to speak to a supervisor," Gail says. "This supervisor wouldn't even consider that anything other than a passport could be acceptable to take the cruise. We were losing hope."
After much back and forth, the Carnival Cruises supervisor handed Angela a denied boarding card. She would not be sailing on the giant new cruise ship docked just yards away.
Then the agent turned to Gail and asked her what she wanted to do. Her passport hadn't expired, so she was free to board Celebration.
"I couldn't do that to my friend," Gail told me. "I wouldn't have had a good time knowing that my devastated friend was blocked from boarding."
With her decision made, the Carnival representative handed Gail a similar card. But this one said that she had voluntarily decided not to take the cruise since her friend had been denied boarding because of an expired passport.
Gail and Angela dejectedly accepted their fate and asked for their luggage to be removed from the cruise ship.
Then their Thanksgiving week turned even worse.
Your luggage will take that Carnival cruise without you
Yet another Carnival agent told the ladies that his team would "try" to get their luggage off of Celebration before it weighed anchor.
"We sat and waited for hours for our luggage. The crew told us they were still looking for it but if it didn't appear by 5 p.m., we would have to wait until the ship returned – in a week."
As the crowd grew thinner and thinner, it became clear to Gail that their luggage would be taking the cruise without them.
By 3:00 p.m. [Carnival employees] told us we had to leave the building…..from that time on NO ONE CARED that we were standing outside the front door waiting for the luggage.

Gail B.
It was a stunning additional insult to be ejected from the building.
Soon the ladies heard the horn that signaled the departure of Celebration. They watched as the ship, their personal belongings and thousands of excited passengers sailed away to the Caribbean without them.
Asking Carnival to admit its mistake and refund the cruise
Gail was outraged by the turn of events and was determined to get Carnival to admit its mistake. She was certain that the cruise line owed them a similar replacement cruise.
Yes, Angela made a mistake bringing an expired passport for the cruise. But the bigger mistake was when Carnival refused to look at her other documents.

Gail B.
But three months later, Gail was still no closer to getting a positive response from the cruise line. Gail had sent her complaint to multiple executives at Carnival, including the CEO.
All of her efforts were proving fruitless.
Then scrolling through the internet she came across an article of mine that chronicled the tale of another Carnival passenger who had been denied boarding. In that case, the cruise line eventually agreed that a Carnival representative had made a mistake denying the passenger boarding his Thanksgiving cruise on another brand new ship, Mardi Gras.
Gail believed that the similarities between the two cases were striking. She hoped I might be able to prove that Carnival had also made a mistake rejecting Angela for their Thanksgiving cruise.
That's when she decided to ask Consumer Rescue for help.
Asking the Consumer Rescue team to investigate
Dear Michelle Couch-Friedman,

We saw online the awesome work [you and your team do] for the benefit of other travelers and decided to contact your service.

We were truly astonished at what had just happened to us. Carnival denied us the opportunity to experience a BRAND NEW cruise ship, with the pageantry and luxury of meals provided to us on Thanksgiving Day and the chance to run our toes through the sand in port. Can you help us?

Gail B.
I felt terrible reading through Gail's long description of all the events leading up to, during and after Carnival denied boarding to Angela.
It wasn't the "opulent" way to spend Thanksgiving as Gail intended. I asked Gail for all of the documents that proved Carnival had made a mistake rejecting Angela from cruising on Celebration.
That's when this case started to sink.
A big difference between an Enhanced Driver's License and a Real ID compliant one
Gail explained that Angela, who is a naturalized citizen, had her Naturalization Certificate with her at the pier. Additionally she had a driver's license issued by the state of Texas which she believed to be an "Enhanced Driver's License."
When Gail told me that, I began to suspect that the error wasn't on Carnival's part.
An Enhanced Driver's License (EDL) functions almost exactly like a passport card. In order to be issued an EDL, a person must go through multiple identification steps.
Fact: Enhanced Driver's Licenses are valid for international land crossings and to board a closed-loop cruise.
But there was one big problem with Gail's narrative: Texas does not currently issue an EDL.
Only five states in the United States can issue an Enhanced Driver's License as of Feb 2023:
Vermont
Michigan
Washington
New York
Minnesota
I suspected that Gail was confusing an EDL with a Real ID driver's license. Every state in the U.S. can issue a Real ID at this time — including Texas.
Clearing up the confusion: EDL, Real ID, and standard Driver's License
Our team receives a lot of requests from travelers who are confused by the three types of driver's license formats that are offered in the U.S. today. Here's a quick, visual explanation:
1. An Enhanced Driver's License (EDL) will allow you to cross the border into Canada or Mexico by land. You can also take a closed-loop cruise using an EDL. EDLs are currently only issued in five states which are all located on our northern border. You can only be issued an EDL in person after providing additional identification and paying a $30 fee. The EDL has the word "Enhanced" at the top.

An example of an Enhanced Driver's License (EDL) issued by New York State.
2. A Real ID Driver's License is typically issued by appointment, although some states allow for online renewal. You must provide additional identification to be issued a Real ID. Your Real ID driver's license will have a star at the top right corner. You can get additional information about your requirements through your state's Department of Vehicle website.

Consumer Alert: Starting in May 2025, domestic air travelers in the United States will need a Real ID to fly (or a passport or passport card).
3. A standard driver's license is a garden-variety government-issued ID. It's good for driving and at least for now, you can use it as identification to fly domestically.

You can take a cruise with a Real ID — plus a certified birth certificate
Angela had a Real ID driver's license issued by Texas. Real ID can be used to take a closed-loop cruise, but the passenger must also bring a certified birth certificate. That wasn't something she had with her on the day she was denied boarding Celebration.
Although one path to successfully proving that these two friends were denied boarding in error by Carnival had closed, there was still another possibility.
Angela's Naturalization Certificate.
Will a Naturalization Certificate clear you for boarding your cruise?
With the Enhanced Driver's License angle closed, I asked Gail for Angela's Naturalization Certificate. She quickly sent the document as well as Angela's valid passport, which was issued in 2021.
On Carnival's own website, it indicates that for a closed-loop cruise U.S. citizens only need the following:
A boarding pass
A government photo I.D. if 16 years of age or older
And a certified birth certificate or certificate of U.S. naturalization
Based on Gail's narrative, I could see no reason why Carnival should have rejected Angela for boarding Celebration.
"No one would even look at Angela's papers!" Gail told me. "She should have been allowed to go on the cruise. She tried to show them her naturalization papers."
I assumed this was another case of a cruise line's check-in staff not being fully aware of cruising requirements. I successfully mediated many such cases during the pandemic (See: My daughter was denied boarding our cruise. Can NCL keep our money?)
Getting a second opinion about this case
As I started to compose my inquiry to Carnival about this case, I asked my colleague, consumer advocate Dwayne Coward, to have a look – to make sure that I wasn't overlooking something.
Dwayne agreed that if Angela had offered up her original Naturalization Certificate at the pier, she should have been allowed to board the Cruise. But he also cautioned that:
An original naturalization certificate is not something you usually carry around. You want to keep it in a safe place (my mother has one). It's not something you would expect to need with you if you have your passport.

Dwayne Coward, Consumer Advocate
So I asked Gail if she was 100 percent certain that Angela had a certified copy of her Naturalization Certificate.
And it turns out she did not. As Dwayne had suspected, Angela had been carrying what she believed to be her valid passport and a copy of her naturalization papers.
This is not a combination that will allow a traveler to board a closed-loop cruise.
Carnival Cruises had correctly denied boarding to Angela.
A disappointing but inevitable outcome to this cruise fiasco
I broke the news to Angela and Gail and let them know why this wasn't a case we could mediate successfully. No cruise line will refund passengers when they miss their cruise because they brought improper documentation to board the ship. In rare situations, like last week's tale of the elderly couple who flew to India without the proper ID, a cruise line might sympathize and offer a future cruise credit. But when I say rare situations, I really do mean rare.
Gail and Angela are still hoping to be able to take a cruise aboard a brand new Carnival ship. Gail says she has her eye on Carnival's Jubilee scheduled to set sail in Oct. 2023.
I cruised on the first Jubilee 03/31/03 and saved my deck plan folio and room card in my mementos!

Gail
Hopefully the two friends will be aboard that sailing this October – with their non-expired passports!
You can't cruise with an expired passport. Here's how to avoid this type of cruise fiasco
Travelers can't use an expired passport for any kind of international journey, including a cruise. But Angela is not the first – or I suspect the last – cruise ship passenger to contact us after accidentally bringing an expired passport to the port.
Here's how to make sure an expired passport doesn't cause you to become the star of your own cruise fiasco.
Do not store an expired passport with your current one
If you intend to keep your expired passport, do not keep it in the same location as your current passport. Storing both an expired and a valid passport in the same drawer or folder will instantly increase your chances of accidentally grabbing the wrong one as you head out the door for your cruise or other international journey. If the two documents are stored in separate locations, it will be pretty difficult to bring the wrong document to the pier.
Warning: Your passport expires months before its official expiration date
The expiration date on your passport is not the date it becomes useless for your international travel. Many countries require travelers to have three to six months left on their passports beyond the date on which the traveler is exiting. Unfortunately, many flustered passengers have discovered this fact in some of the most unpleasant ways (See: This passport mistake will ruin your vacation every time).
Pro Tip: It's best to apply for a new passport once you enter the danger zone: six months before the official expiration date. But here's how to get a new passport fast in an emergency if you need one.
For closed-loop cruises, a passport may not be required, but you should have one
Most, but not all, closed-loop cruises (one that begins and ends in the same U.S. port) do not require passengers to have a valid passport. But that doesn't mean you don't need official documentation to take the cruise. If you're a U.S. citizen, you will need a birth certificate and an official government-issued photo ID. To be absolutely sure as to what you need for your cruise, use Timatic.
Pro Tip: Although there are many destinations to which you can cruise without a passport, it is never a good idea to board a ship bound for international destinations without a passport. Keep in mind that you can never fly internationally without a passport. If something should happen during your cruise and you need to fly home, you'll be plunged into a different type of vacation nightmare (See: My MSC cruise ship left me behind in Mexico).
Bottom Line
Our team loves to rescue consumers from difficult-to-resolve problems, but unfortunately, in some cases, that just isn't possible. This is one of those cases. No cruise line or airline will provide a refund to a traveler who shows up with an expired passport or any other incorrect document.
So before you head out the door for your next cruise or other international journey, double-check that you've packed your current identification. Because if you don't, you'll likely just be on a round-trip journey back home with no tropical vacation included. (Michelle Couch-Friedman, Consumer Rescue)
*Before you go: Incorrect documentation isn't the only reason you could be denied boarding your cruise. Can you be too pregnant to cruise?
Last Updated on August 17, 2023 by Michelle Couch-Friedman