It's ok for United Airlines to sell a family a flight to Morocco and then leave them stranded there when the return flight is canceled. Right?
Wrong. But the airline seems to think so.
Ahmed Benidamou purchased economical, round-trip tickets from Tulsa to Casablanca directly through the airline's website. He, his wife, and two small children flew to Africa as scheduled. But then, United Airlines alerted the family that their flight home had been canceled and offered no alternatives, leaving the family stranded there.
Then, still stuck in Morocco with no affordable way home, the troubled father asked for our help. He hoped that we could convince United Airlines to try a little harder to get his stranded family back to Oklahoma.
Ahmed's experience is yet another example of just how far customer service fell during the pandemic. United Airlines has a vast network of partner airlines spanning the globe, in addition to its own giant fleet. But United repeatedly rejected the bewildered family's plea for help and simply abandoned them.
*Originally published Nov. 2021/Last updated Oct. 17, 2022
Finding a great deal on United Airlines to visit family in Morocco
Ahmed came across some great airfares on the United Airlines website. He showed them to his wife, and the couple made an easy decision.
"We hadn't seen our extended family in Morocco since before the pandemic," Ahmed recalled. "We decided the timing was right, and we would take the trip."
The routing for this great deal was a long and circuitous way to get to Casablanca. Over the course of 27 hours, they would be connecting through Houston, Newark, and Lisbon. But the price of this particular routing made the trip affordable, so it was an acceptable trade-off.
Ahmed booked the four tickets, and the family happily looked forward to their adventure.
United Airlines: Please call us about your upcoming flight
In September, Ahmed's wife and children boarded the first of many flights to Casablanca. He would join his family several weeks later.
Soon the Benidamous were all reunited in Morocco and immersed themselves in family activities. It was just what the group hoped for after so many months in pandemic lockdown.
But then, suddenly, an unusual email from United Airlines interrupted the festivities.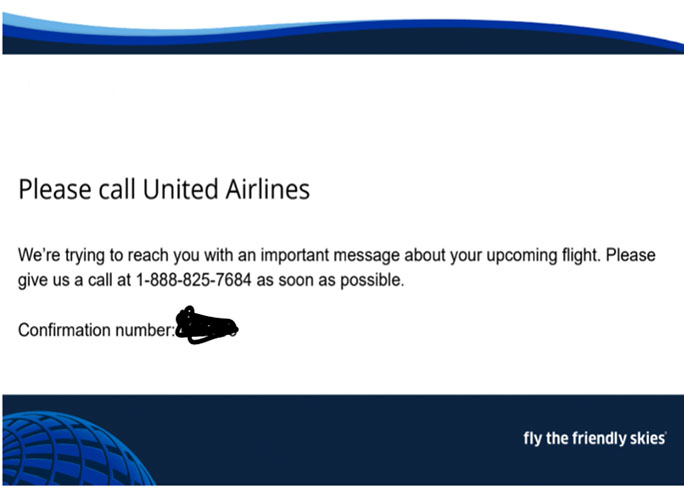 It was still several weeks before the family's scheduled flight home, and Ahmed assumed there had been a schedule change. He had no inkling of what the airline actually was about to tell him.
Stranded: United Airlines canceled our flight home
As many travelers before him discovered during the pandemic, Ahmed found it nearly impossible to reach someone at the airline. When he finally did, the connection was quite poor. But a United Airlines agent explained that his family's flight home was canceled.
Then there was silence.
Ahmed waited for the upshot. But there wasn't one.
The agent told me that the flight was canceled and that she could not find us alternative flights. The United Airlines representative didn't seem to care that we were stranded. Now we had no way home. How could this be ok? I asked her to keep looking, but she said there was nothing else she could do. She recommended that we ask for a refund and find our own way home. Then the phone line went dead.
A few minutes later, Ahmed received a confirmation for a refund request for the canceled flight.
Almost as quickly, he received a confirmation that United Airlines had denied the request.
Now United Airlines had canceled the family's flight home, provided no alternative trip, and refused to provide a refund.
Ahmed couldn't believe what he was hearing. Without a budget for new flights, how would he get his family back to the United States?
"I was so mad, frustrated, and abandoned!"
The family had flown to Morocco on advance-purchase tickets at a bargain price of $700 each. Now, approaching the holidays, Ahmed checked one-way flights back to Tulsa, and the cost had soared. He saw no way to book new transportation to get his family home for less than $5,000. A wild expense that was in no way part of the budget for this trip.
Over the next two weeks, I kept calling and emailing United, but they stuck to their rejections. I was so mad, frustrated, and felt abandoned. Not to mention we were stuck on the other side of the ocean with no means to purchase new tickets. The situation was stressing my whole family.
In desperation, Ahmed searched online to find out how to handle his situation. And that's when he found an article I had written about United Airlines.
"I never heard of your advocacy team before," Ahmed reported. "But I was willing to try anything, and I was hopeful."
What does the DOT say about a canceled flight?
When I read through Ahmed's plea for help, it was clear that the airline had made multiple mistakes.
Fact: The Department of Transportation requires airlines to do one of two things when the carrier cancels a passenger's flight:
Refund the canceled flight (in cash, not a voucher) so that the customer may find their own replacement transportation.
Put the passenger on the next available flight on the airline's fleet. Unfortunately, the DOT does not indicate a specific deadline for this replacement flight. It can be hours or, in some cases, even days.
But in Ahmed's situation, as in other canceled flight cases I've covered, the airline had done neither.
What I assume was a United Airlines chatbot explained why the family wasn't owed a refund. At the same time, that chatbot described the family's exact situation. Of course, United Airlines owed this family a replacement flight or a refund. Unfortunately, as consumers everywhere have found, it's very difficult to reason with a chatbot.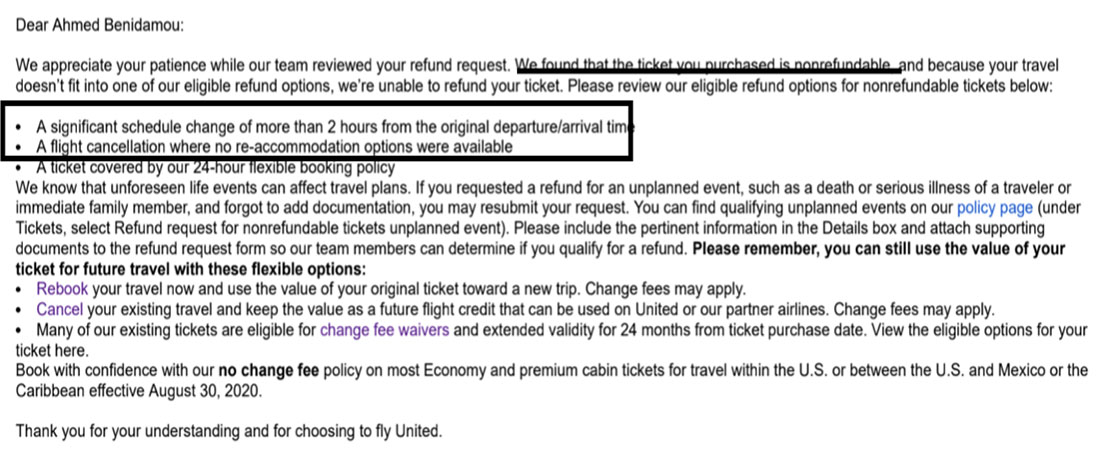 Customer service falls to a new low
We know that customer service has taken a terrible hit across the travel industry during the pandemic. But United's handling of Ahmed's situation was taking customer service to a new low. The response from United Airlines was nonsensical and went directly against the refund requirements established by the DOT. A real person could not have reviewed his case.
But this is not the first time we've covered United Airlines' customer service shenanigans during the pandemic. The carrier implemented a variety of schemes that were decidedly not customer-friendly.
However, when the DOT issued the Enforcement Order in April 2020, much of the antics ended quickly. That notice made things clear: The pandemic was no excuse to ignore the refund regulations when an airline cancels a flight.
So I wondered why Ahmed seemed to be experiencing the same customer service nonsense we hadn't seen since that time.
It was time to ask United Airlines why it had stranded this family in Africa. And why did the carrier reject the refund request as well? The airline had mishandled everything about this case so far.
This family needs a flight home. Can United Airlines make that happen?
Hi ****,

How are you? We have a United passenger here in a very confusing and troubling situation. Ahmed Benidamou and his family flew to Morocco on United Airlines in September. Last month, he received an email from United Airlines telling him that his return flight was canceled. When he called to ask what to do, a United Airlines representative told him there were no replacement flights. This effectively left his family stranded in Morocco.

Then he says the agent told him he could get a refund and find his own way home. Ahmed applied for the refund, and immediately it was rejected. Instead, United issued a tiny flight credit for each family member.

At this time, Ahmed is asking that United find an alternative way to get his family home to Tulsa from Morocco. He says there is no way he can afford a new, one-way ticket home for his entire family during the busy holiday travel season. He just wants what he purchased from United — a round trip journey to and from Morocco.

Would your team be able to have a look at this case and see what's gone wrong here? Thank you!

Michelle to the United Airlines executive team
Stranded no more: United Airlines will fly the family home
The good news for the family came very quickly. United Airlines found a replacement flight for the Benidamous.
Our problem has been solved with your great support. On behalf of myself and my family, I would like to thank you sooooo much for your help.

Yesterday, I was contacted by Heather – an executive team member at United – who was genuine and patient. She listened to my story and concerns, then assured us she would do her best to find a resolution. Indeed, she called three times in the day asking what flight schedule suits my family best. And today, I called and left a voicemail for her. Two hours later, she called back with new ticket confirmation numbers (with the desired date and flight stops).

Again, thank you so much, we couldn't have done without you!!!!

Ahmed Benidamou
And, of course, I'm happy to have been able to help.
What to do if an airline cancels your flight and leaves you stranded abroad
United Airlines should not have stranded this family in Morocco. When their return flight was canceled, the carrier could've easily found its customer an alternative way to get home. Unfortunately, it didn't.
Here's what you need to know if your airline cancels your flight and tries to abandon you abroad.
Ask for a replacement flight:
If your airline sends you notice that it has canceled your flight, your first step is to ask to be rescheduled. The Department of Transportation requires this of the airline (assuming that's what the passenger wants). Many carriers automatically send a suggested replacement flight with the cancellation alert. Pay careful attention to this message. If you don't respond, in some cases, the airline may assume you agree to it. It's critical to contact your airline's customer service ASAP if you reject the replacement or no substitution is offered. Don't forget, if you're having trouble reaching someone who can help, you can Just Ask Meera — Consumer Rescue's research valet. But…
Make certain that you're asking the correct entity for help rescheduling:
Unfortunately, if you've used a third-party booking agent, you've automatically added a level of difficulty to your problem. Remember, when you buy from an online travel agent, different rules will apply to your ticket. So before you try to save a few bucks using one of these sites, consider what will happen should your flight be canceled or if your plans change. Do you want to work through a middleman to fix your problem, or do you want to be able to deal directly with the airline? With the continued unpredictable nature of travel, it isn't the best time to be shopping for bargains on sites with little to no customer support. If you book your airline tickets through a third-party booking site — especially a consolidator — your chance of being stranded is much higher.
Deploy your professional travel agent:
Of course, we always recommend using a professional travel advisor for complicated plans or if you're a novice traveler. If your airline cancels your flight and refuses to provide any replacement or offers a subpar substitution, this is where your agent can shine. A great travel agent knows how to find the best routes and often knows whom to speak to at the airline to fix your problem. Remember, when things go wrong during your vacation, a good agent can be your best friend. If you're unsure how to find a reputable professional, visit TravelSense, to locate an ASTA verified travel advisor. (Remember, it's important to carefully screen your travel advisor. You don't want to end up with one who doesn't know the difference between Cabo and Cancun!)
Request a refund from your airline — and other compensation if applicable:
If your airline cancels your flight, it owes you a refund or a replacement flight. In Europe, Canada and Israel, there are also "duty of care" regulations. That means your carrier can't just cancel your flight and abandon you at the airport. Passenger laws require that the airlines provide food, accommodation, and other compensation in many cases. You can read about passengers' rights according to the European Commission in Consumer Rescue's comprehensive guide on the topic. The bad news? No such laws exist in the United States. But if the airline cancels your flight, the U.S Department of Transportation requires it to provide you with a refund if that's what you prefer. However, we know many airlines try to skirt around these rules and have issued vouchers instead. Make it clear to your carrier that you are aware of your rights and you want a refund. Never agree to a voucher, which will come with an expiration date, when what the airline owes you is a refund. Cash never expires.
File a complaint with the Department of Transportation: No airline should deliver a passenger to a foreign land and then abandon them. In this case, there was no reasonable explanation as to why United Airlines canceled this family's return tickets and stranded them far from home — and refused their refund request. The lack of motivation to help its customer until Ahmed contacted our advocacy team is quite stunning. Thankfully the airline saw the error of its ways after we gave it the nudge, but had it not, the next step for Ahmed would have been to file a complaint with the Department of Transportation. If an airline cancels your flight and refuses to help you get home (or provide a refund), here's how to file your complaint with the DOT. The correspondence from the DOT may be just the encouragement the airline needs to provide you with a refund and possibly a goodwill gesture to make things right. (Michelle Couch-Friedman, Consumer Rescue)
*Before you go: Here's what happened when United Airlines flew two traveling puppies to Honduras — how will they get back home?