United Airlines had no problem allowing Patrick Corley to fly with his two little dogs to Honduras. But now, the missionary and his wife want to come back to the United States with their pups. Unfortunately, United has made this "mission" nearly impossible.
Corley hopes that we can convince United Airlines to allow both Max and Howard to fly home.
But wait a minute. Is there something more to this story that's preventing United Airlines from transporting the two little dogs?
Let's find out.
Taking two little dogs to Honduras on United Airlines
Corley and his wife have split their time between the United States and Honduras for the past ten years. As missionaries, they work with a nonprofit called the Micah Project, which serves at-risk boys in the local community.
We've been here in Honduras for ten years, and before that, we were in Costa Rica. We fly back home to the United States at least twice a year. We always bring Howard and Max with us because there is no safe place to keep them here while we're away.
Howard and Max are the Corleys' two little dogs – Malti-Chons – a mixture of a Maltese/Bichon.
The pups weigh in at just over 10 pounds each. They easily fit in carriers under their parents' seats. Previous flights on United Airlines have gone off without a hitch – these two little dogs are flying pros.
But when the Corleys tried to add the dogs to their upcoming flight home, they hit a roadblock (or, in this case, an airblock).
"I tried to add the dogs to our reservation, and it was impossible through the United Airlines website," Corley explained. "So I called the airline directly, and an agent told me she couldn't do it either. Something was blocking her ability to reserve the space for the pups."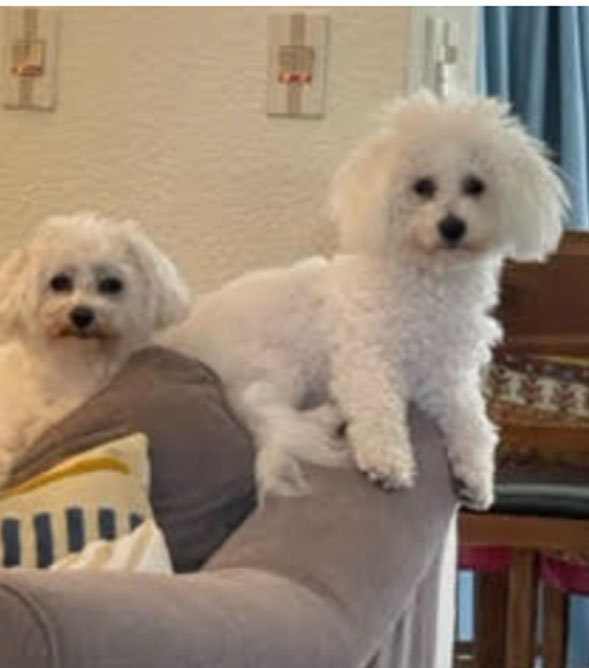 The United Airlines' agent recommended that Corley try back later. Not wanting to be booked on a trip that may or may not allow the dogs to board the plane, he canceled the flight.
Getting (and going) nowhere with United Airlines
Troubled by the airline's inability to confirm Max and Howard, Corley tried some other airlines and received the same result.
"Our local airport is brand new," Corley explained. "One airline agent suggested that the Palmerola Honduras airport (XPL) may not yet be set up to accept animal travelers."
So Corley decided to test this theory. He went to the United Airlines website and tried making a reservation for the entire family from an airport four hours away.
When I tried reserving Howard and Max on a flight leaving from Aeropuerto Ramon Villeda Morales (SAP), I was successful. Of course, we didn't want to drive four hours to take a flight home. So I called United Airlines back and pointed out that I could fly home with the dogs from the alternative airport. But each time I called, I spent hours with agents who could not help.
After several weeks of waiting to see if what seemed to be an IT problem was corrected, Corley was frustrated. But then his friend told him about the Elliott Advocacy team.
Our advocacy team investigates: Can dogs fly from Honduras to the U.S. right now?
"You helped my friend last year," Corley explained. "I hope you can help me, too."
When I read through Corley's paper trail, I had to tell him that this wasn't entirely within our scope of practice. In fact, I pointed out that a professional travel agent would likely be able to help him navigate this booking problem. BUT…
I'm a super crazy pet lover. In my home, I have two dogs, two cats, two parakeets, two guinea pigs, and one giant Amazon parrot that I inherited when my dad died suddenly during the pandemic.
Anytime I can help a fellow pet lover, I'm game. Regular readers may remember the recent case of Foxy, the cat who JetBlue was refusing to fly home from the Dominican Republic. That story had a happy ending, and I hoped the tale of Max and Howard would also.
However, when I noted that the pups were flying from Honduras, I suspected that the CDC's ban on dogs coming from high rabies areas was likely the problem. That ban is what prevented Foxy from easily flying home. Both the Dominican Republic and Honduras are identified as high rabies areas.
So why had the United Airlines website allowed Corley to book his dogs from another airport in Honduras? That was the mystery to figure out.
Asking United Airlines why these pups can't fly
As it turns out, in December, the CDC loosened the restrictions on dogs entering the country from high rabies areas. If the canine has a valid vaccination from a U.S. veterinarian, they're cleared for arrival.
So it was time to ask United Airlines about this case.
Hi *** and all our United friends,

I know this is a weird request, but could you have a look and see why this United customer can't bring his two dogs home from Honduras? Patrick Corley is a (U.S. citizen) missionary in Honduras, and his dogs are fully rabies vaccinated by a U.S. veterinarian. It seems like if he drives four hours to SAP, United will let him bring the pups. But from his local airport in XPL, they won't allow it. I'm including the rabies certificates below. Please let me know if there is something that Mr. Corley needs further to allow the two dogs to fly home to the U.S. from the XPL airport. Thanks! (Michelle to United Airlines)
After an investigation, our executive contact got back to us with what seemed to be a positive resolution.
Hi Michelle and Team,

Thanks for allowing us some time to look into Mr. Corley's concern.

There are no restrictions for pets in cabin traveling from Mr. Corley's local XPL airport. There are cargo pet restrictions from this airport, but it looks like Mr. Corley outlined that the dogs would be traveling in-cabin with him. It is possible there may have been a miscommunication on the dogs' method of travel – in-cabin vs. cargo – which resulted in Mr. Corley receiving the incorrect information. We have verified with the airport directly that as long as the dogs are traveling per CDC vaccine guidelines, they will be able to travel with Mr. Corley as pets in the cabin from XPL. (United Airlines to Michelle)
It seemed like all good news. And it was – until Corley tried again to book Max and Howard.
It is still impossible to add the dogs to this reservation
After I gave Corley the information from United, he quickly went to the website and tried again.
Snake eyes!
Corley just as quickly got back to me to give me the bad news.
Ok – I just spent 30 mins on the phone with United Reservations. It's the same as before – the United system is not allowing me to add my pets in cabin. The agent said – XPL is not on the list of available airports in Honduras – to add pets in cabin.

This may make sense in some realm – as this is a new airport – only operational for about three months.

Now I'm back into a time crunch, as I have 24 hours to cancel these tickets with United. What should I do?
Back to the drawing board at United Airlines
So I headed back over to United Airlines to update their team. There was definitely a frustrating glitch in the system.
Hi *****

Pat has hit another wall. He made the reservation from XPL, but they still won't allow him to add his dogs as cabin travelers. Now he has 24 hours to cancel this ticket if, for some reason, he can't bring Max and Howard (the pups) on the flight. Here is the current reservation. Is there anything else Pat can do to ensure his dogs are confirmed to fly from XPL? Thank you! Michelle😊🐕🐩

And then, I'm happy to report that the United team set out on a mission to fix this problem within 24 hours.

Thanks, Michelle.
But United Airlines was right back at me. Their team wanted to fix this problem and get these dogs on their flight.
Rest assured, we have a team of people looking into this. So, I'll be sure to connect with you before Pat needs to cancel within the 24-hour risk-free booking window. (United Airlines to Michelle)
The Good News: These pups are cleared for takeoff!
Soon we all had the news we were waiting to hear. The United Airlines team came through – and cleared Howard and Max for takeoff.
Good Morning Michelle,

Our IT and Reservations Teams were able to book Howard and Max as pets in cabin with Mr. Corley on his upcoming trip. Thanks for your patience as we worked to resolve that. Because XPL is the new airport in Tegucigalpa, we needed to update the technology for adding in-cabin pets. Can you please share the following with Patrick:

Confirmation #**** for Howard

Confirmation #**** for Max

Thanks for your patience as we worked through this, and please extend our thanks to Mr. Corley, too. (United Airlines to Michelle)
Corley is thrilled his little dogs can fly to the United States next month and that United Airlines fixed the glitch. Now other travelers flying with pets from XPL won't face the same problem.
And, for the first time in my life (as far as I know), two dogs included me in their nightly prayers. 😜
That is great news!!!! Thank you for not giving up & making this happen for us! We will ask Howard & Max to include you in their prayers tonight! 😊. Ha!!!

You are the best & we thank God for you & your company! Woo Hooooo!!!!!! (Patrick Corley)
What to know about flying internationally with dogs (or cats) on United Airlines
Many pet owners are unaware of the requirements for air travel for their little friends. The process can be pretty complicated – and expensive – depending on the destination and the size of the dog or cat.
If you intend to fly anywhere with your dog (or cat) on United Airlines, here's what you need to know.
Make sure your pet is healthy for travel.
The first thing you need to know is if your pet is healthy enough for travel. That means checking with your veterinarian and making sure your little friend has a clean bill of health. Know this, flying is stressful for animals – even if your pet is traveling by your side in the cabin. Your vet can let you know if you should consider taking your dog or cat on your next trip.
Check the entry requirements for animals at your destination.
If your trip is international, there are other things to consider. Unless your journey is quite lengthy, you'll want to be certain that there are no quarantine requirements for your pet at your destination. You'll also need to check what documentation your pet will need. No, they won't need a doggie passport, but they will likely need immunization and other health records. The United States Department of Agriculture has a helpful page that will allow you to check what your pet will need to enter foreign lands. You can also check what you'll need to bring your best friend back home, too.
Find out if your pet qualifies for in-cabin flight.
By far, the least stressful mode of air travel for your pet is at your feet in-cabin. Of course, not all animals can travel inside the cabin with you. Size, weight, age, and breed are all factors that determine if your furry friend can fly in the passenger cabin of the aircraft. On international flights, dogs and cats must be at least four months old because of the rabies vaccine requirements. They must also be small enough to easily stand and move around in their carrier, which must fit under the seat in front of you. United Airlines details all of the air travel requirements for your pets here.
Make the United reservation for your pet at the same time you make yours.
If you've confirmed that your pet is healthy and eligible for in-cabin air travel, you can proceed to the reservation process. On the United Airlines website, go to the "Advanced search" page. After adding your travel details, scroll to the bottom to add your pet. You can add one pet per adult to the itinerary, and each pet will cost $125 each way. Your dog or cat will receive their own record locator and ticket number on your itinerary.
One final thought: We recently received a complaint from a reader who had spent an entire cross-country flight seated beside a woman with a whining dog. He was mad and wanted a refund for his journey. Remember, not all pets have the temperament required for successful air travel. You know your dog or cat best. Keep in mind that air travel is super stressful for pets (and even for humans, too). So, if you force your little friends into a situation they can't handle properly, and they react by barking and crying the entire time (as I know my dachshunds would do), you won't just be irritating yourself, but a whole plane full of captive people. Carefully consider whether your pet is suitable for this type of adventure. If you have any doubts, please leave Fido home! 🐶 (Michelle Couch-Friedman, Consumer Rescue)
Before you go: Here's another pet fiasco tale (with a happy ending): Can Jetblue really refuse to let Foxxy the cat fly home?