Could a cruise ship passenger be denied boarding even if they have all the required documents for sailing?
Lee Bolland says he knows the answer to that question is "Yes" because it happened to him. Last fall, he and his wife planned to cruise through the Mediterranean on Norwegian Cruise Line's Epic. The couple flew to Spain to begin their adventure, and all was going well — until it suddenly wasn't. At the port, NCL employees shockingly denied Lee boarding and abandoned the couple.
Frustrated by NCL's actions, Lee asked our advocacy team to show the cruise line the evidence that proved it mistakenly denied him boarding his voyage.
And he wanted his money back.
But did NCL deny boarding of the cruise to Lee in error, or did the mistake lie elsewhere? That's the question.
This tale is one more that underscores the confusion in the travel industry since the World Health Organization declared a pandemic in early 2020. Whether by cruise, air, or automobile, the regulations for traversing the globe are still — even in Oct. 2022 — in flux. And as this case will show, sometimes the rules are not exactly straightforward — especially for travelers with unique situations. Unfortunately for this cruise ship passenger, his unique situation led him to be denied boarding. Here's his tale and guidance so you can avoid a similar travel fiasco.
*Originally published Nov. 4, 2021/ Links and guidance updated Oct. 17, 2022
Planning a cruise during a global pandemic
In July of last year, just after his wife received her second dose of the Pfizer vaccine, Lee says the couple was eager to travel. They wanted to take a vacation to end the summer. The Bollands, residents of France, decided a cruise through the Mediterranean would be the perfect getaway.
"We chose to take a seven-day cruise beginning and ending in Barcelona," Lee recalled. "I called NCL and spoke to an agent who helped us book the trip."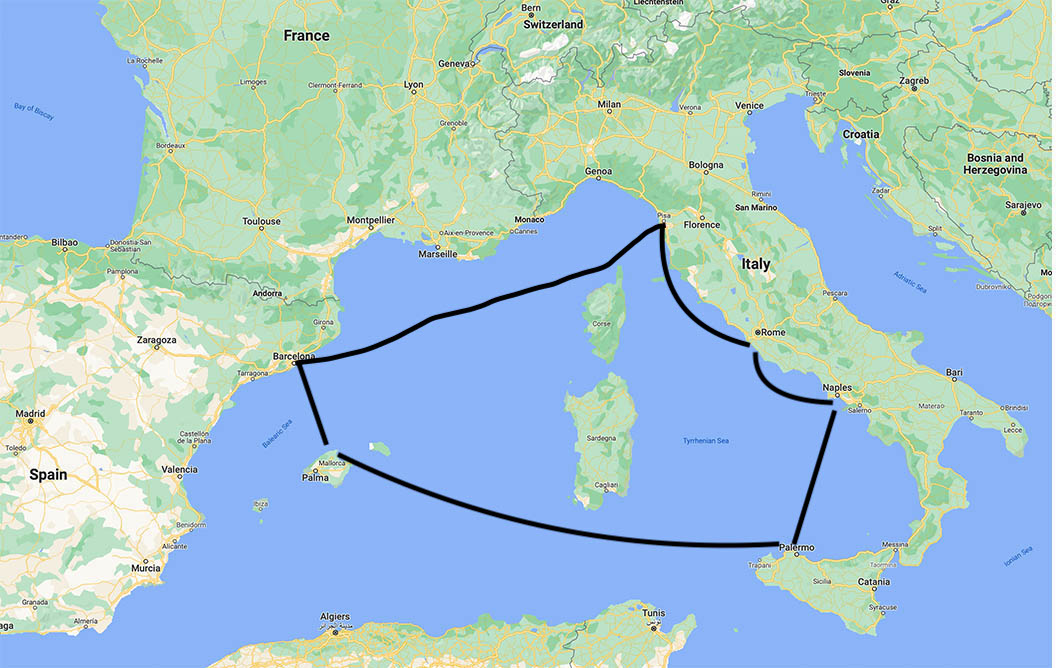 Throughout August, Lee says they kept their eye out for updates from NCL about any requirement changes for their cruise.
"We were really looking forward to this trip," Lee explained. "We were aware that we needed to be vaccinated against COVID and to have a negative COVID test."
Confident that all was in order, the Bollands headed to Barcelona. There they intended to embark on the Epic for their Mediterranean cruise.
Unfortunately, they would soon find out that despite their careful planning, there was a massive problem. And that problem would be impossible to correct at the dock.
NCL: "You're denied boarding this cruise."
When the couple showed up at the dock in Barcelona, they saw the Epic there waiting to receive them.
Before boarding, NCL required all the cruise ship passengers to do a pre-trip COVID test.
"We dropped off our luggage and then went into the pre-cruise COVID testing tent," Lee reported. "But right away, it was clear something was wrong. The staff was treating us differently."
Lee says he wasn't sure what was happening, but then an NCL representative explained.
She said I was being denied boarding the cruise. I couldn't imagine why. I had everything I needed. Then the NCL agent told me I wasn't fully vaccinated against COVID. I showed her my vaccination information from my doctor. But she had made up her mind. This lady motioned to her colleagues, pointed to us, and said, 'Let's get them out of here quickly.'

Lee
According to Lee, Get them out of here quickly is precisely what the NCL employees did next. Without even a chance to plead his case, he says they were dismissed and sent to another area to wait for their luggage. A new NCL agent handed them a denied boarding explanation, turned, and left.
As the bewildered couple tried to make sense of what just happened, they felt taunted by all the excited cruise ship passengers boarding the Epic in front of their eyes. After an hour, a porter appeared with their suitcases that had been offloaded from the ship.
"At that point, we were stunned," Lee says. "NCL was making a mistake, and we couldn't stop it. We couldn't believe it was happening."
Lee made some calls to try to reverse the mistake before the Epic sailed away. But soon, it was clear they wouldn't be cruising to Italy or anywhere else that day.
The couple gave up the fight. They got in a taxi and headed away from the dock as the Epic set sail in the rearview mirror.
Fact: If you're denied boarding your cruise, you won't get a refund
Once the shell-shocked couple returned to their home in France, Lee contacted NCL about his expected refund.
That's when NCL told him the harsh truth:
When a cruise ship passenger is denied boarding, they will not receive a refund or a future credit.

We recognize the time and effort in planning a cruise vacation and sincerely regret to learn of the circumstance that has interrupted your cruise vacation. And we truly sympathize with your situation. We understand that you canceled since one guest of this booking was denied boarding.

Unfortunately, as a result of your failure to strictly comply with Norwegian Cruise Line's COVID-19 safety protocols, which are outlined in your Guest Ticket Contract and on www.ncl.com, you will not be permitted to embark on the vessel for your vacation.

While we understand your frustration and that you were unable to enjoy your cruise, regrettably, we are not offering any compensation or refund in this regard. Please contact your insurance provider for further advice.

Norwegian Cruise Line to the Bollands
For the next several weeks, the Bollands and NCL went back and forth. Lee continued to reiterate that he was vaccinated according to his physician, thus proving NCL made a mistake rejecting him from the cruise. But NCL did not back down. Their team continued to maintain that Lee was not vaccinated according to any worldwide, authoritative protocol.
In exasperation, Lee sent his plea for backup assistance to our advocacy team.
Fact: It's always the cruise ship passenger's responsibility to know the correct documents for sailing
When Lee reached out to our team, he had been fighting with NCL for the better part of two months. He had a lengthy paper trail that clarified the unusual reason why he believed he had been denied boarding in error. It also showed why the cruise line insisted it had not made a mistake.
The paper trail further showed that both sides of this battle had valid points.
Earlier in the year, Lee contracted COVID and recovered. In June, he received one dose of Pfizer. After that jab, his doctor gave him a health certificate that indicated Lee's vaccine schedule was "complete."
As it turns out, France adopted a vaccine protocol that is not publicly approved by the World Health Organization or the European Medicines Agency. According to the French Health Ministry, a person who has recovered from COVID is considered "fully vaccinated" after one dose of Pfizer.
I was denied boarding this NCL cruise from Barcelona on 5th September due to my vaccine protocol. As per the French government's policy regarding vaccination [I was fully vaccinated]. I received one dose of the Pfizer vaccine as I had recovered from COVID-19 already. NCL knew this on the booking date, and no one advised that I required a second dose to board. At the time of my rejection, NCL stated that their website and documentation clearly showed the need for two injections, but that was not the case. However, they have updated the wording on their website since this happened.

Lee
But there were two problems with Lee's argument that he had been denied boarding in error:
It is always the passenger's responsibility to know the correct health and identification documents for cruising. Your home country does not make the documentation rules for other countries or the cruise line.
Although Lee believed that the NCL website did not clarify that it required all cruise ship passengers to have received a complete cycle of an approved vaccine to board the boat, the internet archives told a different story.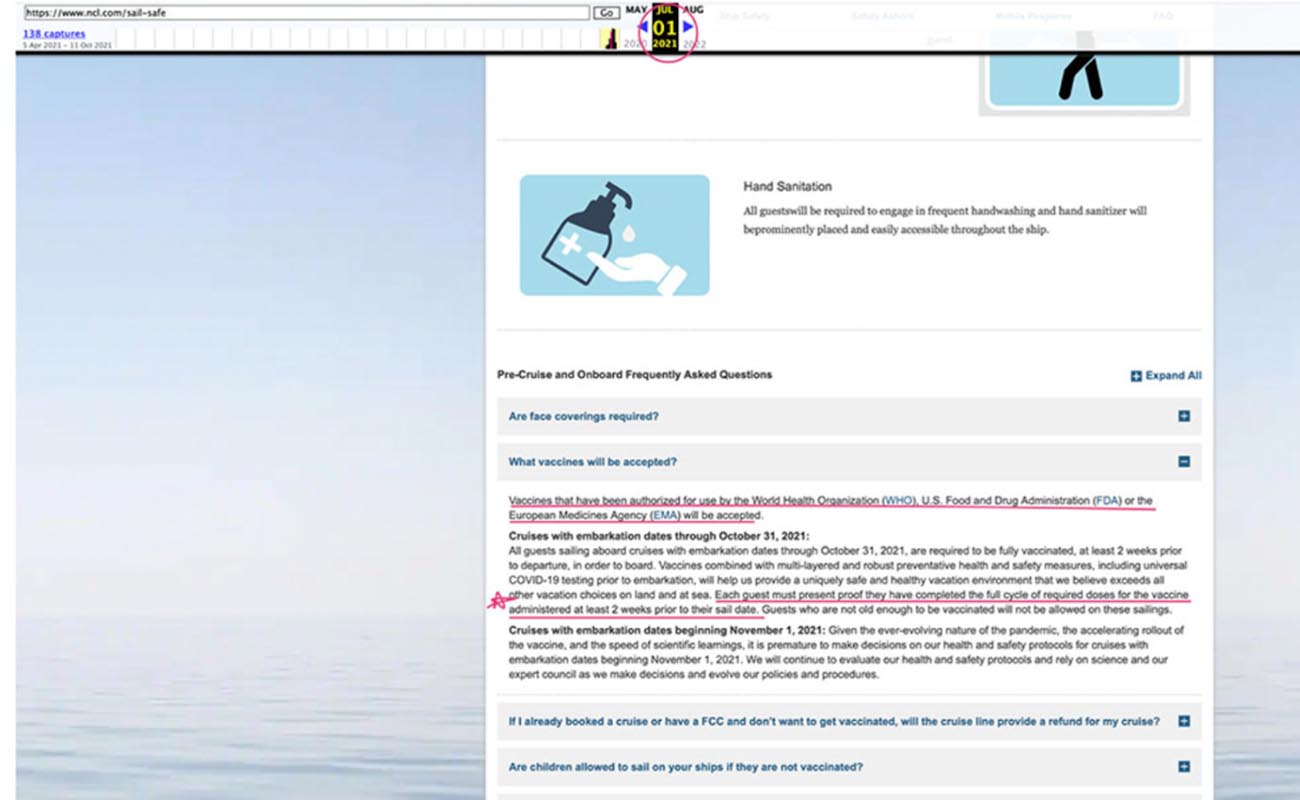 Still, I thought Bolland's case was worth a shot to send over to NCL for review. After all, the origin of this cruise fiasco was rooted in the unorthodox vaccine protocol that France adopted. I hoped that the cruise line might consider offering this passenger a future credit.
Asking for a goodwill gesture from NCL for this cruise ship passenger
The same week that Lee's complaint landed on my desk, I was mediating another unusual case involving Norwegian. In that case, a little girl had been denied boarding her NCL cruise after Canada had begun vaccinating 11-year-olds. As this was not an approved vaccine protocol anywhere outside of Canada, NCL had assumed the vaccine card was phony. In the end, the cruise line agreed it had denied boarding to the child in error and refunded the family. And then there was the case of Steve Delisle, who was denied boarding Carnival's Mardi Gras by mistake. After he contacted me, his story had a happy ending as well.
I hoped to have a somewhat similar outcome for Lee and his wife, although I knew this one was more tricky. Lee really wasn't fully vaccinated by any standard protocol anywhere in the world besides France. So NCL wasn't wrong in rejecting him for the cruise.
But the highly unusual details of the situation deserved a second look.
Hi ***** and NCL team,

This is one other really strange case that landed in our helpline this week. It looks like not only Canada but France is also adopting unconventional vaccine policies that are confusing their citizens. Lee Bolland is a resident of France. This past summer, he went to get his COVID vaccine, and after the first dose of Pfizer, his doctor told him that he was considered fully vaccinated because he had already recovered from COVID. The doctor gave him an official document that says his vaccine schedule was "complete."

The Bollands were scheduled to cruise from Barcelona on NCL's Epic on Sept. 3. He, of course, ended up being denied boarding because he only had one dose of Pfizer.

He's hoping that NCL will consider him for a future cruise credit since his doctor and the French Health Authority branded him fully vaccinated. He's provided me with his doctor's notice (below), and I found quite a few articles about France's unique way of considering its people fully vaccinated.

I do note that recently NCL has changed the wording in the vaccination blurb in its terms and conditions to address France's unusual definition of "fully vaccinated." That new information makes it very clear that this type of vaccination cycle is not acceptable to cruise. Unfortunately, that update came a little too late for this NCL passenger.

Given the highly unusual circumstances of this case, is there any possibility of NCL granting the couple's request for a future do-over after he is actually fully vaccinated?

Thank you for having a look!

Michelle Couch-Friedman to NCL
NCL: "We must adhere to our established sail-safe guidelines."
The response from NCL came right away. Unfortunately for Lee, my winning streak during the pandemic with NCL came to a sudden end with his case.
There would be no refund or future credit for this cruise fiasco.
Dear Michelle,

Thank you for forwarding Mr. Bolland's case and for allowing us the opportunity to respond.

In review, we are, unfortunately, unable to honor any request for a future cruise credit. While we understand the frustration, our Sail Safe protocols have always stated that vaccination protocols must be recognized by the WHO or EMA (European Medicine Agency) for all our guests traveling in Europe. Mr. Bolland's particular protocol has never been recognized, and we have no record of him calling us to confirm such prior to his sailing with us. As our information has remained consistent since the time of his booking, we must adhere to our established guidelines.

We understand this may be disappointing considering the circumstances. Please note any taxes, add-ons, or gratuities have been refunded to Mr. Bolland per standard protocols.

NCL to Michelle
Although our team's involvement in the case has come to an end, Lee told me he would not accept this as the final outcome.
I was told by a qualified healthcare provider that I had completed my vaccine cycle. Why would I have questioned that? And how can NCL take my money and give me nothing in return? I will continue to fight this battle.
Top four ways a cruise ship passenger can be denied boarding
There are more ways than ever for a cruise passenger to get denied boarding or even kicked off the ship. Here are the top four things that, if overlooked, can bar a would-be cruise ship passenger from sailing.
Last Updated on March 15, 2023 by Michelle Couch-Friedman