Norwegian Cruise Line handled all the details of Caleb and Karyssa Deslich's honeymoon trip. So when American Airlines canceled their outbound flight, they expected NCL to come to the rescue. That didn't happen, and the couple almost missed their Caribbean cruise.
Almost.
The Desliches came to their own rescue and spent an additional $700 on a replacement flight. They flew to Miami and arrived just in time to board Norwegian Joy before it set sail.
The couple assumed Norwegian Cruise Line would automatically refund either their canceled flight or the replacement one. But that didn't happen.
Now Deslich is asking the Consumer Rescue team to intervene and get their money back. He says an NCL agent promised to send the $700 refund and then reneged on the deal.
So what does the cruise line have to say about the missing refund for the canceled flight? The answer will probably surprise you.
Norwegian Cruise Line will arrange the entire honeymoon

Early last year, Deslich and his wife decided to book their honeymoon with Norwegian Cruise Line. They chose a 7-night cruise aboard Norwegian Joy. The ship would take the Ohio-based couple on a Caribbean adventure in March of this year.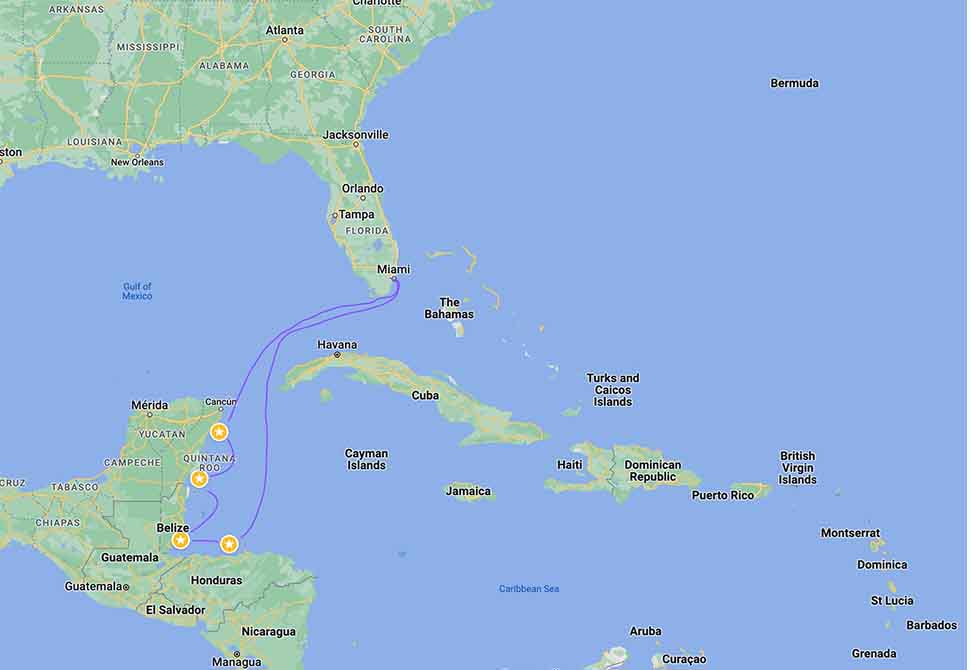 But before they could board Joy, they would need to make their way to Miami from the Buckeye State in the middle of winter.
"We decided to leave our cruise, flights, transfers and everything else up to Norwegian Cruise Line," Deslich recalled. "That way, if anything went wrong, we figured NCL would take care of it."
Fast forward to a year later and the couple found out that this was a lofty assumption.
A canceled flight threatens this NCL cruise
Knowing that midwestern winters can cause massive air travel problems, the Desliches had wisely insisted that NCL book them a flight to arrive on the day before their cruise. If they hadn't, their experience could have gone very differently. In fact, you might be reading about a honeymoon disaster, instead of a missing refund.
On the day the couple was scheduled to fly on American Airlines to Florida they got bad news. Their connecting flight from Washington D.C. to Miami was canceled.
No problem, Deslich thought. He picked up the phone and asked Norwegian Cruise Line to make alternative arrangements. Luckily, Joy was not setting sail until 5 p.m. the next day.
Deslich was relieved when an NCL agent quickly arranged a replacement flight to Miami. That is until he looked at the details.
It was a circuitous flight route for sure, but that wasn't the main problem.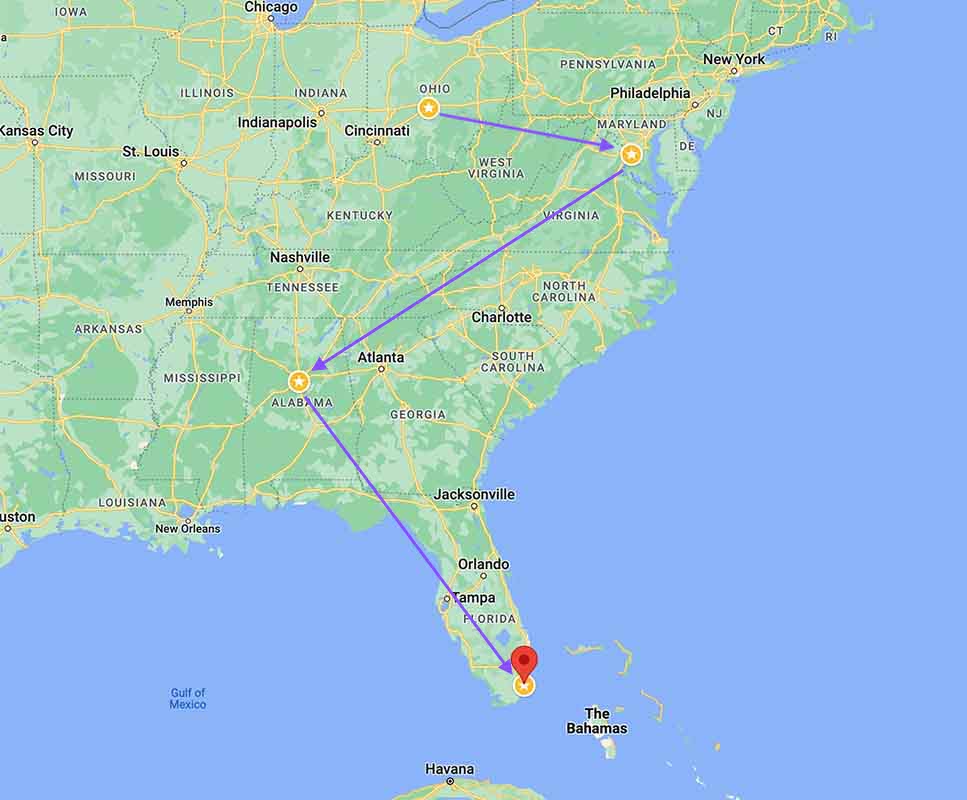 We'll miss our cruise if we take this flight
The NCL agent had booked the couple a flight from Columbus to Washington D.C. then to Alabama. From Birmingham they would fly to Miami. Ultimately arriving one hour after the final boarding call for their cruise.
"It made no sense," Deslich explained. "Why would NCL rebook us on a flight that would cause us to miss the cruise completely?"
Indeed, it made no sense. But we've seen cruise consultants – and specifically NCL cruise consultants – make many mistakes that end in heartbreak for the traveler.
If you're a regular reader of my column, then you may recall the awful tale of an unaware NCL consultant who flew a couple to JFK in New York City.
It wasn't until the couple arrived in the Big Apple and started searching for the transfer location that they learned NCL had no such presence at that airport. The cruise consultant had booked (and charged them for) non-existent transfers to the ship.
Those would-be cruisers missed their trip on Norwegian Gem and were on the next flight back home. And that consultant likely works in a different line of business today.
But Deslich and his wife had caught this cruise agent's error before they set off on a trip that could have only ended negatively.
Norwegian Cruise Line: "Buy a new flight and we'll reimburse you."
Deslich's wife called NCL back and pointed out that the replacement flight would not get them to Miami before embarkation. He says the NCL agent told her to go ahead and book any flight that would get them there in time. Norwegian Cruise Line would refund them later.
The couple then bought tickets on a nonstop flight to Ft. Lauderdale on United Airlines. Soon they were touching down in Florida with plenty of time to spare. They then made their way to the cruise port in Miami (an approximately 30-mile journey).
Unlike other cruise passengers who have recently contacted our team, they had all the required documents and were cleared to board the ship.
Norwegian Joy weighed anchor and headed to Honduras and the couple put this cruise fiasco in the rear view mirror.
But when they returned home, Deslich saw no indication of the refund from NCL for the canceled flight. Now he had a new mission.
Why hasn't NCL sent the refund for our canceled flight?
Deslich originally thought that NCL would be refunding the replacement flight on United rather than the canceled American Airlines flight. But he soon found out that Norwegian had no plans to refund either.
"Norwegian Cruise Line told me to file an insurance claim," Deslich explained.
There was a big problem with that suggestion: The couple hadn't purchased any travel insurance for this trip.
With that path to a refund a dead end, Deslich continued to pursue NCL for the refund for the canceled flight – the one he had paid the cruise line to book.
But then NCL offered another reason for rejecting his refund request. Now the cruise line told a surprised Deslich that the tickets had been exchanged.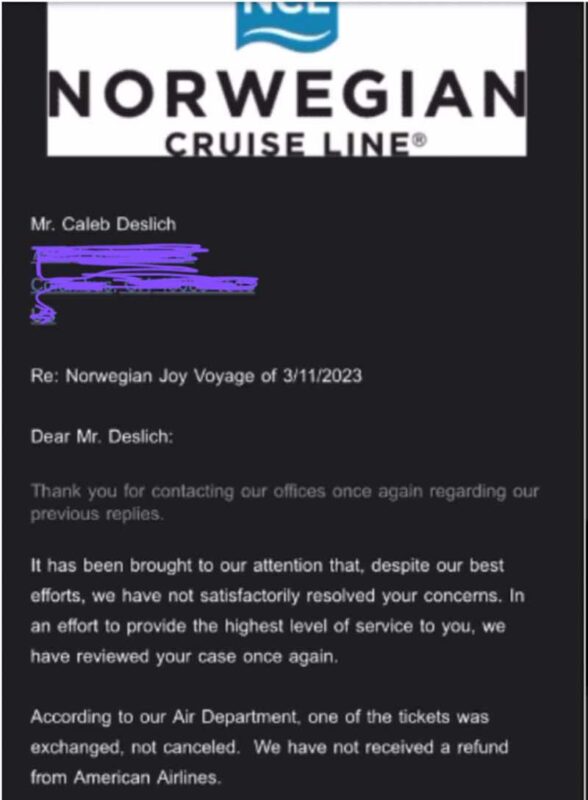 The Desliches hadn't exchanged their tickets. They had purchased a news flight directly through United Airlines. But despite their protests, Norwegian's customer service continued to insist that it didn't owe the couple a refund.
After NCL rejected his request two more times, Deslich decided to try a different tactic.
He contacted the Consumer Rescue team.
Asking Consumer Rescue for help
When Deslich reached out to our team he was still hoping for the refund of the $700 United Airline tickets.
We called Norwegian Flight Assistance and they told us to book our own flights and we would be reimbursed. We were hesitant that they truly would reimburse us, so we called again. Once again, Norwegian confirmed that they would reimburse us. I filed a claim, but NCL is now just backpedaling and denying our claim for a refund.

Caleb D
My colleague Dwayne Coward reviewed all the details. He had some bad news for Deslich and some additional guidance.
It is virtually impossible to prove anything that was verbally said, so it is always best to ask [the cruise line] to provide anything like this in writing, otherwise it likely isn't enforceable. The script the phone agents utilize typically has them say that you can send a reimbursement request for consideration, but without any specific promise that it will be approved. That's the typical response we get back from NCL and other companies.

Dwayne Coward, Consumer advocate
But all was not lost, Dwayne explained. He recommended that Deslich get a confirmation from American Airlines that it had refunded the couple's original tickets back to Norwegian Cruise Line.
And that is exactly what Deslich did.
Why can't NCL see this refund from American Airlines?
Our team next heard from Deslich after he had received concrete evidence that American Airlines had refunded Norwegian Cruise Line – for both tickets. In fact, NCL had received a total of $722 for the couple's canceled flight.
Deslich sent the proof of the refund to NCL. But not only did NCL promptly ignore it, when he escalated his complaint to a supervisor, that person made it clear that the cruise line considered this case closed.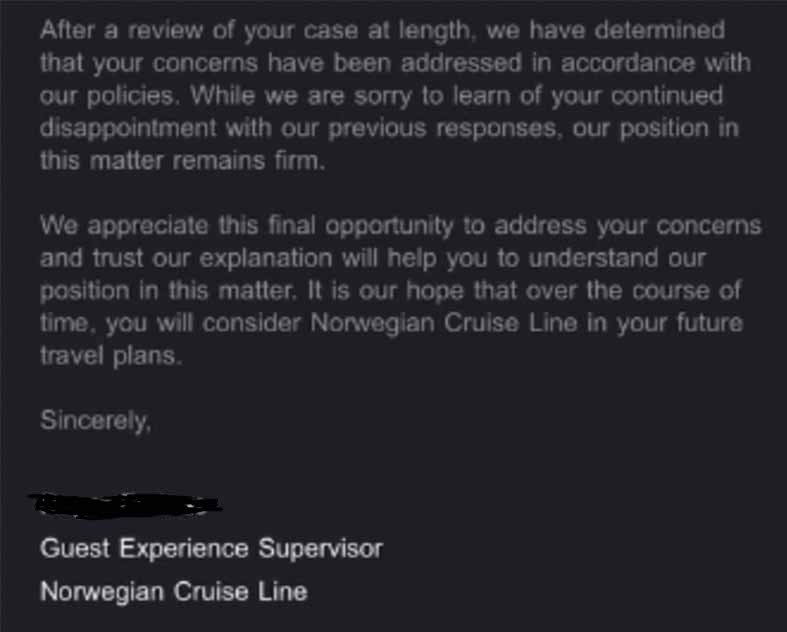 When I looked through what Deslich had sent to NCL, it seemed clear to me that no one at the cruise line had reviewed his proof. There in black and white (and blue) was confirmation that the cruise line had received a refund for the couple's canceled flight – despite the lengthy review of the case the Guest Experience Supervisor referenced.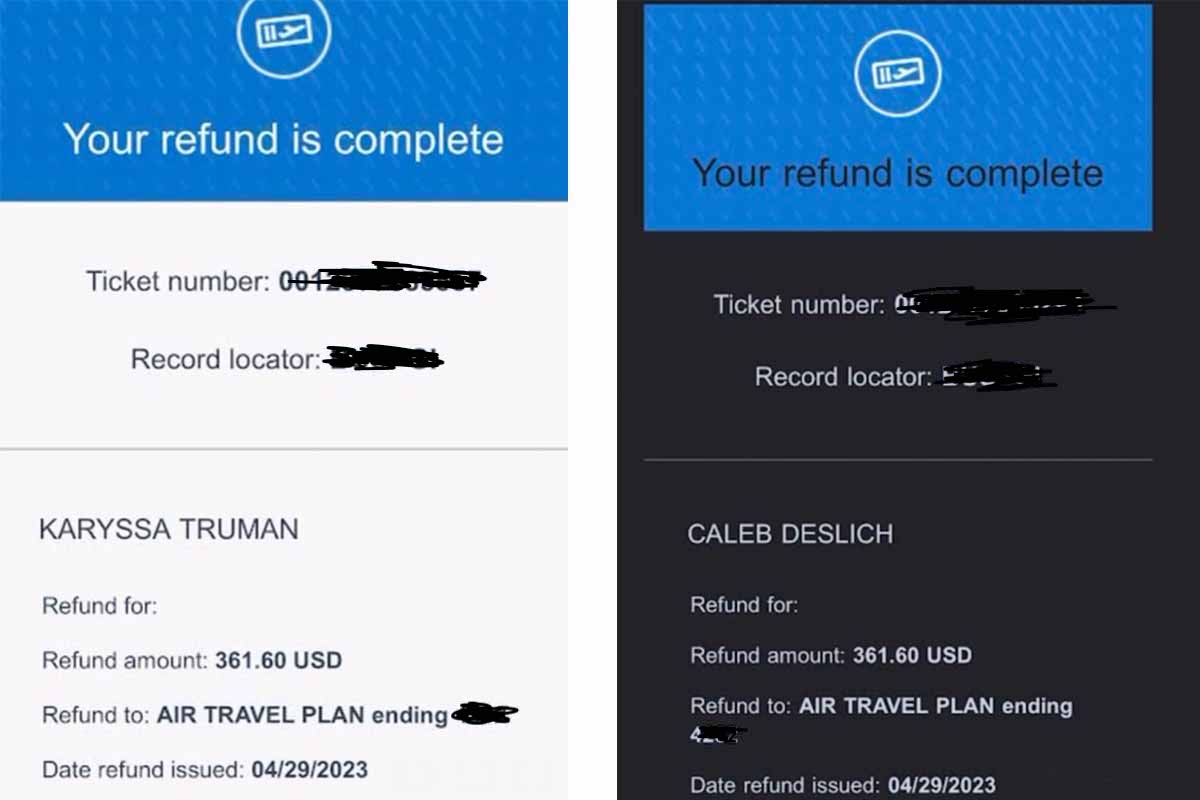 It was time to put an end to Deslich's frustrating battle for his refund from the cruise line.
Asking Norwegian Cruise Line: Where is this refund?
First, I double-checked with our executive contact at American Airlines that the canceled flights had been refunded to NCL's Air Travel Plan. Once that detail was confirmed, I sent all the proof over to the resolution team at Norwegian Cruise Line.
Hi *****

I have a couple here who booked their honeymoon on Joy for the March 11 sailing. The flight that NCL booked for them was canceled by American Airlines on the day before the sailing. Caleb called NCL for instructions and a phone agent told them to go ahead and book an alternative flight, and NCL would reimburse them. The couple did so, and luckily, they arrived in time for embarkation and they subsequently had a wonderful honeymoon!🌈

But when Caleb requested that NCL refund either the new flights or the canceled flights, NCL rejected both requests. An NCL representative told Caleb that it hadn't received a refund from American Airlines for the canceled flight, but we've confirmed that American Airlines did process a refund for both tickets. These refunds went directly back to NCL's Air Program. I've included the actual refund receipts below my signature. The couple did not have travel insurance, so they were forced to buy those new tickets out of pocket.

Ticket number: AA ****** (Caleb) $361.60

Ticket number: AA ****** (Karyssa) $361.60

Would your team be able to have a look at this case? I'm pretty sure this can be quickly fixed. Thank you!

As always, I appreciate your team's help! 🚢💗 Thanks, Michelle

Michelle Couch-Friedman, Consumer advocate
Good News: NCL found your refund (well, at least most of it)
The good news came quickly for the couple. NCL had now located their refund – most of it anyway. Without explanation as to why, the cruise line issued a refund in the amount of $261 per ticket (instead of the $361 American sent).
I followed up with NCL, but their team declined to give a specific reason for the difference between what American Airlines sent to the cruise line and what was eventually refunded to the couple.
In the end, the Desliches are just pleased to let the memories of this problem sail off over the horizon. But one thing is for sure, they'll be booking their own airfare for their next cruise.
Here's why you shouldn't book your flights with your cruise line
Many passengers love to book everything together – flights, transfers, hotel, and of course the cruise. However, there can be some downsides to allowing your cruise line to arrange your flights.
Here are some things to keep in mind before you bundle your flights with your next cruise.
Loss of flexibility: When you book your ticket through your cruise line, you give up control of the when, what, and how you'll get to the embarkation point. In most cases, your flights will not be based on what is most convenient for you, but what is most economical for the cruise line. So although it's always wise to fly into the port city the day before your cruise, that might not be possible if you allow the cruise line to make your flight arrangements. Have a favorite airline or want to fly non-stop? Then bundling your flights with your cruise may not be for you.
No frequent flyer miles: If you're a fan of the points game, you might be in for a disappointment. Because flights purchased through your cruise line are often discounted bulk airfares, you probably won't earn frequent flyer miles for your trip. If accruing loyalty points is an integral part of your vacation, check with your cruise line before booking your flights to ensure it will be possible.
Use-it or lose-it ticket: For the same reason your airline may not allow you to earn points, you may be purchasing a use-it or lose-it ticket. That means if you need to change your flight or cancel, you might end up with zilch. Before booking, be certain you understand the terms and conditions of your airfare. (Note: Regular rules apply if the airline cancels or changes your flight.)
Airlines will issue your flight refund to the cruise line: Even if your airline cancels your flight and issues a refund, it will not go to you directly. Your refund will be processed back to the cruise line, and as we've seen today, you might be in for a battle to retrieve it. Again, before you book your flights, review the terms and conditions. You might be surprised to learn that even if the airline issues a refund, the cruise line isn't obligated to return it to you. This is especially true if your airfare was a heavily- discounted bulk ticket.
There's a middleman between you and the airline: If things go wrong with your flight, it's always easier to fix the problem if you don't have a middleman between you and the airline. If your cruise line booked your airfare, the airline may be unable to help you directly. Even if you're standing at the counter at the airport, you may be referred back to your cruise line. Depending on what kind of ticket your cruise line has booked for you, airline representatives may have no ability to adjust your flight in any way.
Buy travel insurance: Did you know your travel insurance company can help you during an extended flight delay or cancellation? It's true. Most comprehensive travel insurance policies come with a 24-hour hotline you can call during your trip. If you experience a problem with your flight and neither your airline nor cruise line can come up with a suitable fix, call that number and you may be pleasantly surprised. And if there isn't a solution that can put you back on track, at least you won't be facing a loss of your investment in your trip. You can use a site like InsureMyTrip to compare various travel insurance policies before settling on one.
More on travel insurance
Keep in mind, you always have a 10 to 14 day look-over period after purchase to make absolutely certain that the travel insurance policy you bought provides the coverage you want and need. Use that time wisely and read the entire policy, because after that timeframe, it will become nonrefundable.
And if you need evidence as to why you should always go with a traditional travel insurance policy as opposed to a hybrid travel protection offered by a cruise line or tour operator, look no further than what happened to thousands of Vantage Travel customers when that company went bankrupt last summer:
The bottom line
Regardless of which method you choose to book your flights, be sure you read and understand the terms and conditions of your ticket. Familiarizing yourself with those rules will help prepare you to deal with whatever might come your way during the flight portion of your cruise vacation.
And remember, if a cruise line hits you with a problem you can't solve on your own, send your request to our team, and we'll be happy to help rescue you, too. Consumer Rescue is here to provide friendly and free mediation services to our readers who need it. (Michelle Couch-Friedman, Consumer Rescue)