Can American Airlines make wild changes to your flight schedule and, if you object, refuse to issue a refund?
With $8,171 on the line, that's what Michael Spanel wants to know after his recent experience with American Airlines.
He booked four tickets from Richmond, Virginia to Athens, Greece, with a connection in Philadelphia. When he discovered by accident that American Airlines had significantly changed the flight schedule, he asked for a refund. But the airline swiftly rejected his request and gave him an $8,171 flight credit instead.
Now Michael is asking the Consumer Rescue team for help. He wants American Airlines to give his money back, and he's hoping we can make that happen.
So what is a passenger really owed when American Airlines changes their flight schedule? Let's find out.
Booking flights for a spring vacation to Greece
In November, as days were getting shorter and the air was turning chilly, Michael and his wife turned their thoughts to the warm islands of Greece.
"We thought we would get a jump on airfare increases for next spring," Michael told me. "So I checked, and it seemed that the best fare and flight schedule round trip would be on American Airlines."
Michael booked the four tickets for his family for a total cost of $8,171. A few minutes later, American Airlines sent him a confirmation of the flights. He scanned the details and confirmed that the dates of travel and names of all the passengers were correct.
They were all set.
Next, the family happily set about planning the rest of the details for their late spring vacation.
The trip was coming together very well.
Until, suddenly, it wasn't.
Surprise! American Airlines changed the flight schedule (in a big way)
About a month later, Michael signed into his American Airlines account to check their trip's seat assignments. That's when he got a shock. The itinerary now bore little resemblance to the one he had booked weeks earlier.
American Airlines had changed the flights so that now we were connecting through New York City. That wouldn't have been so bad, but these changes American Airlines expected us to accept included a ground connection. They had us landing in LaGuardia from Richmond, and then our flight to Athens took off from JFK.

Michael S.
That's right. The new schedule changes included an American Airlines flight to LaGuardia connecting to an international flight at JFK – miles away.
For those unfamiliar with New York City – those 11 miles cover some of the most traffic-filled highways in Queens.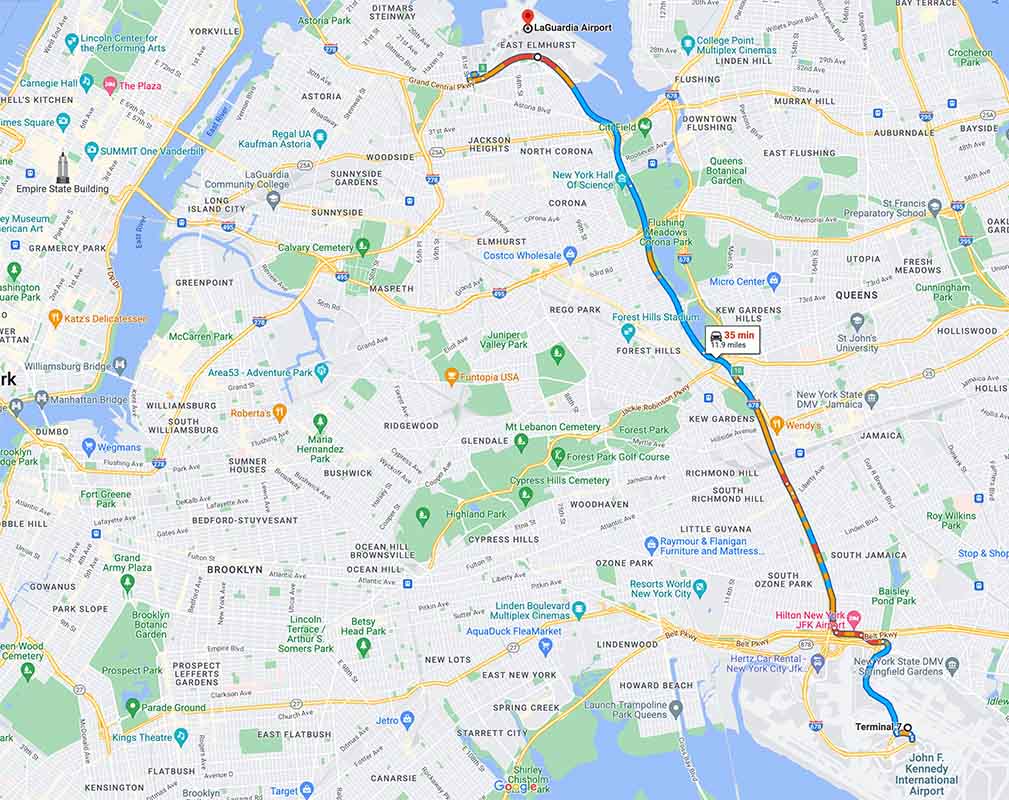 Not only did American Airlines make this troublesome change to the family's itinerary without telling them, but there was also no explanation for how Michael, his family and all their luggage should make this unusual ground connection.
The travel time between the two airports can fluctuate from 40 minutes or so – to an hour or more depending on the time of day and number of vehicles on the road.
FYI, there are no free shuttles between the airports, and a metered taxi costs between $40-$50, depending on traffic. But the price of this inconvenience could not be measured and certainly was not how the family wanted to start their Greek adventure.
Asking American Airlines about a refund for this unusual schedule change
I immediately called American Airlines and told the customer rep this schedule change was unacceptable. She agreed that it was an unreasonable change and that I could get a full refund. We discussed the possibility of the flight change being temporary and if I should wait a few days before canceling the flight entirely. She assured me the refund had no time limit up until 24 hours before departure, so I could wait almost indefinitely. Based on that, I decided to wait a few more days.
Note: It's important to point out here that what Michael says the American Airlines representative told him is not correct. After a passenger becomes aware of a schedule change, if they don't ask for a cancellation and refund, the alteration becomes permanent with the same terms and conditions as the original flight.
In this case, Michael only waited a few more days before he decided to rebook a more reasonable flight with Delta and cancel the American Airlines flight.
"The American Airlines agent assured me I would get a full refund," Michael told me. "So we canceled and booked the Delta."
Michael was pleased to have the situation corrected and relieved not to have to worry about making a mad dash across Queens to try to make a connecting flight.
But a new, more troubling problem was just about to begin – an $8,171 problem.
American Airlines: The schedule change is less than four hours, so no refund
The very next day, Michael received the disturbing news from American Airlines that it rejected his refund request.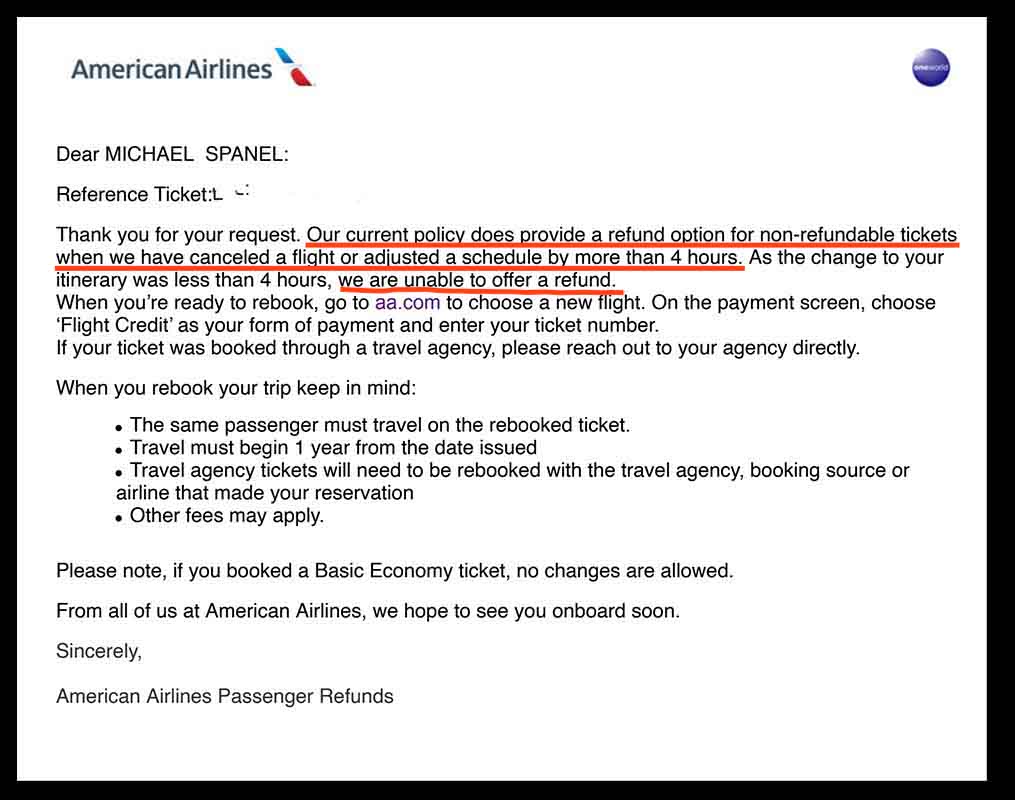 Michael tried to appeal his complaint with American Airlines but received no response.
With his $8,171 in jeopardy, Michael turned to the Consumer Advocacy team for help.
Does American Airlines owe this passenger a refund for the schedule change?
When Michael's case landed in my inbox, it was just a few days before Christmas. This problem was weighing heavily on his mind, and I hoped to be able to put a quick and successful end to his battle.
Reading through his paper trail, I was certain that his refund had been rejected in error, but when I reached the last paragraph, my confidence sank.
In his frustration about American Airlines' refusal to refund his cash, Michael had made a mistake – but one that many troubled consumers make.
For the time being, I am contacting my credit card company, telling them I dispute payment for the tickets. As you know, this is a stop-gap action to ensure I am not charged interest on the $8,100 while the dispute is being investigated.

Michael
Yikes! I quickly responded to Michael and warned him not to dispute this charge.
Warning: Credit card chargebacks should always be a last resort
A credit card dispute often leads to more significant problems for the troubled customers who file them. That is especially true if the chargeback is filed too soon before the company has a chance to correct the issue.
I would venture to say that most consumers do not understand that a credit card dispute only ends their credit card company's involvement in the problem. Even if you win the chargeback, the merchant involved is free to pursue you in any legal way they see fit to recover the debt.
Worse, credit card companies do not investigate cases in the manner that our advocacy team does, so the rate of loss is high for the consumer if the merchant provides any response to the complaint.
I have seen many situations over the years in which the consumer was correct but still lost the chargeback. And, of course, there are many cases in which the consumer won the dispute but ended up in collections.
Consumer Rescue agrees: American Airlines owes you a refund.
Luckily I caught Michael in time for him to put the brakes on his credit card dispute. I was now confident that we could fix this the right way, directly with American Airlines.
It was clear that the American Airlines agent who reviewed Michael's refund request had not considered several things. The schedule change American Airlines had imposed took off three hours earlier than the previous flight. It landed nearly two hours past the original arrival time. Of course, it also added that unusual and unacceptable ground connection in New York.
I assumed an artificial intelligence bot had automatically rejected Michael's refund request (or a mathematically-challenged human).
So I sent Michael's case to a real executive at American Airlines. That person is someone who I know cares about the airline's customers.
Asking American Airlines to refund this passenger for his schedule change
Hi ****!

…A few days ago, Michael received an alert from American Airlines about a significant flight change. American Airlines changed his connection airport to LGA instead of Philly, and then the international flight takes off from JFK! So he canceled the tickets expecting a refund (he says he was assured on the phone by an AA representative that this change would qualify for a refund).

But now he just received a notification that he only qualifies for flight credit because the change in the arrival time to Athens is only two hours. This response seems to ignore the fact that the new flight schedule takes off 3 hours earlier, lands 2 hours later AND involves this family finding some way to easily transfer between LGA and JFK with their luggage (obviously not an easy task). This new suggested itinerary adjusts their flight schedule by 5 hours.

Would you be able to have your team take another look at this case? The family would like a refund from American Airlines, not a flight credit. Thank you!😊

Michelle to American Airlines
American Airlines sends the good news!
As I expected, as soon as a crew of humans had a look at Michael's complaint, there was good news.
Very good news.
American Airlines reviewed the details of his schedule change and determined that the refund request was rejected in error.
Thank you so much for making this happen, Michelle! You really saved me a lot of time, energy and aggravation.

Have a wonderful and safe Christmas!

Michael S.
You're welcome, Michael! This is exactly why Consumer Rescue is here.😊
Here's what you need to know about American Airlines schedule changes
Unfortunately, the pandemic inspired some policy changes within the airline industry that are unarguably unfriendly to passengers. Most of those policies, which were initially presented as temporary, appear permanent.
Many airlines adopted new guidelines for the length of time of a delay before a customer can qualify for a refund. American Airlines is one of those carriers. Here's what you need to know about schedule changes for your next American Airlines flight..
Remember, if the airline cancels your flight, the Department of Transportation says you qualify for a refund. No questions asked. (Michelle Couch-Friedman, Consumer Rescue)