Stephen Delisle is a seasoned traveler with a proven track record of successfully navigating the globe – even during the pandemic. But Carnival Cruise Line put an end to that success streak. His family planned to celebrate Thanksgiving aboard Carnival's newest ship, the Mardi Gras. Unfortunately, they never made it past the pier on the day of embarkation. That's where Delisle was summarily denied boarding the cruise by the boat's medical personnel.
Delisle says the crew members made an awful mistake when they refused to let him board the Mardi Gras. That error caused his family to miss their much-anticipated Carnival cruise.
To add insult to injury, Carnival firmly rejected Delisle's refund request for the missed cruise. Now he's asking us for help. He wants our advocacy team to properly investigate and prove this was the cruise line's mistake, not his.
Can we do it? (Original date of publication: Dec. 9, 2021)
Planning a Carnival cruise on the newest ship – the Mardi Gras
Earlier this year, Delisle and his family began planning a family vacation for Thanksgiving week. He and his wife live in Sweden, and their daughter and her fiance live in the United States. The group decided that taking a Carnival cruise over the holiday would be the perfect way to celebrate.
As an added incentive, they discovered they could cruise aboard Carnival's newest ship – the Mardi Gras. Carnival has touted the Mardi Gras as the latest in cruising innovation.
Looking at the glossy photos of the sleek vessel and reading the description of all it offers, the family was sold. They made their decision and booked their holiday cruise directly through the Carnival website.
The group would assemble in Florida a few days before Thanksgiving in preparation for the adventure. The Mardi Gras was scheduled to embark on the seven-day Caribbean cruise from Port Canaveral in southern Florida.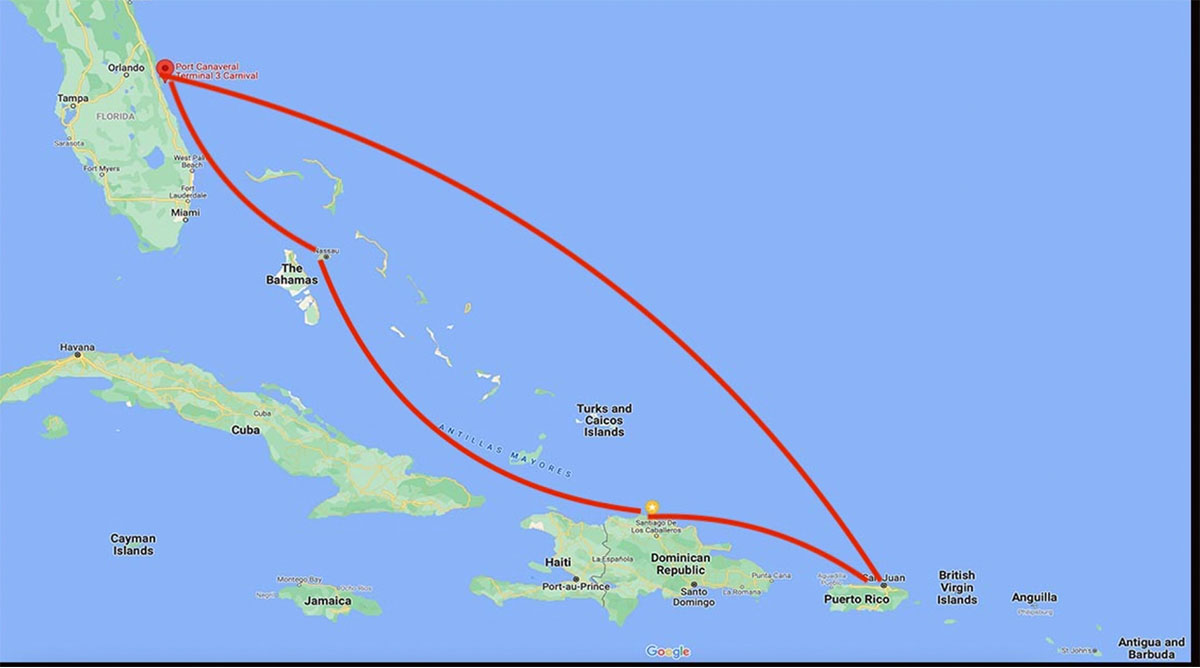 Time to board the Mardi Gras! Or is it?
Throughout the summer and heading into the fall, the family kept a watchful eye on the changing requirements for cruising. For this family, there were a variety of complications – but Delisle was sure there would be no problem. After all, he and his wife had continued to travel throughout the pandemic for work and pleasure.
Unfortunately, Delisle met his match on the day he and his family expected to board the Mardi Gras.
"We showed up with plenty of time to spare," Delisle recalled. "We had all of our required documents in order – including our negative COVID tests and vaccination papers."
Not expecting any problems, the family checked their bags and soon stepped up to the final checkpoint before boarding the Mardi Gras.
Three hours before their scheduled departure, Carnival flagged the family for further review at the pier.
There was a lot of confusion. We just wanted to board the Mardi Gras and begin our vacation. But the Carnival agents told us they couldn't approve us yet. We kept waiting… and waiting. Finally, someone came and told us we were being denied boarding the cruise. I couldn't believe it! I asked to see a supervisor.
Carnival Cruise Line: Your group is denied boarding
Delisle says that after waiting an hour, a Carnival supervisor finally showed up. She explained why the family was being denied boarding the Mardi Gras.
"She said I wasn't vaccinated for COVID, and so I couldn't cruise," Delisle recalled the Carnival supervisor telling him.
Delisle asked for clarification and tried to reason with the agent. But he soon realized the decision was final. As other cruise ship passengers have found during the pandemic, there would be no debate.
While the shocked family tried to figure out what to do next, a Carnival crew member handed Delisle a slip of paper.
"It said I was denied boarding because I wasn't vaccinated for COVID," Delisle explained. "The notice also said that Carnival would not be giving us a refund for the missed cruise."
The crew member handed the rest of the family another paper. This notice said that they would not be allowed to cruise on the Mardi Gras because their traveling companion had tested positive for COVID.
The denied boarding cards they gave us made no sense. I had provided a negative COVID test, too. No one tested positive for the coronavirus in our group — and I am fully vaccinated. We refused to sign anything.
Carnival: You're denied boarding… but your luggage will cruise.
But Carnival still had one final insult in store for the family.
As the Delisles waited for porters to retrieve their bags from the ship, the Mardi Gras weighed anchor and sailed away. The family had been denied boarding the cruise, but their luggage hadn't — and all their belongings headed to tropical locations without them. We've had many cases in which a cruise passenger sailed without their clothes, but this was the first time I had heard of luggage going on the journey without its owner.
But now this family was cruise-less and clothes-less, thousands of miles from home.
When I received Delisle's plea for help, the Mardi Gras was still on its voyage.
Hi Michelle, I noticed your article about denied boarding cruisers and thought you might like to know about another vaccination denial. We were denied boarding our Carnival cruise, and we are currently struggling. Do you think you can help us?
Looking at the paper trail, I initially thought that Delisle was likely out of luck. He told me that he had spent the entire summer living and working in China. In fact, he had received his COVID vaccination in China. And it wasn't a vaccine I had ever heard of before. All the cruise lines, including Carnival, make it clear that only specific, approved vaccines are acceptable for cruising. I assumed he must have received an unapproved vaccine.
But my initial thought was wrong. And so was Carnival Cruise Lines' decision to deny this family boarding of the Mardi Gras.
Confirmed – This Carnival passenger was denied boarding by mistake.
Delisle had extensive evidence that Carnival had denied boarding to him by mistake. Even he didn't realize fully how clearly the evidence leaned in his favor.
When I looked at Delisle's paperwork he had given to the Carnival agents, I wondered why it had confused their medical team. It didn't take long to determine that Carnival's medical professionals had made a mistake.
Delisle had presented an official COVID vaccination record to Carnival's medical team. And although it was in Chinese, the name of the vaccine is in English: Vero.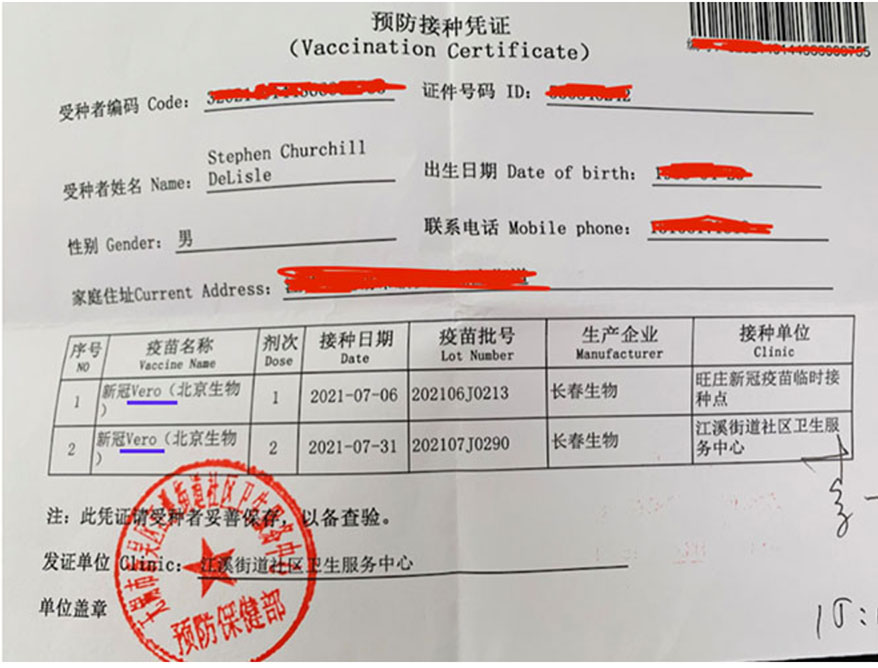 A quick internet search proves Carnival made a mistake refusing to let Delisle and his family board the cruise.
The Vero vaccine is produced by the manufacturer Sinopharm.
The World Health Organization approved this vaccine in May of 2021.
The Carnival website listed Sinopharm as one of its approved COVID vaccine manufacturers. Note: At the time of the original publication of this article (Dec. 9, 2021), the "also known as" field was empty on the Carnival site. That has been corrected and now includes the AKA as Vero.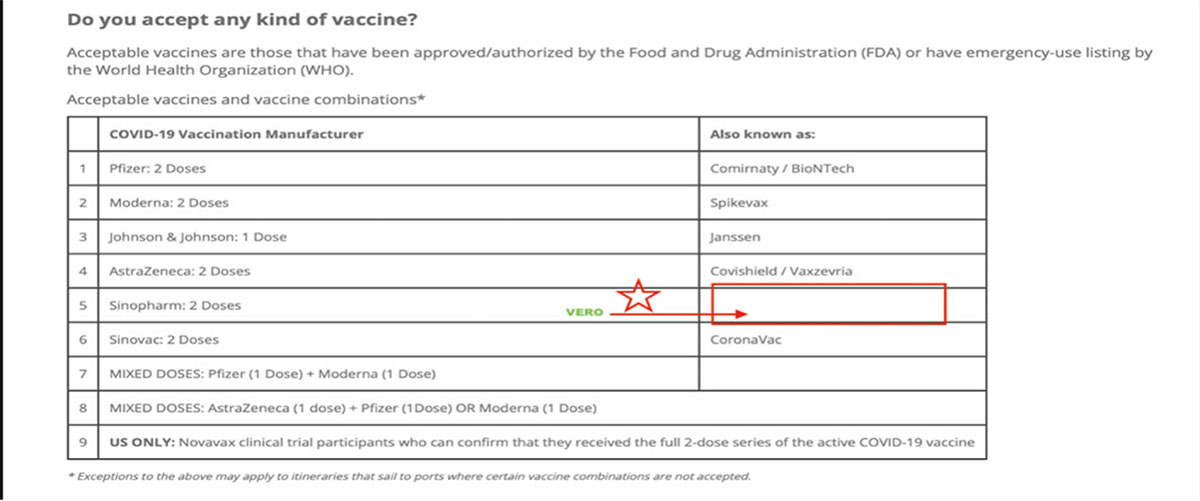 On the Carnival website, the field where the alternative name of the vaccine (Vero) should be was empty. I suspected that was part of the confusion that led to this cruise fiasco.
The evidence was clear: Carnival had rejected the family from the cruise in error. At that moment, they should have been relaxing onboard the Mardi Gras, sailing to tropical locations. Instead, they were fighting an unpleasant battle with a giant cruise line — and without any of their belongings! It was certainly not how they expected their Thanksgiving week to turn out.
It was time to present my findings to Carnival.
Asking Carnival to reconsider the family's refund request
Hello there,*****

It's been a long time since we've had a case involving Carnival (that's a good sign!).

However, this morning, we received a request for help from one of your platinum guests. It appears from his paper trail that Carnival denied boarding the Mardi Gras to him last Saturday because of some vaccine confusion.

His denied boarding card says that he didn't meet the vaccine requirements. But, he is fully vaccinated with a WHO-approved AND Carnival-approved vaccine.

In July, Stephen received the second dose of Vero — Sinopharm COVID vaccine in China. He provided an official vaccine card to the Carnival crew. The WHO approved this vaccine protocol last May. In fact, Carnival lists Sinopharm as an approved vaccine manufacturer on your website.

Carnival has informed the family that they aren't eligible for a refund. But all the facts support that they were denied boarding the Mardi Gras by mistake. Additionally, their luggage did go on the cruise, so they are currently in Florida without any of their belongings (until their return flight back to Sweden on Nov. 30).

The denied boarding card of Stephen's wife, daughter, and her fiance says they were being denied boarding because their traveling companion tested positive for COVID. But Stephen also provided a negative COVID test. I have also included Stephen's negative COVID test below and his official vaccine card.

Could your team have a look at the details of this unfortunate situation and see what can be done for them now? Thank you! 🚢😀

Michelle to Carnival Cruise Line
The good news: Carnival Cruise Line admits its mistake
Hi Michelle,
I hope you had a nice Thanksgiving.

After further review by our shoreside medical team, we realized that Vero – another name for Sinopharm – was not on our list of authorized vaccines. At the time of embarkation, our onsite medical team was not familiar with the alternative name, which led to the denied boarding. Following this incident, [Carnival has added] Vero to our list of approved vaccines.

More importantly, for the Delisles, we have processed a full refund and extended our apologies.

Best,
***** (Carnival to Michelle)
Epilogue: There are other expenses
After Carnival admitted that it denied boarding the Delisles by mistake, the family asked for a great deal of additional compensation. Some of these requests were reasonable, some were not. So in the interest of fairness, I've handed the rest of this case over to Carnival and the Delisles. They agreed to hammer out these details on their own, and I believe that Carnival will offer a reasonable resolution. If not, you'll hear about this case again in the future.
This didn't take long: Here's the good news update from Carnival (Dec. 14)
And now for the good news update. As I suspected would be the case, Carnival has resolved the family's additional expenses request in a very fair manner.
Carrie, Stephen's wife, just sent me a copy of the notification from Carnival with the final resolution details. No cruise credits here. Carnival has provided a significant cash compensation in addition to the refund for the cruise they were denied boarding. And the cruise line is shipping their luggage to Sweden since it turns out the Delisles weren't able to retrieve it from the Mardi Gras before they flew home.
I'm not going to give the exact figure of the compensation, because there is a confidentiality clause noted on the form. But I am happy to report that this compensation is greater than the cost of the cruise (which was also refunded). And although the family wishes that Carnival had not denied boarding to them in the first place, they are very content with the outcome.
Michelle,

Please see below. So much gratitude to you! Words do not do proper justice for how we feel. I know your efforts and the well-written article you posted helped this resolution to happen.

Thank you for the good you do for others. I will keep you updated as to whenever our luggage is returned. I hope all the blessings you provide for others comes back to you 10 fold.
Happy holidays,
Carrie & Steve DeLisle
Aw, thank you. And with that, this case sails into our successfully resolved archives. 🚢😀
Update: Carnival still hasn't sent the luggage that sailed on the cruise (Jan 15, 2022).
Unbelievably, the Delisles' saga continued over the holidays. Although they quickly received their cash reimbursement from Carnival as promised, three weeks after Carnival let the family know it was sending their luggage to Sweden ASAP, the family still saw no sign of any of their belongings. Just as Carnival's "Property Recovery Unit" was closing for the holidays for nearly two weeks, Carrie Delisle received the following notification. She could stop expecting her luggage to arrive. It was still with Carnival in Florida and the cruise line had no confirmed way to ship it to the couple.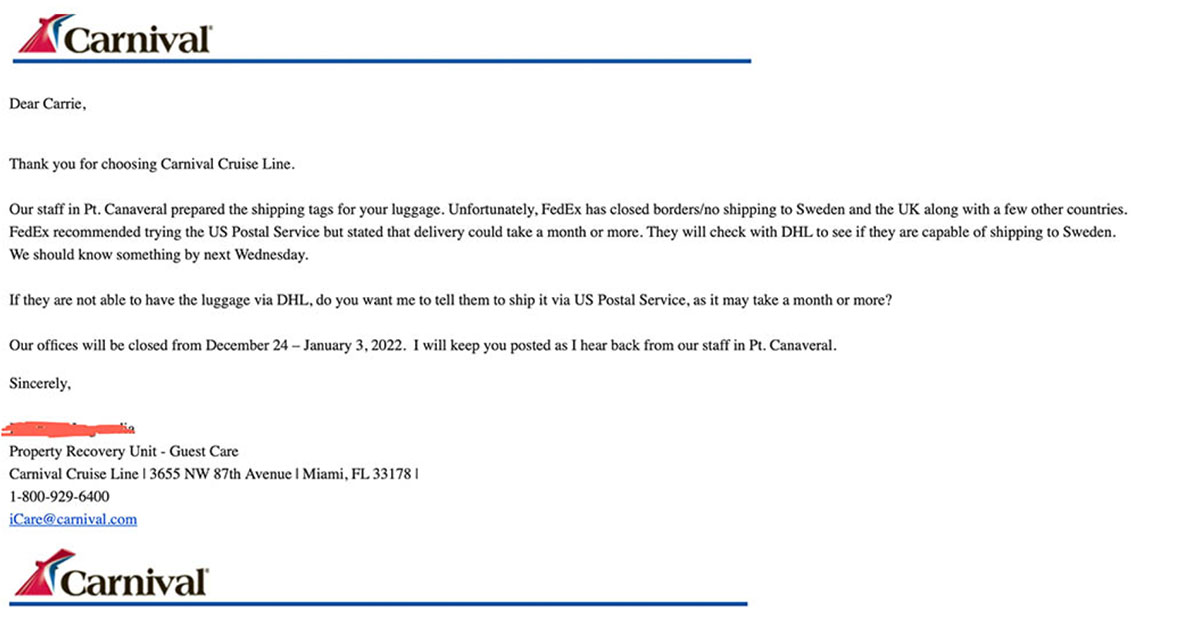 After much back and forth with this Carnival representative who could give no projected date for the shipment or delivery of their belongings, Carrie Delisle took things into her own hands. She booked a flight back to the U.S. and picked up the luggage and brought it back to Sweden on her own. She is now awaiting Carnival to process the reimbursement for that additional expense. Stay tuned…
How to ensure you don't end up getting denied boarding your next cruise
Unfortunately, these "denied boarding my cruise" cases have been coming at us fast and furious since the industry resumed operation in mid-2021. Some of these rejections are the result of passenger confusion. But what is becoming increasingly clear is that crew members are at times as confused about current cruising requirements as the travelers they've rejected. And getting denied boarding a cruise isn't the worst thing that can happen during these unusual times (See: Norwegian Cruise Line made us stay inside our cabin for four days! Is this legal?).
Here are some tips to decrease your chance of finding yourself in this type of cruise confusion.
Read your cruise contract.
We receive many complaints from passengers who have clearly not read even the first page of their cruise contract. Many denied boarding scenarios could have been avoided entirely had the travelers acquainted themselves with the information in their contracts with the cruise line. Even seasoned cruisers may be surprised by some of the protocol and required documentation changes inspired by the pandemic. Note: Because of the frequent updates, most cruise lines – including Carnival – provide a link to their website in the documentation. That is where the most recent updates will be found. Passengers must frequently check–right up to embarkation–for changes to the policies.
Check with the Department of State.
If your cruise is international, you'll need to check more than just your cruise contract. You'll need to visit the website of the Department of State for documentation requirements for all countries on your itinerary. Remember, if you have complicated or unusual citizenship, then you'll want to contact the consulates of the countries you'll be visiting. You can easily find most international consulates on the internet through a quick Google Search.
Understand the requirements for cruising.
Here is the main stumbling block for most passengers who are denied boarding a cruise. Travelers must understand their cruise line's policies. Requirements continue to change at a rapid pace and although most cruise lines dropped their COVID vaccine requirements recently, passengers must remain aware of the entry requirements for all destinations on their itinerary — otherwise even if you meet all the requirements of the cruise line, you might still miss your cruise as these Royal Caribbean passengers did.
Ask a professional travel advisor for help planning your cruise.
A travel advisor could be just what you need to take the stress out of planning. These professionals pride themselves on staying on top of the latest changes and will keep you up to date. A good travel advisor will help you navigate and avoid any problems with your cruise. In many cases, your travel agent will know special people at the cruise line that they can reach should something go wrong. So if you choose your travel agent carefully through the American Society of Travel Advisors (ASTA) site, you can be reasonably confident that you won't find yourself being denied boarding your next cruise.😀 (Michelle Couch-Friedman, Consumer Rescue)
*Before you go: Looking for more cruise fiasco tales? Here's one about a Royal Caribbean passenger who paid $4,200 to "win" a downgraded cabin.